Do you have short hair and feel like it's impossible to create those beautiful loose curls? Don't let the length of your hair hold you back. I am sharing the best way to curl short hair. After following this step-by-step tutorial, you'll leave knowing how to curl short hair with a wand and create bouncy curls. It's easier than you think!
After my breast cancer treatments, I tried a variety of hairstyles during my hair growth journey as I had less hair. When my hair grew long enough, I was so excited to experiment with hair curling using different barrel sizes.
This particular wand tutorial is one of my favorites because it's easy to create soft waves using a curling wand on short hair. In my other hair posts you can check out the wavy bob or coifed pixie but this look focused on tighter curls and volume at the top of your head. Styling shorter locks is all about confidence and understanding what tools to use.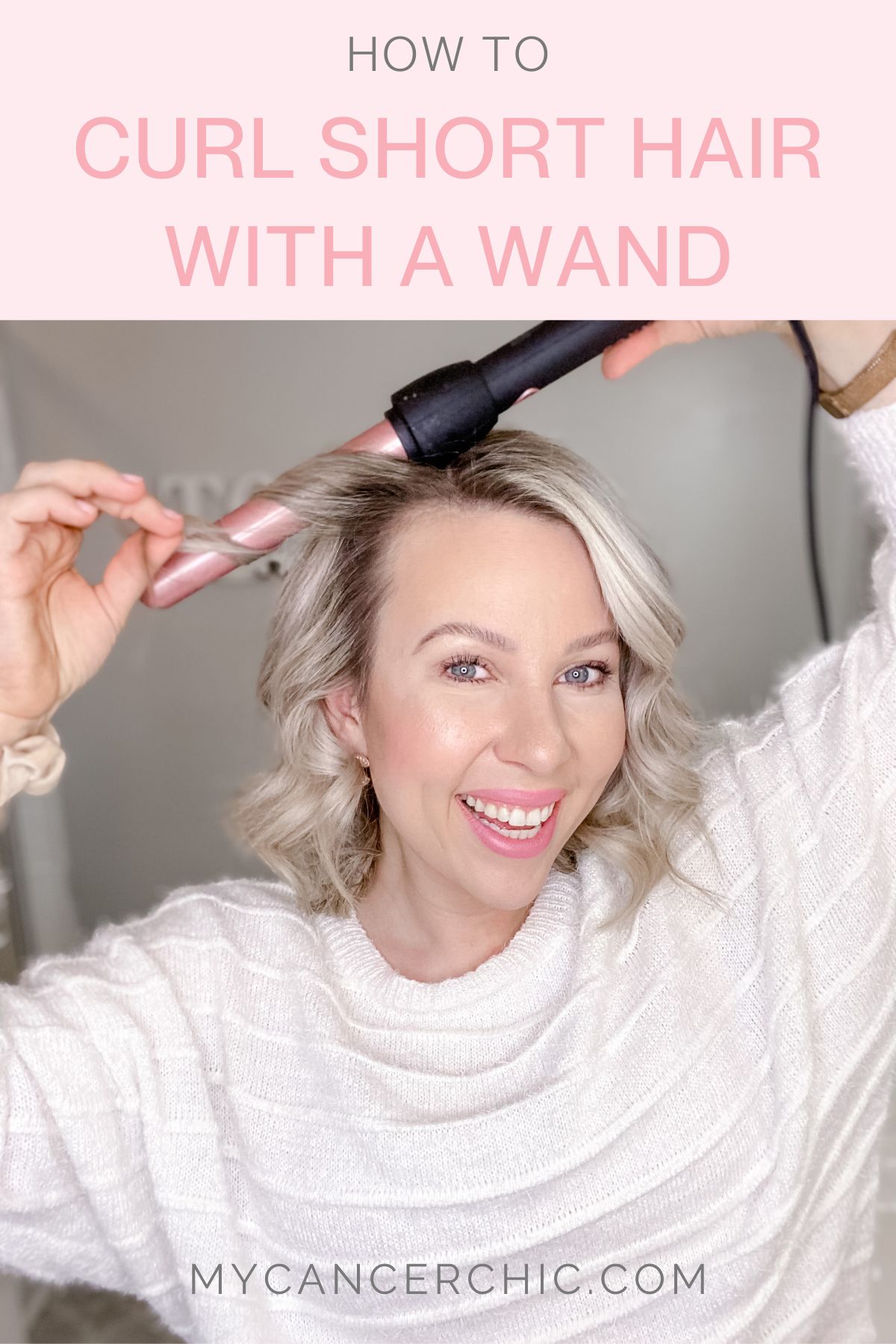 In this video I previously shared how to curl short hair with a straightener, but today we're diving into my favorite tools, the curling wand.
I find it particularly easy to get soft waves/curls with the curling wand and I am going to show you how. I will go through the steps and at the end I have the full process in video so you can follow along with how I curl my short hair using a curling wand.
Curly Hair Wand Video Tutorial
When styling hair, use a heat protectant to avoid heat damage. If you are styling new hair after chemo you want to be particularly careful using higher temperatures on your virgin hair.
Make sure your hair is dry and for these soft curls it's a good idea to have clean hair.
In order to get the best results section your hair into 1-2 layers using boppy pins or alligator clips.
To curl hair using a wand, roll 1-inch sections of hair around the wand, being careful not to overlap the ends.
To create natural-looking tight curls, start by working from the bottom (near your neck) to the top.
If you want loose waves you can curl fewer pieces and leave the wand in your hair for a shorter period of time
When your hair is cooled off, comb through the waves to make them more tousled.
Optional: Apply hair serum to your hair. It can be used to add shine and moisture to the hair as well as to seal the ends.
Recommended Hair Products
Before we get started, here are the hair products I recommend that you use. Make sure your curling wand has an adjustable heat setting and you'll want the width of the barrel to be 1" or smaller for your shorter styles.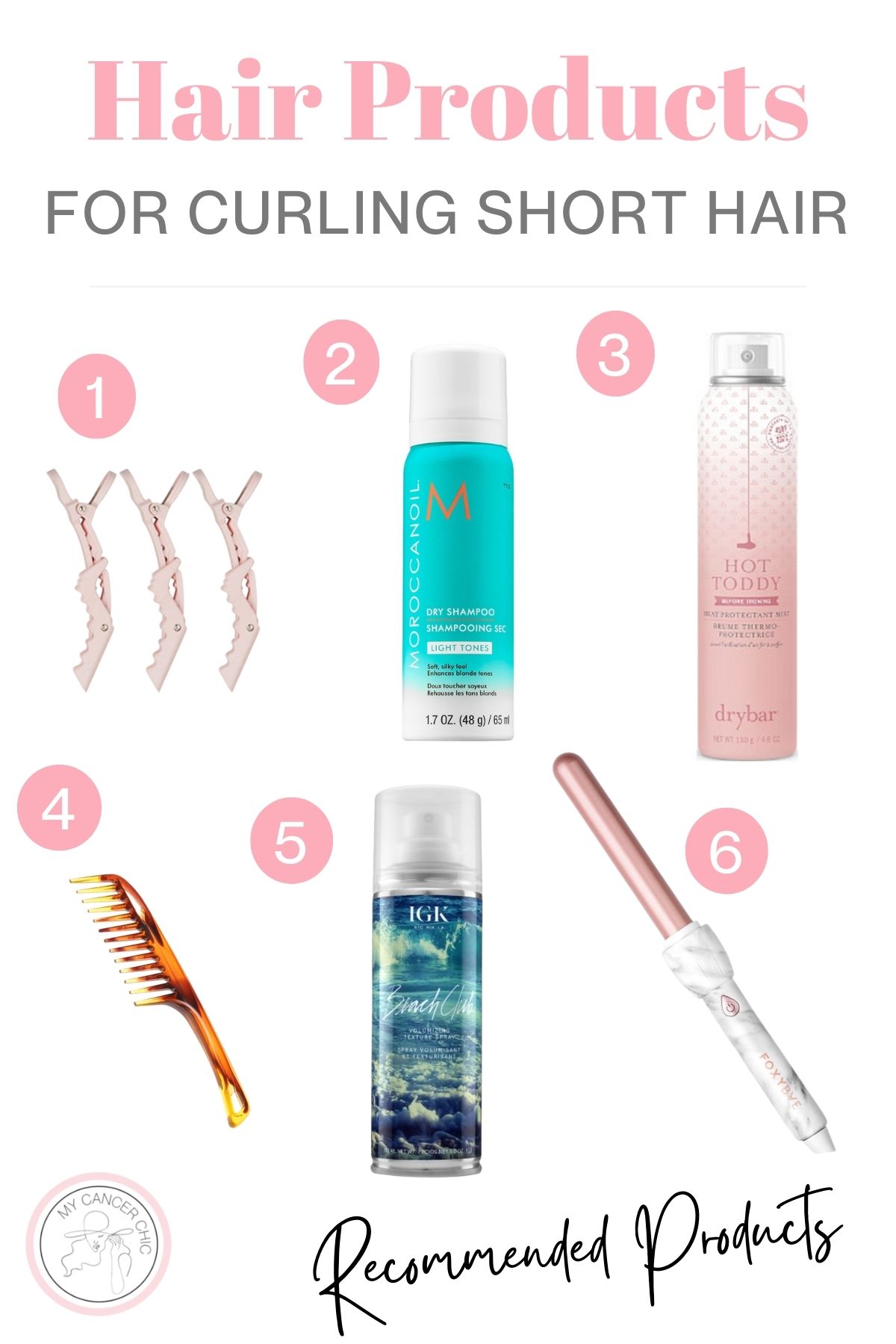 Recommended Curling Wands
If you're looking for a way to curl your hair with minimal effort, the curling wand is definitely the tool for you. I recommend them over traditional curling irons particular for beautiful curls on short hair because it's much easier and you don't have to worry about learning how to use the clip aspect of a curling iron.
For many years (since 2013 or so) I swore by this curling wand. In 2020, I got the FoxyBae 25mm curling wand in my FabFitFun box. After trying it on a whim I fell in love.
There is something about how soft the curls are that I really love. My particular curling wand does not have an adjustable heat setting but it is made of tourmaline-infused ceramic which is supposed to increase shine and reduce frizz. It also does not get above a safe heat range.
Pro tip: Be sure to stick with 1" or under when curling shorter hair.
Step by Step Short Hair Wand Tutorial
For short hair, we don't have as much hair to work with when we are curling. For these easy soft waves, we will use a very hot curling wand, a strong heat protectant, and some special tricks to help the curls cool in place. At the end, we will use a comb or brush to loosen the curls for a more romantic and soft look.
If you want a beachy look instead, check out this hair tutorial using a hair straightener
Keep in mind that this wand tutorial can work for all hair types: long hair, thick hair, thin hair. Depending on the length of your hair you can just adjust the size of your curling wand.
Step 1: Air Dry Your Hair
To prepare your hair with a curling wand, air dry your hair first. This will prep your hair with a slight wave and texture which will make the curling process easier and more effective.
Then make sure you apply a heat protectant spray to your hair before using the curling wand.
Pro Tip: Apply dry shampoo to your clean hair. This will prevent oils from spreading across your hair strands. It will also add more volume to your hair.
Step 2: Create Separate Small Sections of Hair
The key to volume of your curls is to start on the bottom layer. I usually do 2 layers then the front pieces. I start by sectioning the top part of my hair up with an alligator clip and I curl the bottom sections.
Don't worry if the shorter pieces don't curl very much on your short hair. The goal is to get the ends to curl a little bit and blend with the curls we lay on top of them from the upper sections.
Step 3: Curl Your Hair Away From Your Face
Now, let's talk about the process of the curls. I learned many years ago, that the trick to curling successfully is all about the angle of the curling wand and how you hold the hair.
Watch the video and you will see how I hold the wand above my head and curl each piece away from my face.
For this particular soft curls look, I make all the curls in the same direction. But if you want a more messy curl look or loose waves, you can use the curling wand in different directions to create that texture and style.
Pro Tip: Make sure you lower the temperature of your curling wand & use a heat protectant. Using hot tools without protection can damage your hair!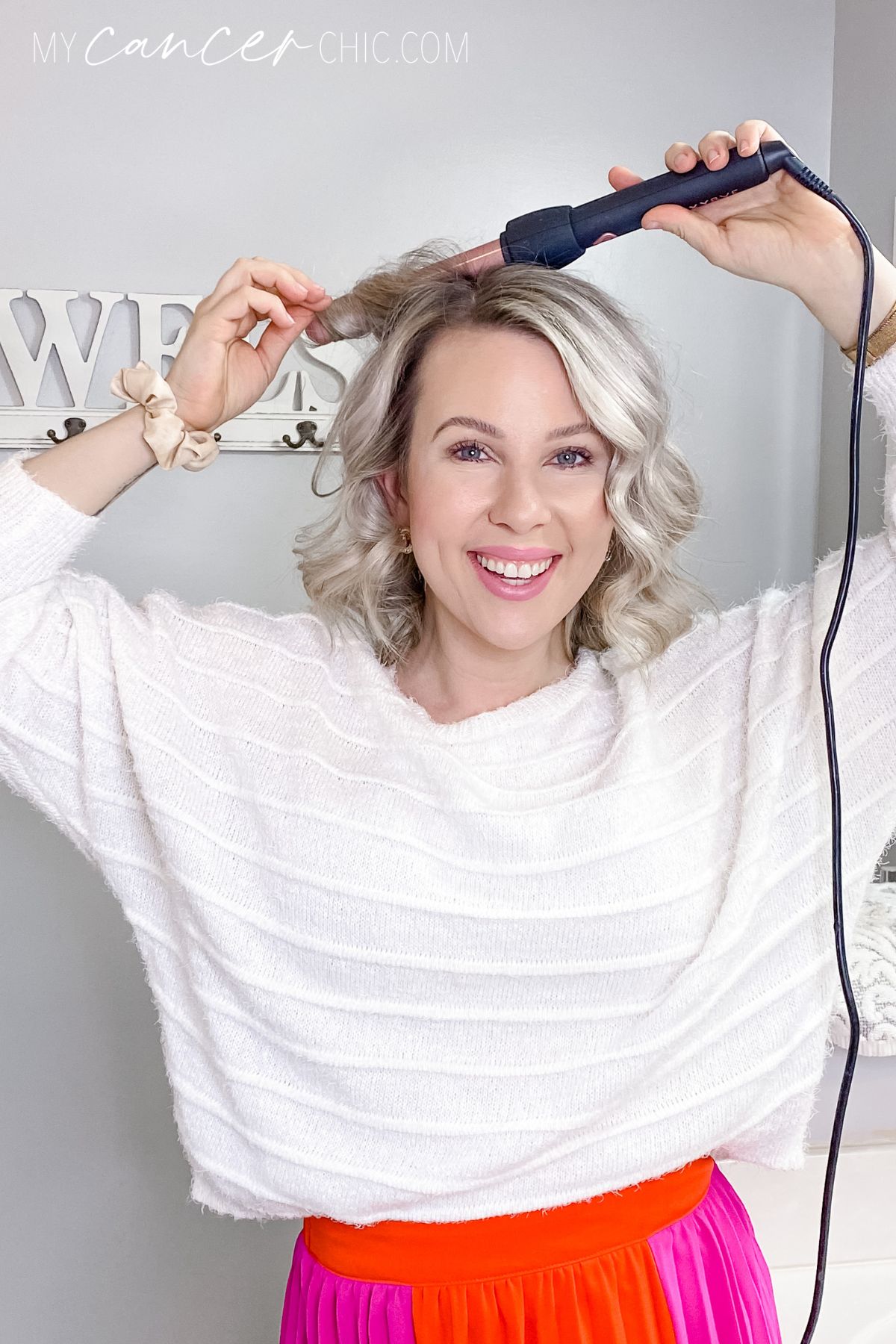 Step 4: Let the Curls Cool
In order to help your curls hold the shape you have created with the curling wand, you want to allow them to cool in the curled position.
If you have long hair this can be done by pinning them up (think old-school curls pinned to the head).
On short hair, it can be enough to just hold the curl as it comes off of the curling wand until it cools. If you want tighter formed curls, pin them to cool. I use boppy pins to pin my curls around my face for extra volume.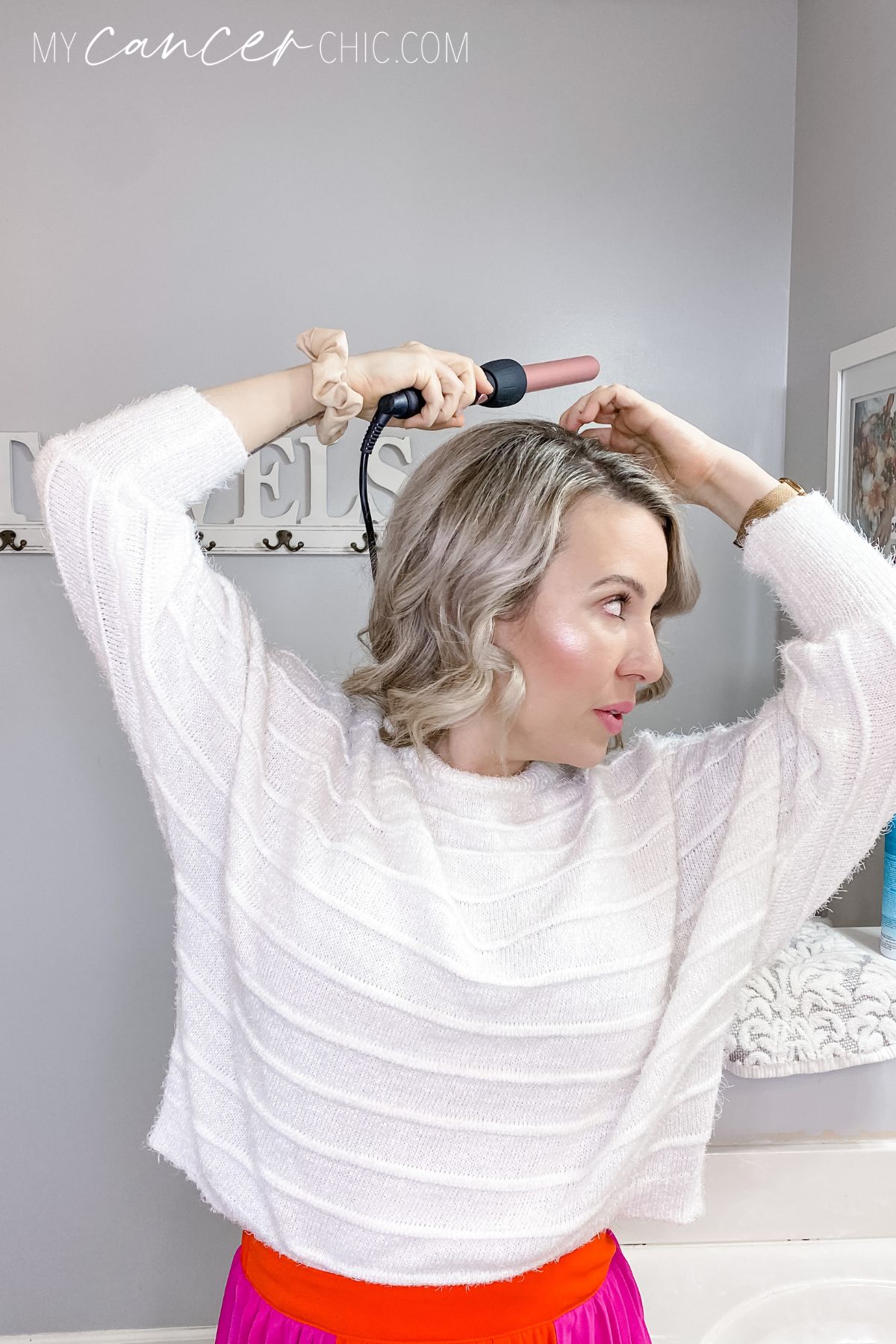 Step 5: Brush Out Your Curls
The last step for this look is to brush out the curls. This may seem counterintuitive as you just spent time curling your short hair with want but to achieve this romantic soft curl look you want to smooth the wave. I do this with a brush or a wide-tooth comb.
The best part is you can easily refresh the look for many days by quickly curling a few pieces on top and brushing or combing them out to match the wave pattern. This will give you some extra curls from day to day and keep the look fresh for many days.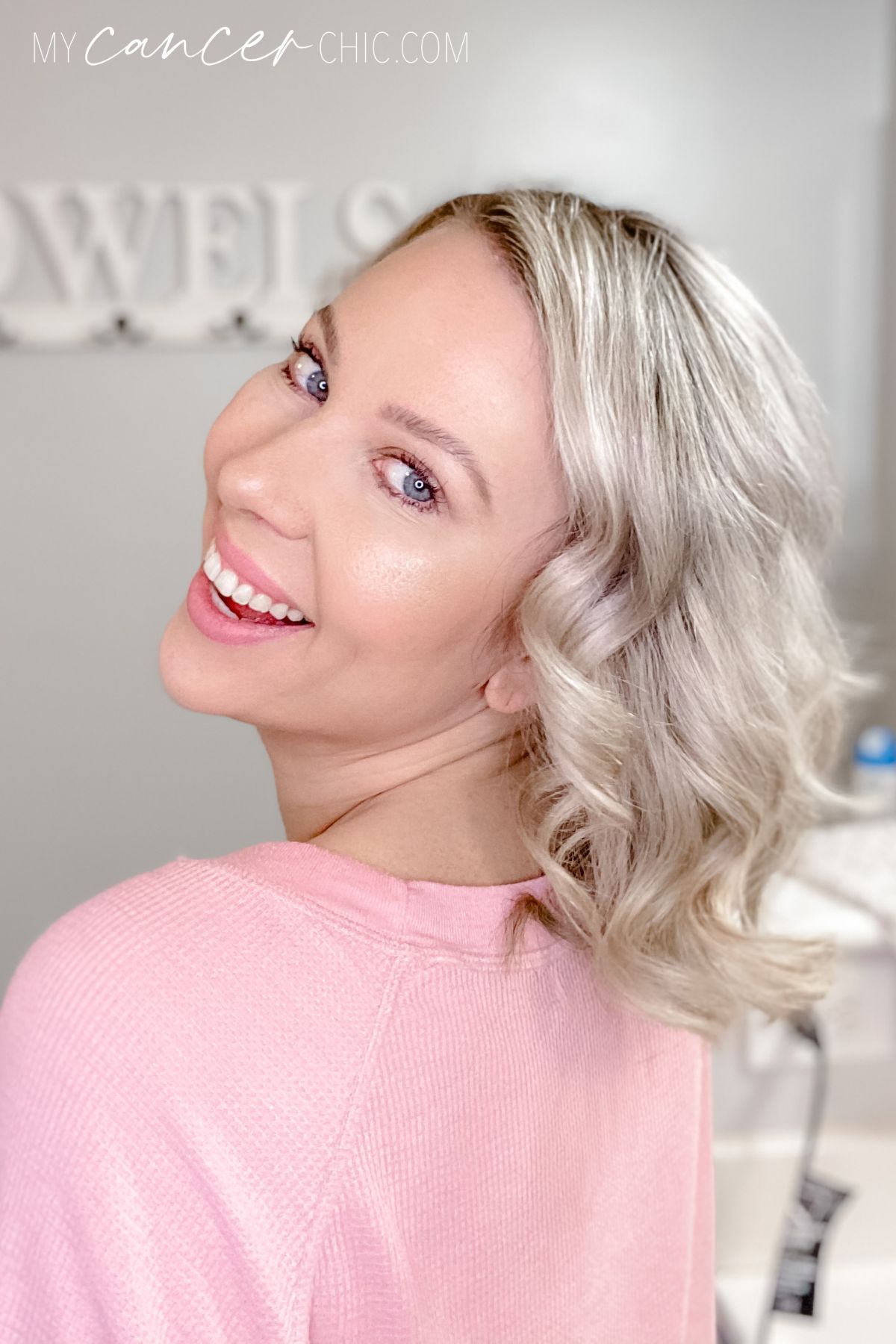 Optional Step: Apply Hair Serum or Texture Spray
A serum will help add shine and moisture to the hair, which will protect your beautiful soft waves.
You can find a variety of serums on the market that are specifically designed for this purpose. Many of these products also come with instructions on how to use them, so be sure to read them before beginning.
If you have fine hair, you can consider skipping this step because some hair serums can make your hair appear oily and weighed down. My favorite hair oil is this one from Verb
A texture spray or a sea salt spray works great too, especially if you want the perfect beachy waves. This is my favorite texture spray!
I hope you enjoyed this wand tutorial for curling short hair and that you love your curly hair! If you're interested in more hair styling content check out this page where all my hair posts are grouped.
You can also check out my post-chemo hair timeline to see how I styled my hair over the past 5 years and get inspiration for the regrowth process.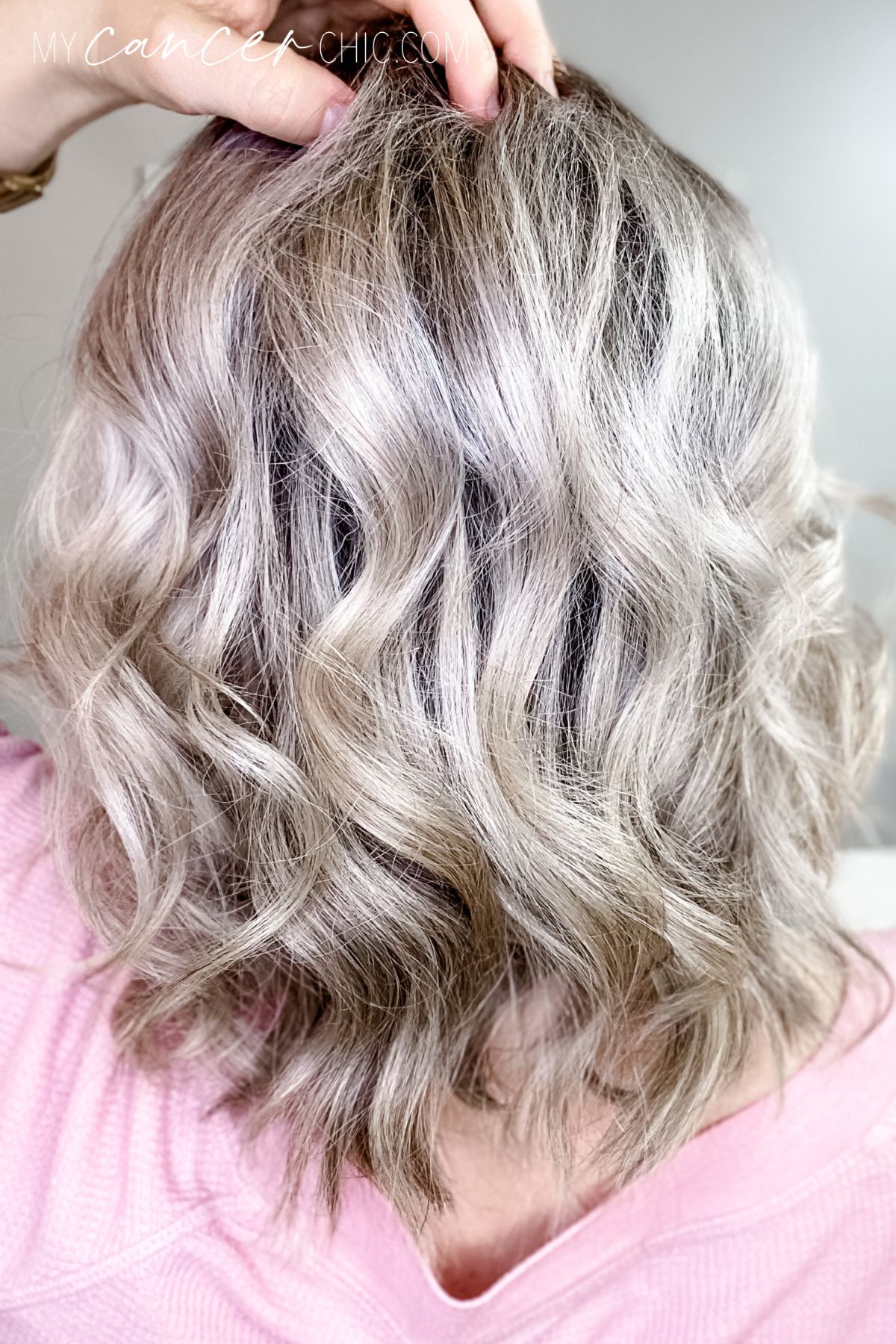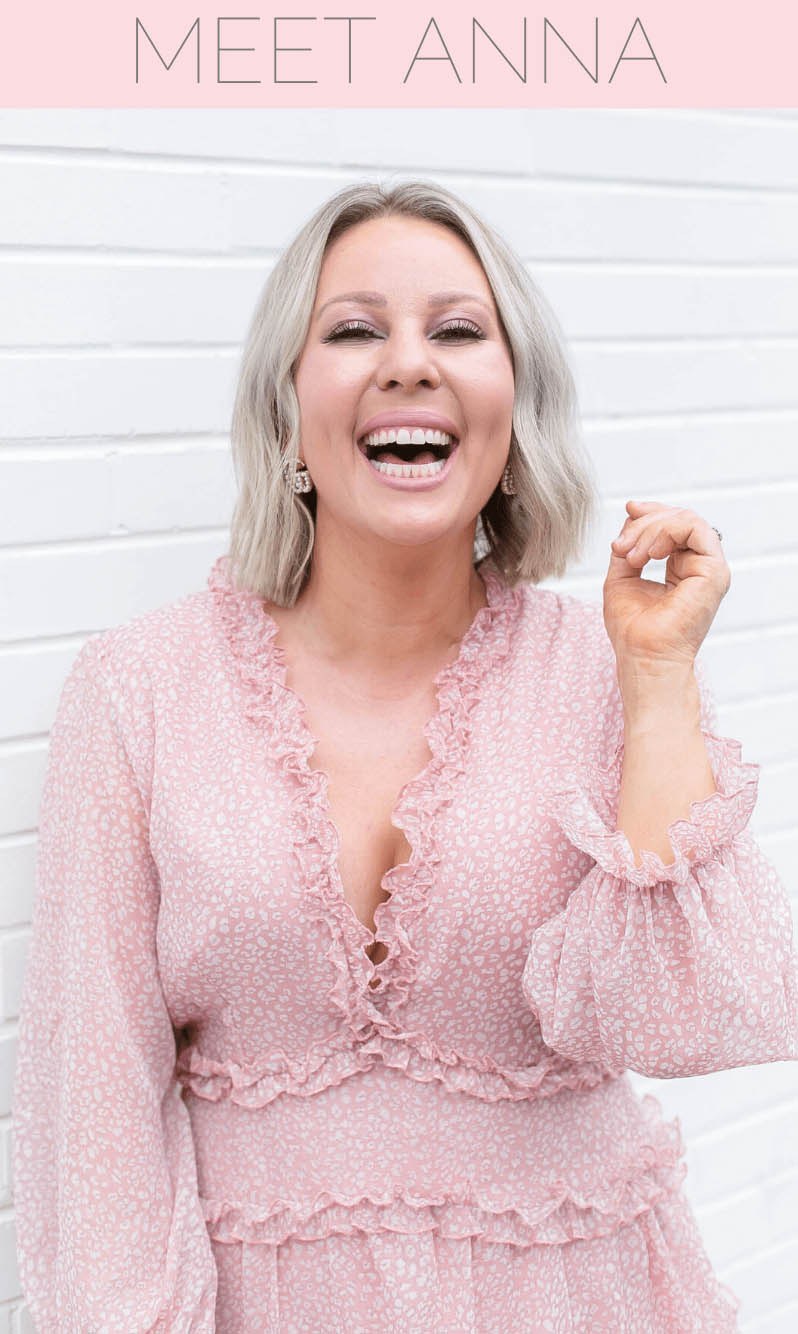 Breast cancer survivor, lover of style, beauty and all things pink! Inspiring you to thrive through adversity.