I just traveled with my toddler on a plane (alone) and I wanted to share the best tips and tricks I learned on how to help make airplane travel with a toddler more enjoyable. I'll also share the mistakes I made to help you improve your travel experience with your toddler. Notice I didn't say smooth travel,  because It's important to accept that traveling with toddlers on a plane (particularly alone) brings a certain level of chaos. Accepting that chaos will also allow you to enjoy the magic traveling with toddlers brings to the mundane aspects of air travel that we as adults miss or take for granted. I highly recommend you start traveling with toddlers on a plane to new places when they're little. The travel experience will only get easier after your toddler's first time.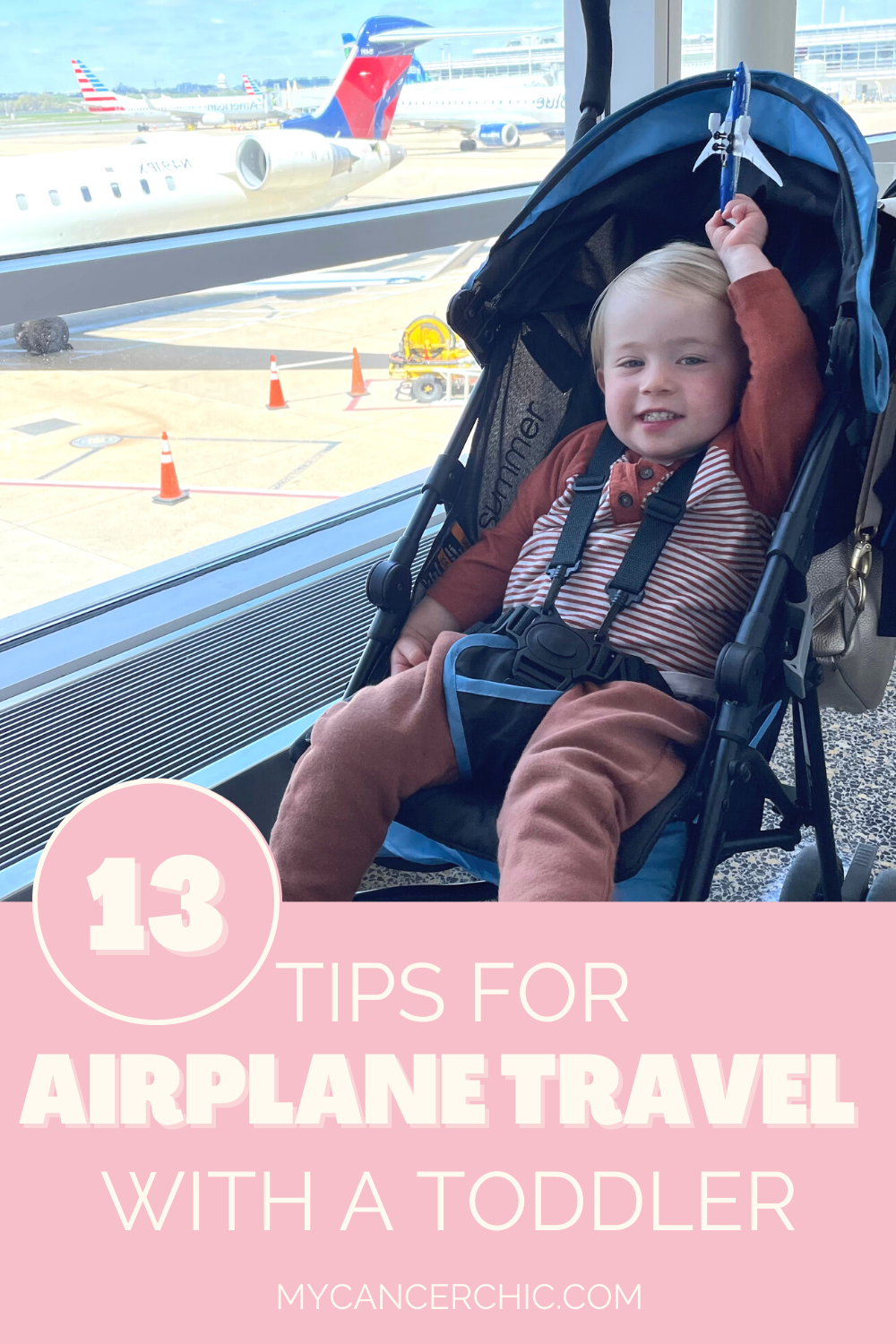 Before we jump into the toddler tips, I will share that our first flight was a 45-minute flight from Raleigh, NC to Washington DC and we had a direct flight! I can't speak to international flights or long-haul flights but I do think these travel tips will help you lay the groundwork for a successful experience with an active toddler.
I am a Delta lover but really any airline that lets you pre-select your seats is a good idea. You will also want to verify the requirements for each airline. In general, most flights require a separate seat for young children over age 2. I would also suggest checking the airline rules on lap toddlers specifically regarding seat belts for turbulence and take off / landing. This was something I ran into with my son. Also, check on birth certificates. We did not need one and they are not required but I did hear that if you have different last names the federal aviation administration may ask for some proof of guardianship. 
Plan Flight Time Around Meals & Nap 
When choosing your flight time think about naps and eating. On the flight to DC we flew at dinner time which was PERFECT. Eating was the focus while we waiting for our flight and then he was calmer on the flight itself. On the return flight, I unintentionally booked a flight right around nap time and it was meltdown central. I would suggest avoiding naptime or making sure you bring sleeping aids for naps if you have a longer flight or a connection flight you can't avoid.
Pro Tip: Don't forget to pack snacks for yourself!!!!!
Book the Most Comfortable Spacious Seats (you can afford)
When booking airplane travel with young kids try to get seats with more space as they'll likely want to move around, play and eat. Having a bigger seat also allows for more comfortable naps, a change of clothes and more space for eating and drinking. It also makes being in a confined space feel less limiting.
Since the more spacious seats are more expensive, I like to use the app hopper to track pricing. I also find that it's cheaper to upgrade your seats at check-in or even with the gate agent (if it's not a full flight) vs. booking the more spacious seats when you book.
Pro Tip: Check to see if the arm rests are moveable in first class. I had points and upgraded us to first class on the return but the arm rest would not go up. This made sleeping and consoling my son very difficult.
Before traveling I read recommendations to book an aisle seat for bathroom and walking access but I am SO glad we booked a window seat as well. It was so fun to watch the flight out the window and not bother our fellow passengers. I also felt like the window seat was the safest place in terms of containing an active toddler.
Practice for Airport Security Checkpoint
If you are traveling alone like I was, it's a great idea to practice the folding down of your travel stroller for airport security and boarding the plane. It can be overwhelming to try and break down your stroller, put your diaper bag through security and keep an eye on your little guy or girl at the same time. Practicing ahead of time gave me a lot more confidence and I was also quick to take the help of kind strangers! I borrowed this Summer travel stroller from a friend and it was perfect!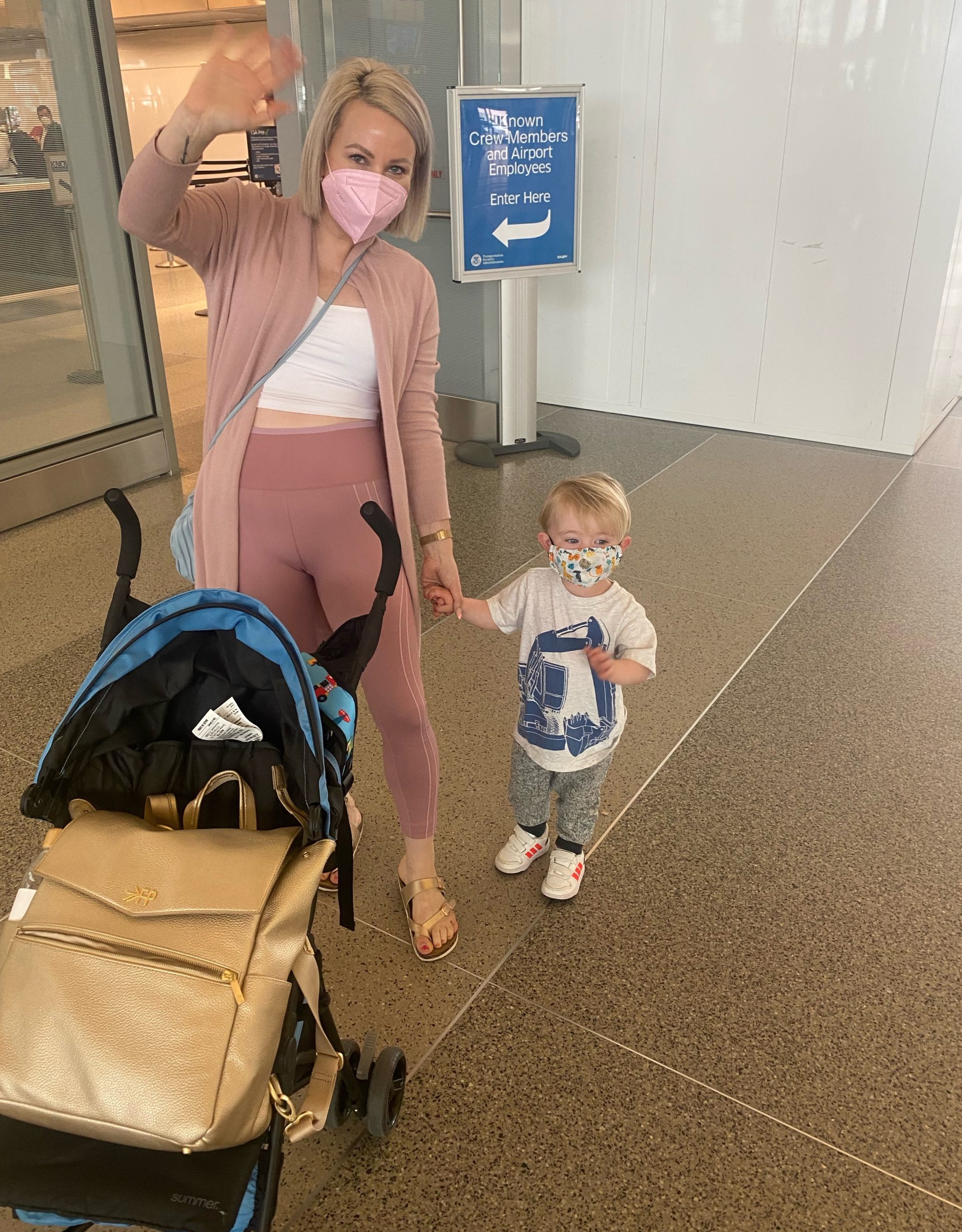 Consider the Car Seat Options
I read a million opinions on what to do about the toddler car seat for airplane travel. It really comes down to your preference. If you have a lighter car seat and plan to travel with a 2nd adult I can see bringing the car seat and installing it in their airplane seat, but in my situation, it was just not something I wanted to worry about.
I purchases a separate seat for my son and rented a car seat at my destination. I'll talk more about the perks of renting equipment but it was a phenomenal experience and I was able to only gate check our travel stroller.  If you're concerned about safety on the plane without a carseat, you can purchase the CARES Harness (child safety restraint system) and use it in your child's seat. My son did just fine with the regular seat belt and kept it on the entire time except for some tears on the return flight.
Educate Your Child About the Plane Ride
We had so much fun reading books and watching videos about plane travel leading up to our day of travel. This is a great way to help younger children understand what to expect and prepare them for the process. If you travel for work consider taking extra time to bring your child to the airport for drop-off and explore aviation observation decks in your area.
Here are a few plane travel books that are great.
Overpack on Healthy Snacks 
If I had to choose one toddler tip for travel, it would be to overpack on food and make your healthy snacks and eating an intentional activity. I took the advice of others and packed a bento box full of a variety of healthy snacks for my son and keep his attention and took up time while we were waiting. It was also a great distraction during our 45-minute delay on the tarmac. Some people recommended these tray table covers for eating and play but since we used the bento box I found we didn't need it.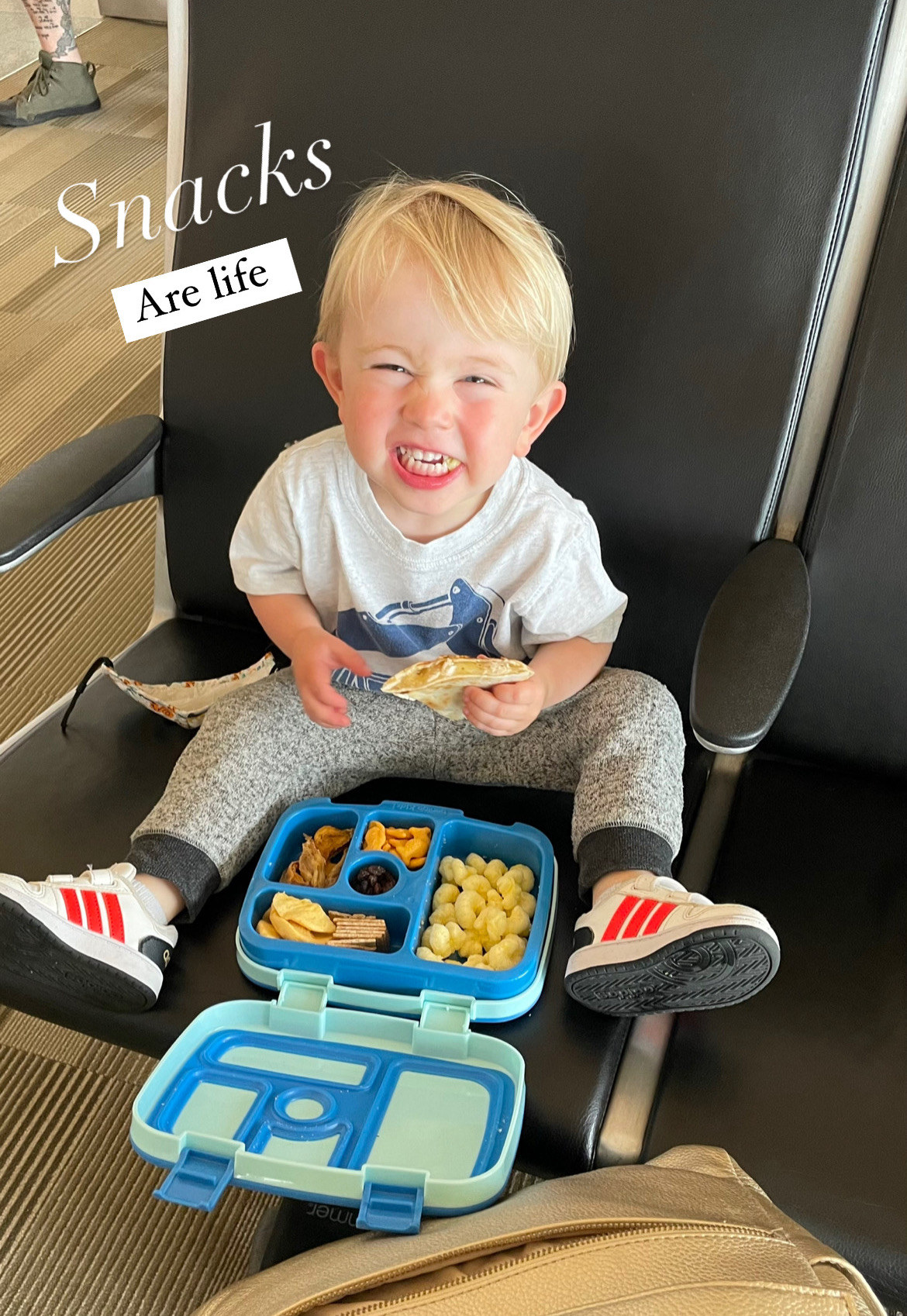 Leave Plenty of Extra Time
Prepare to take more time. I am normally comfortable leaving 45 minutes to get through TSA Pre-Check and bring a carry-on bag. With my son, it was a different story. He is slow to acclimate to new places and experiences and is very curious. I ended up leaving us an extra hour of time which was perfect to check our suitcase, explore the moving sidewalk, do a bathroom diaper change before the flight and settle in with some pre-flight snacks while we watched the planes.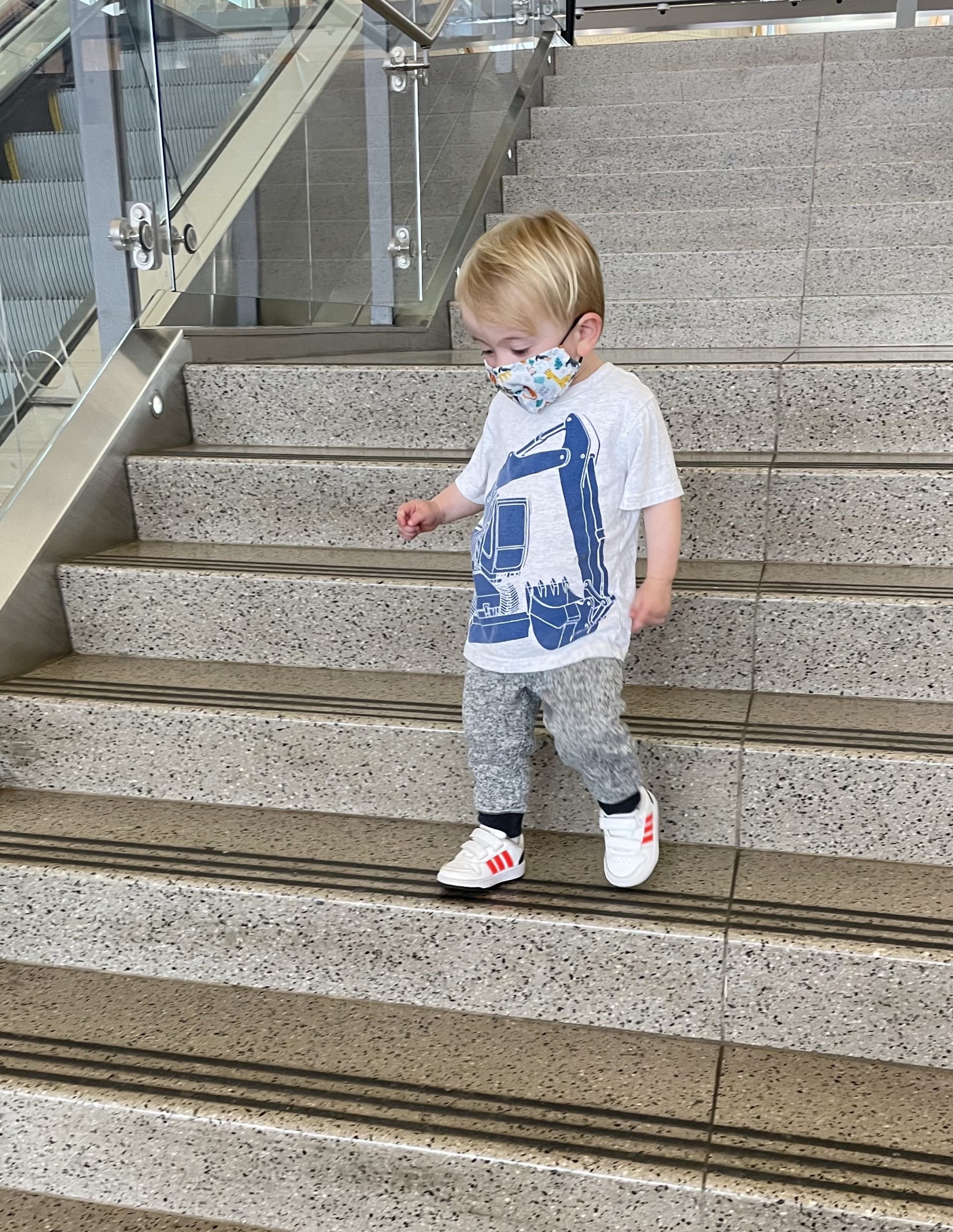 Rent the Majority of Your Baby Equipment
So many people discouraged me from renting baby equipment but I used Babyquip and it was AMAZING!!! The best part about Babyquip as opposed to renting from a vendor at the airport is the equipment can arrive at your location before you arrive. You know exactly what baby gear you are getting (you pick out the model and items online) and are in direct contact with your provider who is bringing it to you. Since we were staying with my brother I rented a car seat, a booster seat for the kitchen, and added a basket of books at the last minute, so we didn't have to bring so many on the plane.
I coordinated with the provider to drop off our equipment earlier in the day and everything went so smoothly. When we were departing we had the option to have them pick up the pieces where we were or meet at the airport. I Highly recommend trying Babyquip next time you travel. Renting our baby equipment made travel so much smoother and I was able to pack lighter for our trip.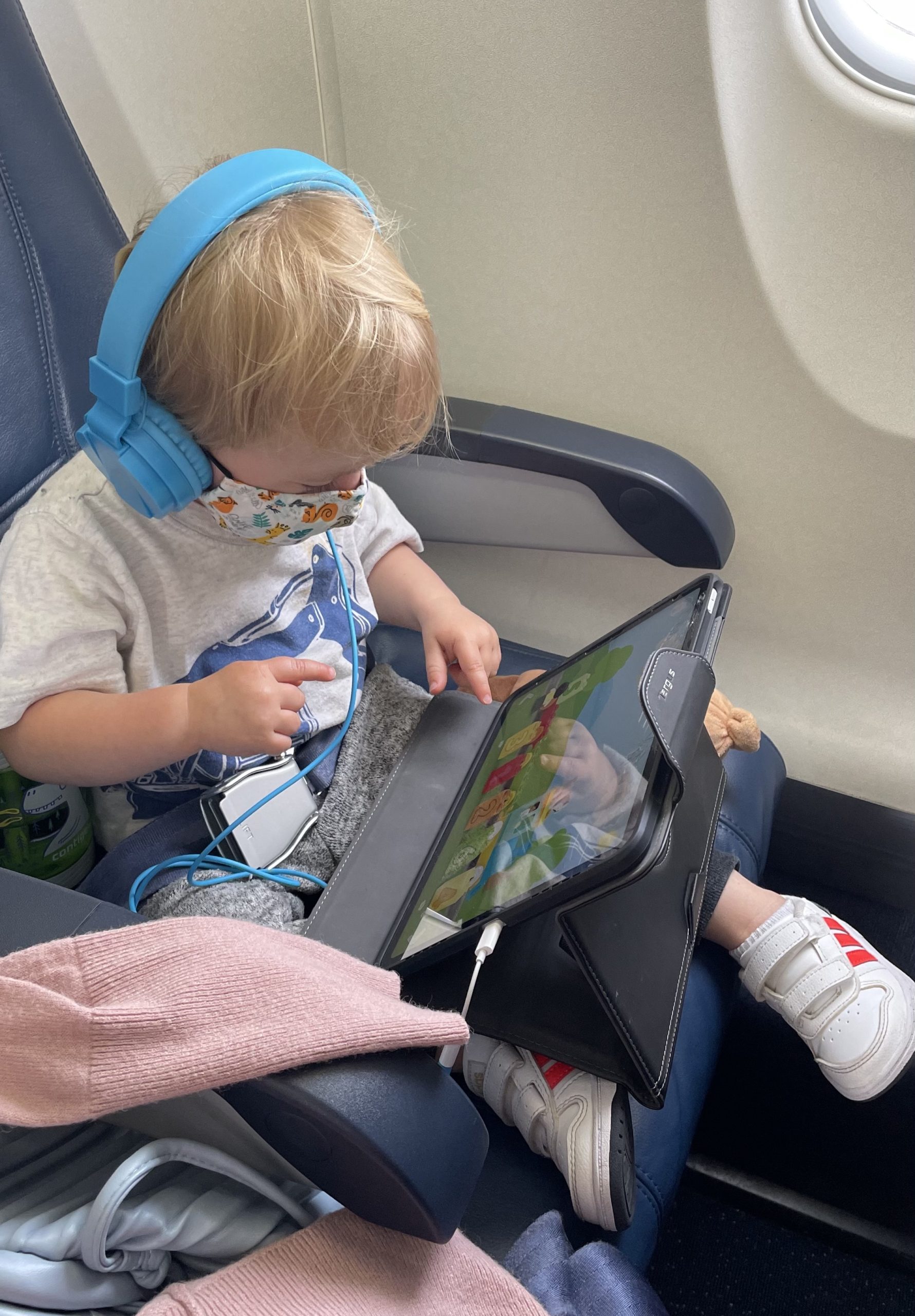 Decide on Airplane Activities & Games 
Deciding on airplane activities and games is a challenge. There are so many options out there and you will also want to pack light if you only have one adult to carry things. I decided to pack my diaper bag with this activity board and then we packed some lighter cars, dolls, and a board book in my son's toddler travel backpack. He enjoyed carrying the backpack (perfect size) and opening it to get his toys and then I was able to hang it on the stroller when he didn't want to carry it.
I also brought our iPad (Kid's fire tablet is on our wishlist) and toddler headphones. I knew there would be no screen time limits for the iPad but I tried to use the other toys and activities first. While I thought the headphones were going to be great, the plane was so loud he ended up watching on a low volume without the headphones.
Pro Tip: Be sure to download the games or videos for your child before the flight as you will not have internet access.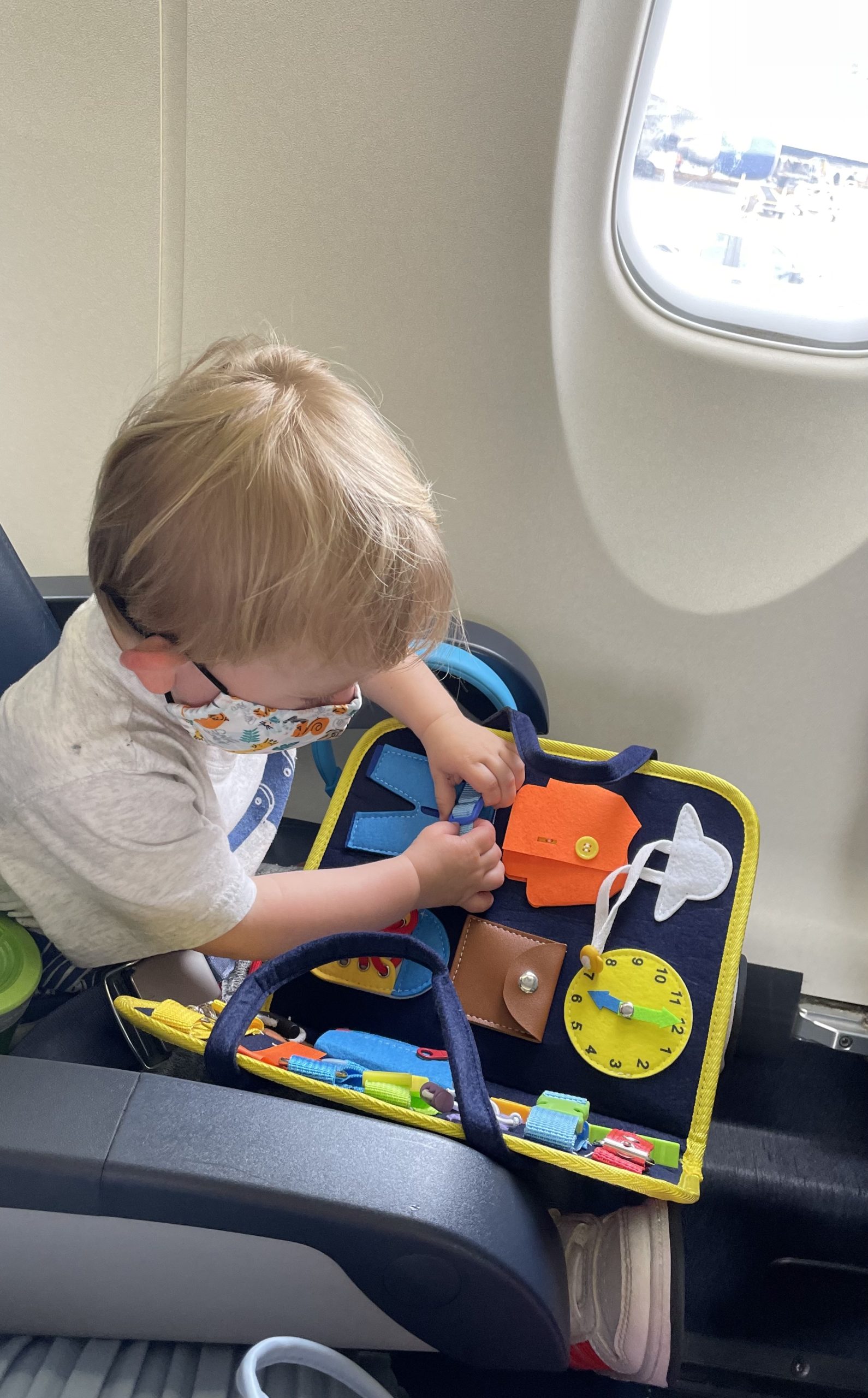 Overpack for Diaper Changes
However many diapers you think you need, pack double! I packed the exact same number of diapers as I packed for our road trip the week prior and somehow we ran out of diapers. Of course, you can get diapers anywhere but particularly with airplane travel, you don't want to be stressing about diaper changing essentials.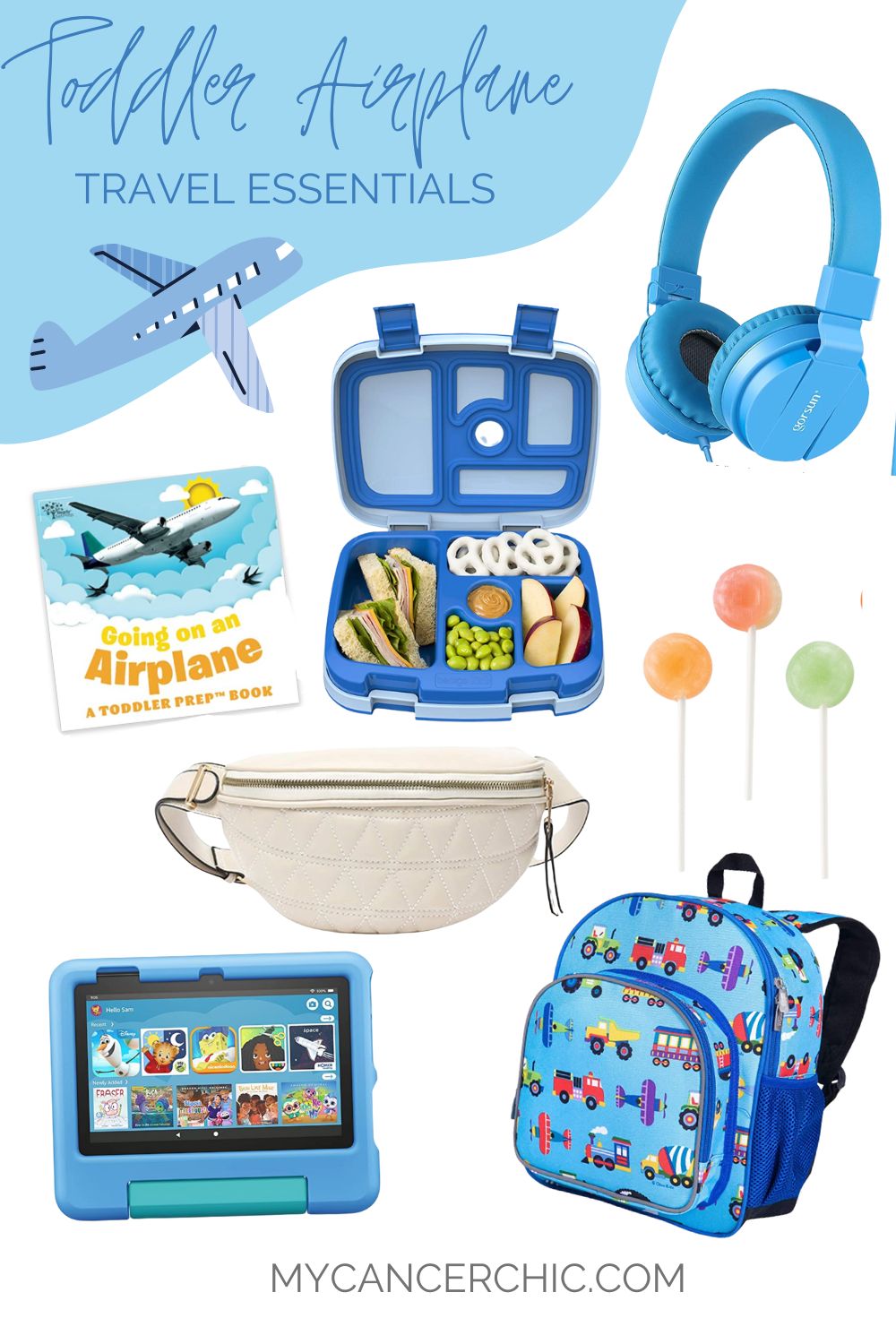 Some people are opposed to boarding the plane early but for us it was perfect to board early when we had the option. It gave me more time to break down the stroller, we were able to meet the flight crew and settle into our seats while we watched everyone board. Like I said my son is very observant and friendly so he loved seeing all the people get on. If you know your child will have trouble staying in the seat, you may want to board later when your zone is called.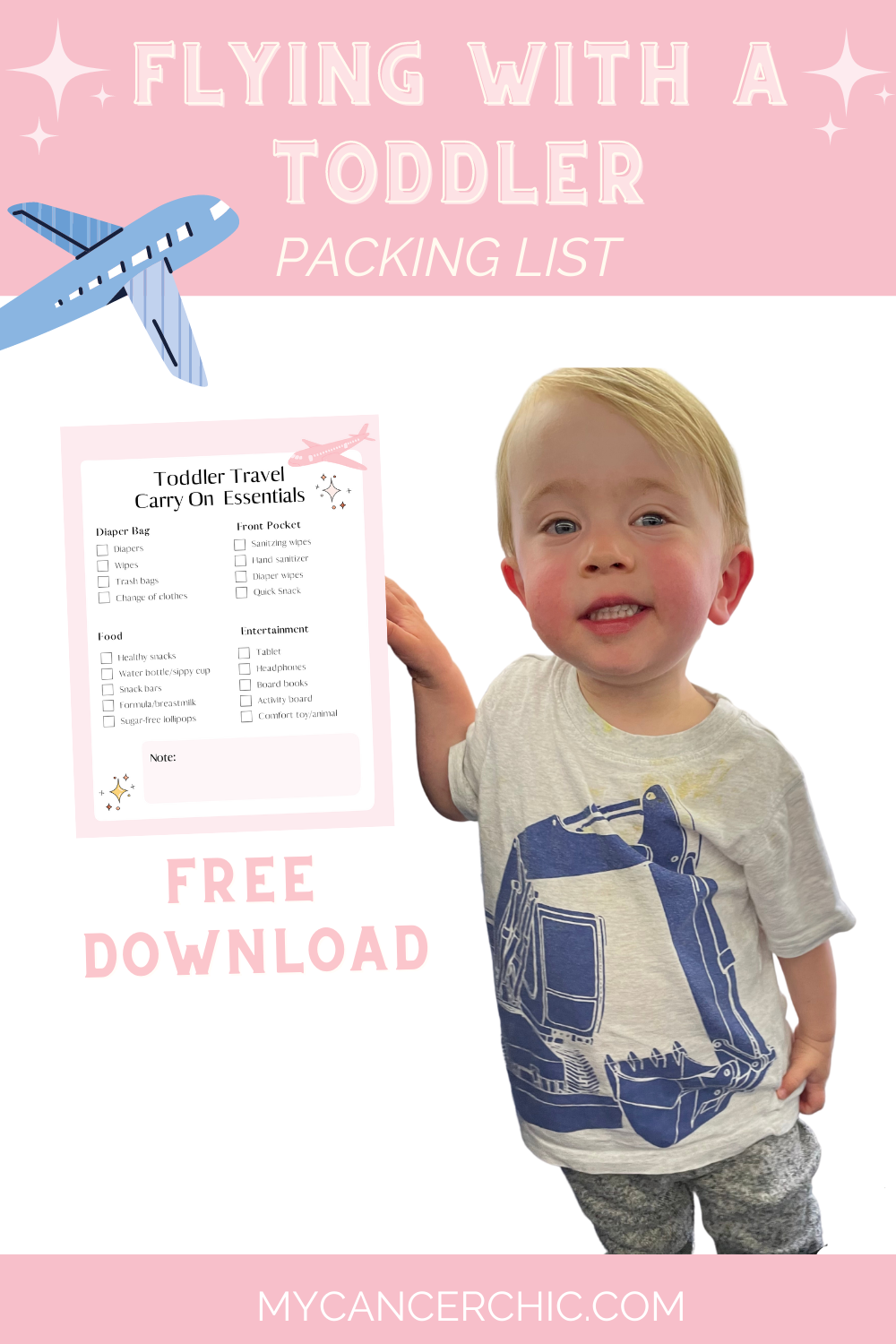 Cross body purse for easy immediate access of phone, wallet and other essentials
Diaper bag or travel backpack
Ipad or kids tablet
Change of clothes
Bento box for snacks
Refillable water bottle and sippy cup
Diaper Wipes and Clorox wipes
Sugar-free lollipops for air pressure & distraction
Hand sanitizer
Comfort doll, toy or animal
Trash bags for wipes, diapers, wrappers, etc
Healthy snacks, baby food, formula and/or breast milk
Diapers
Activity board
Books/Toys
I hope these toddler travel tips are helpful. My son and I had a great time and I also learned some lessons for how to improve our travel next time. Download my toddler travel packing list and let me know in the comments what other travel questions you may have.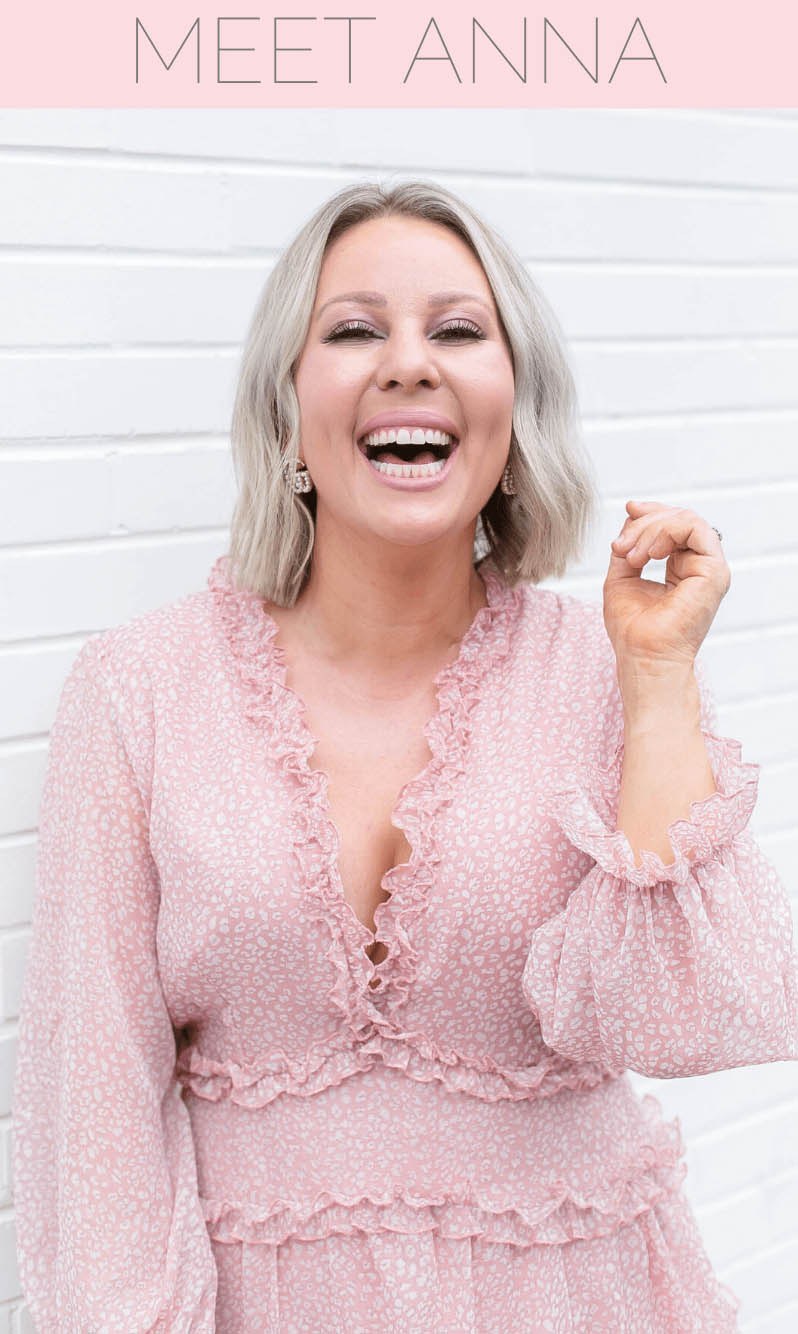 Breast cancer survivor, lover of style, beauty and all things pink! Inspiring you to thrive through adversity.