The infamous bun or top-knot is a go-to lazy hair style for those with longer hair. It's a fun way to throw your hair up and still feel put together. Before I am diagnosed with breast cancer I loved wearing my hair in a topknot or at the time what was popularly called the "sock bun".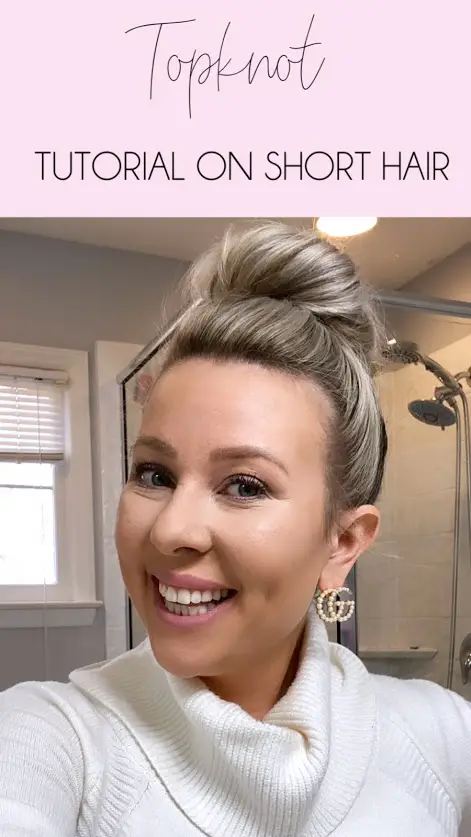 When my hair grew back after chemo I was SO excited to reach the stage where I could put my hair up in a topknot. You can see each stage of my hair regrowth in the Hair Growth Timeline.
This past summer, about 4 years post-chemo I decided to do a big chop and went back to my short bob which was so fun! My goal had always been to regrow my hair back to my pre-chemo length and when then cut my hair by choice! It was so empowering to chop it all off and get an actual hair style instead of being forced to go short as I was with chemotherapy.
Even though I love the shorter haircut, I didn't want to give up the topknot style and the ease of being able to put it up and out of my face. So, I figured out new creative ways to make it work.
In this hair tutorial I share how to create a full looking topknot on short hair. In the video I show you all you need to create this look including a dry shampoo, a teasing/smoothing brush, LOTS of bobby pins (I use light colored ones), and clear hair ties.
If you find your hair is too smooth or slippery the dry shampoo or a texture spray will really help. Also this gel works wonders for those flyaways that you can't pin down.
Earrings | Brush |Bobby Pins | Hair Ties |Dry Shampoo
Have you ever tried to wear a topknot on short hair? Let me know in the comments how it worked out for you and if my tutorial helped.