Styling shorter hair can be intimidating if you've never had short hair before. But learning new styles can also be fun. It's all about finding inspiration and trying new styles without self-judgment as you're learning how to style your bob. For today's post, I wanted to share 6 cute and easy hairstyles for short hair.  They're chic and polished but easy enough for rushed mornings. You can easily adapt these hairstyles to fit your length of hair at most stages of chemo.
Want to get a sense of your estimated hair growth after chemo? Check out my full post-chemo hair timeline
6 Cute & Easy Hairstyles for Short Hair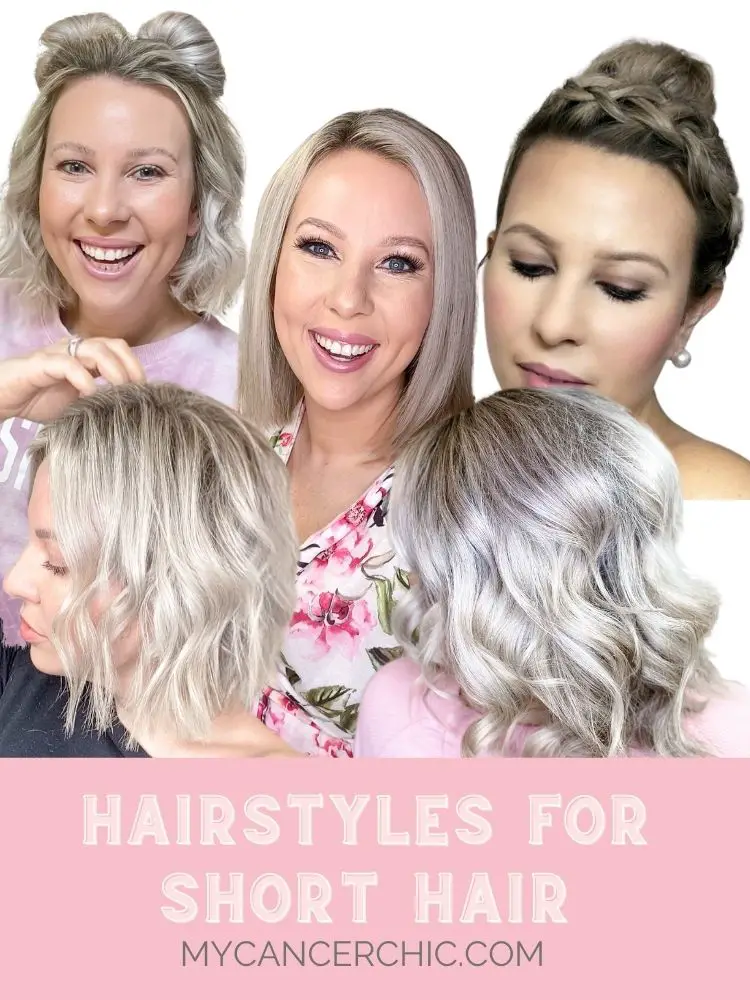 One of the most commonly received questions I get is how I style my hair and in particular hairstyles for short hair. In the 6 years since my hair loss during chemotherapy, I have experimented with countless hairstyles. The ones I will be sharing today are some of the few I return to over and over again when I have this length of hair. Because they are SO easy and great for everyday polished looks.
MY HAIRCUT & HAIR HISTORY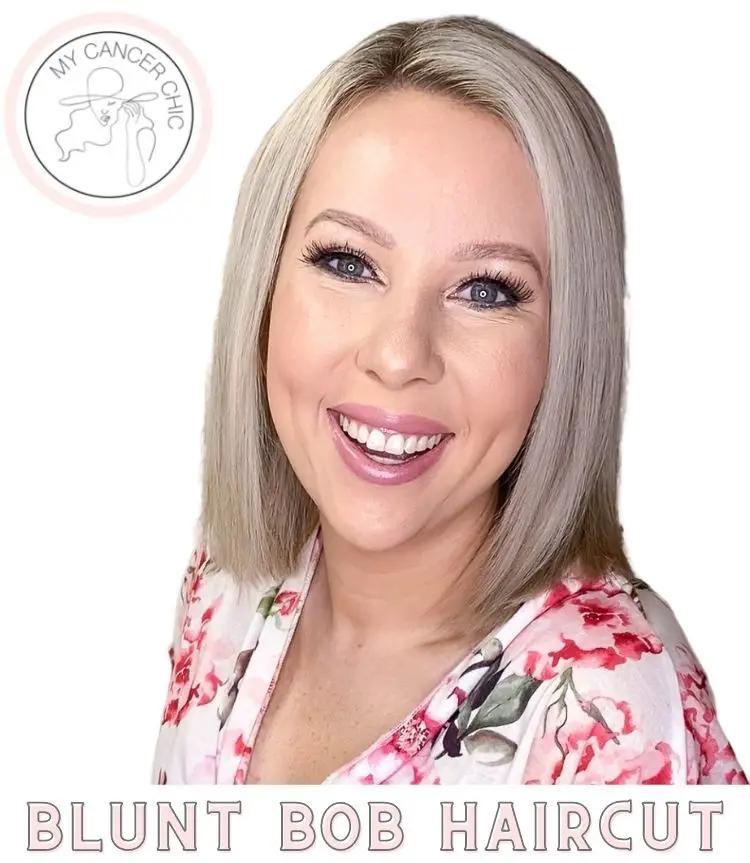 After losing my hair during chemo in 2015, I was determined to grow it back to its original length. Which was past my boobs before cutting it again. I never thought I would like short hair but after learning to navigate shorter hair as my hair regrew, I fell in love with the bob length. As soon as I hit that length benchmark I set for myself, I chopped it all off to a blunt bob with the same length all around. It's my favorite haircut ever. While sometimes we grow it or cut it a few inches, we always keep the blunt cut with no layers. I find it's the easiest to style and the chicest when blow-dried. So now let's jump into my favorite easy hairstyles for short hair.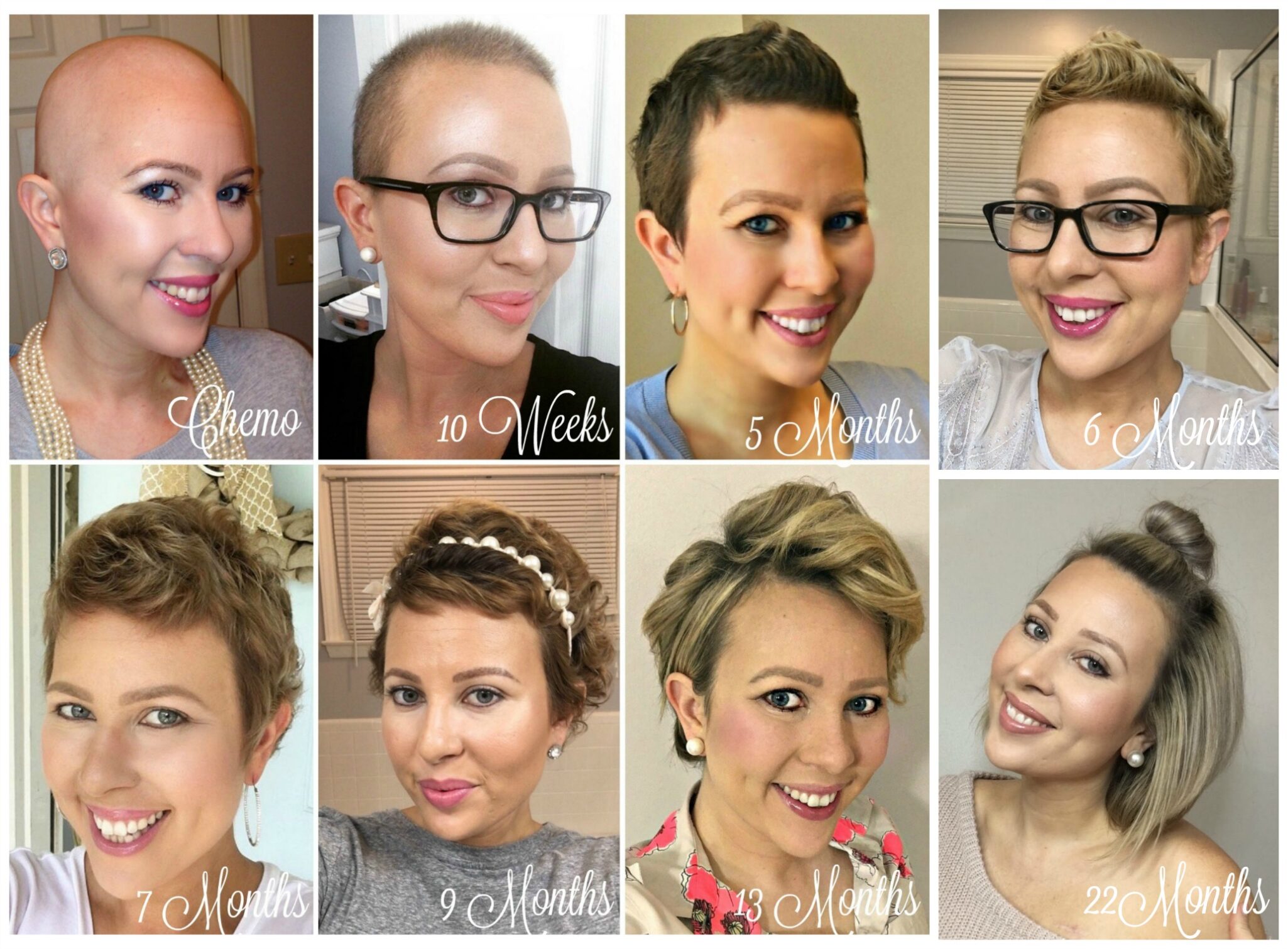 6 EASY HAIRSTYLES FOR SHORT HAIR
HALF UP SPACE BUNS HAIRSTYLES FOR SHORT HAIR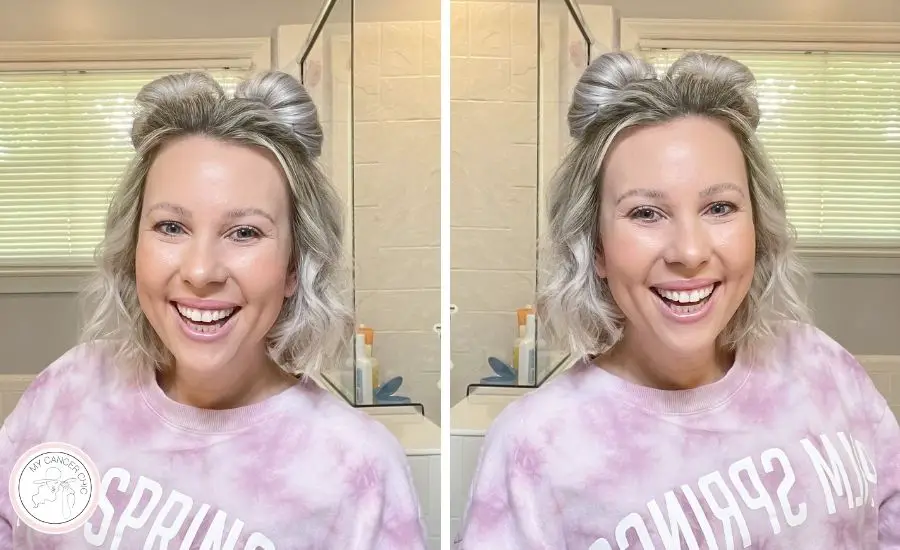 The space buns hairstyle is so 90s but it is so playful and fun. It's a great way to get your hair out of your face. And can easily be adapted for short hair by making it a half-up style with the space buns on each side. I will be posting the video on how to recreate this hairstyle on short hair next week on my Pinterest. So be sure to follow me on there or join my newsletter for the update!
BRAIDED HAIRSTYLES ON SHORT HAIR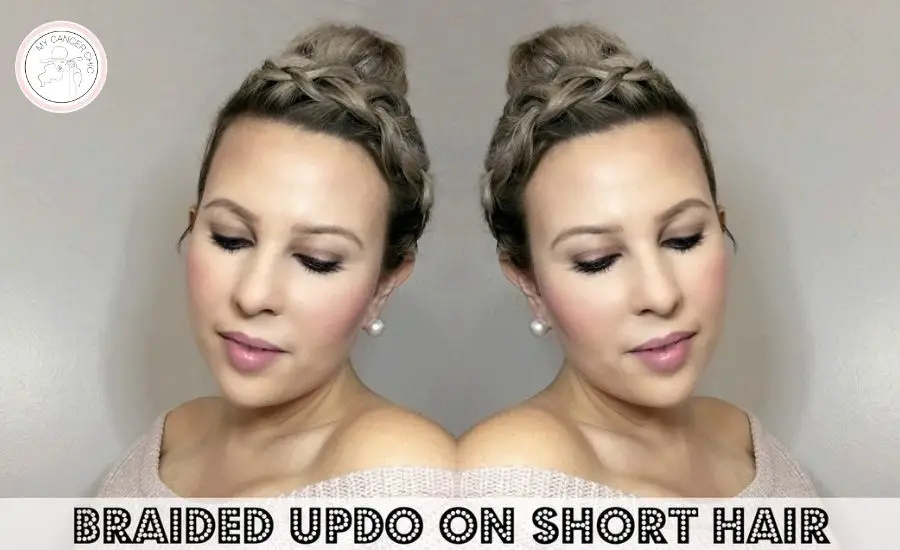 Braids are normally associated with long, thick hair. But they are so fun on short hair as well. If you are not used to braiding your own hair, give it some time to master but don't give up! In this video, I walk you through the braiding process of short hair. The key to adapting a braid for a shorter hair hairstyle, you will simply end and pin the braid sooner.
HALF UP HAIRSTYLES FOR SHORT HAIR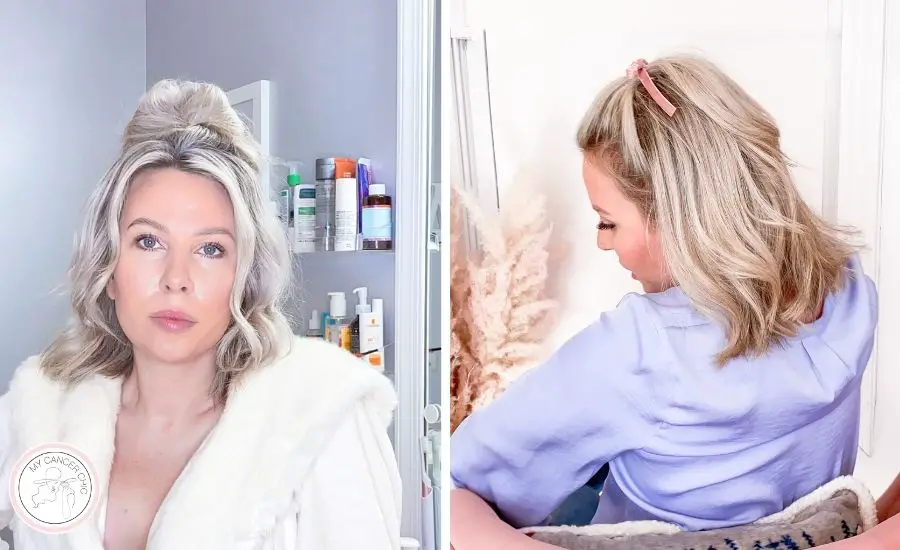 The half-up is another great hairstyle for short hair. I particularly like the half-up bun and integrating accessories like headbands, small ribbons, or barrettes. The nice element to the half-up hairstyle on short hair is that it can be modified for any length of hair.
SLEEK LOW PONYTAIL OR PIGTAILS HAIRSTYLES FOR SHORT HAIR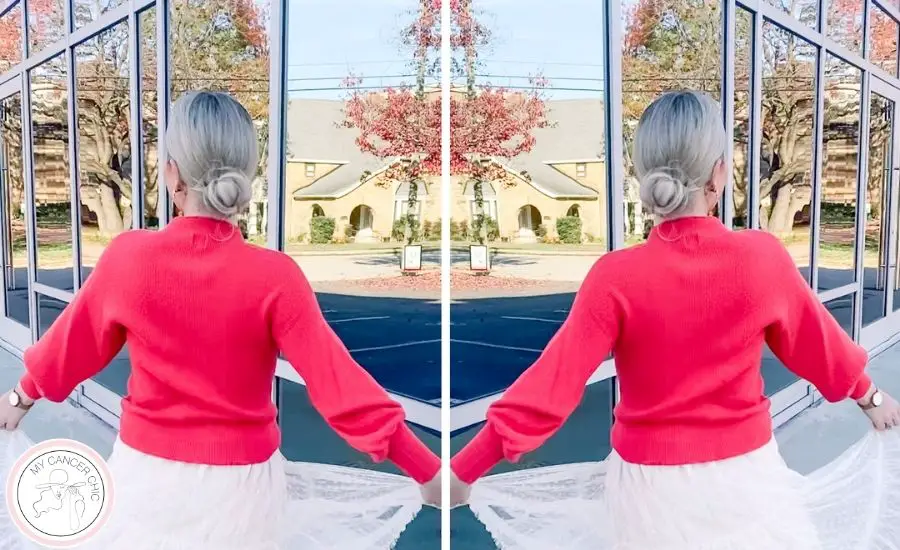 If your hair is below your ears but not quite to the length where you can put it up, you will love this look for summer. The key to making your low ponytail or pigtails look chic is making sure the ends are stick straight and smoothing your hair so that it lays flat on the sides as well. This sleek look is super polished and professional and takes 5 seconds to do. I swear by the small clear elastics for these looks OR tie a beautiful hair scarf around the ponytail for the illusion of more volume. Love this hairstyle on short hair.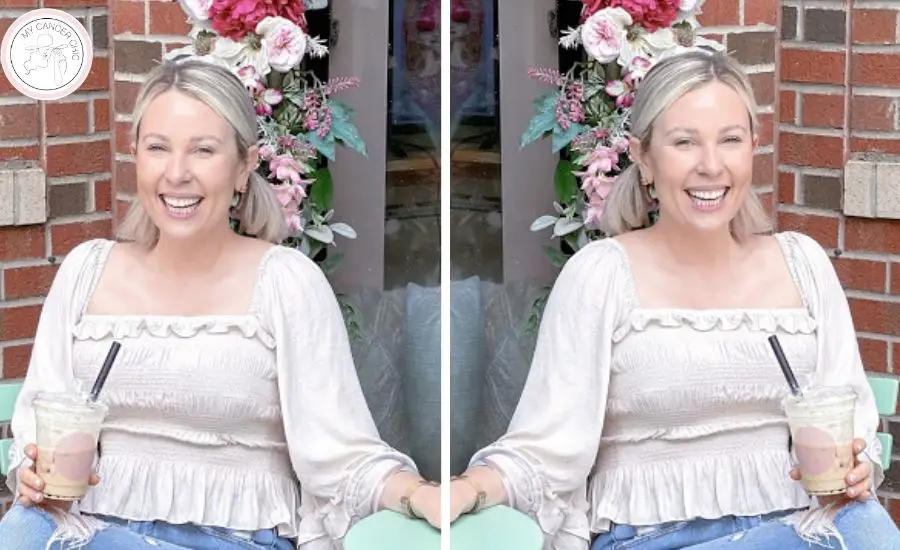 SOFT CURLS HAIRSTYLES ON SHORT HAIR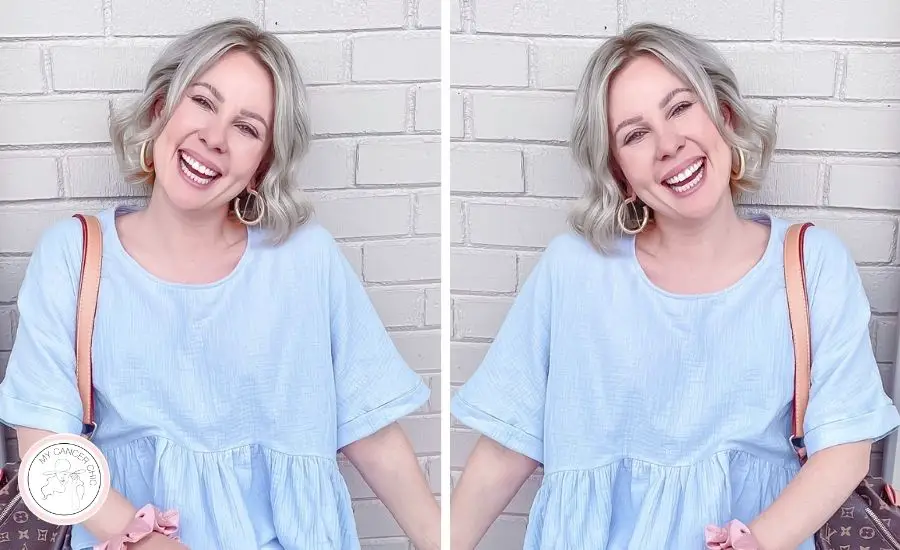 You all know I LOVE soft cu as a hairstyle for short hair. The soft curls look feels very chic and glamorous to me. In this post, I provide a full tutorial on how to create soft curls on short hair. I like creating these curls with a curling wand and then combing through the curls with a wide-tooth come for a chic Hollywood-like wave with lots of body
MESSY WAVES HAIRSTYLES ON SHORT HAIR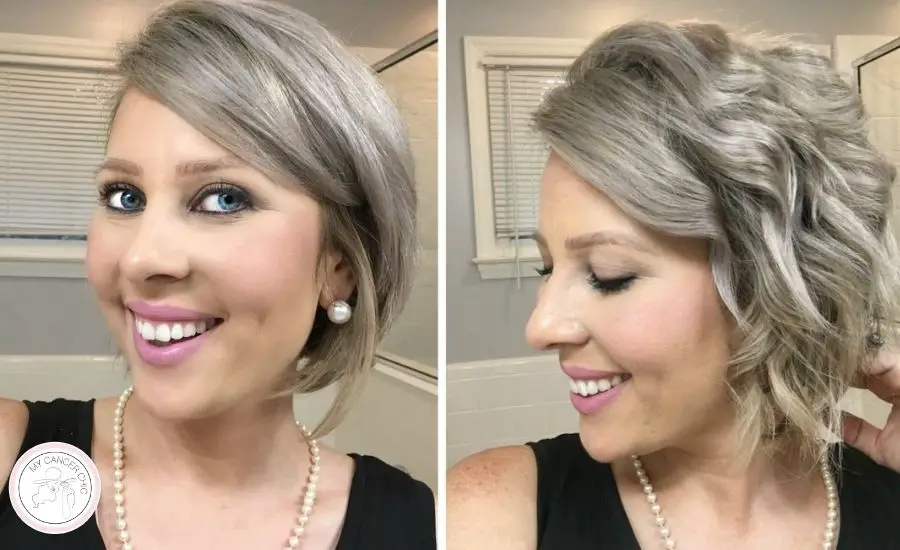 If you don't like soft curls, messy waves are another great hairstyle for short hair. I like to achieve this look by curling my hair with a straightener.  For shorter hair a 1/2" straightener is great! This helps you get a messy, edgier look and I like adding volume with my favorite texture spray. Check out my tutorial.
HAIRSTYLES FOR SHORT HAIR : SHOP THE POST
I hope you enjoyed this post with some of my favorite hairstyles for short hair. What other styles would you like me to provide tutorials for? You can also check out my post-chemo hair timeline to see how I styled my hair over the past 5 years and get inspiration for the regrowth process. Also, be sure to follow me on Instagram and Pinterest where I share more hair tutorials and ideas. If you want to see some of my older hairstyles as my hair was growing out after chemo, you can also check out my YouTube page.
PIN THIS POST FOR FUTURE REFERENCE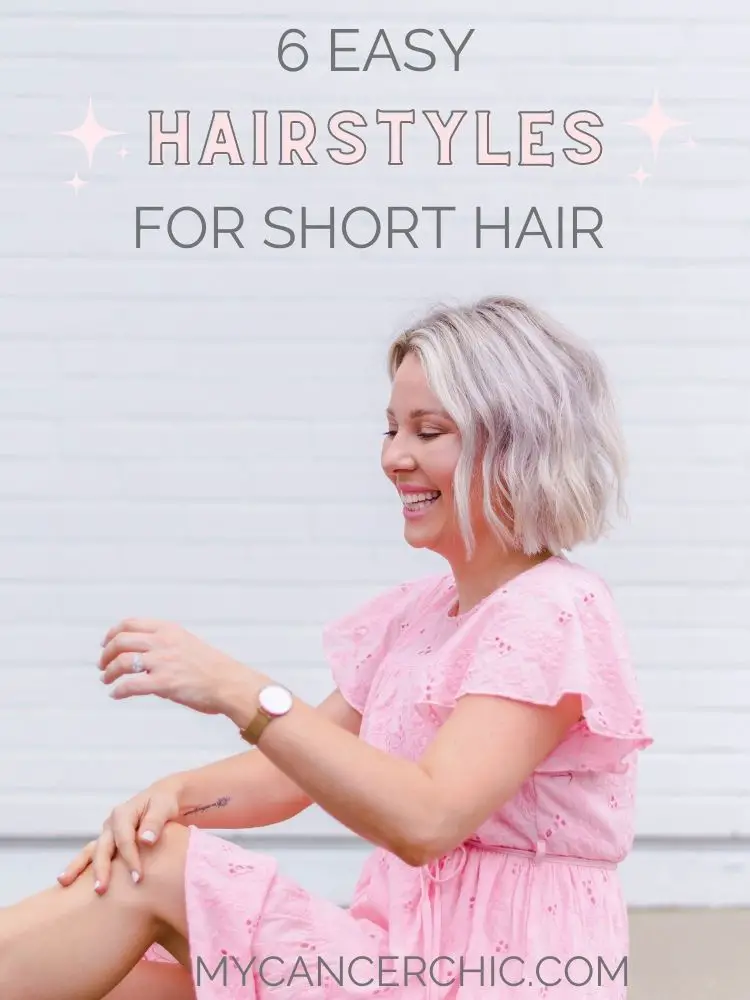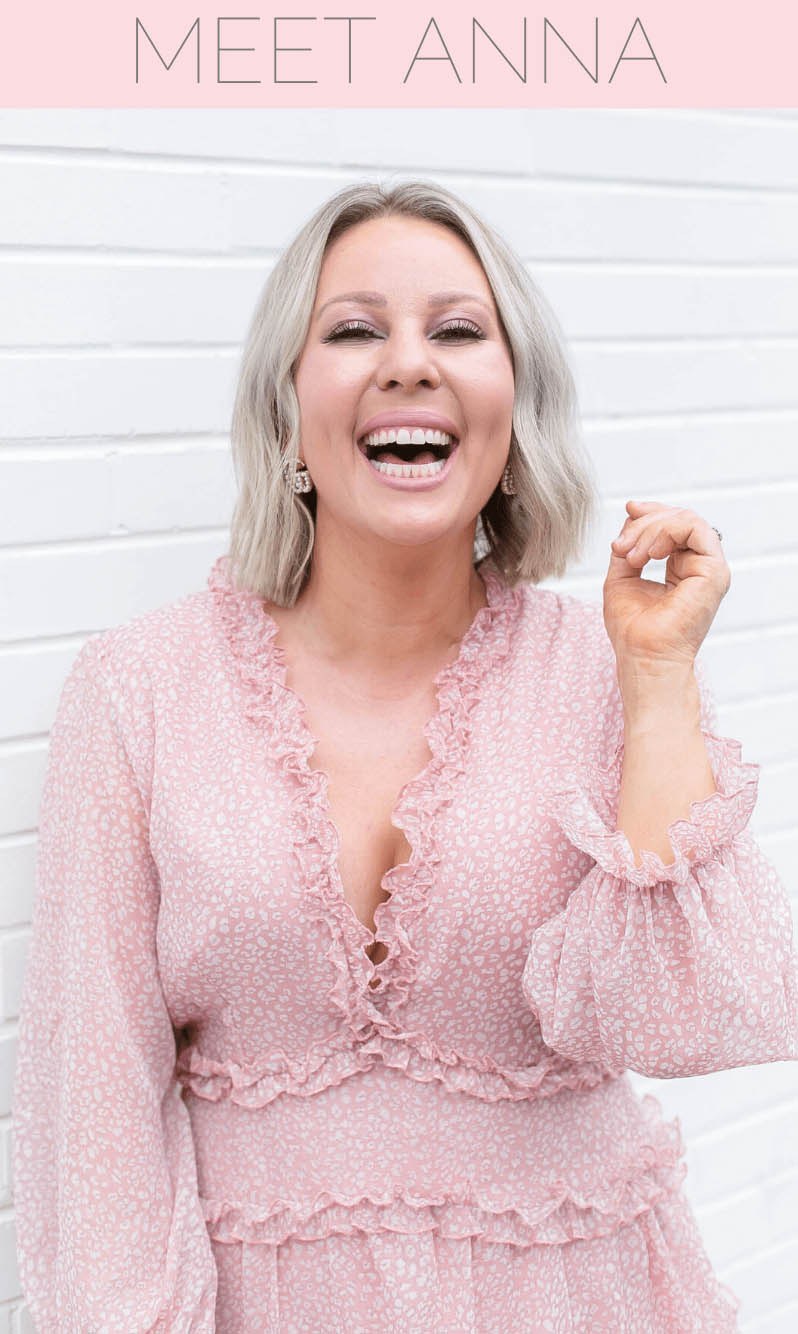 Breast cancer survivor, lover of style, beauty and all things pink! Inspiring you to thrive through adversity.