If you are having breast cancer treatment, a bilateral mastectomy or unilateral mastectomy may be part of your plan as well as immediate or delayed reconstruction. In preparing for your surgery, it's helpful to understand what post-mastectomy clothing and bras will help you address some of the biggest challenges of surgery and recovery. Also, while fitting your personal style for your new body as a breast cancer survivor.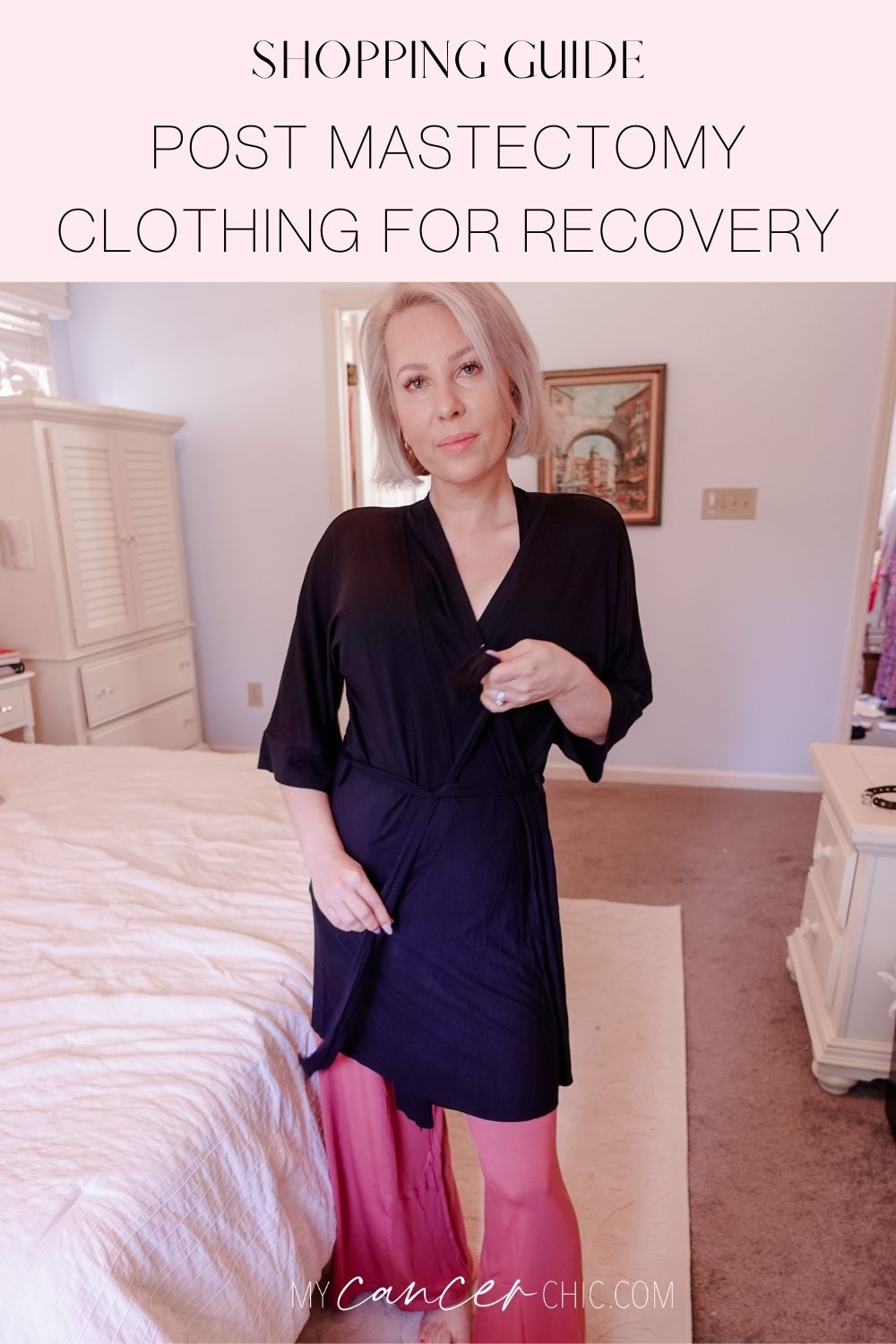 Survivor Guide To Post Mastectomy Clothing & Bras
Therefore, in today's post, I will take you through practical tips, style insight, and survivor insight as to the best post-surgery bras, compression bras, and comfortable clothing to help with your major surgery recovery! Also, we will talk through where breast cancer patients can buy my favorite mastectomy bras & clothing, what is covered by insurance companies and which products have pockets for breast forms.
Selecting Post Mastectomy Clothing for Recovery
Moreover, healing from a mastectomy is hard both physical and emotionally. So, in this post I hope to share all my insight as a 6 year breast cancer survivor having gone through over 6 breast cancer surgies to help you select the best comfortable and functional post mastectomy clothing and bras for recovery.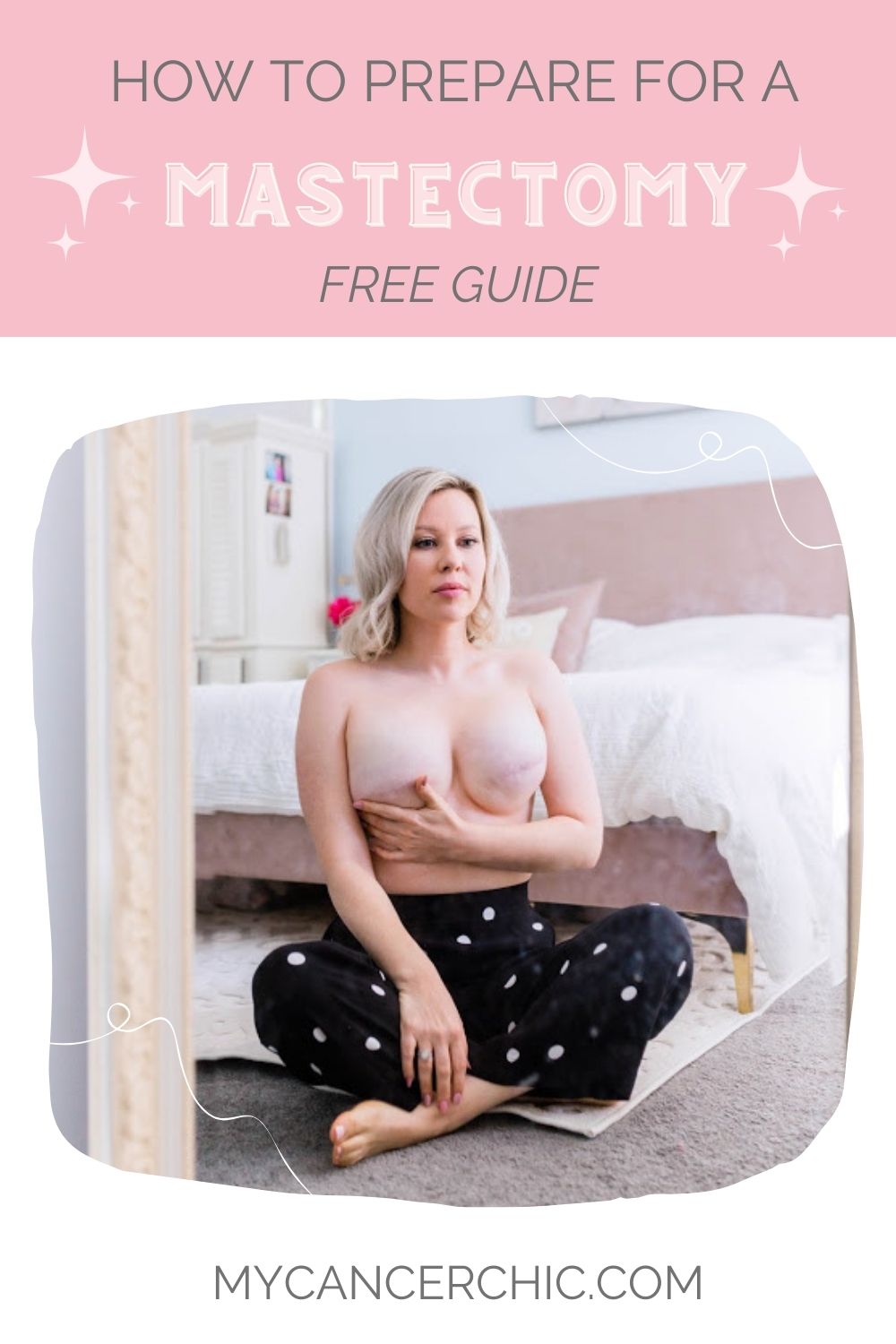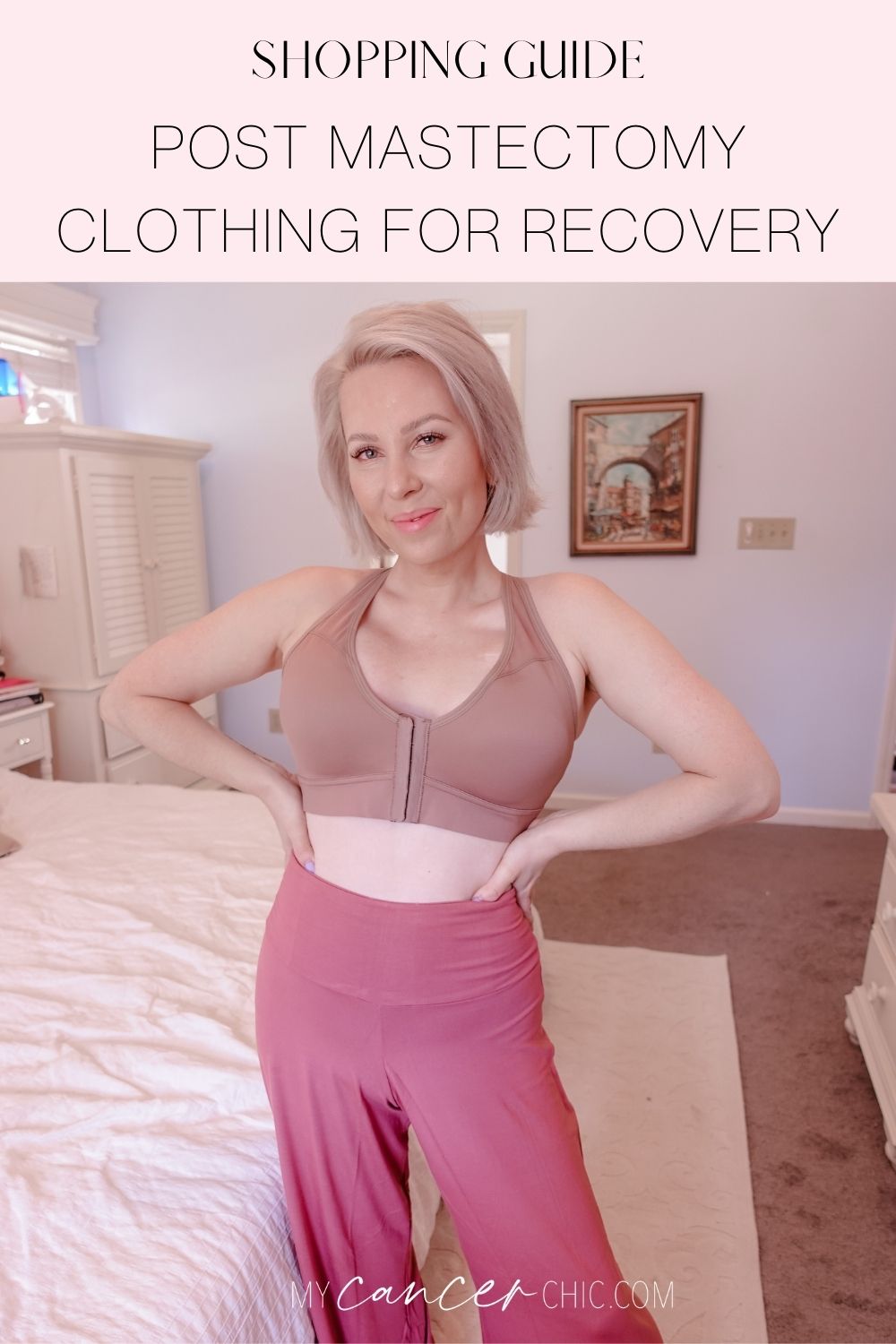 Post Mastectomy Clothing Recovery Checklist
Mastectomy patients will want a soft recovery robe with easy access for surgical drain access, healing, and medical dressing management. Additionally, the Meina Robe with Drain Management Belt from AnaOno by Dana Donofree is my recommendation for lots of women due to the adjustable nature and the functionality of the design during your healing process. 
Luxury & Comfort 

Functional &

Able to tie/step into no need to lift arms during healing

Soft and non-irritating 

Sizing: OS (size 0-12) and PS (size 12-22) adjustable (AnaOno

Fit Guide

)

I am wearing size OS

Colors: black, dusty rose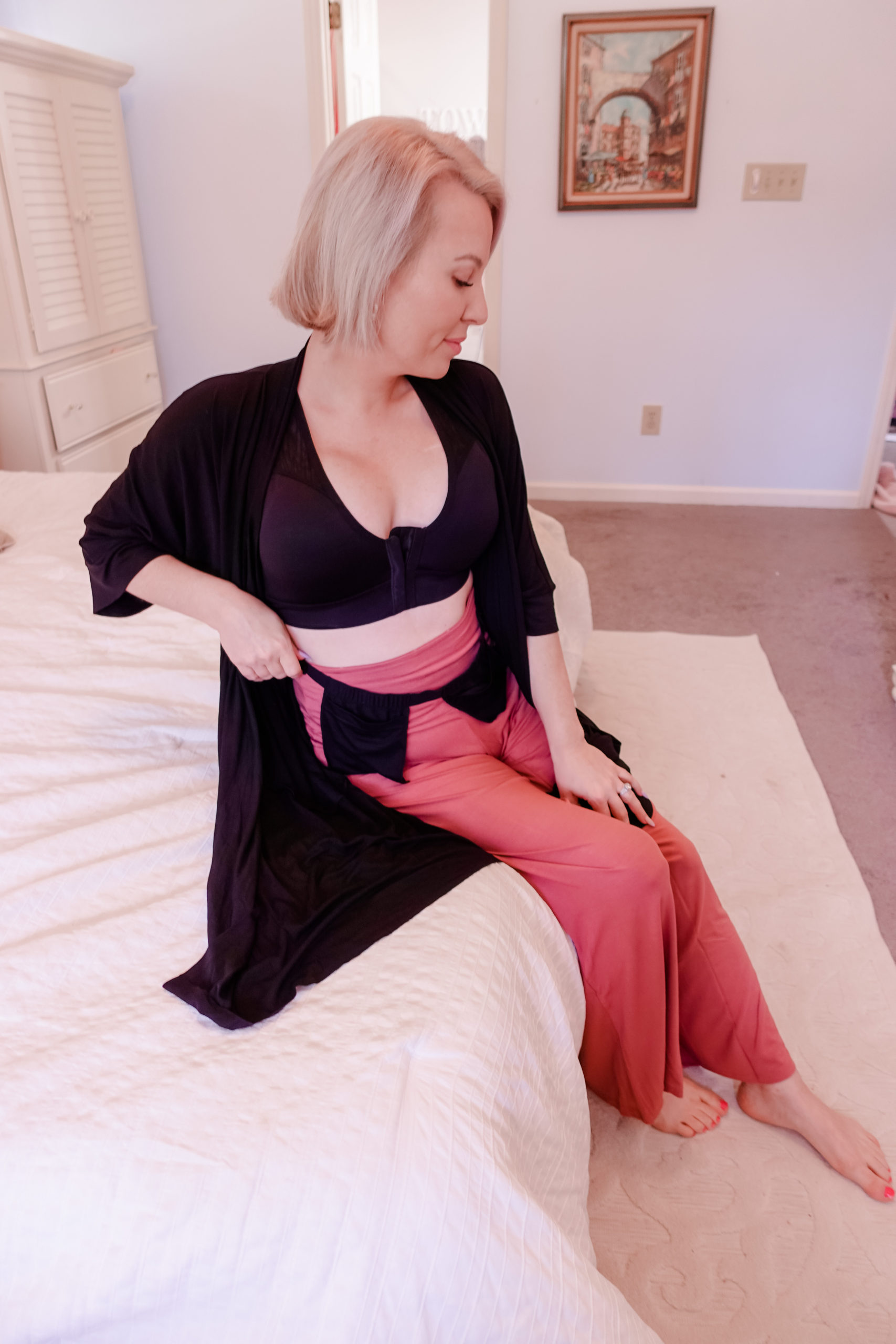 After breast surgery, you may have a limited range of motion and need easy access in and out of clothing. Also, you will want pants with an elastic band that are easy to pull up easily with one hand as you manage pain in the chest area and sensitive skin all over your body not just limited to the surgery site. Moreover, soft, functional clothing that is breathable is a good choice, particularly while you are on pain medication and may not have the best sleep.
First, made from the same modal material as the AnaOno super-soft bras perfect for sensitive skin

Second, helps you stay cool during hot flashes and post-surgery fluctuations and healing

Third, interior pockets helpful for drain storage

Fourth, sizing Tips: true to size, high rise 

Sizes S-XXL 

(AnaOno

Fit Guide

)

So, I am wearing:

Size small

Colors: black, dusty rose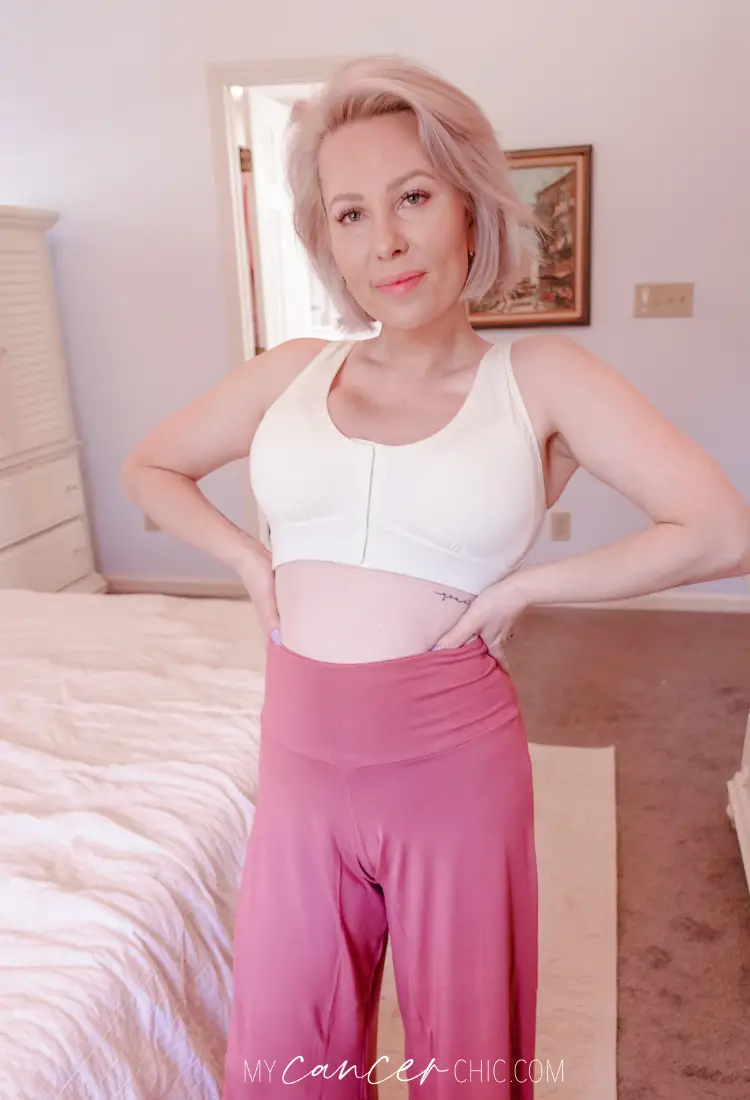 3. Front Closure Bra
After breast surgery, you will need a suitable bra with a front closure and fabric made for sensitive skin. Also, your hospital will likely send you home with a generic compression bra for the swelling. But I think it's a good thing to have an alternate post-mastectomy bra with plenty of support and breast prosthesis pockets to carry you through your recovery and your breast reconstruction surgery if that is part of your plan.  Moreover, astectomy bras can be found at some main retails and mastectomy boutiques. But I suggest shopping for your mastectomy bra from AnaOno prior to surgery so you don't have to worry about shopping for a bra when you have limited range of motion and likely won't have the emotional bandwidth to go in person and deal with that process. So, these are my favorite post-surgery AnaOno Bras.  Don't forget to get a prescription from your surgeon so you can submit to your insurance company for at least 1-3 mastectomy bras following your mastectomy surgery.
Racerback with convertible straps for traditional wear for a different look

Voted best post-mastectomy bra by InStyle magazine

Snug fit and great support for comfort after surgery

Front Closure for easy dressing after surgery

Ideal for radiation as well due to its irritation-free design

Soft on incisions and sensitive skin

Comes with modesty pads for shaping and comfort. 

Sizing Tips: XS-3X 

I am wearing:

Size Large

Colors: black, dusty rose, ivory, sand

 

(AnaOno

Fit Guide

)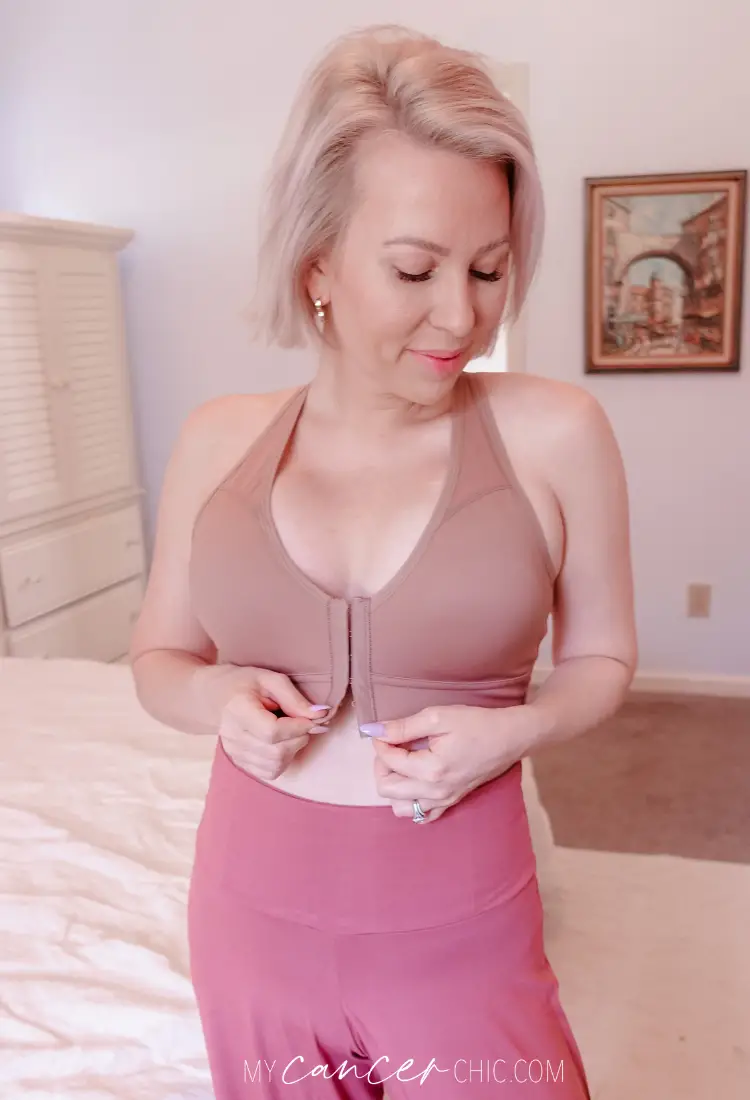 Doctor recommendation for breast cancer surgery &

fat grafting recovery

Soft & Supportive

Power stretch cups & mesh back for cooling 

Racerback

with a wide back bridge for additional support through the back and underarms

More

support than the Rora to help with swelling in the breast area after the surgery

Pocketed for breast forms, padded cups, or FooBs and eligible for insurance coverage 

I used this during my fat grafting recovery and LOVED it

Sizing Tips: XS- 3X

(AnaOno

Fit Guide

)

I am wearing:

Size Large

Colors: sand, black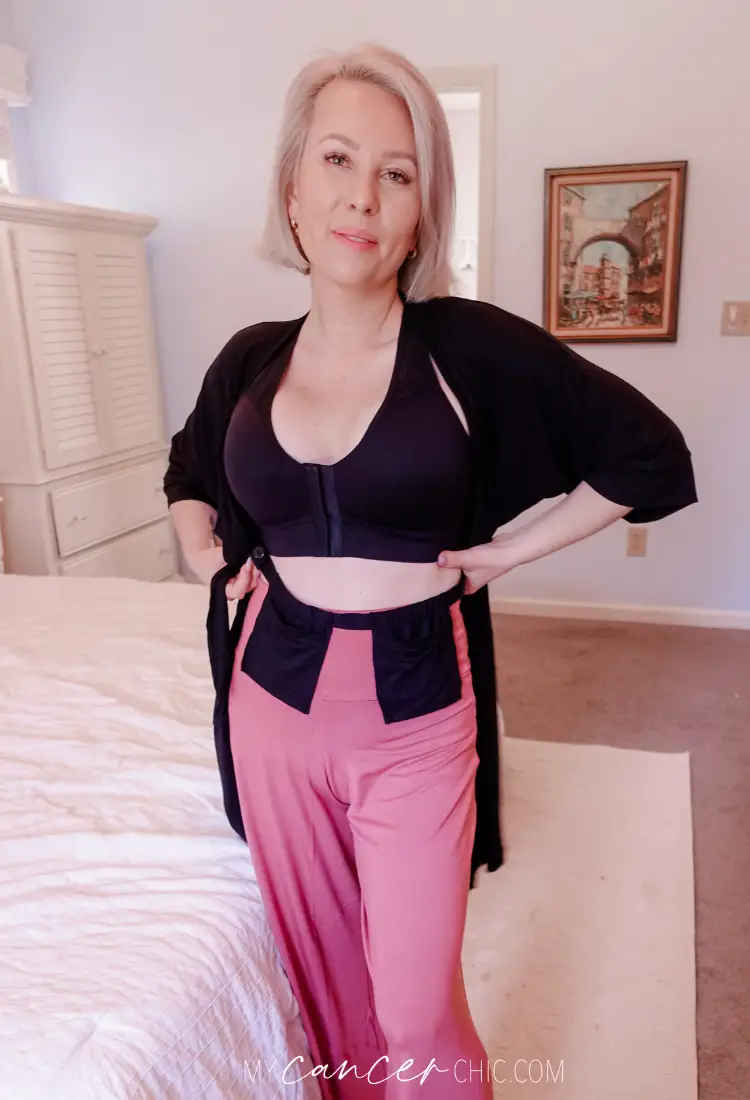 Step into this product - ideal for limited range of motion during post-surgery recovery
Mesh panels for breathability
Limited support
Underwire free and soft design for sensitive skin and incisions
Pocketed for breast forms, padded cups or FooBs and eligible for insurance coverage
Great for recovery, lounging, and exercise.
Higher neckline helps when you have surgery dressings or want more coverage
Bra Size Tips: true to size, high rise (AnaOno

Fit Guide

)

I am wearing: Size Large
Colors: black, ivory
Shop the Ana ono post-mastectomy clothing & bras to make your recovery or that of a loved one more comfortable and confident.
Post Mastectomy Clothing For Recovery Recap
There is a lot to think about when it comes to preparing for your recovery but I don't want your post-mastectomy clothing and bra choices to be something causing you stress. Alos, I hope these recommendations for what to wear home from the hospital as well as what clothing will aid your recovery are helpful as you navigate your breast cancer surgery. So, check out the FAQ below for more post-mastectomy clothing & bra information.
FAQ : Post Mastectomy Clothing & Bras for Recovery 
What should I wear immediately after a mastectomy?
What should I wear home from hospital after mastectomy?
When it is time to leave the hospital, you will want to wear clothing that is soft on your sensitive skin and can easily be put on without raising your arms. Also, you will have a limited range of motion and will have to wear the compression bra for some time so it's great to have a wrap dress, larger button-down shirts, and loose lounge pants you can easily pull on. So, you will also want shoes you can slip on because you may not be able to fully bend to tie or adjust your shoes.
Should you wear a bra after mastectomy?
Yes, you are required to wear a compression bra for swelling right after surgery and for many weeks. Generally, your surgeon will give you guidelines for how many hours a day you need to wear the hospital compression bra and when you can switch to a softer, more comfortable post-mastectomy bra like the AnaOno options I shared.
How long do you have to wear surgical bra after mastectomy?
The length of time that you will have to wear a surgical bra after your mastectomy will vary on whether you have reconstruction as part of your surgery and whether you have any chest area complications. The general timeframe is 4-6 weeks of recovery bra but many times you can swap the annoying hospital surgical bra for a more comfortable post-mastectomy bra within a few days.
How does a mastectomy bra work?
Based on your breast cancer surgery type, how much tissue you have removed, and whether you elect to go through reconstruction surgery a mastectomy bra will serve different purposes. For some people, the mastectomy bra is simply to provide compression following surgery. For other people, you may have elected to have reconstruction and need a soft, wireless bra to fit your new body form and unique breast shape. For others who elected to have a single mastectomy or do not have reconstructive surgery, you may be taking advantage of the pocket within the bra to hold a removable breast form or prosthesis. Luckily AnaOno Intimates has mastectomy bras to fit every unique breast cancer surgery and experience including implants, previvors, and those who choose to stay flat.
SAVE THIS POST ON PINTEREST 📌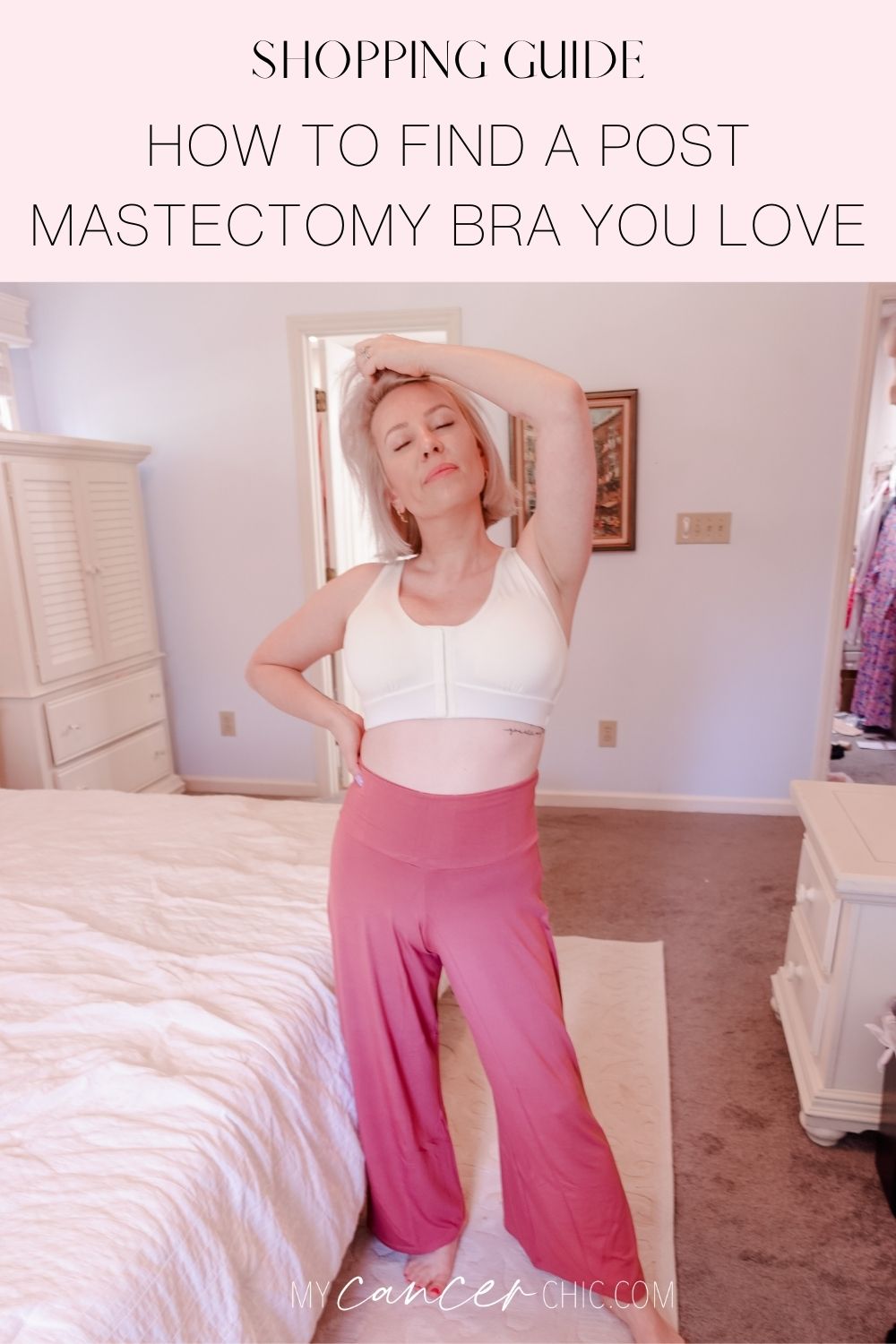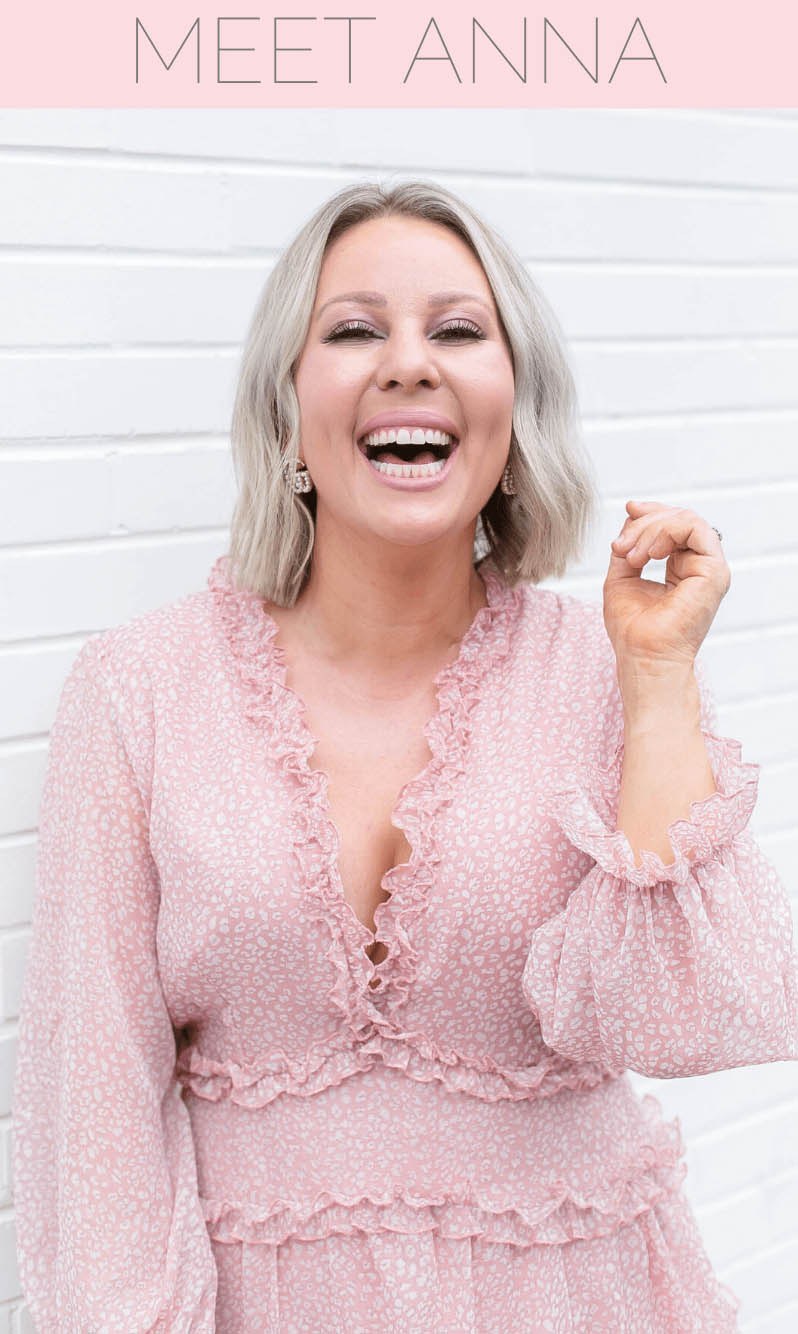 Breast cancer survivor, lover of style, beauty and all things pink! Inspiring you to thrive through adversity.