Shopping for a swimsuit can bring even the most confident woman to tears.
Finding a mastectomy swimsuit is even more complicated as a breast cancer survivor. You may be looking for swimsuits to accommodate prosthesis pockets, breast inserts, or uneven breast cancer surgery results.
After cancer, the whole swimsuit shopping experience can feel daunting, and your body has changed, so it can be hard to know where to start looking.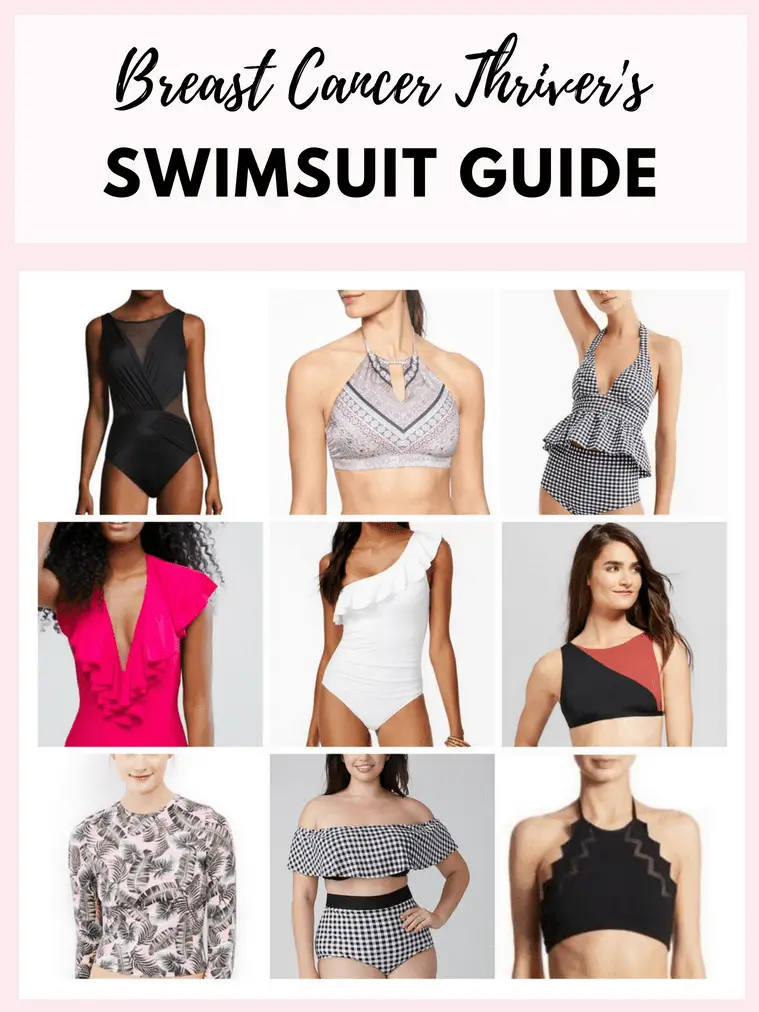 I have gone through this experience myself. I've been through the breast reconstruction expander phase with breast forms and breast implants.
So I hope my expertise and lessons learned to help you navigate the swimsuit shopping experience after cancer with more ease.
Tips for Finding Mastectomy Swimsuits
There are many choices to make for breast cancer treatments, but the one thing all women have in common is that they want to feel confident and beautiful. That's why shopping for mastectomy swimsuits can be so important.
While shopping for mastectomy swimsuits can be daunting and stressful, remember that you are not alone in this process. Many retailers provide mastectomy-friendly swimsuits with pockets for breast forms, soft cups, and fabrics that won't irritate your breast cancer surgery. With some research and self-love work, you can feel confident wearing your new swimsuit after breast cancer surgery.
There are many options for mastectomy-friendly swimwear, but it is crucial to find one that's the perfect fit and makes you feel confident. When choosing a swimsuit, it is essential to consider your body type and the size of your new breasts.
Give Online Shopping a Try
Do you hate shopping in stores? Consider shopping online. Return and exchange policies are usually very flexible. So you will be able to try items on in the comfort of your home.
As a breast cancer survivor, my body is not what it once was, and the styles I used to gravitate toward no longer flatter my body. I have cried in many fitting rooms staring at an unrecognizable figure before me.
Over time, I forced myself to move away from the comparison to my old body. Like with my hair, I took this as an opportunity to find new styles and try something different. Through this new outlook, I was able to find more confidence. I've learned creative ways to style one boob, two boobs, prosthetics, expanders, and implants.
Don't Feel Limited to Mastectomy Swimsuit Stores
Initially, I felt limited in looking for swimwear specifically for mastectomy patients. After many failed searches, I realized that many mainstream swimsuits meet all of the criteria above for mastectomy swimsuits. You just have to do your research.
Instead of limiting yourself to surgery-specific swimwear, focus on the elements above and her personal style. You're bound to find something that works well for your new body.
Criteria for Mastectomy Swimsuits
Avoid underwire and hard formed cups
Select based on fabric and design
Look for styles with lining or built-in pads if you want to cover scars or use a breast form.
Patterns, ruffles, and details help camouflage lopsidedness, bumps, and protruding scar
High neck swimsuits are great during the expander phase or in between reconstruction surgeries
Many regular swimsuits can be "modified" to work for a mastectomy
Try to select a swimsuit with adjustable straps if possible
Check out all of the survivor-friendly swimsuits below and let me know which styles you like best. Remember, don't try to change yourself for the swimsuit. Instead, keep hunting, try on multiple suits and eventually, you will find a swimsuit that makes you feel fabulous!
Suppose you are looking for a little more coverage. In that case, you can try a rash guard suit or a full-coverage tankini. The best part is most of these options have great coverage for the chest and built-in sun protection. This long-sleeve one-piece swimsuit is so bright and cheerful and has excellent full coverage in the front.
Pocketed Mastectomy Swimsuits
For those looking for a swimsuit with pockets for a prosthetic, do not fear. I have provided many pocketed options in my recommendations.
And for those of you looking to save money, take your favorite suit to the tailor and ask them to add a pocket for your prosthesis. I did this with some of my bras during my one-boob stage. It was a lifesaver both in terms of comfort and finances. Mastectomy swimsuits shouldn't break the bank.
We are all at different stages of treatment and have varying body types, so not all of these styles will be perfect for everyone. I have grouped my recommendations into categories so you can easily find something that fits your particular style and body type.
Flat, one boob, two boobs, expanders, or implants… whatever your situation, I have you covered.
All-Star Mastectomy Swimsuit Brands
Lands End  & Athleta are long-time champions of comfortable mastectomy swimsuits for every body type. They have various options that work great for those in the flat crowd or those recovering from surgery. Many of their suits are pocketed, and the band-free wireless style also works well with expanders.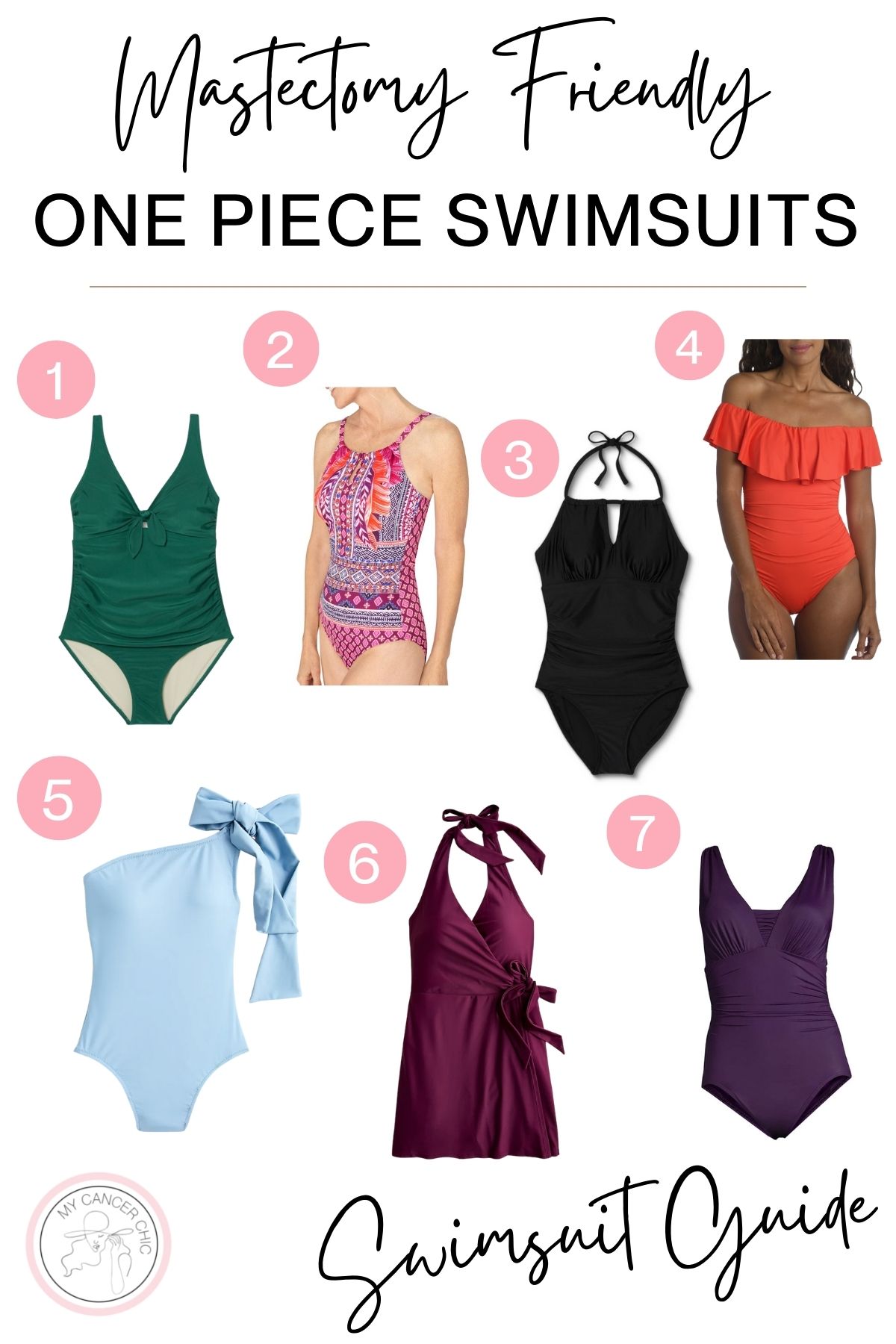 One-Piece Mastectomy Swimsuits
One-piece suits are very preferable for many women because they cover more skin and may disguise different phases of recovery or breast reconstruction. I've listed some swimsuits below that are pictured in the graphic.
Swim Dresses
Looking for a little more coverage and a flattering look during recovery or for those who choose to stay flat? Swim dresses are a great option and they're perfect for lounging and swimming.
Swimsuits with higher necklines like this adorable black one-piece suit are perfect for those with expanders, implants, or breast prostheses. The wide coverage helps disguise any unevenness and scarring, while the high neck creates a flattering shape and highlights the shoulders.
A flouncy ruffled swimsuit is perfect for those who are flat or at any stage of the reconstruction process.  The extra fabric and ruffles help disguise any lumps, bumps, or unevenness.
Halter/keyhole cutout styles
are perfect for the expander stage. They provide a flattering fit with a hint of cleavage while still disguising any shape or position issues you might have with your rock-hard mounds.
Deep Plunge
is another style to take advantage of whether you choose reconstruction or go flat. You don't have to worry about support and the plunge cut is sexy and flattering.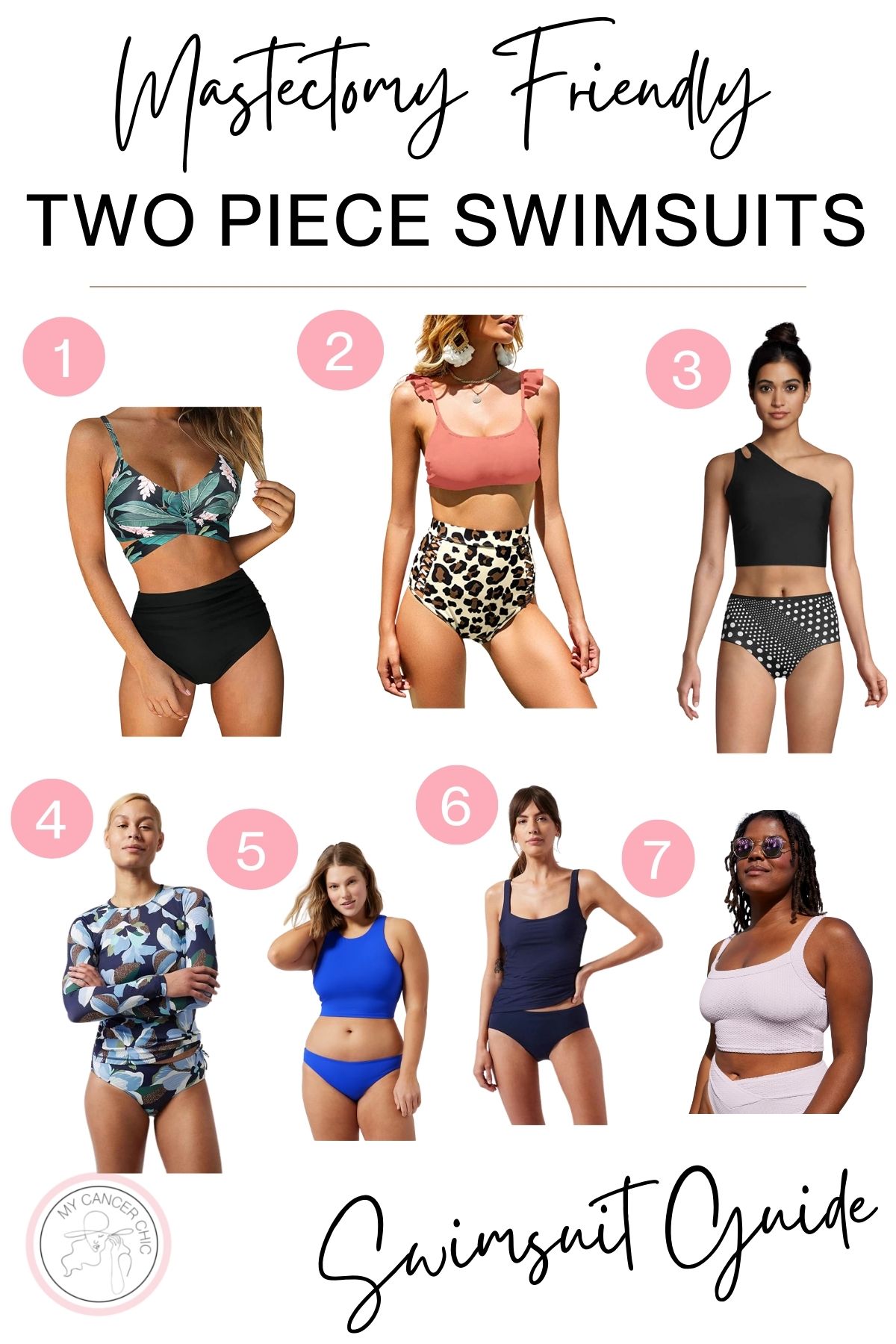 Two-Piece Mastectomy Swimsuits
More Mastectomy Friendly Swimsuit Tops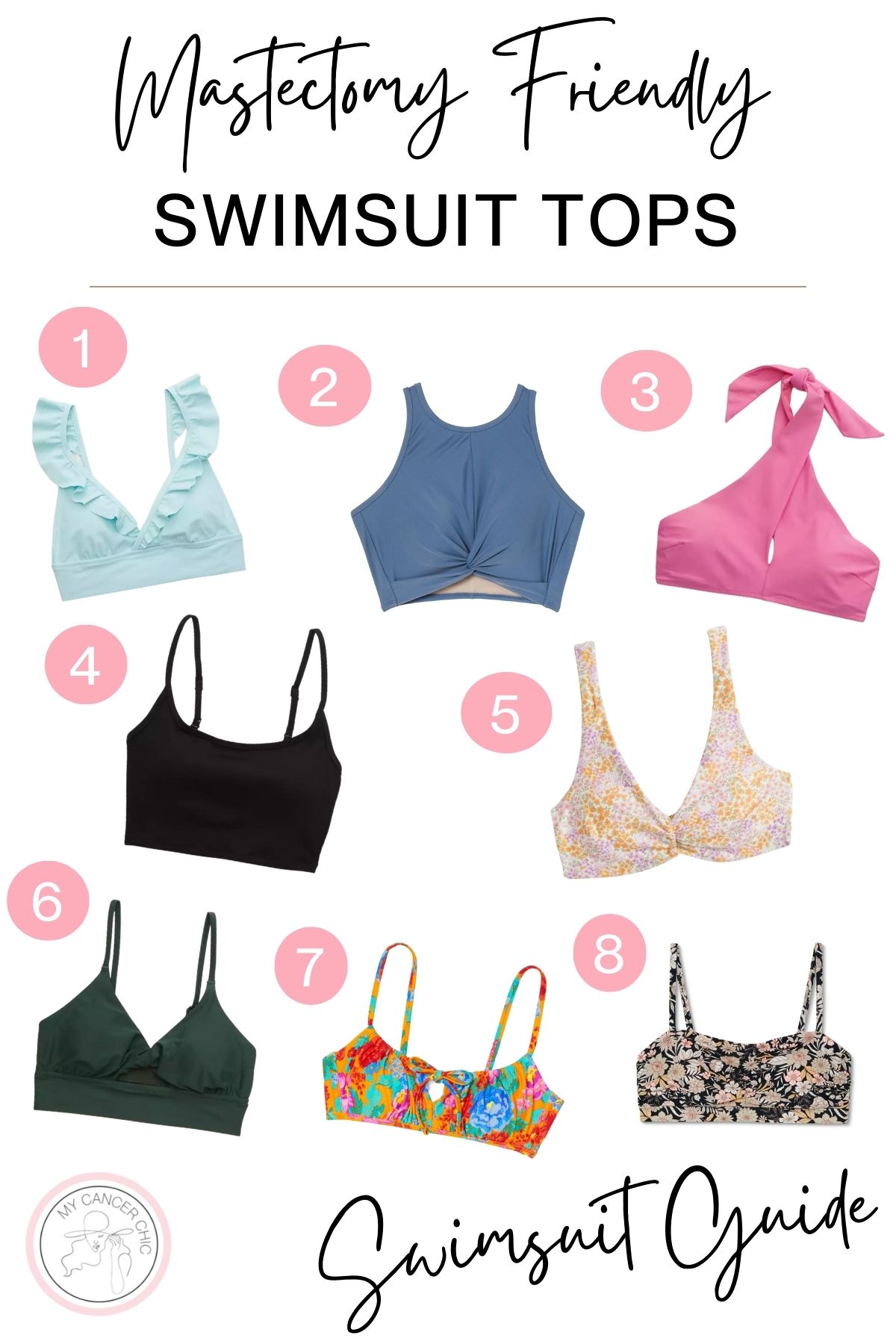 After a mastectomy, finding a swimsuit top you love is key. Then you can combine it with any bottoms you like. I've listed some of the swimsuit tops below as well as some other advice for finding awesome bikini tops that work well post-mastectomy.
Swimsuits without cups and/or tailoring on the top, will be best for everyone after a mastectomy and particular those who choose to go flat. This style will ensure there is no excess fabric and the suit will conform to the chest no matter the shape. If you do want some shaping you can look for swimsuits with light padding.
Bikinis with a sports bra-style top are great for those with implants or those going flat. The simple design means fewer seams and edges to cut into the skin. Someone recently suggested just wearing a sports bra you love as a swimsuit as well. This is genius!!!
Tank swimsuits are another great option for all my flat ladies. They are flattering on all body types and come in so many styles.
I find that most tank swimsuit tops also have pockets for padding that can be swapped out for a breast prosthetic if needed.
Mastectomy Swimsuit Summary
After a mastectomy, many women are left feeling self-conscious about their bodies. While there are many options available to cover up post-mastectomy scars, swimsuits can be one of the most difficult items to find.
This exhaustive swimwear shopping guide includes information on mastectomy swimsuits for all body types and budgets. Whether you're looking for a one-piece suit or something more coverage-oriented, we've got you covered.
If you have any questions about finding the perfect post-mastectomy swimsuit, please don't hesitate to leave a comment below! We hope this list will help you get out and enjoy some summer fun!
Be sure to check back here every year for new bathing suits! And you're welcome to follow me on Instagram for additional support on your cancer journey. Our community of breast cancer survivors is here to support you!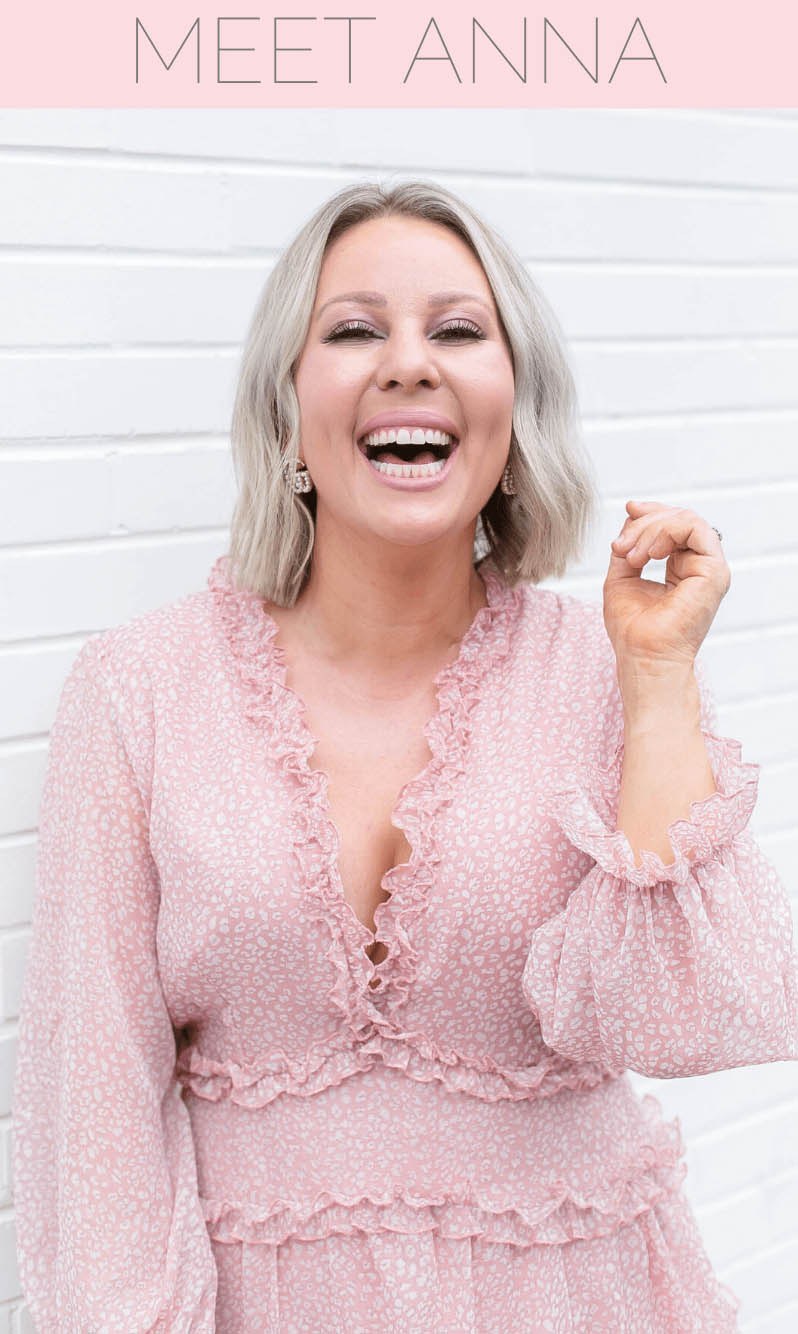 Breast cancer survivor, lover of style, beauty and all things pink! Inspiring you to thrive through adversity.