Toddler beach travel can be so much fun,  but preparation is key. Packing the right items and thinking through the travel pain points can help ensure a stress-free trip for everyone (including your toddler). I won't lie, it's a lot of work upfront but using my toddler beach travel tips and the packing list I put together, I know you'll have an amazing vacation too! So let's jump in to everything you need to know about beach travel with a toddler.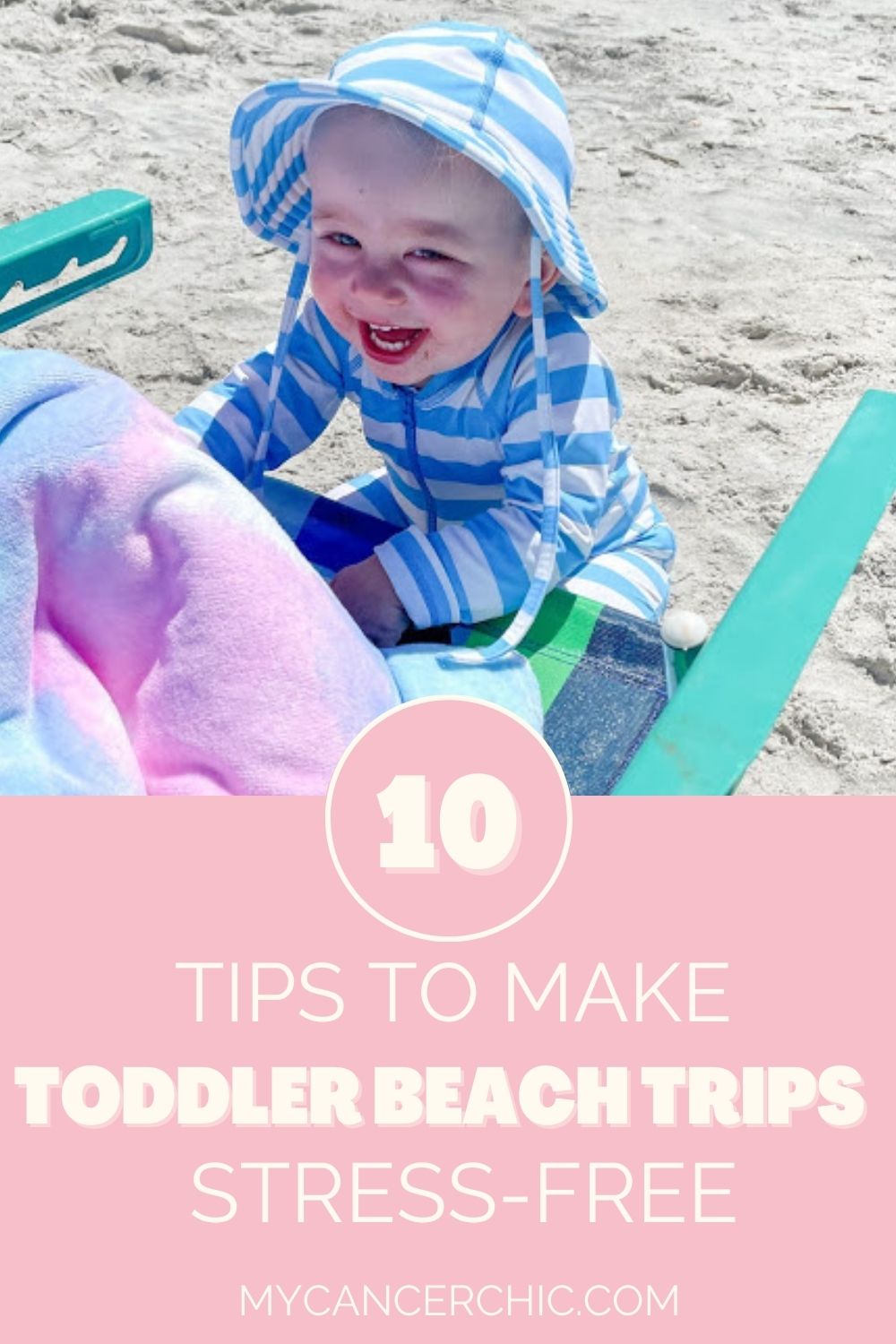 10 Toddler Beach Travel Tips + What to Pack for a Stress-Free Vacation
Toddler Beach Travel Adjustments
The biggest shift in our beach vacation this year with a toddler was that Mason was mobile. Last year our beach experience was more sedentary with him as a baby so this year we had to plan for more movement. Toddler beach travel is so much fun as they are more exploratory and for us, days revolved around sand play.
For reference, we stayed at the Holiday Inn Resort in Wrightsville Beach and it was an amazing experience. The resort is perfect for toddler beach travel. They have a restaurant on-site as well as a pool and wading pool for little ones where we spent every afternoon. The beach access is private and close to the hotel parking so it was easy to cart things from the room or car right to the beach.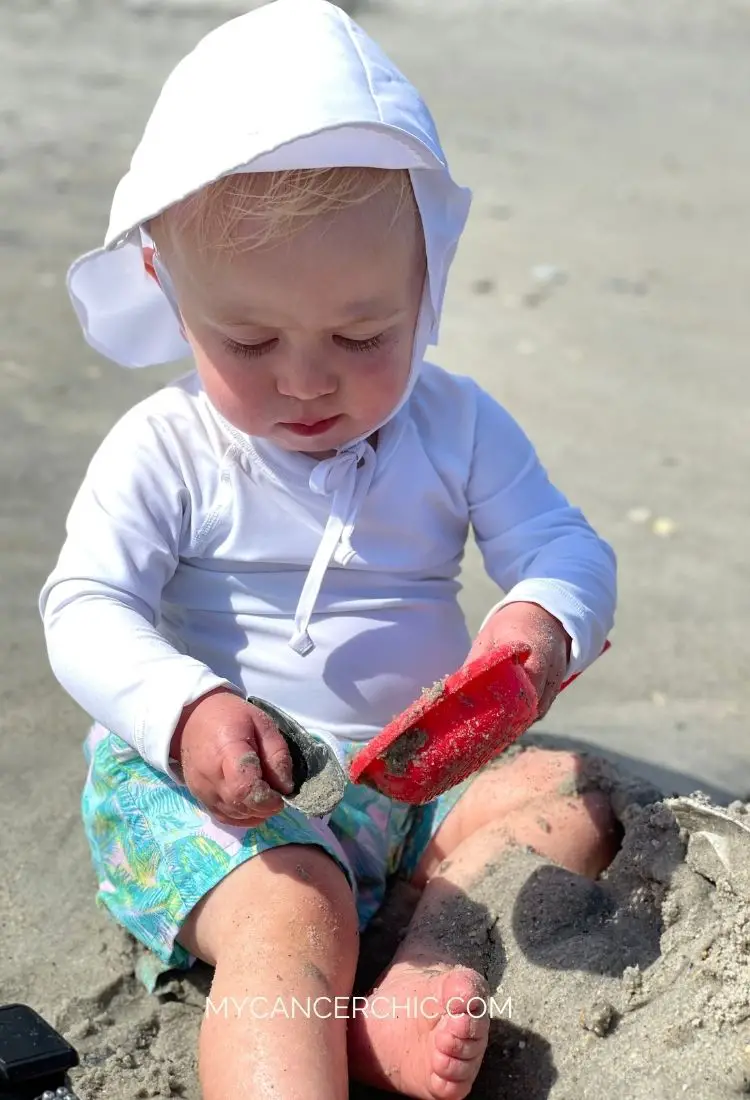 Toddler Beach Travel Tips
1. Overpack on Sunscreen
This one seems obvious but when you're chasing your toddler and grabbing the bag for the beach it's easy to forget where you put the SPF. I had one in the hotel room, one in the beach bag, and one in the car. That way we were covered wherever we went. We used this spray sunscreen and covered his body in the room before we put swimsuits on for the day and swear by this cream sunscreen as well.
2. Invest in Rashguards for your Toddler
As an added layer of sun protection, we put Mason in 1 piece or 2 piece rashguard sets. They have UV protection in the material itself.  I learned that the sun protection material breaks down over time so I invested in new rashguards (instead of my normal 2nd hand shopping) from  Hanna Andersson. Their pieces are pricey but I wait for their 40% off sale and then stock up because I love the quality so much.
3. Bring Diaper Changing Supplies to the Beach
We use these swim diapers. I particularly recommend the styles with snaps on both sides. When Mason was not in the water and just playing, we put a regular diaper inside. This made for easy diaper changes on the beach under our tent. We would throw a diaper and wipes in the beach bag when we went down and that way we didn't have to go all the way back to the room for diaper changes. Be sure to bring a bag for dirty diapers as well.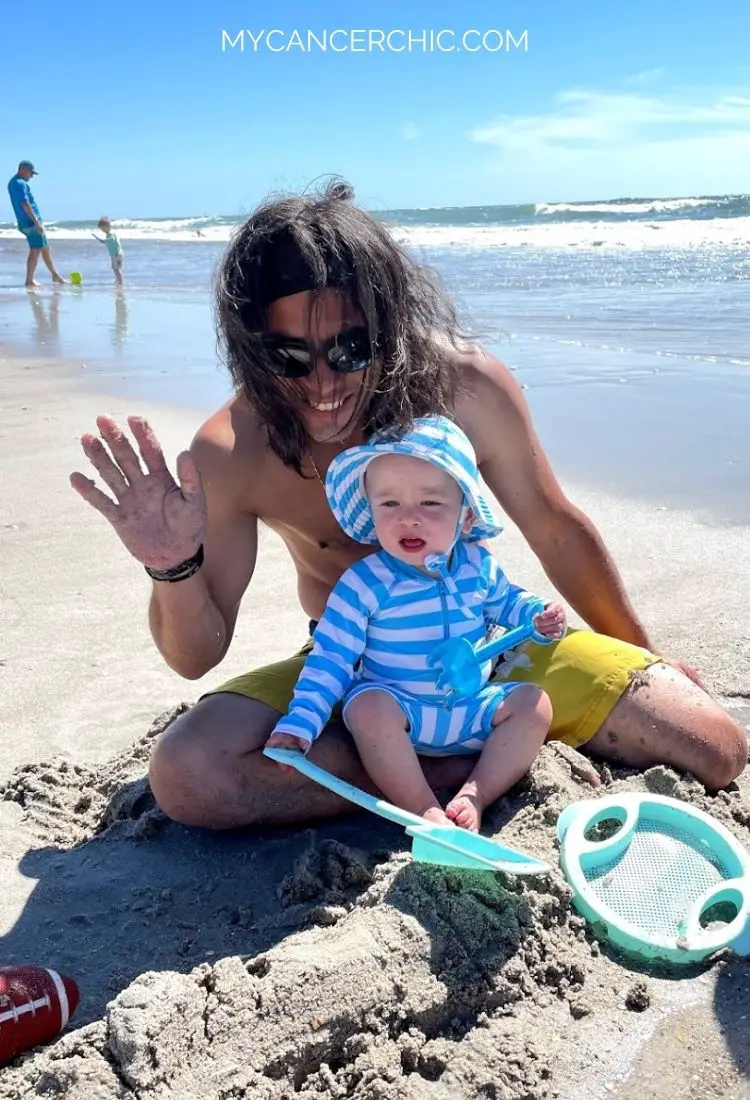 4. You Don't Need a Lot of Toys for Toddler Beach Travel
Last year we brought tons of toys and carted them around a big bag. This year we narrowed it down to a few core sand toys (bucket, shovel, scoop) and then Mason's core vehicle collection. In fact, this made our beach trek lighter and the cars were perfect to throw in my purse for dinners out.  This was a great tip from a follower. Bring special "car" toys that are new or refreshed to help with the car time and make it more exciting.
5. Bring TONS of Snacks
If your toddler is anything like mine, snacks are a necessity, especially during beach travel. In the car, we packed a cooler of food and snacks so we could eat in the car and then head right to the beach when we arrived. This was great and helped us prevent a meltdown. When at the hotel, we kept tons of healthy fruit and snacks in the mini-fridge and would bring a couple of snacks to the beach with us each day. For lunch, we would have breakfast leftovers or make sandwiches in the room. We also kept whole milk from breakfast in our fridge for bedtime. Our favorite travel snacks are these bars and we also loved these fruit & veggies squeezables
6. Pack Baby Powder
We were lucky to have a shower at the edge of the beach this year but the baby powder trick still saved us multiple times while taking a toddler on any beach travel. All you do is apply the baby powder to feet and legs and the sand falls right off. It's magic! Make sure to use a talc-free baby powder on your little one.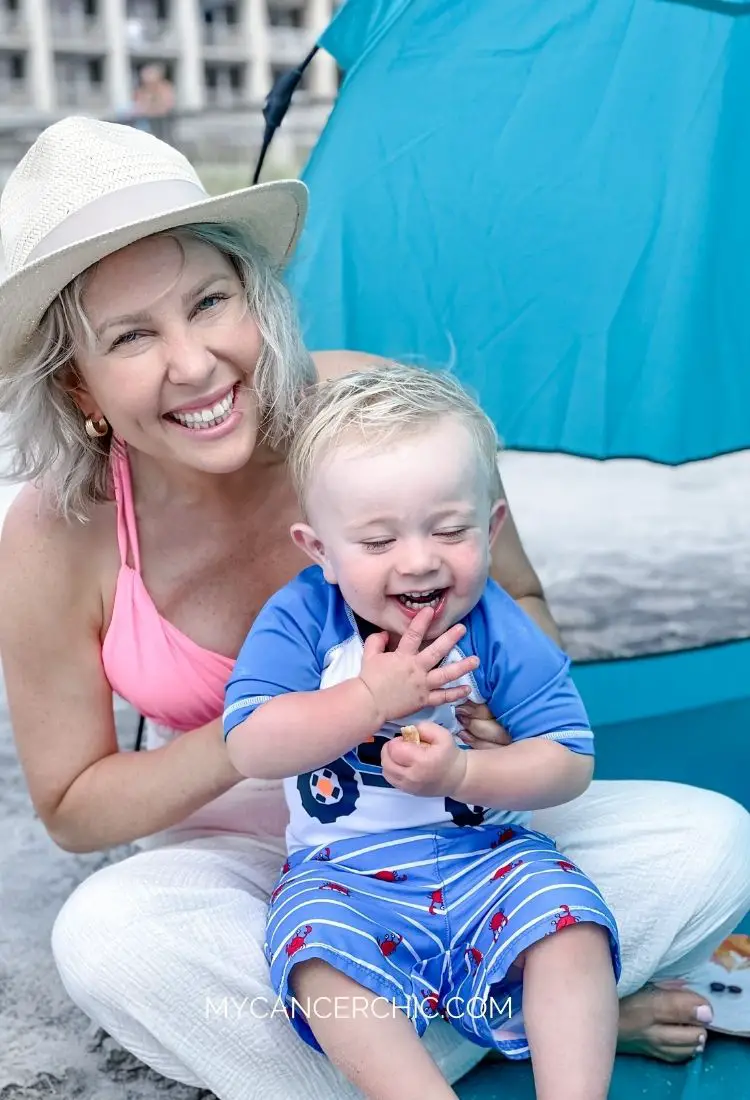 7. Rent the Umbrella or Bring a Tent
Shade is essential for toddlers at the beach. We brought this tent with us last year and it worked great, but if your hotel has umbrellas for rent, I highly recommend the splurge. We rented the umbrella having it already set up for us when we got down to the beach was amazing.  I also recommend this toddler beach hat with ties and a neck covering.
8. Bring a Toddler Sized Chair
We borrowed a toddler beach chair from a friend and it was such a great item to have at the beach. Mason loved sitting in the chair to eat, play and take in the experience. We would take the beach chair close to the water and he had so much fun getting acclimated to the waves that way.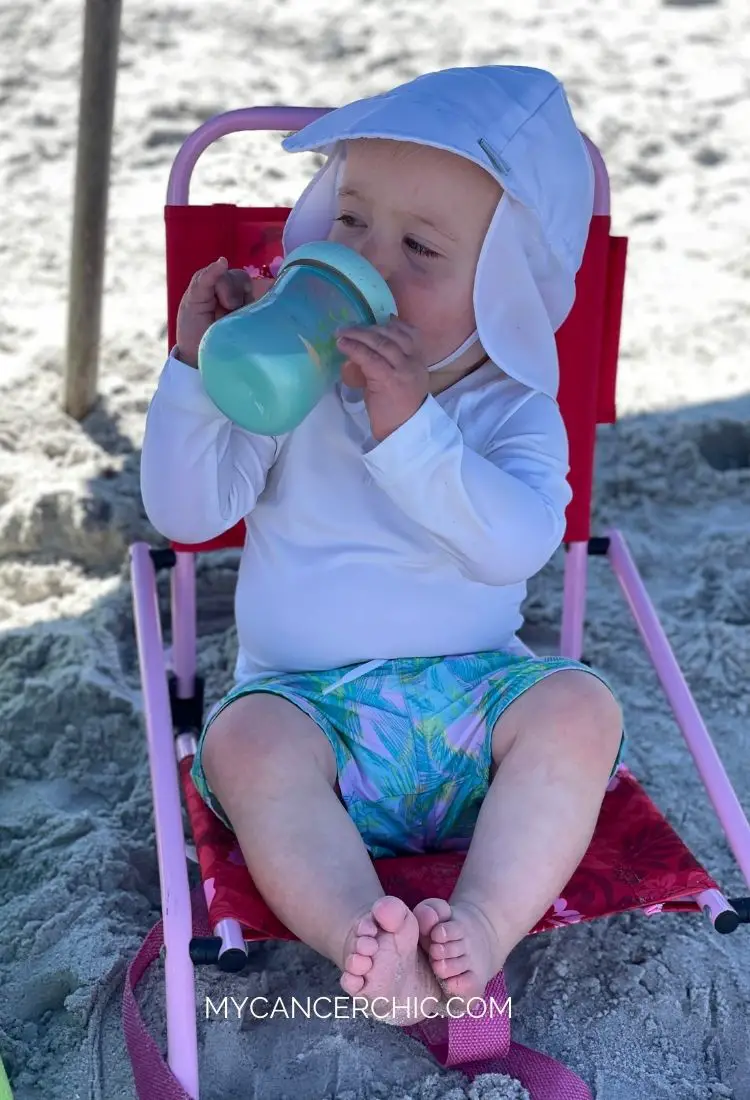 9. Freeze Water Bottles
Water is essential when out in the heat and freezing water bottles helped us stay hydrated while on the beach. We brought our own water bottles and sippy cups would fill and freeze them each night. They were SO refreshing as they thawed throughout the day.
10. Sand is HOT Bring Water Shoes
I always forget how hot the sand is, especially on little feed. It was perfect to have velcro sandals we could slip on for the walk to and from the beach and pool and easy throw in the beach bag. We also enjoyed being able to easily rinse the shoes at the beach and in the room.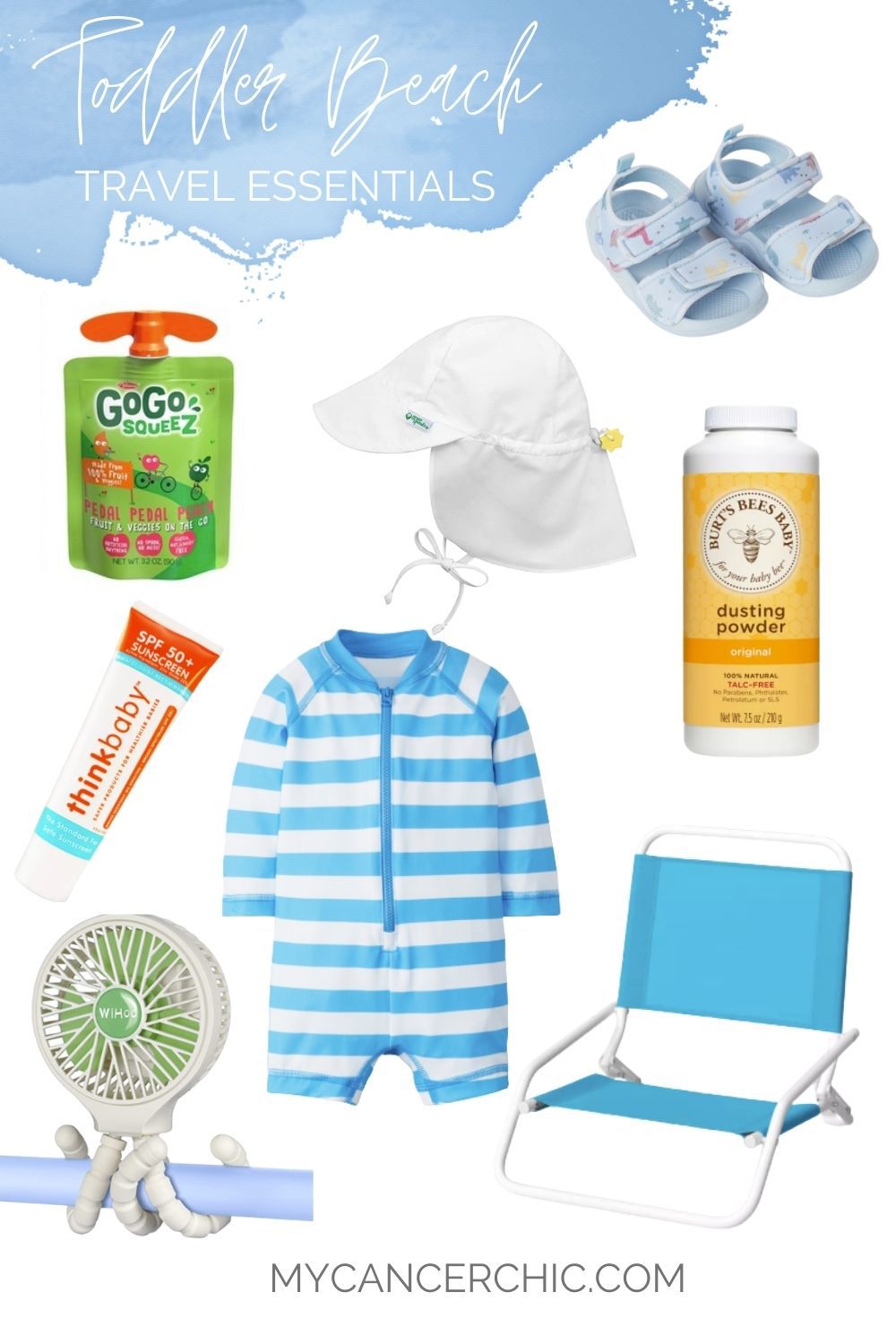 I hope these toddler beach travel tips were helpful. I think we have the beach packing down to a science and I wanted to share our full toddler beach packing list with you. We had so much fun at the beach and I want you to have an amazing trip as well. Download my toddler beach packing list to make your next beach vacation a breeze.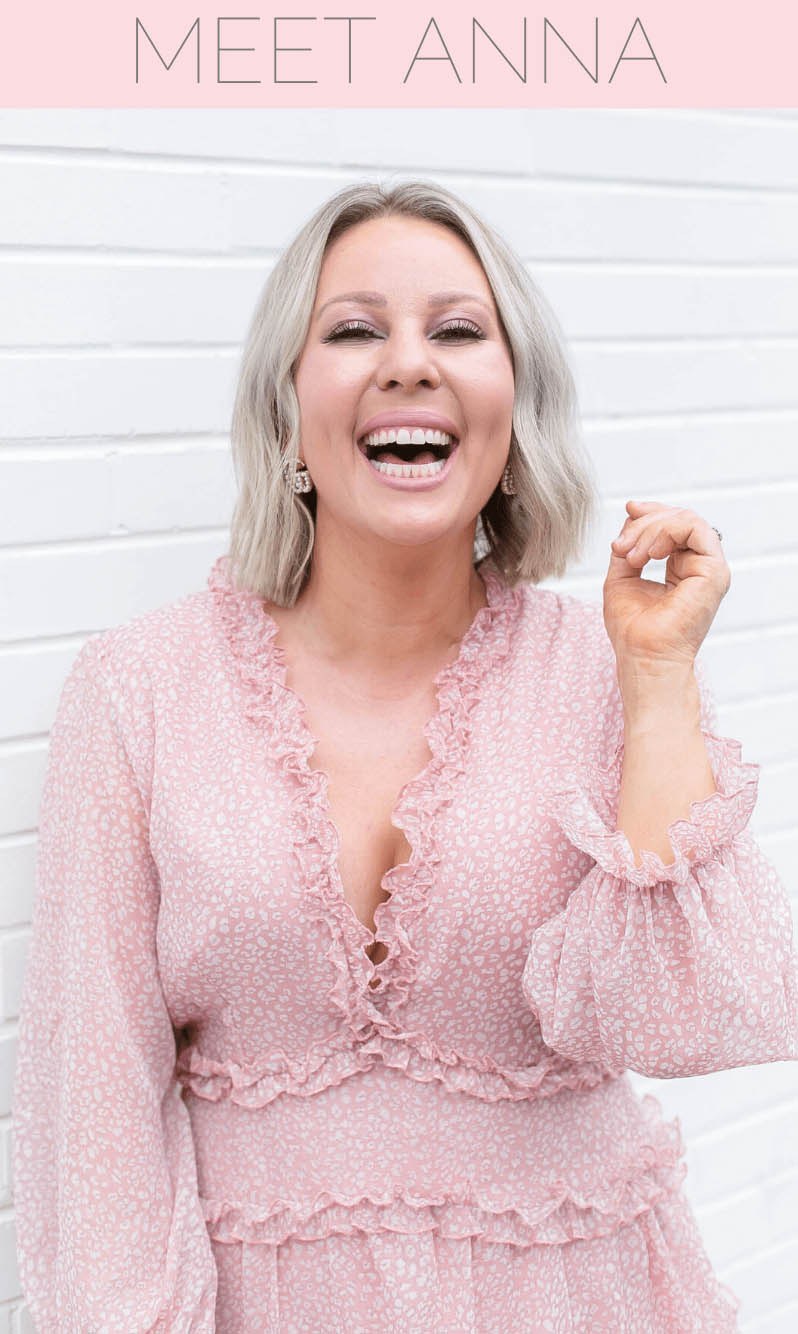 Breast cancer survivor, lover of style, beauty and all things pink! Inspiring you to thrive through adversity.