I have had oily, acne-prone skin for 20+ years. Add in breast cancer, infertility, and medical menopause and what results are major hormonal skin issues. I have been battling hormonal acne and excess oily skin for years now and want to share the skincare regime as well as the treatments and experts that have helped me clear up my skin and finally feel more confident.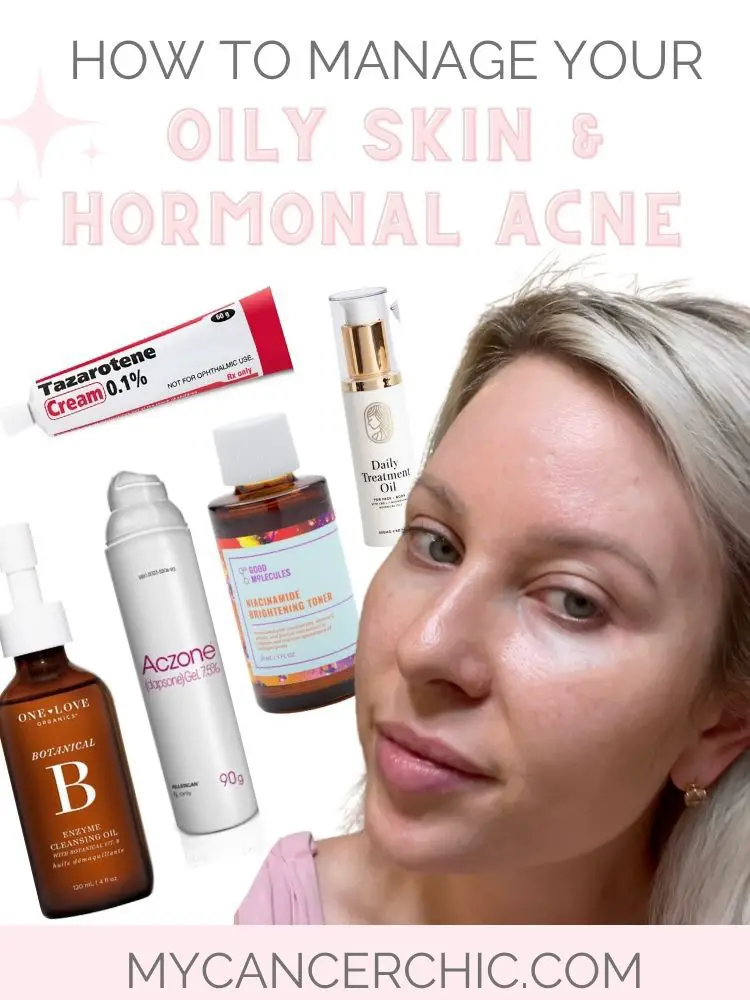 My Skincare Routine for Acne - Prone Oily Skincare Journey
While I am not an esthetician, I have learned a lot from my dermatologist and esthetician over the years. I have been seeing a dermatologist for over 8 years and started getting dermaplaning facials every 6 weeks around 2.5 years ago. For me, it's been a combination of the support from these experts as well as my at-home skincare routine that has really made a difference in my skin.
 As you are reading through my recommendations, keep in mind the products that work for me may not work for you. It's always best to consult an esthetician to get personal recommendations. Throughout the post, I will include insight from my friend Victoria who is a licensed esthetician and can provide more general insight into oily/acne-prone skin and the ideal product types.
If you're interested in more of my acne journey pre-cancer or a pregnancy-safe skincare routine, you can check out those posts for more insight
Morning Skincare Products for Oily Skin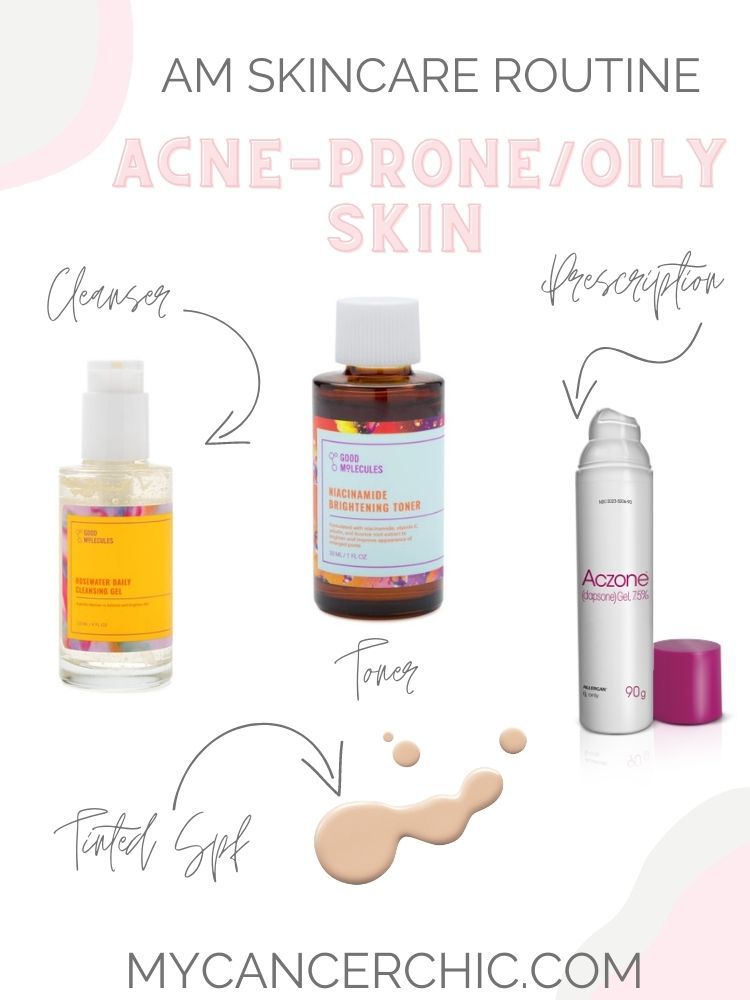 What Makes a Good Skincare Routine for Oily Skin?
In my opinion, there are a few things that make for a good skincare routine when you have oily, acne-prone skin. I have spent many years of trial and error and hope that my experience can help you on your oily skin journey.
Remove your makeup every single night and cleanse your skin.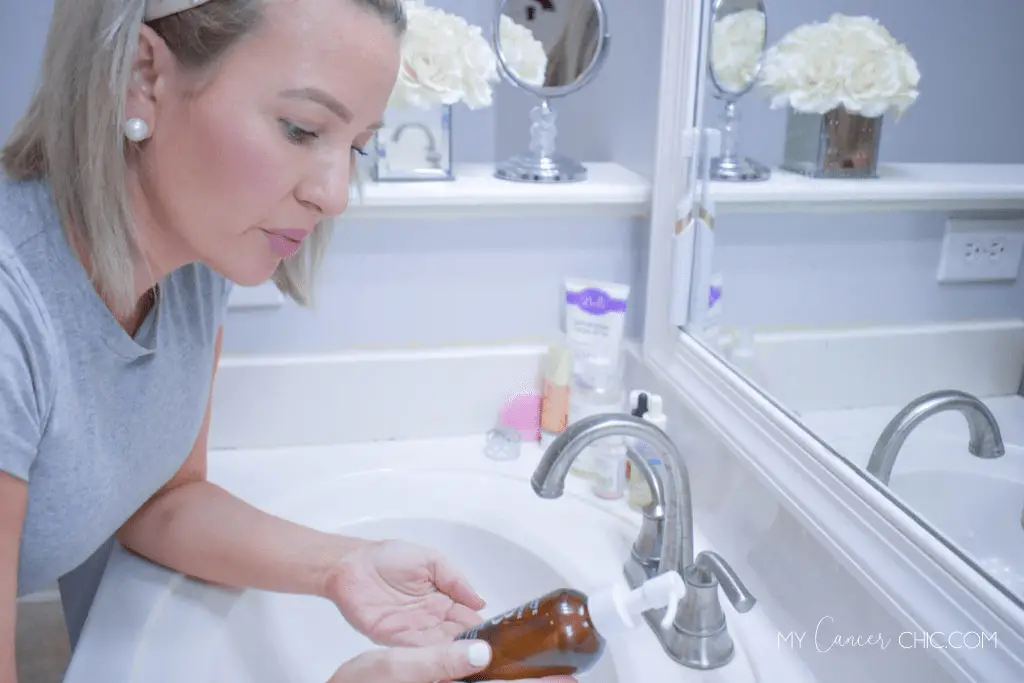 Especially with oily, acne-prone skin, it's extremely important to wash your face and remove your makeup as we are already prone to clogged pores. Any dirt, makeup, or debris that is not removed can lead to more clogged pores. I like to use an oil cleanser to first remove my makeup and then double cleanse with a lightweight gel cleanser to ensure my face is super clean.
Victoria's Esthetician Insight  : Going to sleep with clean skin is crucial to achieving glowing, healthy skin! Being "too lazy" or "too tired" is the number one excuse I hear when sharing how important this is. If you fall into that category, I recommend doing your evening routine earlier in the evening before that tiredness hits!  Doing your evening skincare after dinner, for example, will also help you wind down from the busy day and relax for the night.
Use a Toner for Oily Skin & Acne
A toner is meant to balance the PH of your skin after cleansing and is an important step in your skincare routine. There are different toners for different types of skin as well as different skin challenges. Since I have large pores and oil. I alternate between the Pore Therapy toner from Obagi and the Niacinamide toner from Good Molecules. The Obagi toner is a bit harsher on the skin and contains salicylic acid so I alternate nights to give my skin a break with the Good Molecules toner which targets the pores and helps with brightening. I find a toner also ensures any remnants of makeup are fully removed from your skin
Incorporate Serums & Acne Prescriptions
When it comes to serums, I will admit I still get intimidated by all the options. Niacinamide has made the biggest difference for me in terms of pore size and oil production. I also swear by my Tazarotene acne script at night and Acezone in the morning for stronger hormonal acne control. I have tried almost every acne script except Accutane, and these are the ones that work best for my skin. I tried everything from natural treatments to diet and in my particular case, prescription products combined with high-quality skincare products and treatments made the biggest difference.
Victoria's Esthetician Insight : Absolutely! There is so much information out there on the internet, Youtube, social media regarding skincare. However, if you are struggling with Oily, Acne-Prone skin, I always recommend seeing your dermatologist. They will be able to prescribe higher concentrations of active ingredients needed to treat certain skin conditions.  I am also on Aczone Gel and love it!
Don't forget the skin around your eyes
It's also important to take care of the tender skin around your eyes. For nighttime I am currently using this one from La Roche Posay. In the morning, I alternate between the Tula stick and the Origins one. Both are brightening and depuffing. I also love this one that I ran out of. 
Exfoliate Oily Skin at Least Once a Week
This helps remove dead skin that can clog your pores. When you have oily skin it's even more important to exfoliate regularly. You do not want to use a harsh exfoliate and pretty please stay away from the dreaded St. Ives exfoliate. My current go-to is this Pumpkin & Spice exfoliator.
Victoria's Esthetician Insight :  I recommend chemical exfoliants all the time for sensitive skin! They will use the power of active ingredients to sloth off dead skin cells and keep your pores clear. I love the Paula's Choice BHA and The Ordinary Lactic Acid 5% for Beginners.
Evening Skincare Products for Oily Skin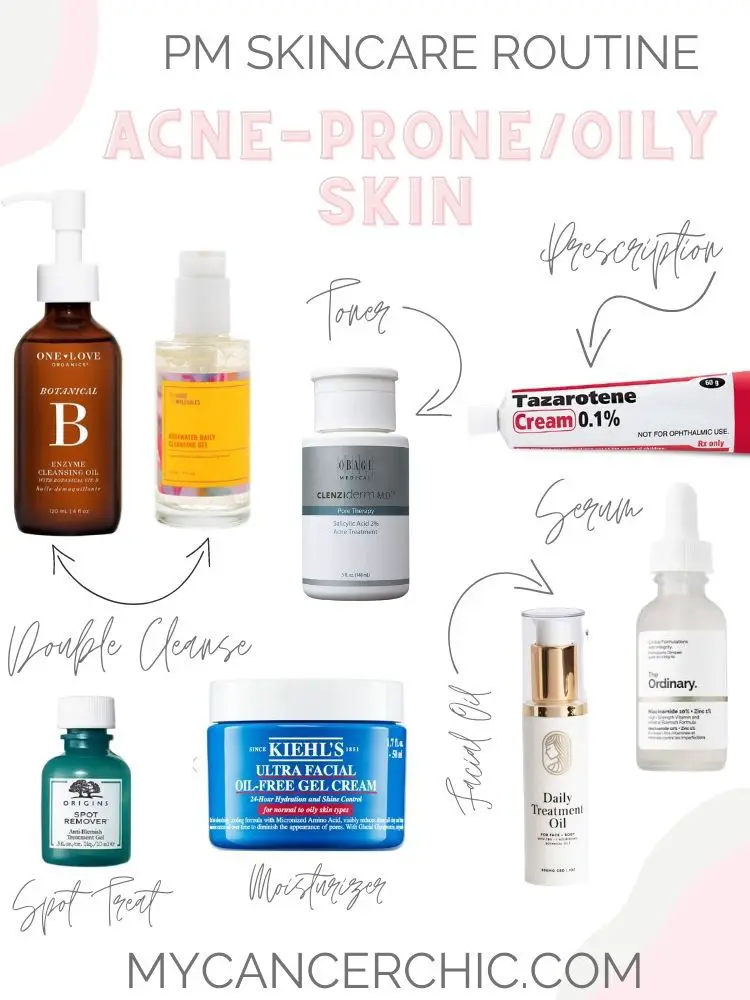 Keep a Good Spot Treatment on Hand for Acne
Even though my acne is now under control, I still have the rogue pimple or blemish that pops up. I keep the Origins spot treatment on hand (with salicylic acid) as well as the Peace Out pimple patches. Since the pimple patches are pricey, I cut them in half before applying. They help draw blemishes to the surface and heal them faster in my experience.
Victoria's Esthetician Insight : Pimple patches are such a gem! They keep the skin clean, protected, and free from irritation or additional bacteria while treating the spot. The active ingredient in these patches is Hydrocolloid which is a healant and promotes wound healing by absorbing any excess fluid in the spot.
Moisturizer and Facial Oils for Acne-Prone, Oily Skin
For the longest time, I avoided moisturizers and facial oils because I thought I needed to try out my skin. What I have learned though is that incorporating facial oils and keeping your skin hydrated actually helps balance your skin's natural oil production. Now I use an oil-free gel in the AM and a cream moisturizer each night and add in a facial oil with CBD to lock in the moisturize every other night. Also, love this gel-like moisturizer with Hyaluronic Acid and peptides.
Use code 'MYCANCERCHIC' for 15% off the Equilibria facial oil
Victoria's Esthetician Insight : The biggest misconception with oily, acne-prone skin is that we need to DRY out the skin when in reality, we need to SOOTHE and NOURISH the skin. Keeping the skin hydrated with balance the moisture barrier of the skin and will actually improve an overproduction of oil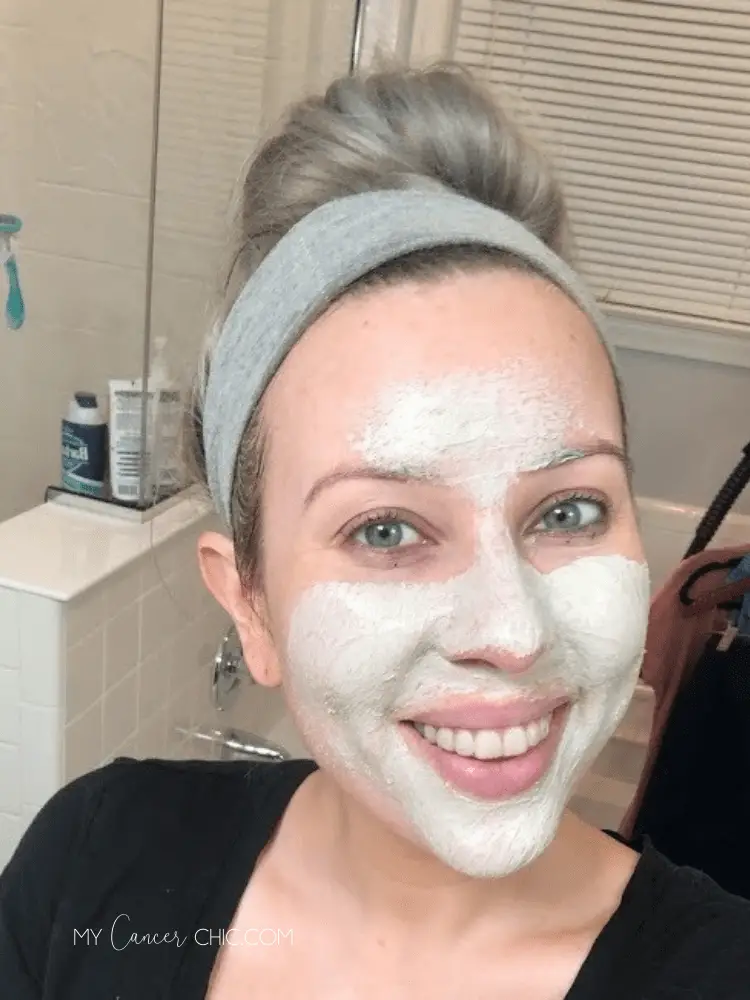 Use a Purifying Mask & Facial Steamer Weekly for Oily Skin
With oily skin and large pores, it's natural for my skin to need some extra purification each week even when I stick to my skincare routine religiously. On the weekend I like to use my facial steamer to open my pores and apply a purifying mask such as this one from Kiehls or this Aztec clay one.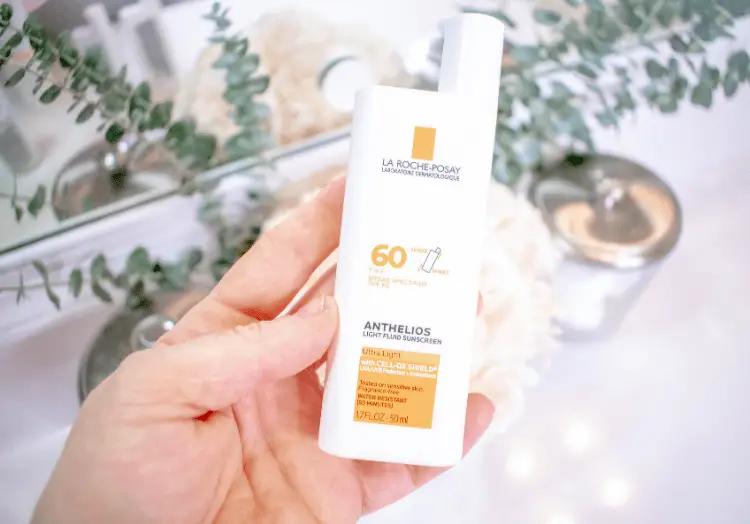 No matter the weather or where I am, I wear SPF daily. Want to learn more about why you need to wear SPF daily and how to pick the right SPF for your skin type? Check out this post. I love tinted SPF as my skin base each day. Check out some of my favorite tinted SPF products below.
Victoria's Esthetician Insight : Shout it from the rooftops! An SPF is a non-negotiable in my book. The best anti-aging hack we have in this world is a good SPF! It will also help fade acne scarring and prevent any further discoloration or hyperpigmentation by providing that sun protection.
Sometimes a video helps to show product application and steps in addition to the written out details. Here are some of the videos you can check out and be sure to follow me on social where I constantly share new products I find and love.
Have more skincare questions? Let me know in the comments.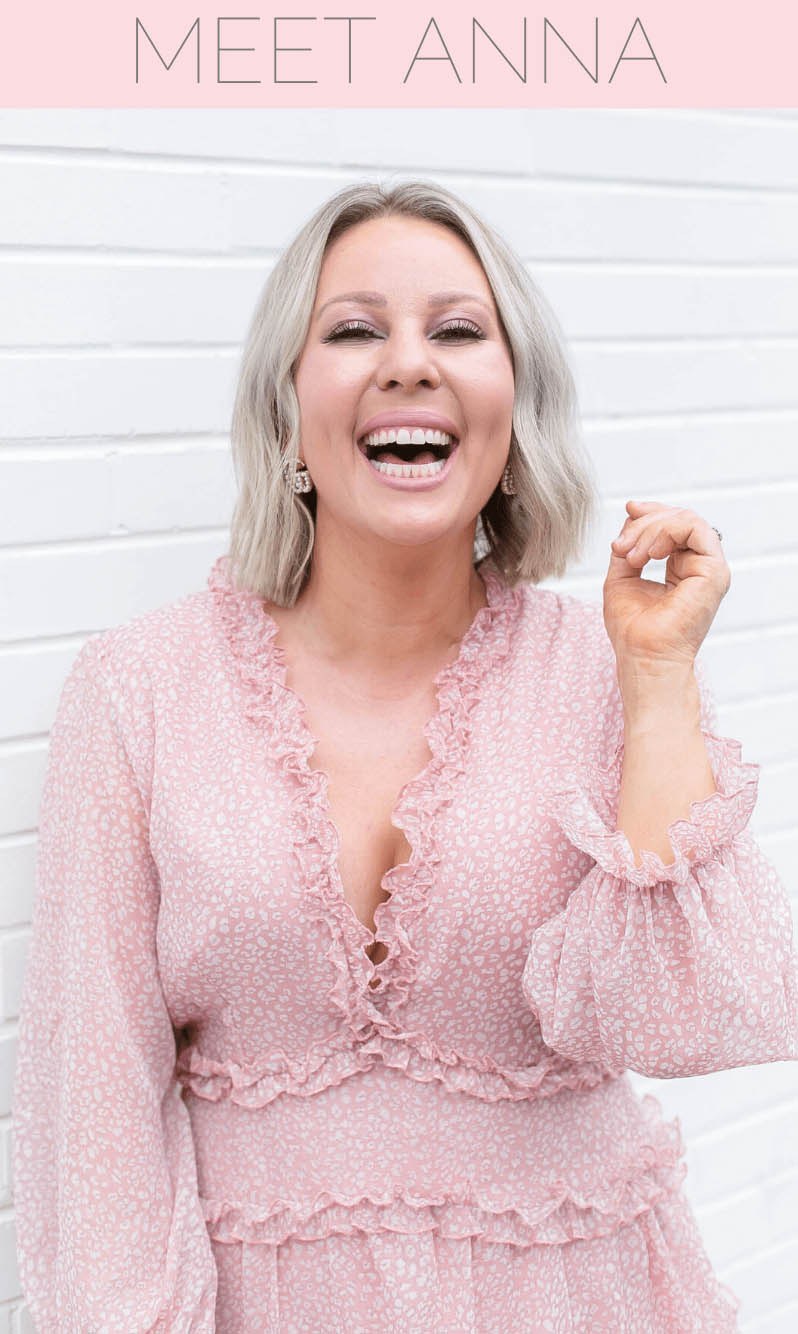 Breast cancer survivor, lover of style, beauty and all things pink! Inspiring you to thrive through adversity. 

Shop My Skincare Favorites