Playroom organization can be overwhelming. There is so much to keep organized with kids including toys, books, stuffed animals, games, art supplies, and more. No matter where you kid your kid's toys in the house, you want to have a tidy, well-organized space with storage for all the items as well as fun play areas.
After being tired of toys everywhere in our living room, we decided to do a full playroom organization makeover and turn our unused dining room into our toddler playroom complete with a train table, built-in storage, and organization for all the toys and games my son uses regularly. The project took me many months (mostly due to items being out of stock), but I am thrilled with the results and excited to share how you can recreate this playful playroom organization makeover on a budget. I am all about helping you save money and creating a beautiful space on a budget. The best part about our new playroom is that it supports creativity, responsibility, and independent play.  Keep reading for all the playroom organization ideas, resources, and tips.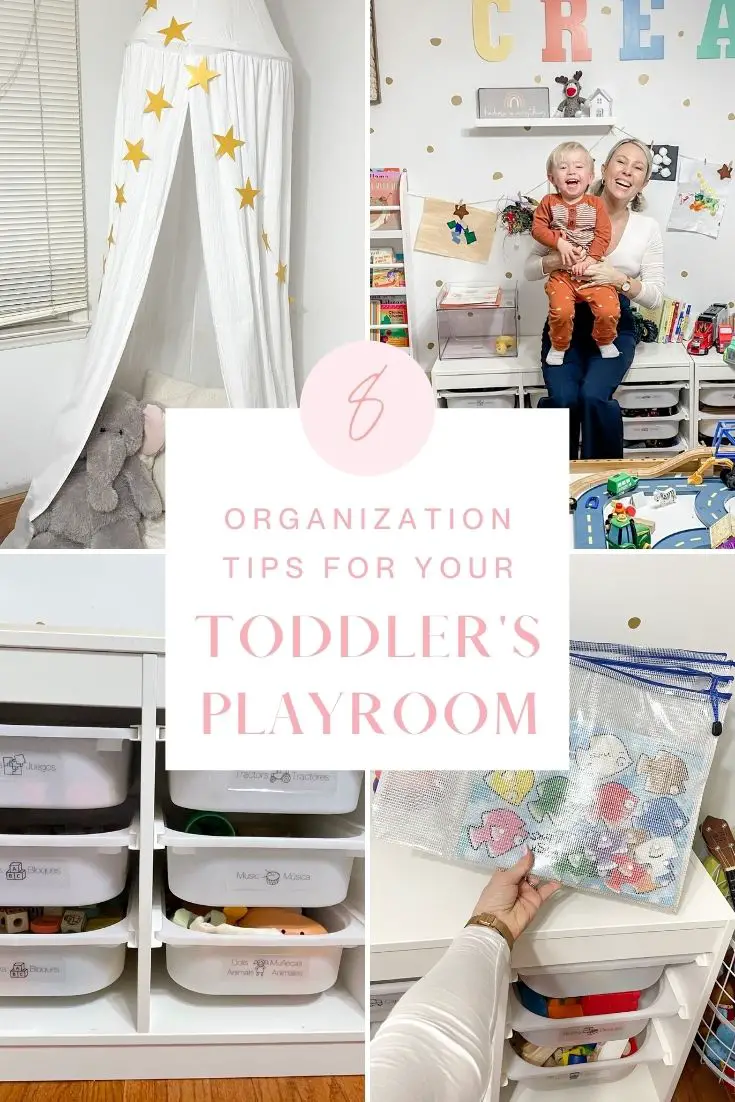 How to Do a Playroom Organization Makeover on a Budget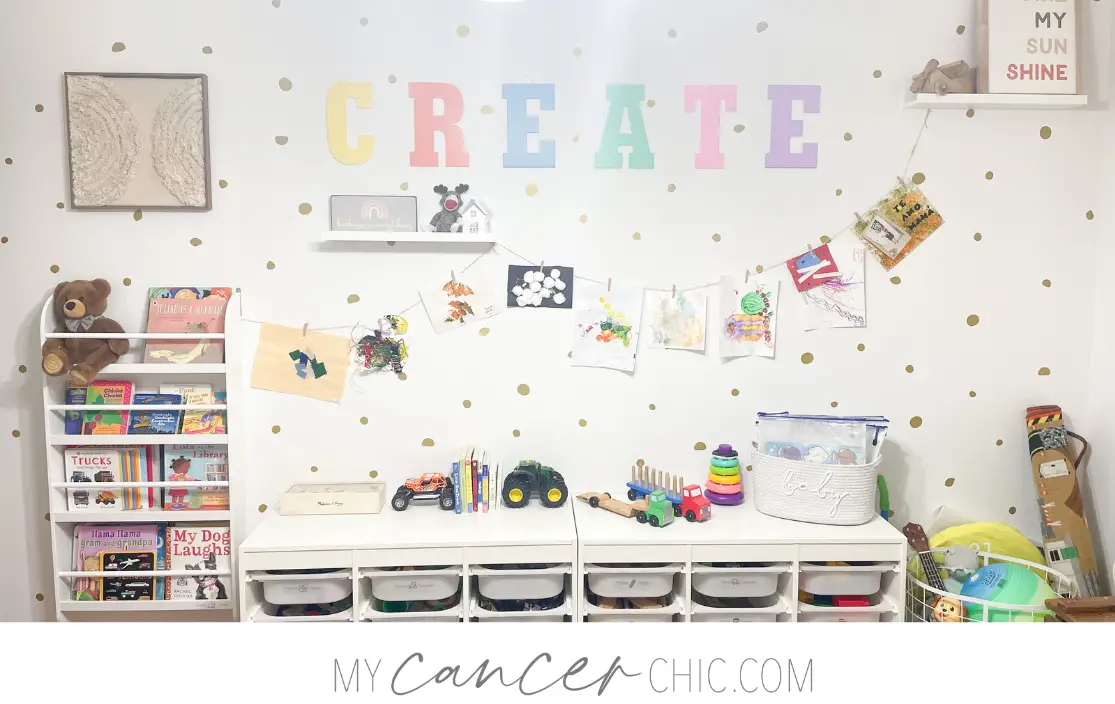 There are a lot of things to consider when it comes to storage and organization in a playroom. First, you will need to think about your available space and how to use a combination of playroom furniture such as cabinets and shelving as well plenty of storage bins. You can help foster independence and responsibility by building a space where your child can reach the toys, books, and games and knows where everything goes. We chose to do this with the Ikea Trofast storage shelves,  wall cabinets, mounted bookshelves, intentional placement storage baskets, and kid-friendly play and creative spaces.
Playroom Organization Ideas & Tips:
1. Start with Furniture for Playroom Organization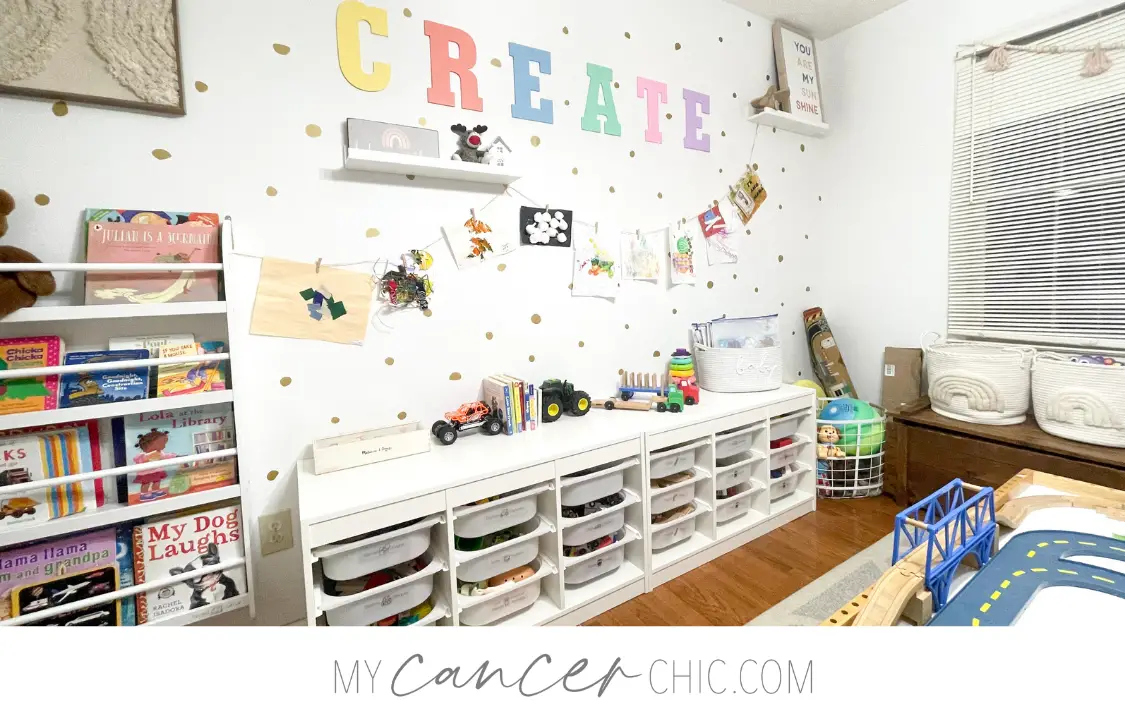 When I started planning my son's playroom, I pinned tons of ideas using the Ikea Trofast playroom storage shelves. I had the whole room measured and planned and then the Ikea Trofast toy storage system was out of stock. Also, I had to wait two months and buy out of state for pick up in order to get the storage shelves. But it was 100% worth the wait. Not only is a storage bin organization shelf or cabinet essential for your playroom, but I also found the Ikea Trofast system an amazing deal ($70 each with the storage bins)  good quality, and the design fit perfectly with the playful, boho playroom decor idea I was going for. My husband is super handy and said even the wood to built something like this would have cost more than the Ikea playroom storage system.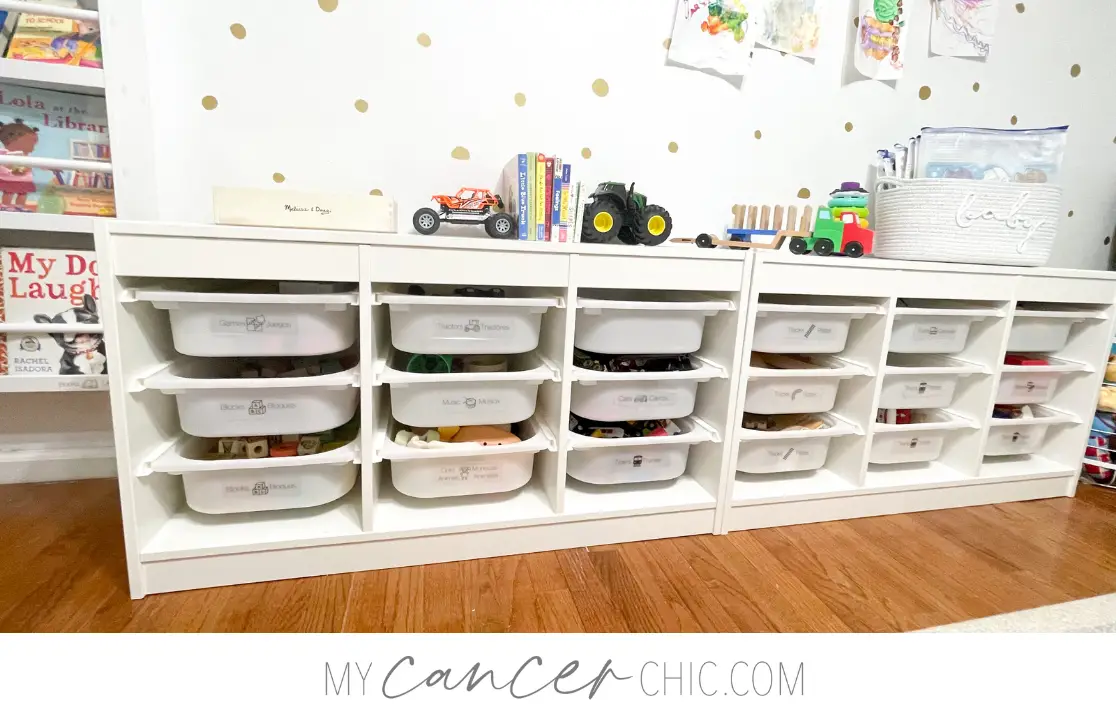 Ikea Trofast Playroom Toy Storage
We got two of the Ikea Trofast playroom storage cabinets and put them side by side along one wall to create a sleek and streamlined way to organize all of my son's blocks, toys, cars, musical instruments, train tracks, and animals. I will talk more about this later but the custom labels I made are also super helpful. Learn how to make your own toy storage labels on a budget with my video below. Make sure to buy this vinyl sticker paper. You do not need a special device for these labels, just a normal printer.
Pro Tip: The Ikea Trofast system goes in and out of stock constantly. Set reminders in the Ikea app and check back. You can also look on Facebook marketplace for people selling the storage units. They are on ebay as well but are listed for twice the price.
2. Use Storage Bins & Baskets for Odd Shaped Items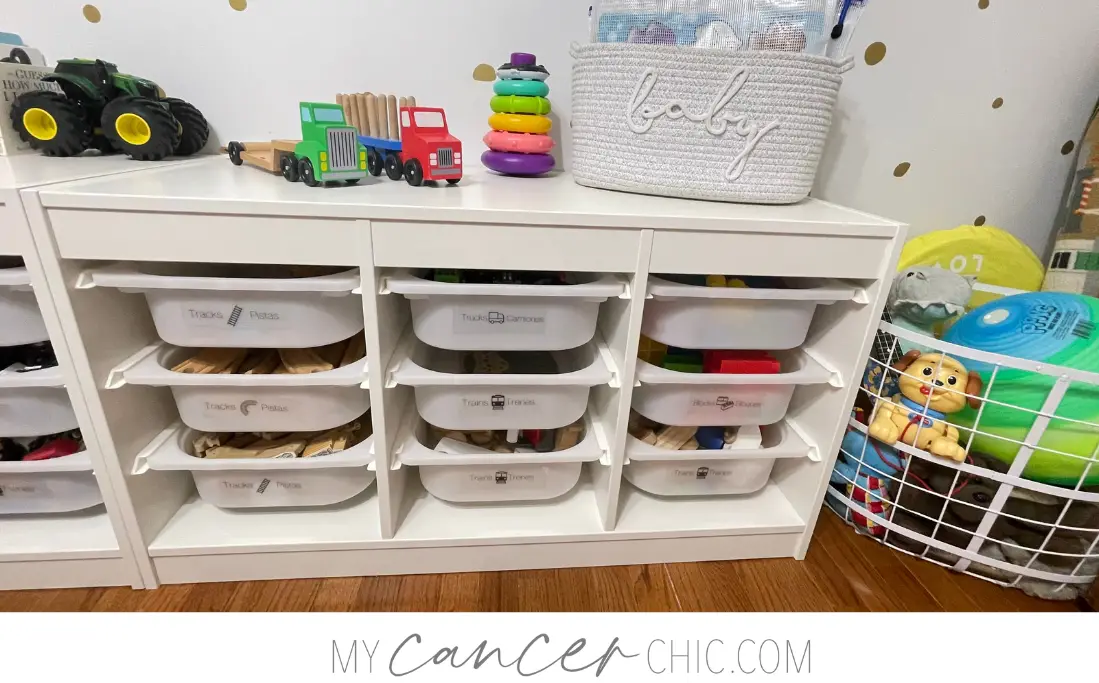 Second, think about what kind of larger or awkward-sized toys your child has that won't fit in the drawers. For us, I knew this would be balls, car tracks, his tunnel, stuffed animals and some of his electronic toys. When thinking about the design of the room, which I sketched out on paper and measured, I made sure to play for these playroom storage spaces. We kept the large brown wooden toy box in the new playroom because it was made by my late husband's father before it was born and has sentimental value. That is where all of our larger train tracks live. Since we don't access those larger items daily, we used two storage baskets on top for balls and electronics that don't easily fit in the storage drawers of the Ikea system.
Here are some of my favorite storage bins and Marshalls has tons of storage bins and simple storage solutions for any size space. If you want something from Amazon, these baskets are another great playroom storage and organization option.  Most of our storage baskets are from Marshalls where you can get a great deal and they have tons of styles. These storage baskets are also sturdy large and fit well under our train table for odd-sized items and tracks.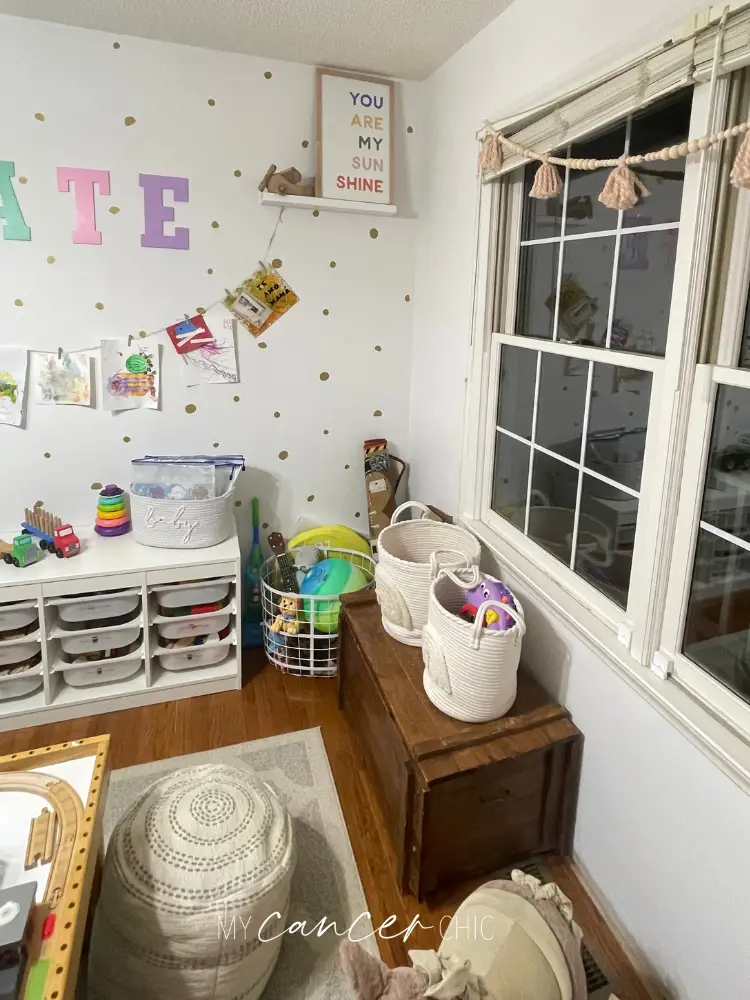 3. Take Advantage of Wall Organization Space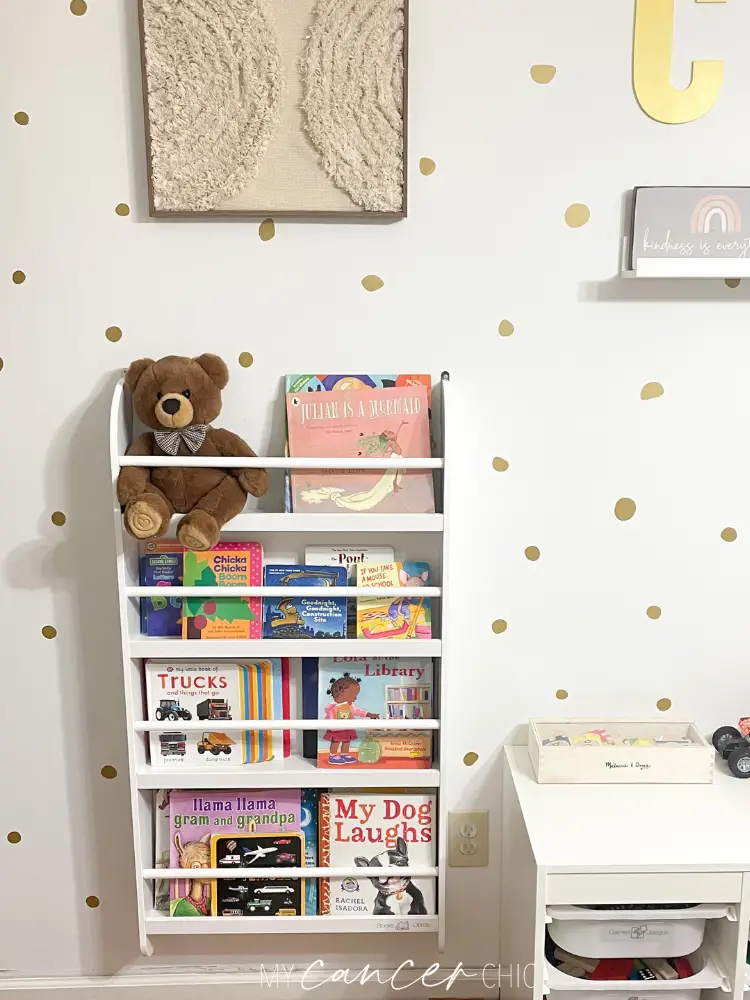 Third, when it comes to playroom organization, you really need to utilize all your space. Think about how to take advantage of wall space for organization spaces so you don't have to take up more play areas on the floor.  In our playroom, we used a set of used cabinets my husband got from a job site (check the Habitat restore as they usually have tons of options). We purposely hung the wall cabinets higher so that the storage can be used for toys that we didn't want our son getting in such as scissors, choking hazards, toys we are cycling out or toys that he will grow into. Also, we have extra paper, art supplies, paint, and other craft supplies in the wall cabinets.
Moreover, I knew I wanted wall-mounted floating shelves for playroom decor, displaying artwork, and placing other playful items. I found these IKEA shelves on Amazon and while they were more than at Ikea directly, I got them fast.
We also used wall space for playroom organization with our book display. Also, I wanted something slim that wouldn't stick out too much but could easily display books for easy use and reading. My son can easily reach the first few shelves and can put his own books back after reading.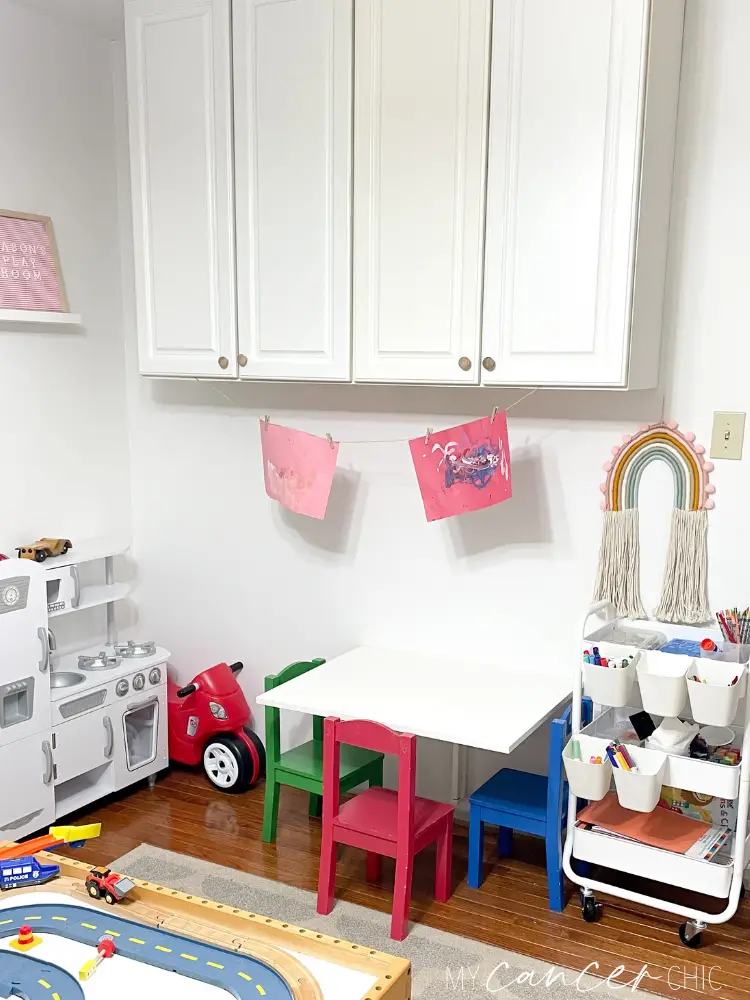 4. Organize Your Space to Be Kid-Friendly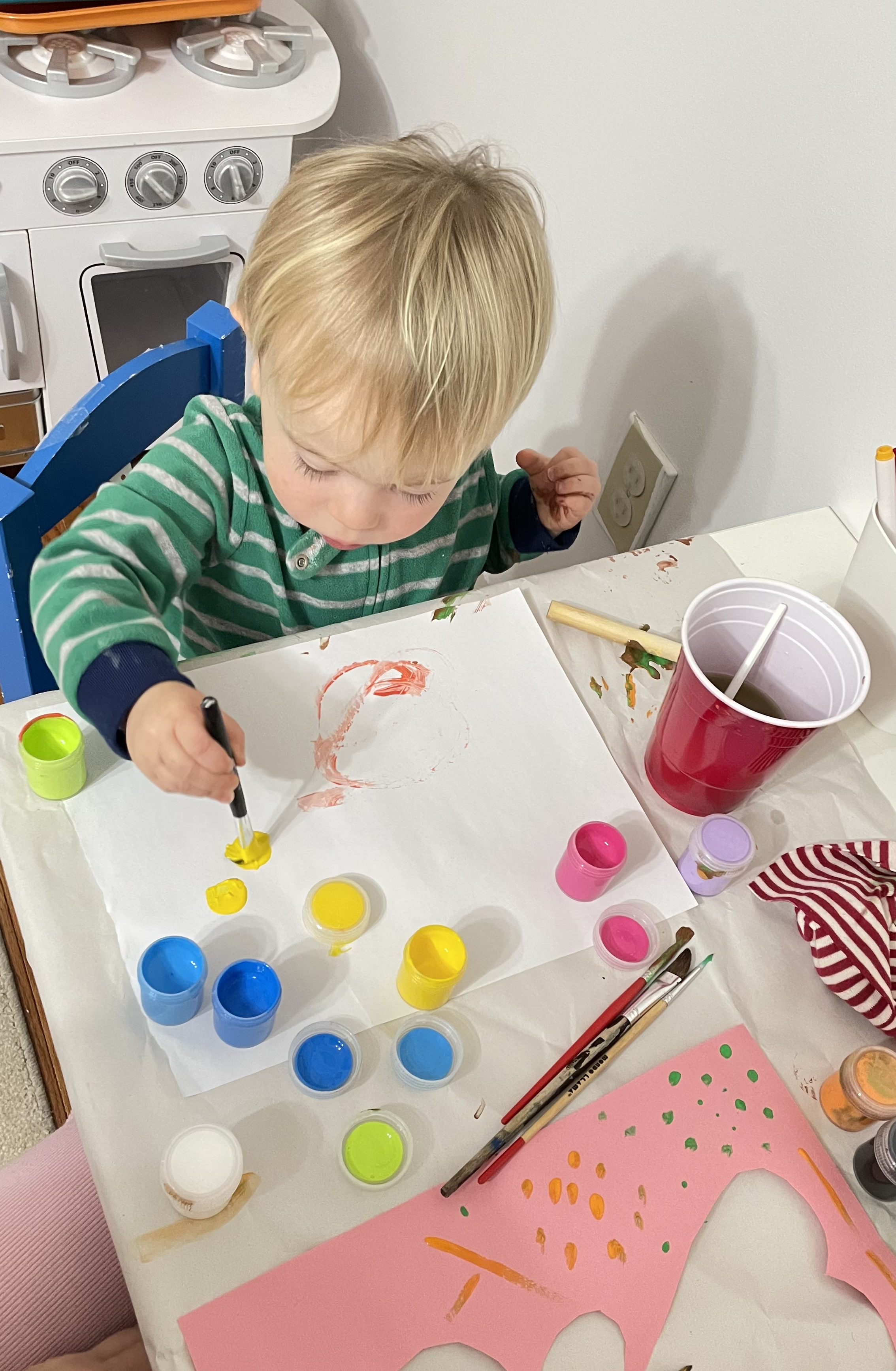 The goal for organizing my son's toys and supplies was much more for my sanity than for my son's. When it came to the decisions about organization, placement, and final planning though, I wanted to make sure everything was kid-friendly. When designing your playroom organization, think about which items your child uses most. Also, what height they can reach and how they are likely to use the learning and play space. You want the space to be tidy and streamlined so that it's not overwhelming, but still encourages creativity. With all the playroom organization tips in this post, I think you'll be ready to start brainstorming your dream playroom space.
5. Create Organized Spaces for Creative Play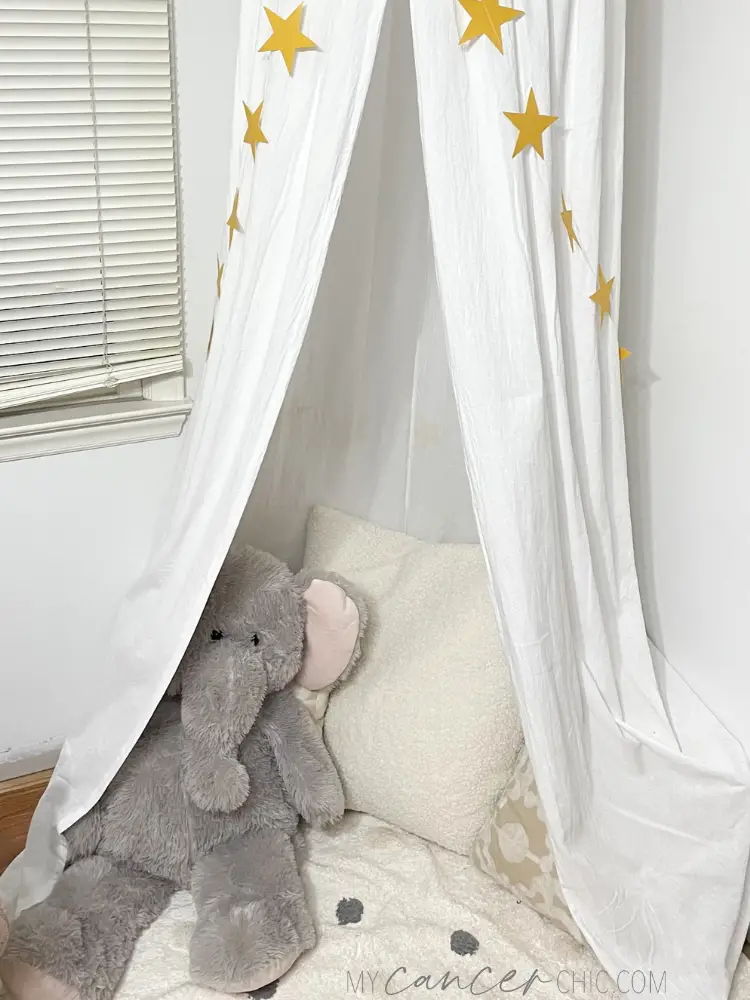 While playroom organization is super important for keeping the room tidy, it's also important to make sure you play for creative play spaces. I knew I wanted to have 4 distinct play areas in our playroom and I planned the organization around that.
Kitchen Play

- my parents got my son this play kitchen for his first birthday a year ago and he has become interested in this area of his new playroom.

Reading Nook

- Keep reading more more details on the cozy reading nook below.

Train Table Play

(this was a huge steal my husband found used on Craigslist for $150 including over 200 train pieces)

Art Table / Craft Table

(we repurposed a used Ikea wall mount fold down table to save space)
Once I planned out these spaces for the creative play, it was easier to plan out the storage and organization for each. So, I am particularly in love with how the art cart turned out. It's a great way to keep easy access art supplies out for my toddler son and fosters responsibility because he knows where to put everything back when he is done. I will have a full video tutorial on the art cart coming this week so be sure to follow me on Pinterest for access.
Helpful Playroom Product Links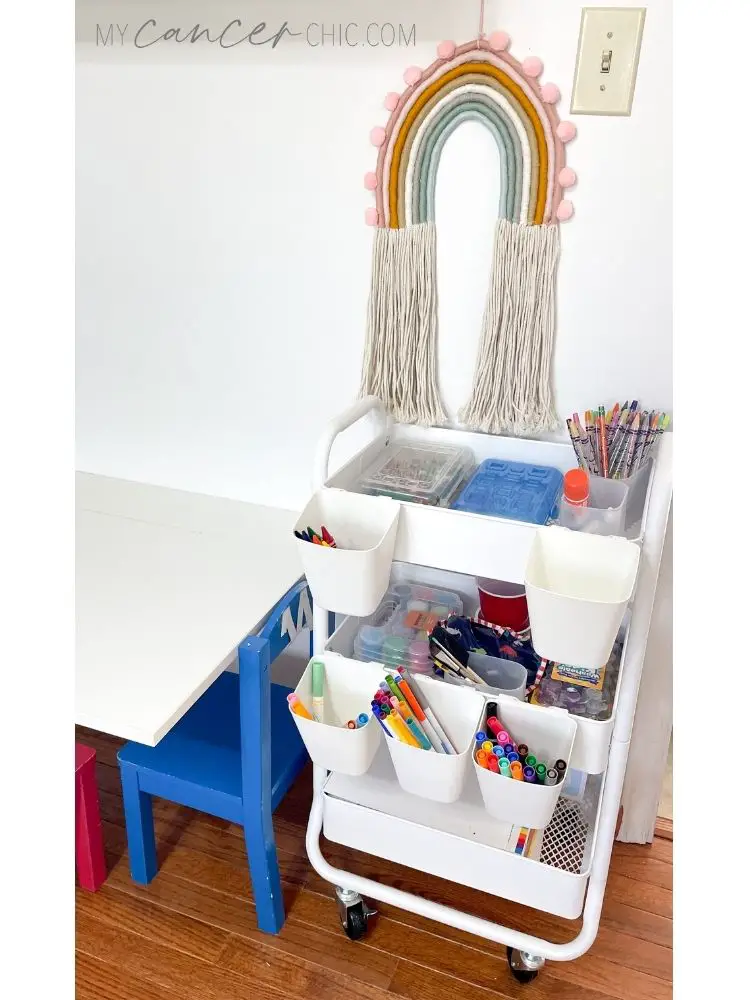 6. Use string to Easily Display Your Child's Art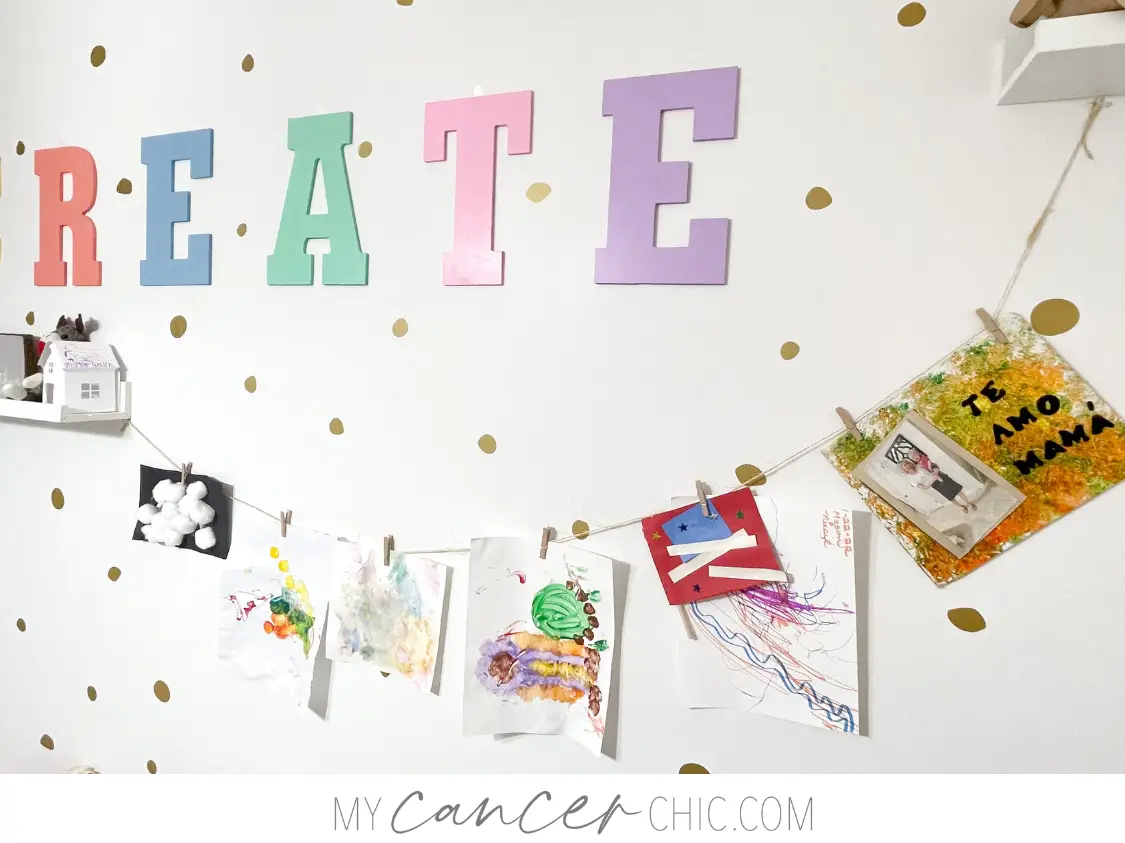 I think it's universal that parents like to display their child's art. All of that precious art and scribbles can get messy though and it's hard to keep all the masterpieces safe. Also, I am a huge fan of using string or twine and mini clothespins to display art. My son is in a Reggio-inspired Spanish immersion classroom. So, I have learned how much displaying their artwork plays a role in learning and forming identity. We plan to alternate the art on the walls as new art comes home from school and we create art together. I also ordered this plastic art storage case to keep his other pieces safe in the corner.
7. Use Zipper Bags to Store Games, Puzzles and Small Pieces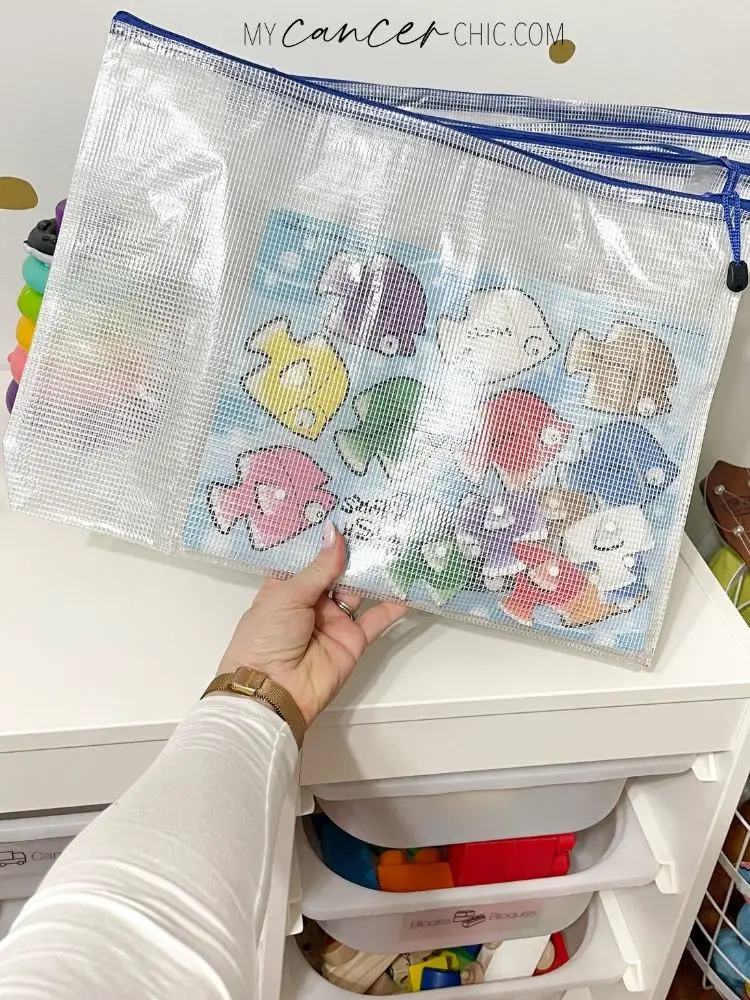 When it comes to puzzle and game organization it can be a bit tricky because they are an odd size. I was struggling to decide on a plan. However, my neighbor saw someone recommend these mesh zipper storage bags on Instagram. I ordered the largest size and they worked out perfectly for our puzzles. So, I keep in a basket for easy access. Now we don't have to worry about missing pieces.
8. Make Playroom Spaces Cozy & Personal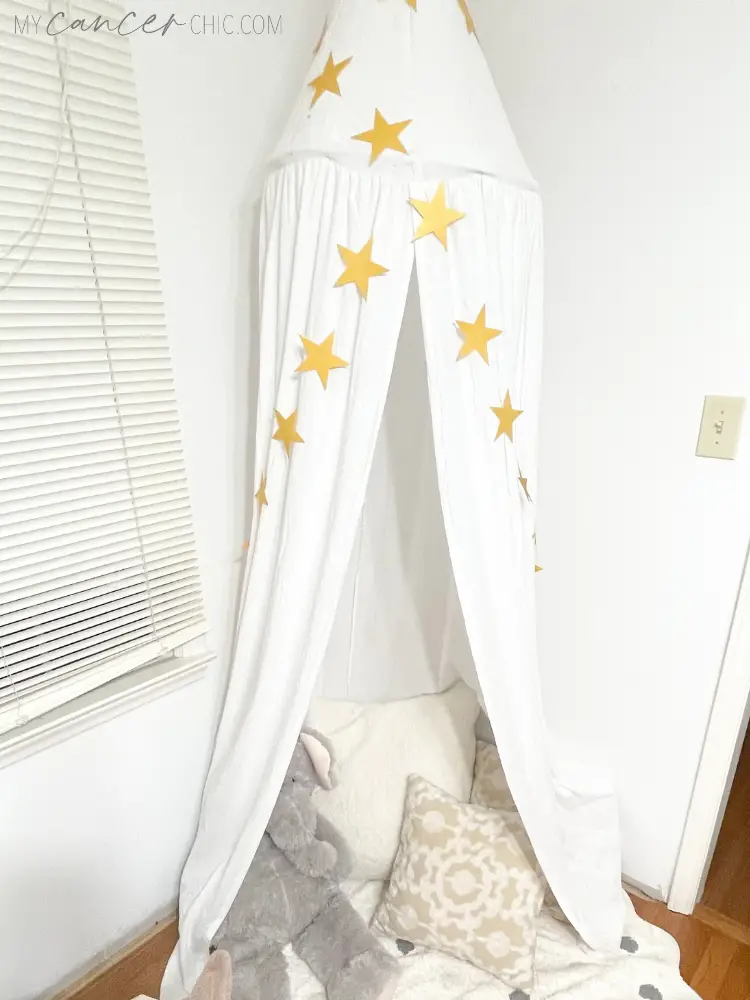 Last but not least, after you have planned out all the playroom storage and organization, don't forget to give your space some personality and decor.  I started out with a very neutral playroom decor plan. However, decided to include some elements of color through the rainbow "Create" playroom sign I made. It has gold vinyl decal wall dots to add some more fun to the room. I added in the tassel wooden garland (from a local boutique) and the rainbow wall art (from Marshalls) to add more playful touches.
As a book lover myself and a family that loves reading, we decided to make a cozy inviting reading nook in the corner. It has a dome canopy hanging from the wall, giant cushions (from Marshalls), and our favorite giant elephant for snuggles. So, this is one of our favorite spots for playing, reading, and lounging together.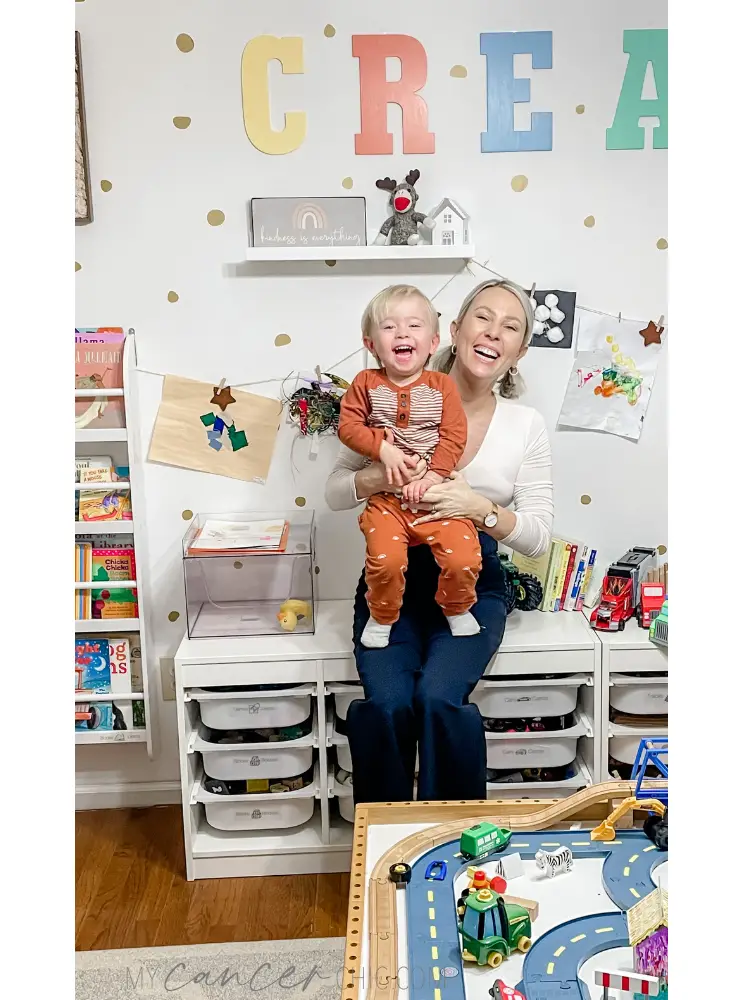 Additional Playroom Decor Links
Wall Decal Stickers - These irregular dot stickers are SO easy to apply and remove if you later want to change your playroom decor. We used a similar style in our son's room. This particular set came with enough dots for me to complete the whole wall. I did not measure and just placed the dots in a variable pattern. Pro Tip:

Wait to place stickers until you have hung all your other wall art, shelves, and furniture so you don't have to move the dots.
Save this Post for Your Playroom Organization Makeover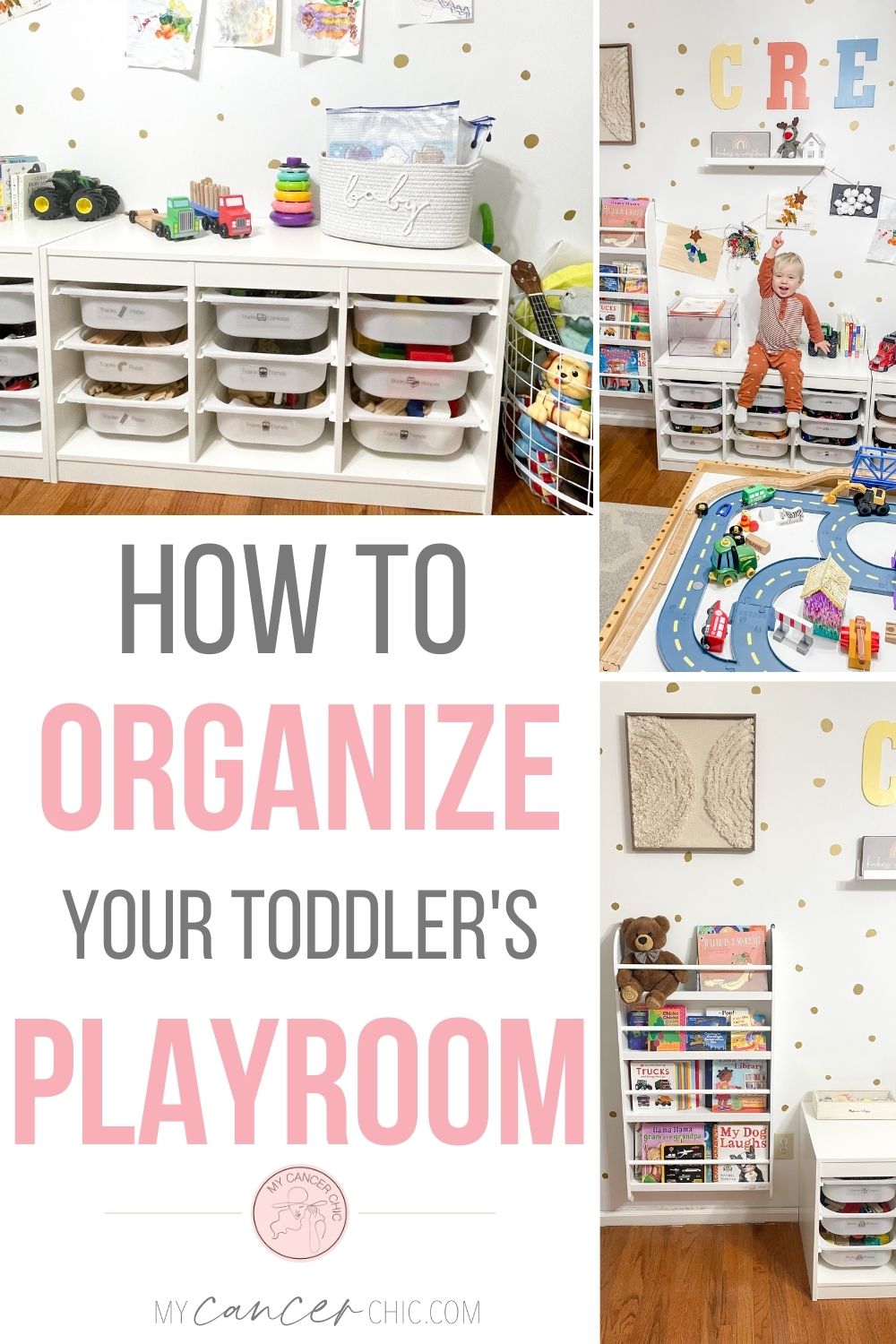 I hope you enjoyed this full overview of our playroom makeover and all our playroom organization ideas and tips. Which of these organization tips will you try today for your playroom? My favorite is the labeled playroom organization drawers. Also, I love having the organized art cart easily accessible for creative play. Want more organization ideas? Check out our Toddler Bedroom Organization. Also, I can't wait to see how you use these ideas to bring your playroom organization ideas to life.
Shop This Playroom Organization Post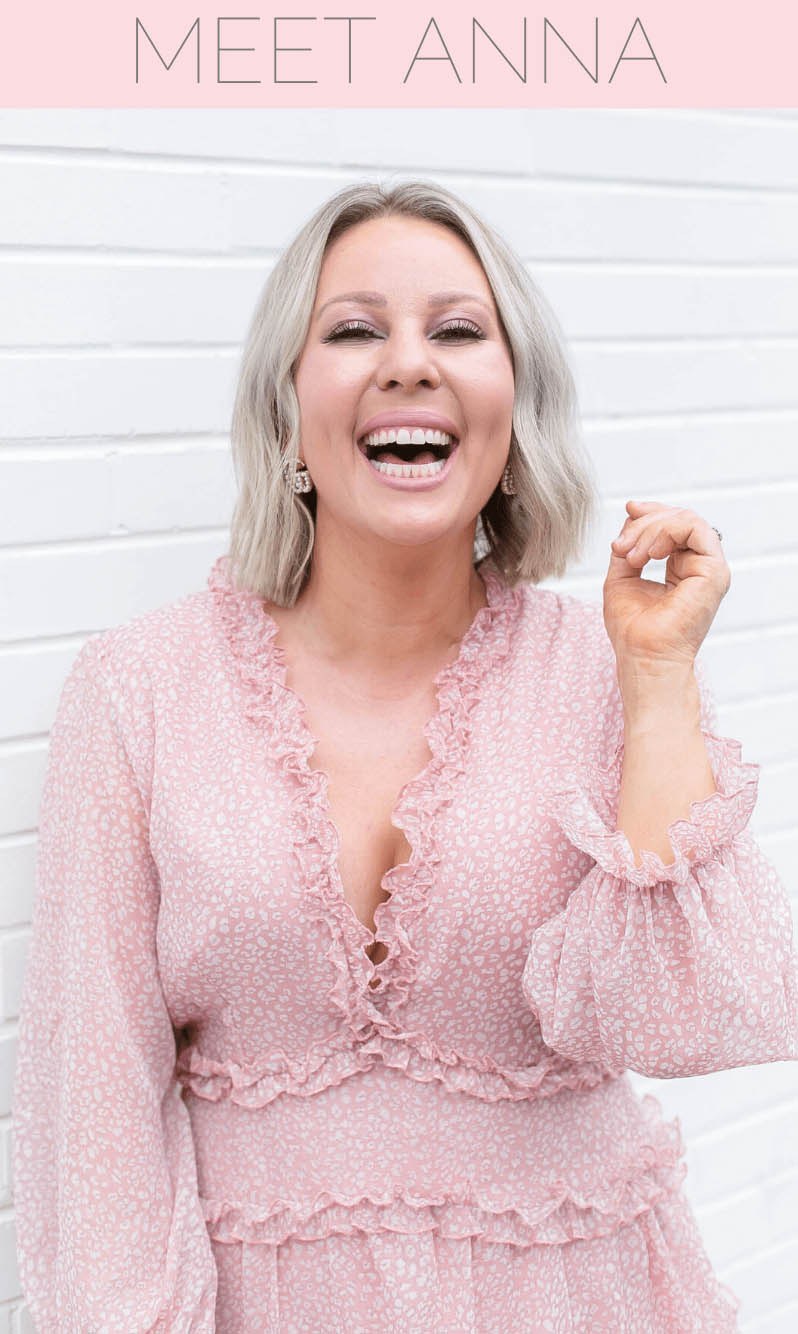 Breast cancer survivor, lover of style, beauty and all things pink! Inspiring you to thrive through adversity. 



Our Amazon Toddler Favorites