To organize toddler bedroom can be overwhelming. There is so much to keep organized from toys, books, stuffed animals, and clothes. So, you want to keep the room tidy, have storage for all the items but also have a fun play area.
In this post, I will share some of the storage solutions that help me stay sane and keep my toddler's bedroom organized while also having floor space for play, reading, and snuggles. Also, the best part is the design. It allows for my son to be involved in clean-up and responsible for aspects of his daily routines. Keep reading for all the organization tips and tricks.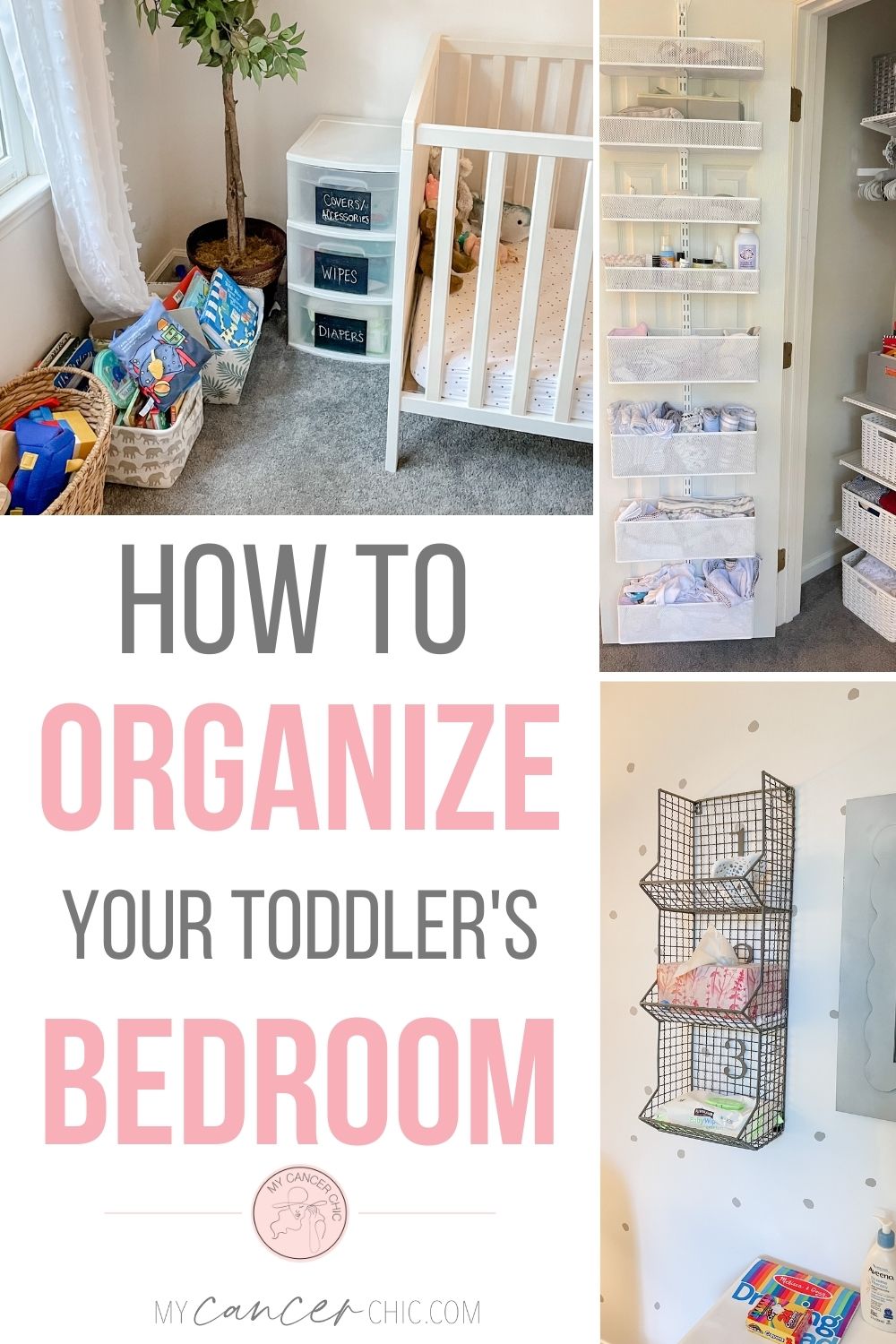 How To Organize Toddler Bedroom with 8 Storage Tips
There are a lot of things to consider when it comes to storage and organization in your kid's room. Also, you really need to think about a combination of furniture and built-in storage solutions as well as storage bins. You can help ensure your child knows where everything goes. Do this with a combination of closet storage, storage bins, and intentional placement of items in kid-friendly spaces. Also, it will be a part of keeping their room tidy. This leads to an organized kid and a clean space for play and rest.
Toddler Room Organization Ideas & Storage Tips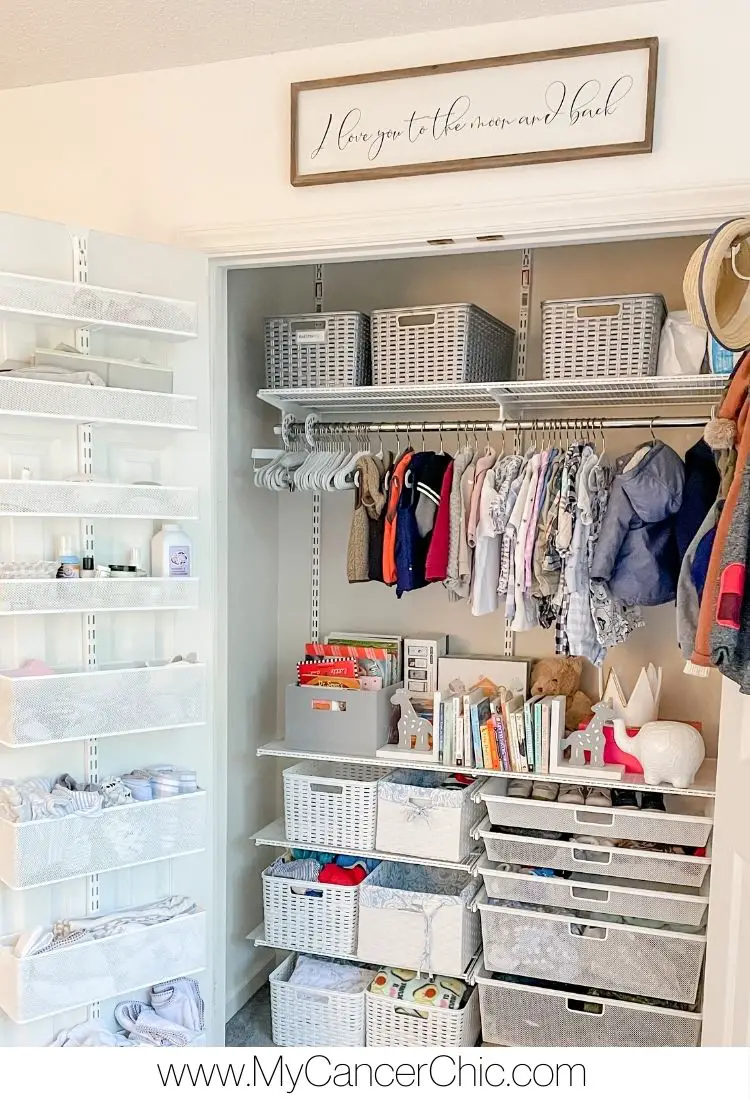 1. Invest in Closet Organization
First, the best investment we made when designing my son's nursery was the closet system. I planned out the closet using the ELFA closet system. It's from The Container Store and we installed it ourselves. Similarly, you can select a base system and then customize it to fit your space and your storage needs. We started with the 4' white closet system base and customized it from there.
Also, I put so much thought into designing the built-in storage closet that would grow my son. As he has grown the storage space has been amazing to store extra clothes, books, stuffed animals, and more. So, having the drawers dedicated to specific storage needs and using the door space for more storage has been so effective.  While the closet system is an investment, keep an eye out for sales. Certainly, we made our purchase when all closet systems were 25% OFF.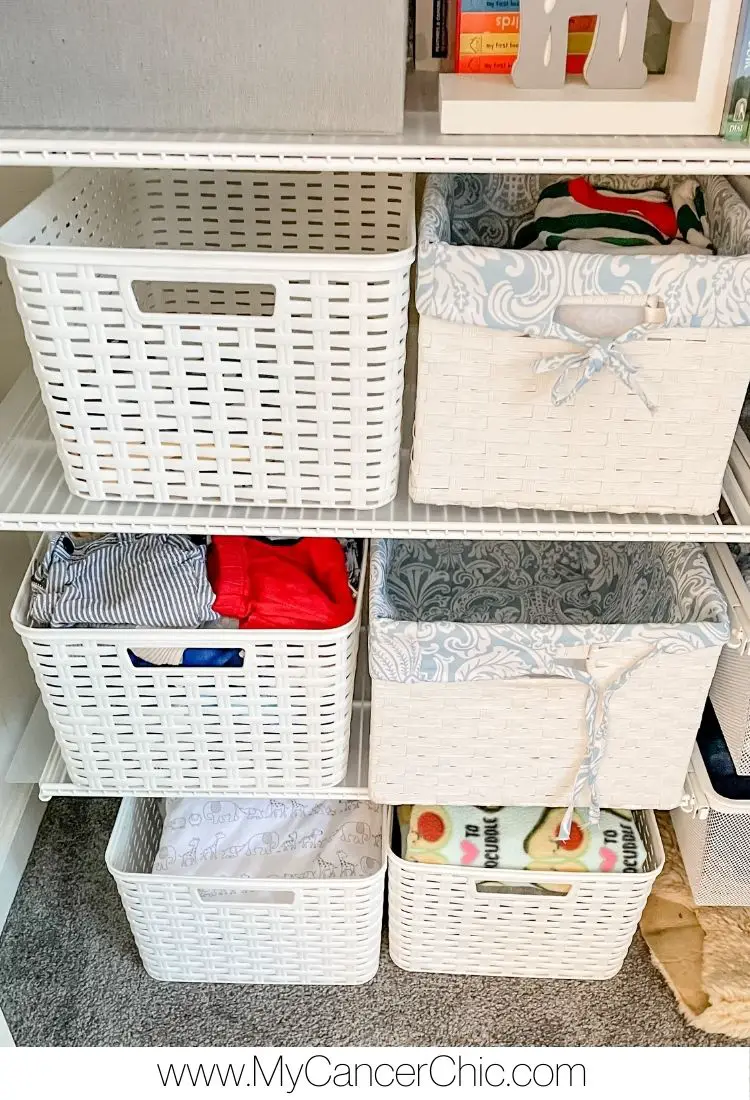 2. Keep Storage Bins for Clothing that is Too Big & Too Small
Second, before I had my son someone shared this simple tip with me. It was about keeping your closet and kid room more organized. So, do it, you can abel one bin "too big" and one storage bin "too small".
Consequently, you have to regularly go through your child's clothing and move items to either storage bin. Also, I started doing this when my son was born. So, it's been life-changing. This simple tip helps me shop for kids' clothes less and organize the items we have. Also, we organize it by size that I know what we need before the time comes.
Meanwhile, I use these clothing size labels to keep the hanging items organized. I try to go through the drawers regularly and pull out items that don't fit. So, I quickly put all the clothes in the "too small" bin. Then, every month or so go through and determine what to keep" and what to donate. Meanwhile, any items I decide to keep get moved to a permanent space in the attic.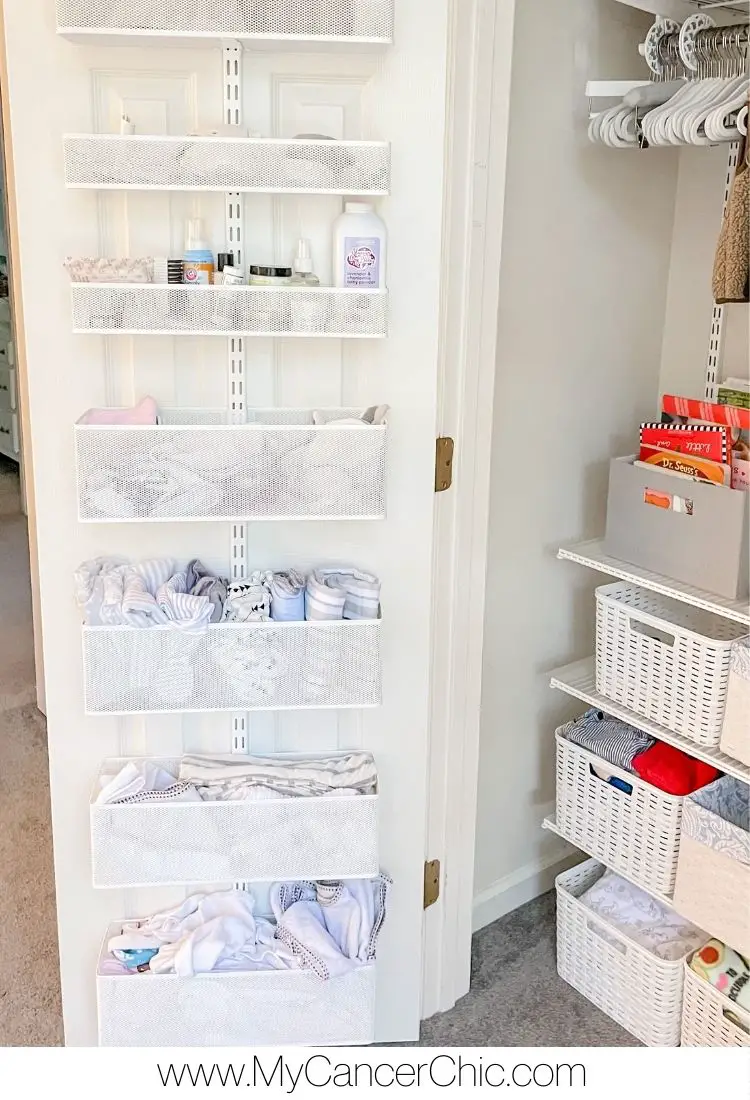 3. Take Advantage of Closet Door Organization Space 
Third, when it comes to kid's room organization, you really need to utilize all your space. For instance, I already spoke about the importance of closet organization. However, don't forget about the closet doors. Closet doors are a commonly overlooked space for storage. But, it can be great for medicine, creams, blankets, toiletries, toys, and more.
Meanwhile, the closet door system we installed was not included in the 4' closet. So, we bought that separately and customized the basket sizes. Also, I particularly loved the finer mesh baskets so nothing can fall through.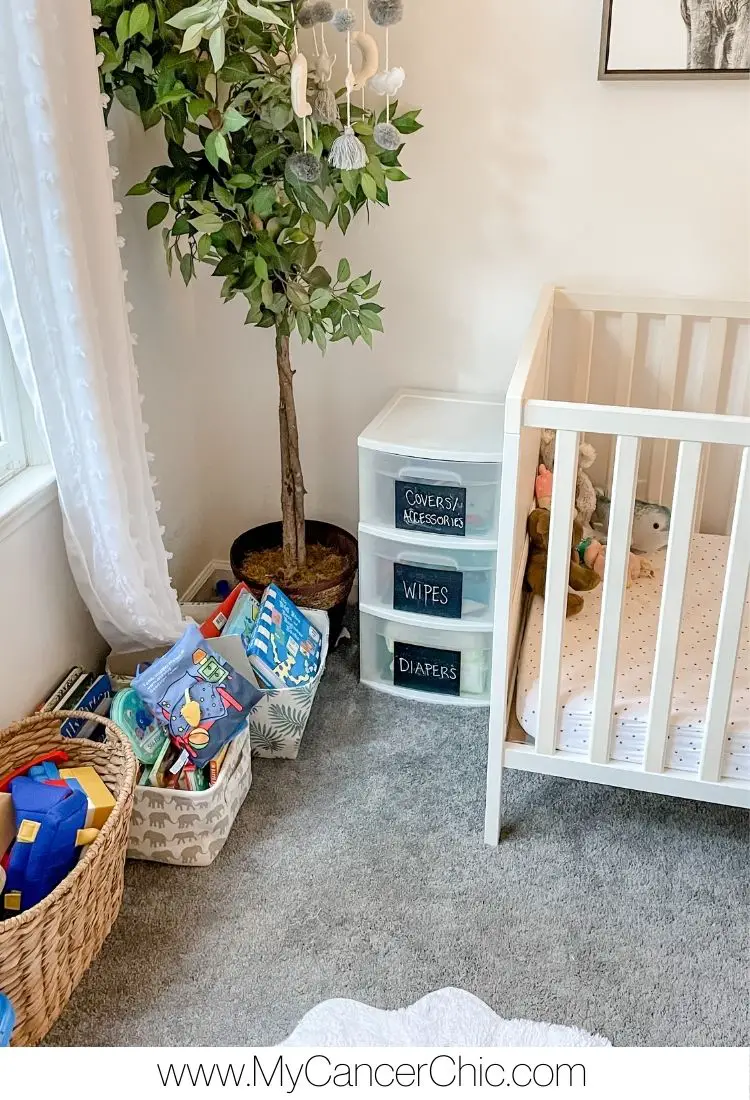 4. Create storage for favorite toys & stuffed animals
Fourth, think about where your child's favorite toys will live. This is to say, these preferences of toys and stuffed animals may change frequently. So, you have a place they can be stored easily overnight. I have one drawer or storage bin in our closet for toys my son is not currently interested in. Therefore, we have his favorite toys, books, and stuffed animals are kept in a storage bin by his bed. Also, we have storage space for books and toys. These are located at the window so he can keep his play area tidy after playing.
So, by incorporating these storage spaces, your child can be a part of the simple steps to clean up each night. Certainly. here are my favorite storage bins for the closet and around the room. Also, Marshalls has tons of storage bins and simple storage solutions for any size space. So, if you want something from Amazon, these baskets are almost identical to the ones shown in my closet organization photos.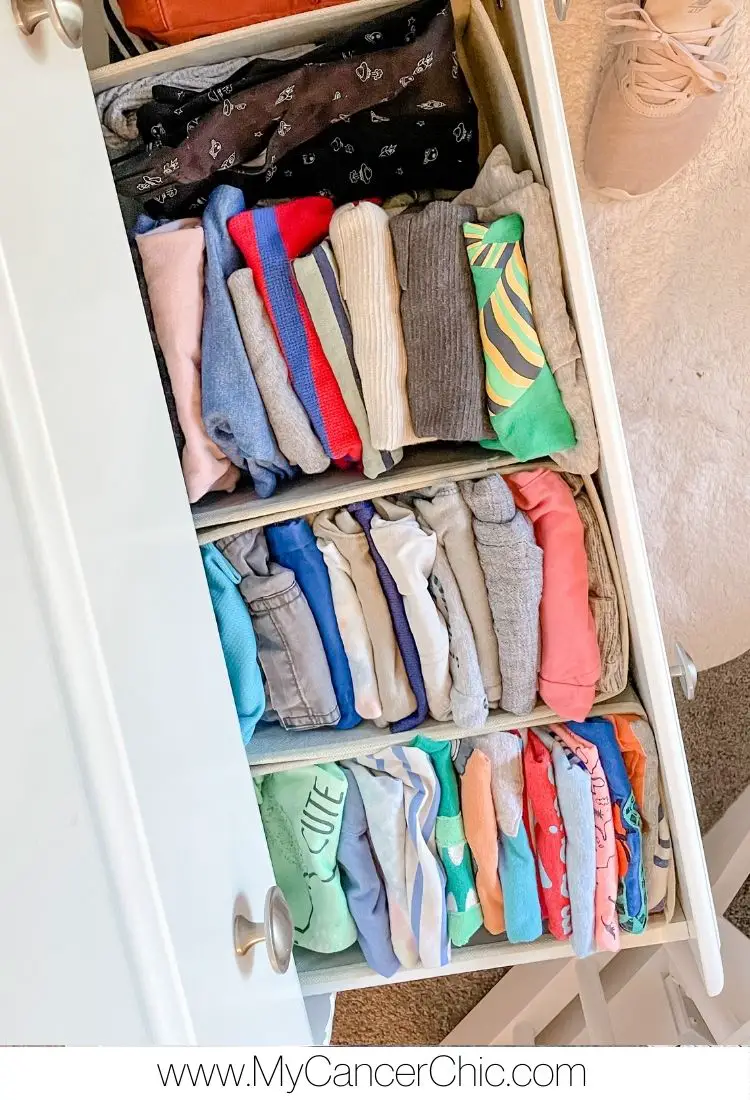 5. Organize Dresser Drawers to Be Kid-Friendly
Fifth, originally when I organized the dresser in our nursery, it was built around easy access as new parents to the essentials. We have arranged drawers for our son now that my son is getting older. In addition, he wants to be a part of the decision-making for getting dressed. This is part of some responsibility in the process. So, think about organizing your drawers in a kid-friendly way to encourage organized kids. Similarly, drawer dividers are from Amazon. Also, it can be easily reconfigured for different storage solutions and clothing organization.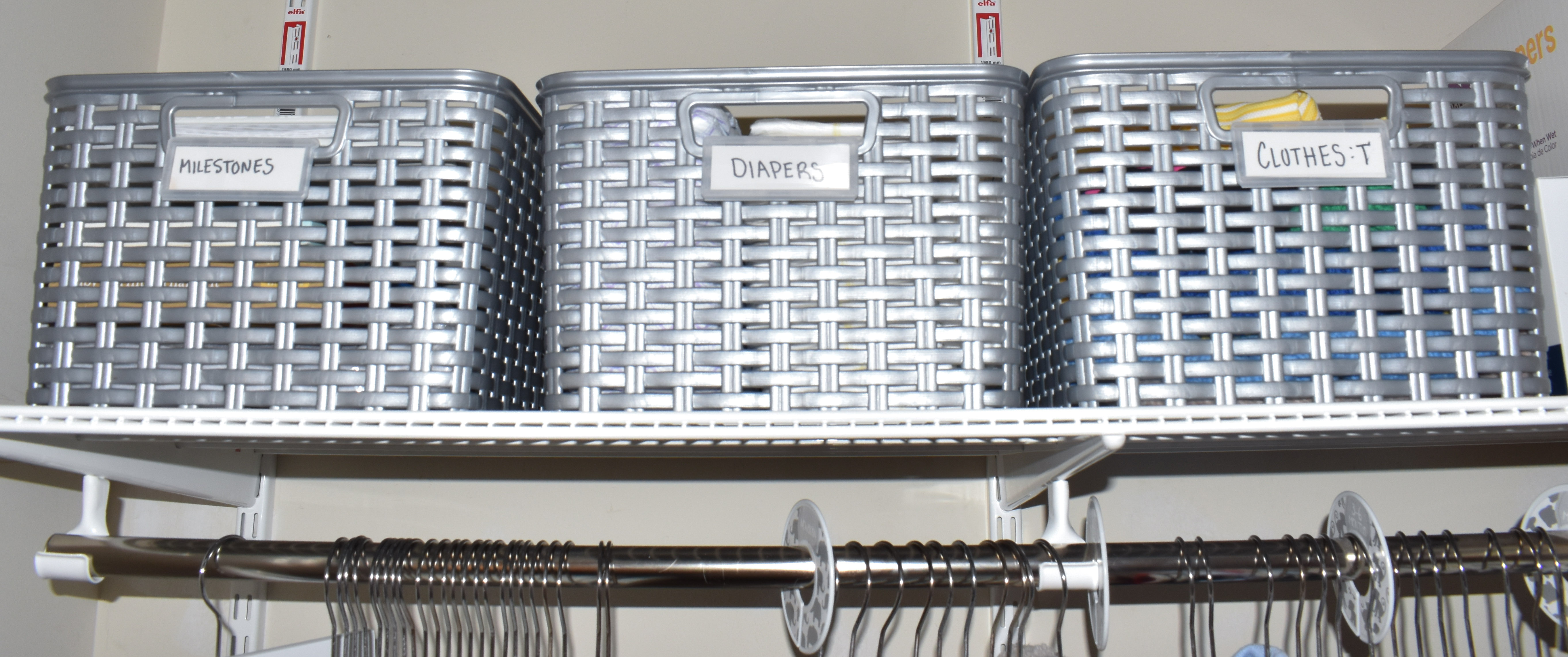 6. Create Storage Bins/Spaces for Surplus Items (Diapers, Books, Toys)
Sixth, anyone with kids can relate to the excess of stuff. Specifically, toys, books, games, diapers, clothes, it's always piling up. Also, plan ahead by having storage space for all the extra items. For us, we buy diapers in bulk from Costco. So, we make sure there is storage space in the closet to store the items. Also, we have a storage bin in the closet for season books, unused toys, and travel-related items. So, having specific storage spaces for each item makes it easy to put things away. Moreover, it makes easy to find them when you need them.
7. Use Hooks for Odd Shaped Items
Seventh, make your kid part of the room organization process. Similarly, use built-in storage, storage bins, and have a place for everything is great. Meanwhile, in order to maintain the organization you have to create habits of cleaning up and staying organized.
Also, by having a clear play area, reading nook, and storage solutions, your child will learn to enjoy being a part of the process. Above all, make it fun. Sing songs about clean up or let your toddler pick her/her clothes. Also, put them in charge of certain organization tasks.
8. Build Fun Routines Around Organizing
Lastly, we all have awkwardly shaped items that don't fit in storage bins or built-in storage solutions. So, we decided to add an over-the-door rack. Meanwhile, it could hold my favorite diaper bag, sweatshirts, raincoats, and bags.
In addition, we have the  ELFA Closet shelf hooks add on for extra storage. So, this is a great for belts, scarves, and hooded towels. For instance, you don't want to use the closet? Then, incorporate storage space on your bedroom walls. Likewise, you can use hooks and shelves around a reading nook.
Also, I hope you enjoyed these simple tips for how to organize your toddler room. Which of these organization tips will you try today? My favorite is the closet. Also, I love having storage bins for everything near the play area and the bed. Certainly, I can't wait to see how you use these ideas to organize your kid's room today.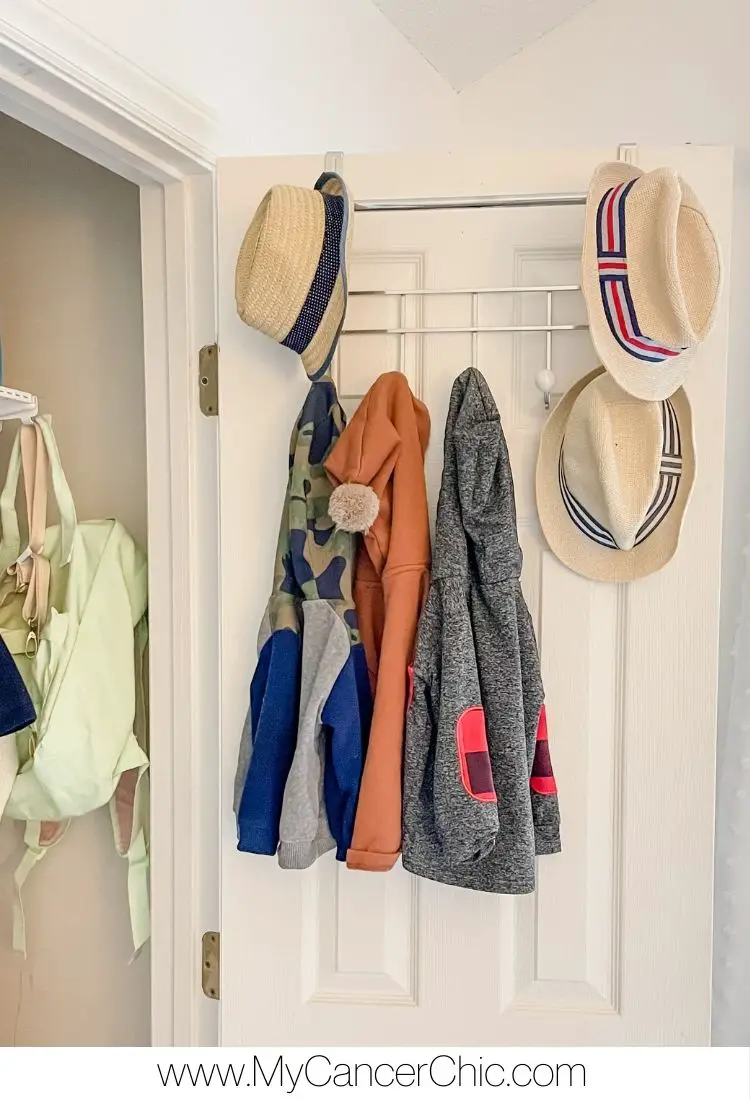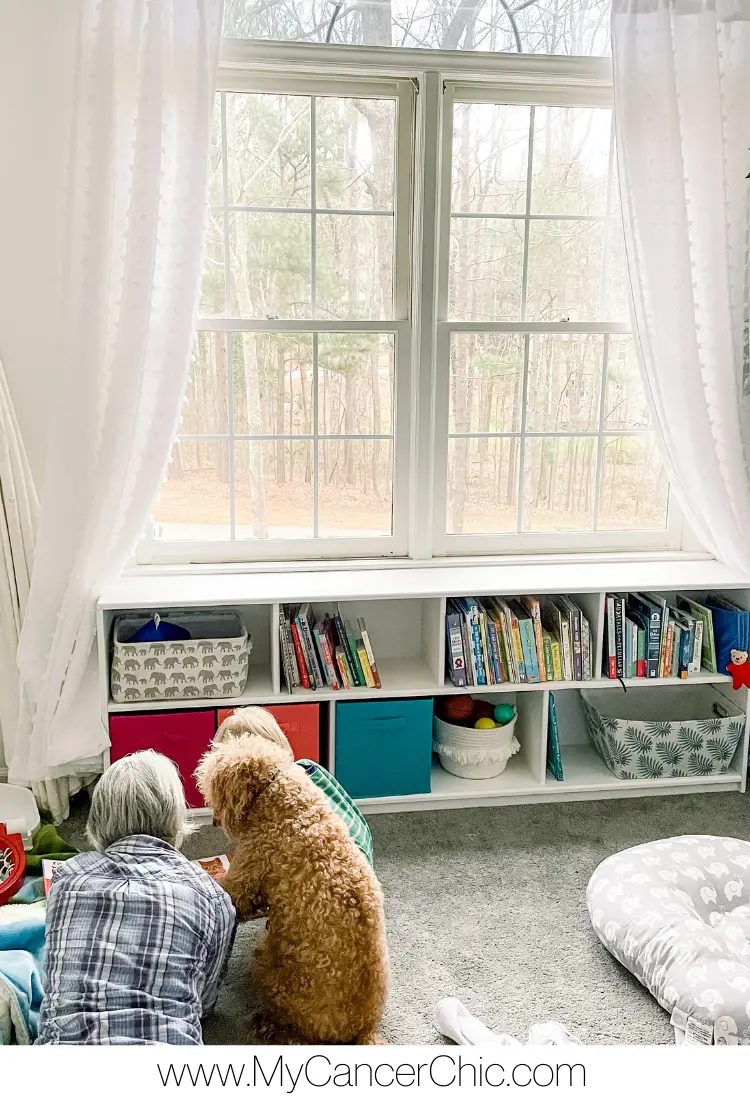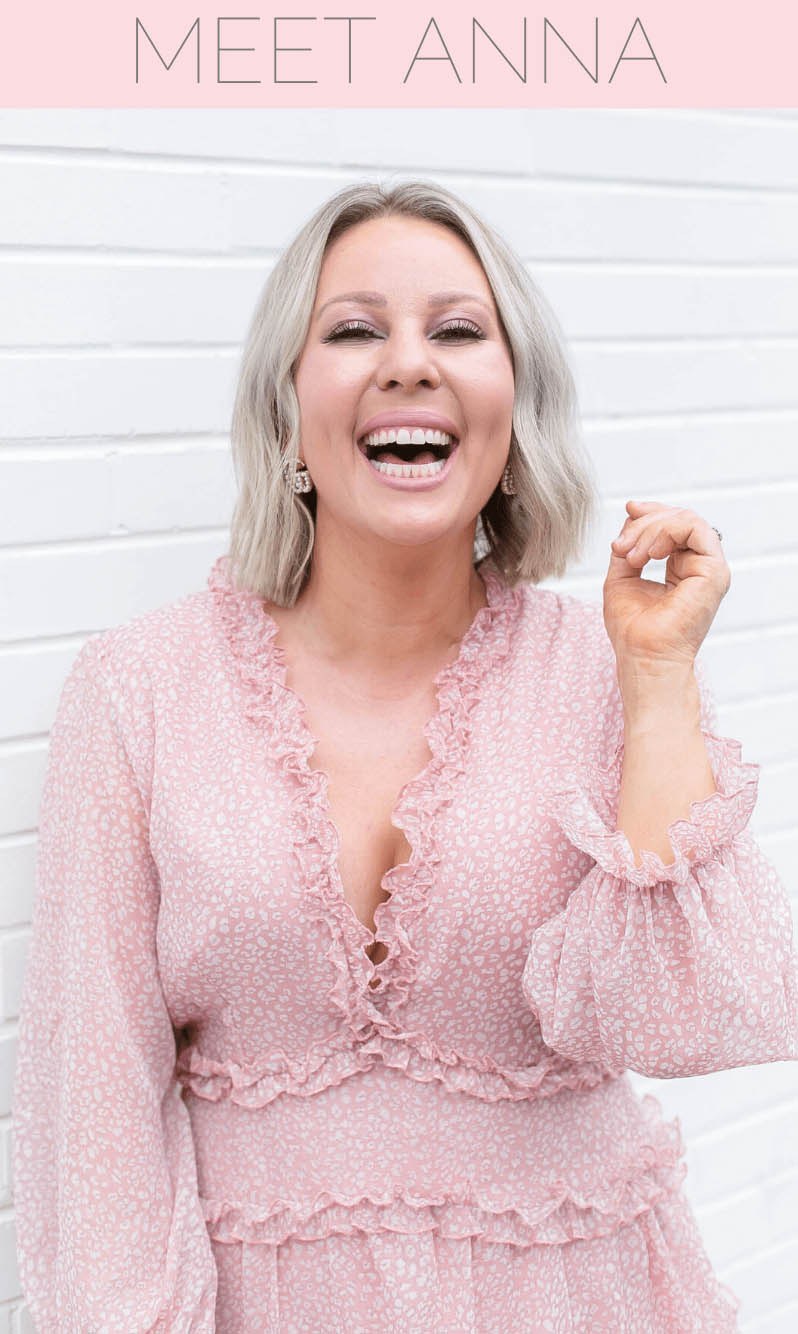 Breast cancer survivor, lover of style, beauty and all things pink! Inspiring you to thrive through adversity.