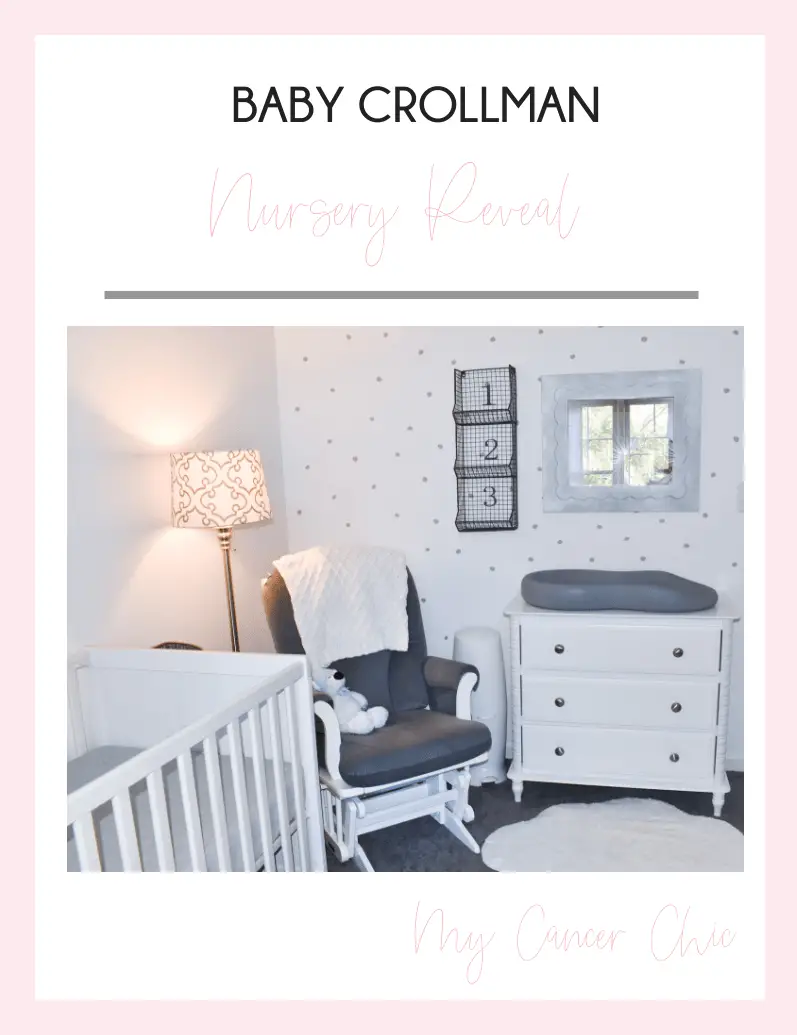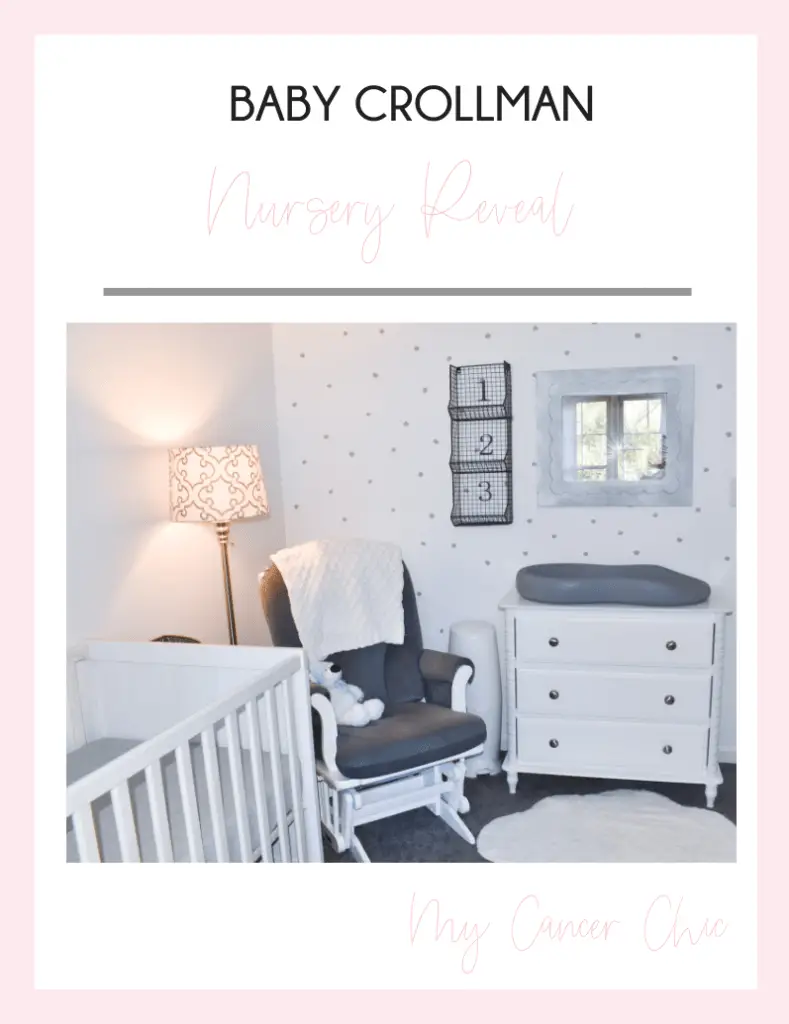 Preparing baby Crollman's nursery has been my favorite part of pregnancy. My goal was to make this space a haven for me during pregnancy and a room we would love to spent time with him in. I wanted a cozy, neutral, serene nursery and I am thrilled with how it turned out. I am so excited to reveal baby boy's nursery to all of you 4 weeks before we get to meet him! I know this is the most organized and clean it will be for years.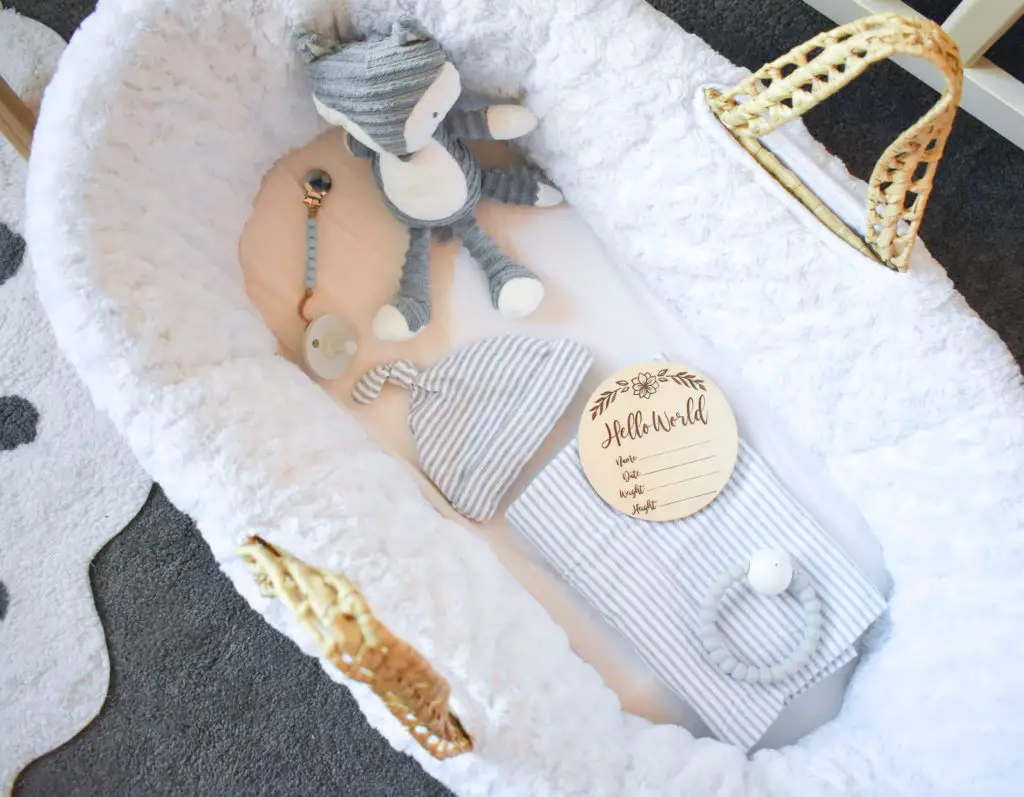 We planned the whole nursery with a limited budget so many of the items were purchased consignment, discount stores (HomeGoods, Marshalls, etc) or pre-owned. I will link as many items as possible and indicate where items are from even if I can't link them.
Nursery Paint
I tried way too many paint colors and originally planned to do grey but after getting swatched on the wall, I decided to go with Arcade White (SW7100) from Sherwin Williams. The polka dot decals really made the space come to life. The best part is they are easily removable as he grows and undoubtedly has other style preferences from mom.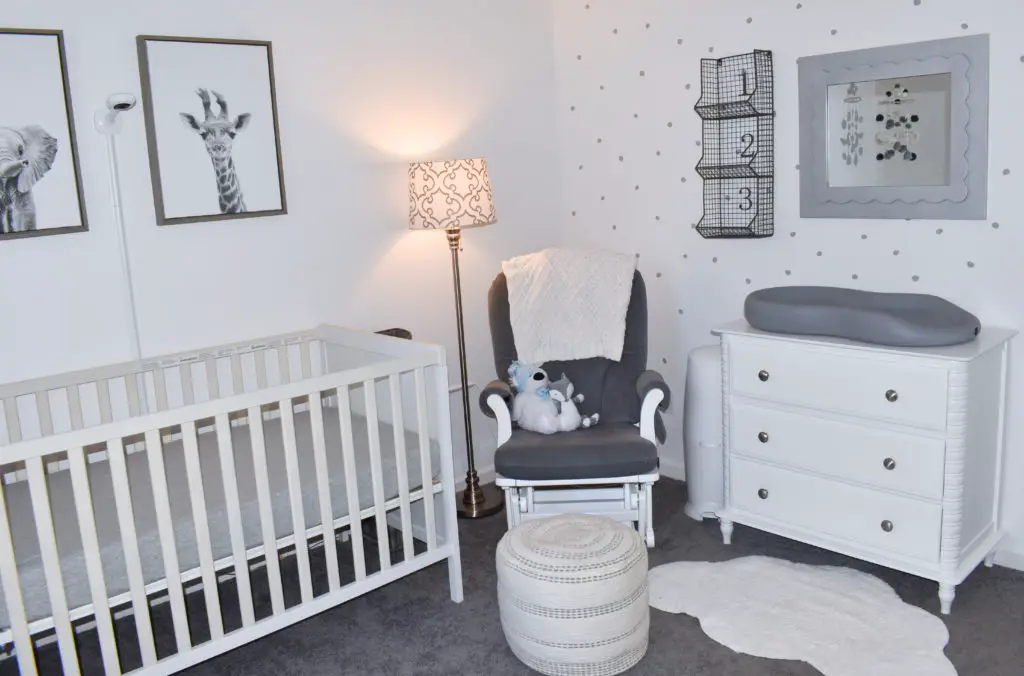 Rocking Chair |Ottoman| Lamp (old from Target - similar) | Blanket (Home Goods - similar)|Cloud Rug | Dresser |Diaper Genie (hand me down)| Wall & Tier Shelf Organizers (HomeGoods)
Nursery Furniture & Decor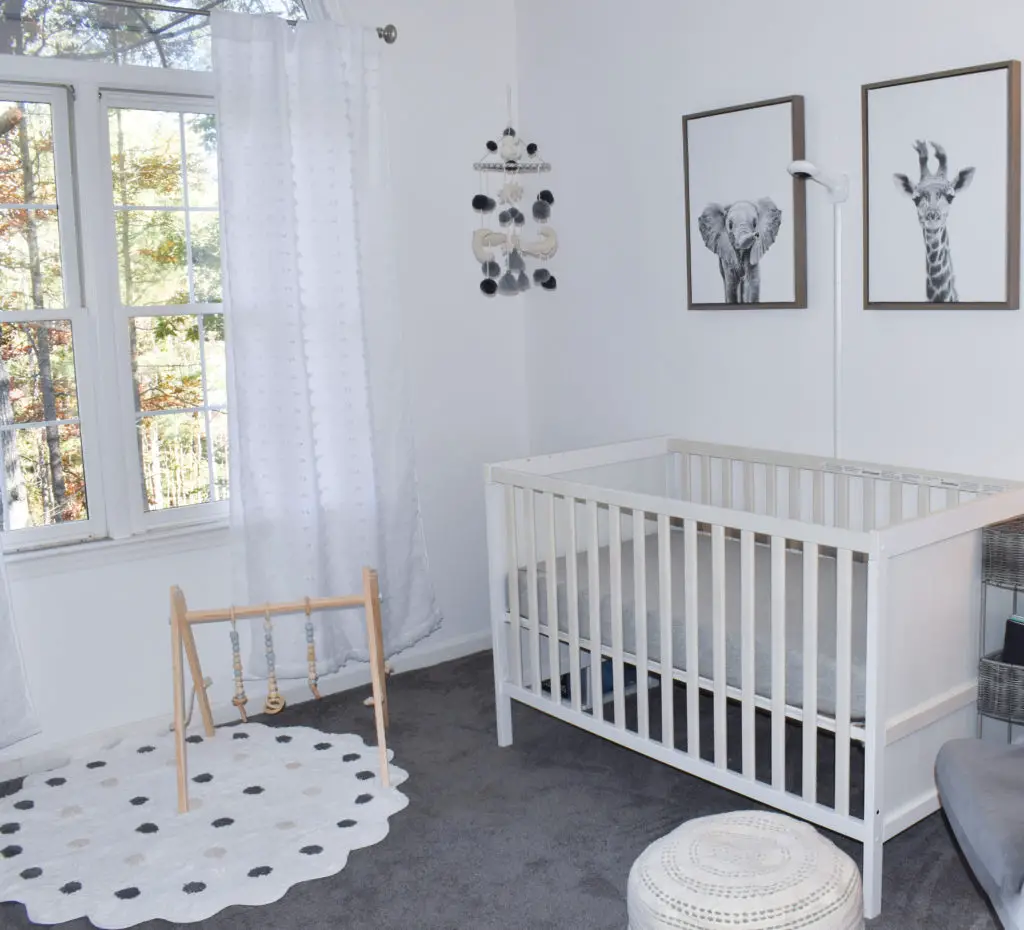 Crib | Crib mattress |Monitor |Artwork (home Goods) | Sheets |Mobile (local - similar)
We got the dresser and crib used, but we purchased the crib mattress brand new for safety/sanitary reasons. We also got the rocking chair at a steal as a floor model at Buy Buy Baby and even found a second one for our bedroom on Craigslist. Be sure to stock pile those Bed Bath and Beyond 20% coupons which you can use at Buy Buy Baby.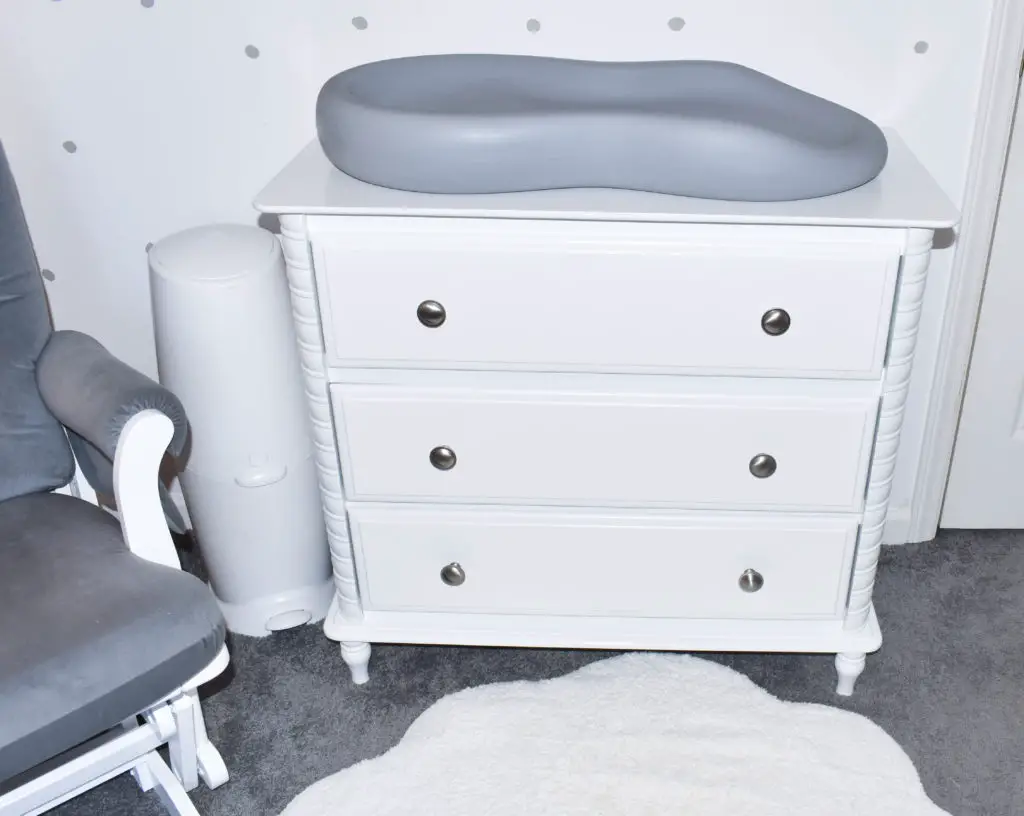 Dresser |Diaper Genie | Changing Pad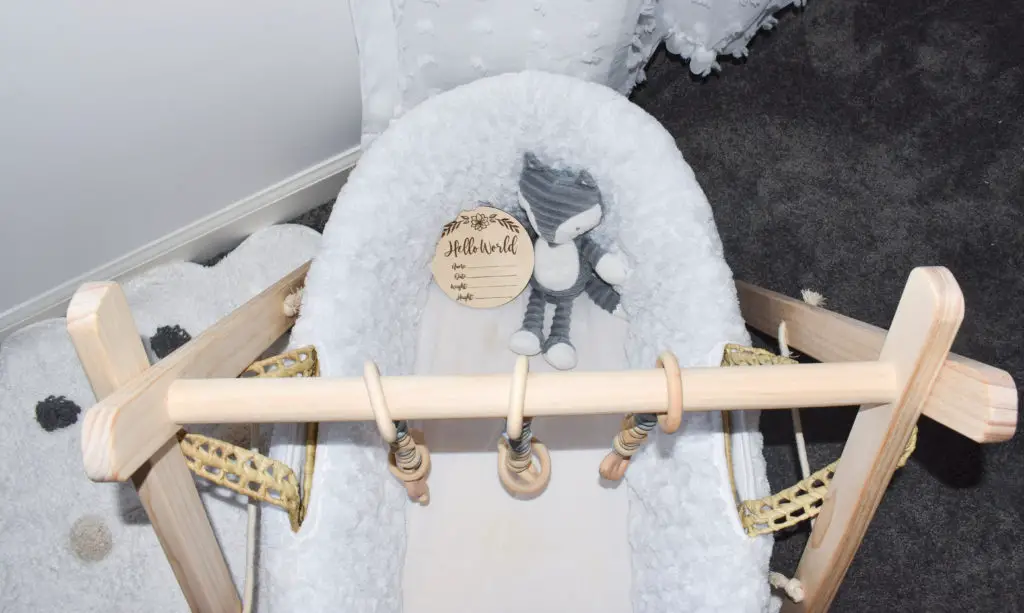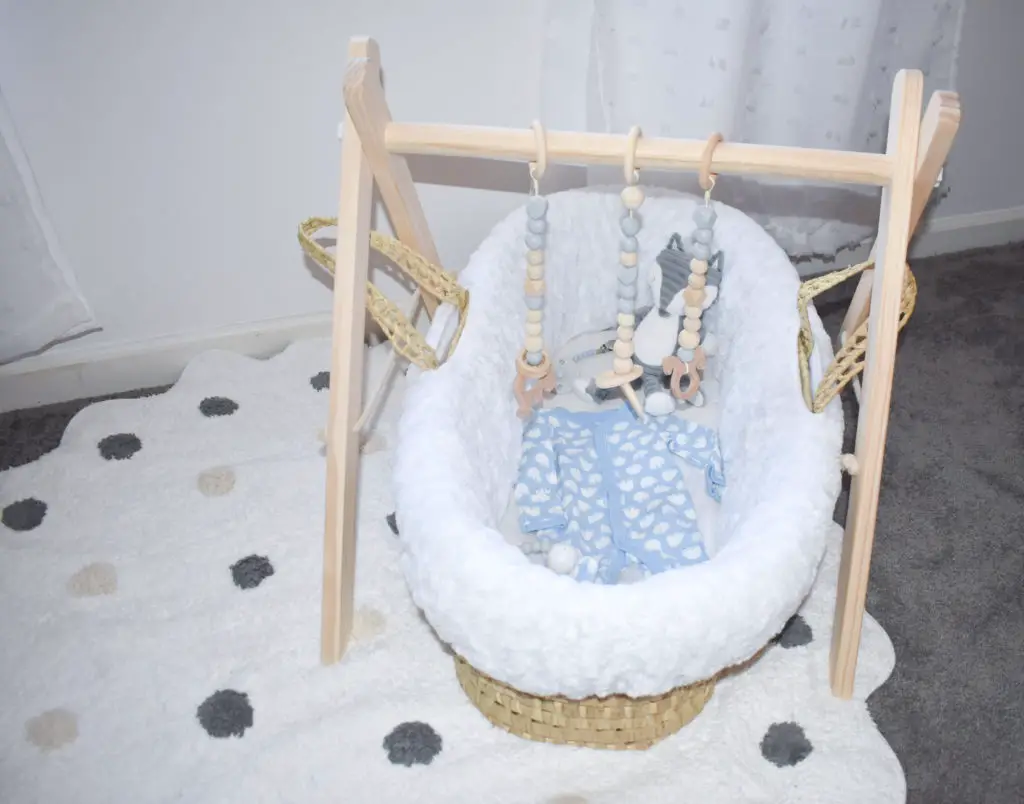 Wooden Baby Gym | Polka Dot Rug |Moses Basket (consignment) | Hello World Sign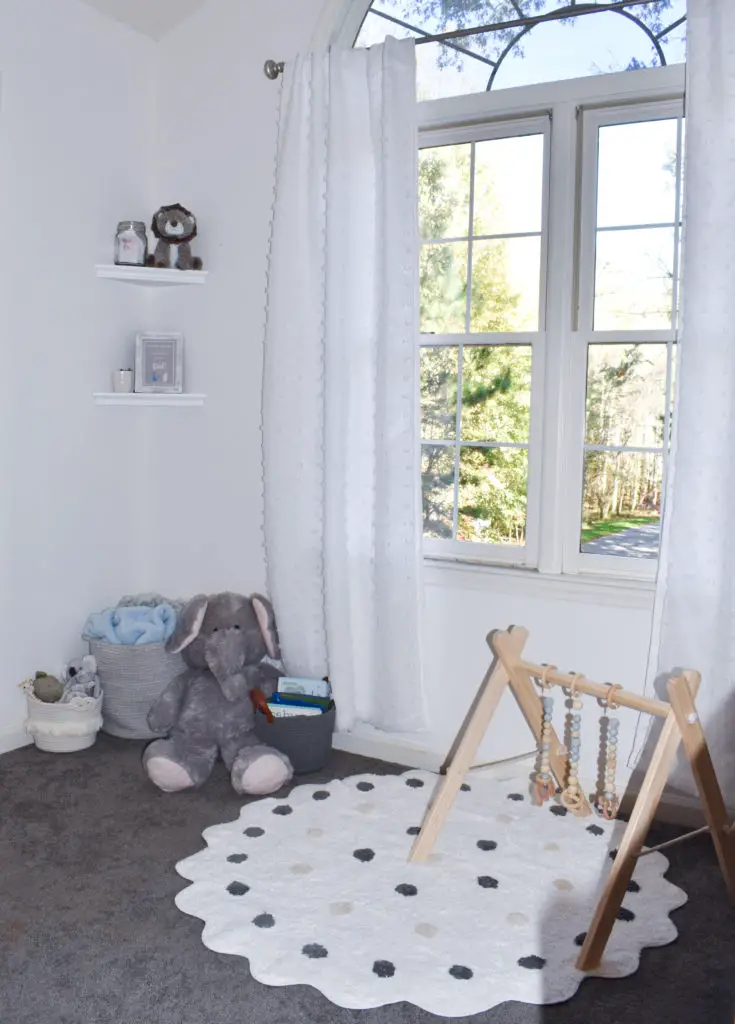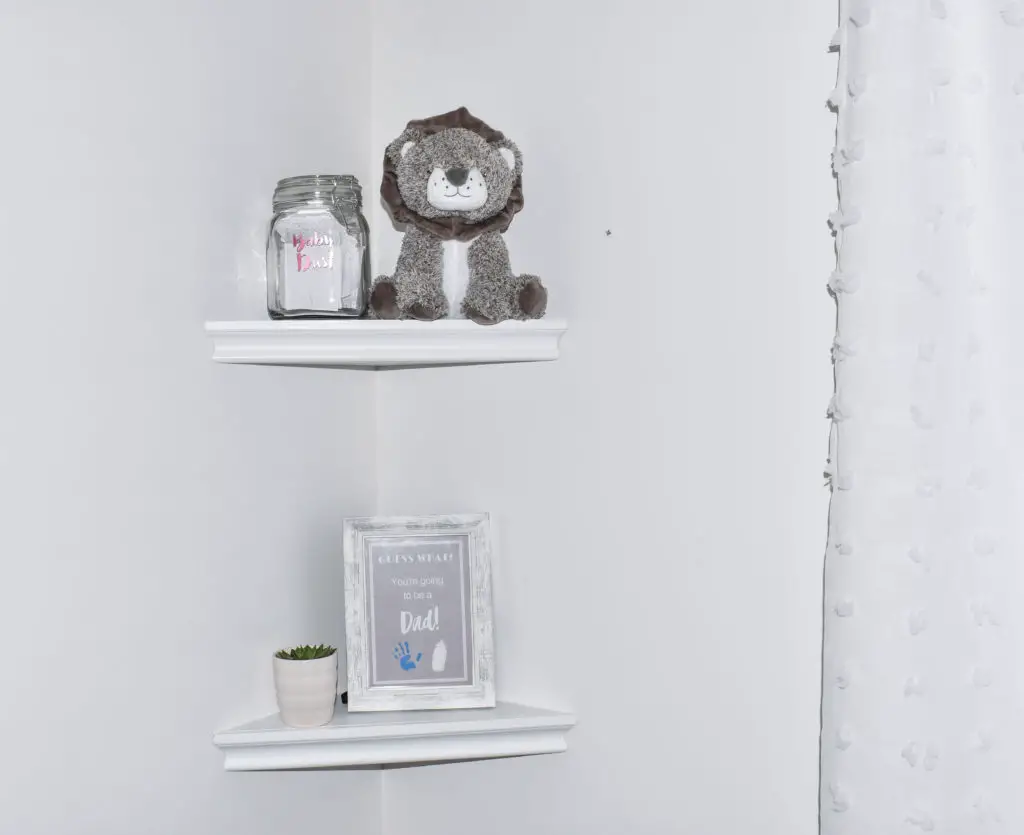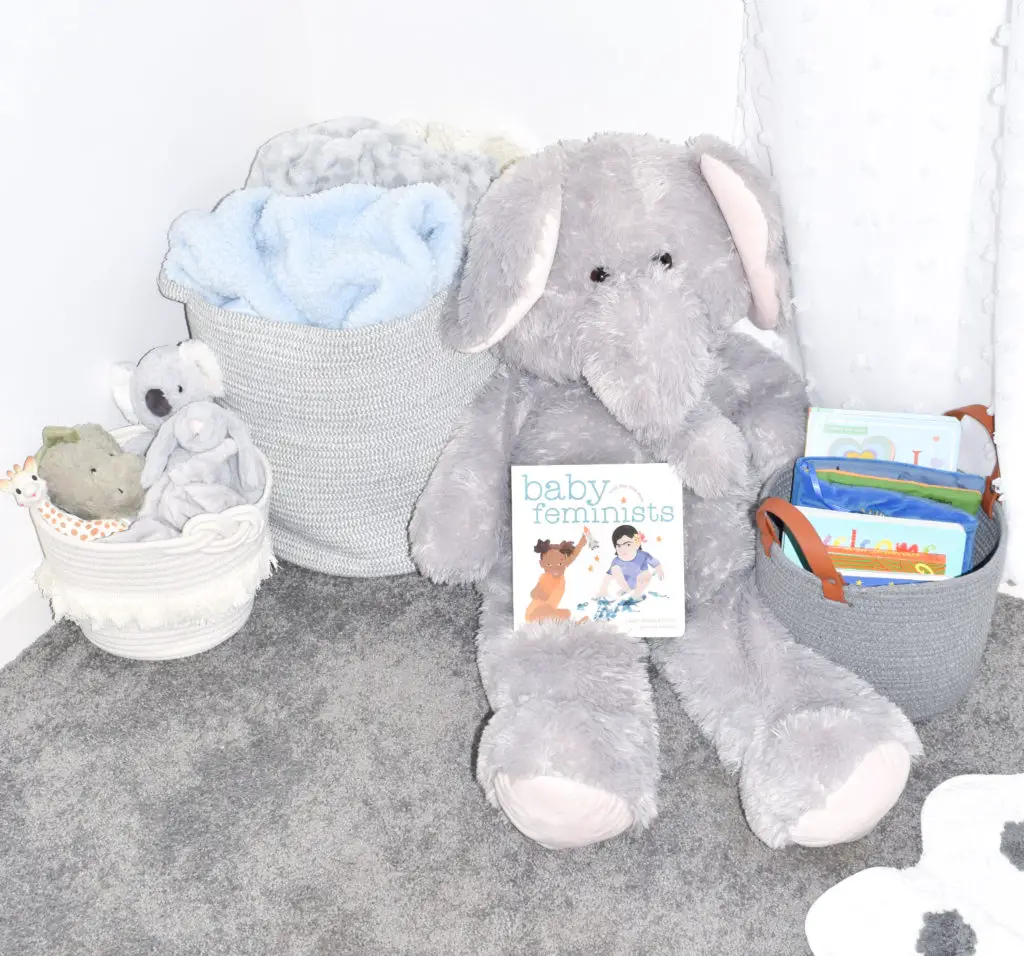 Baskets (Home Goods & Target) | Elephant (consignment) |Floating Shelves| Stuffed Animals (Jellycat) |Blankets (see registry post) |Curtains (Home Goods)
Nursery Dresser Organization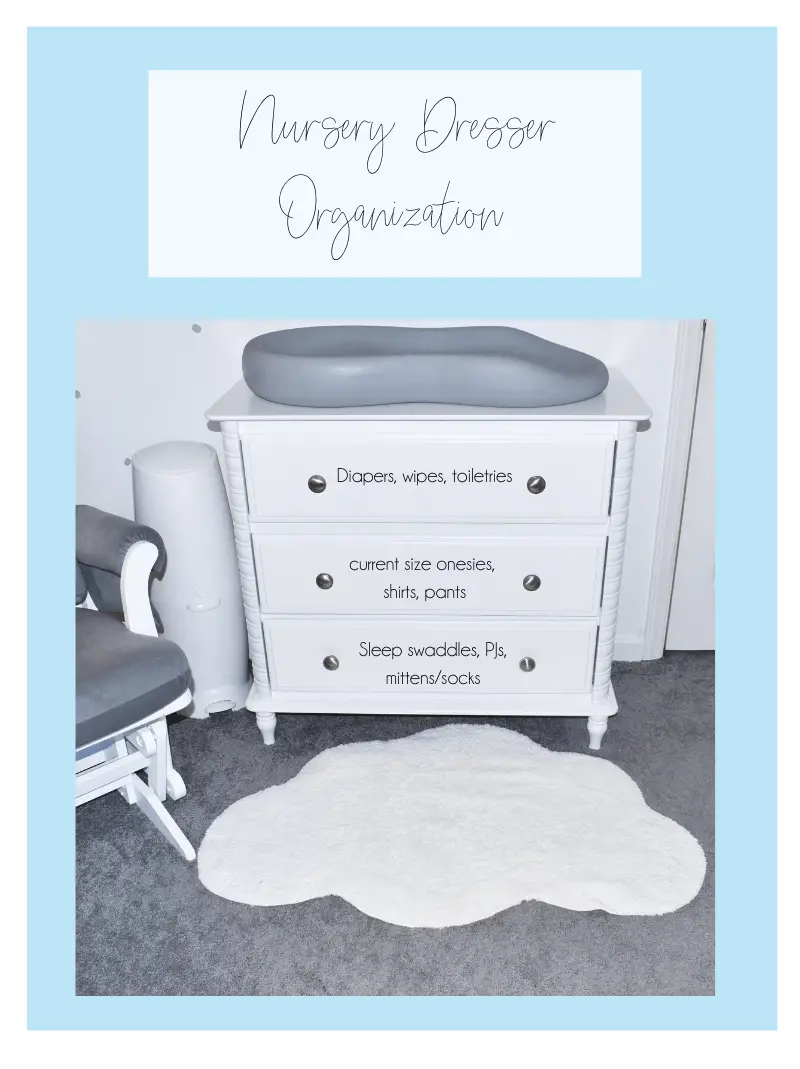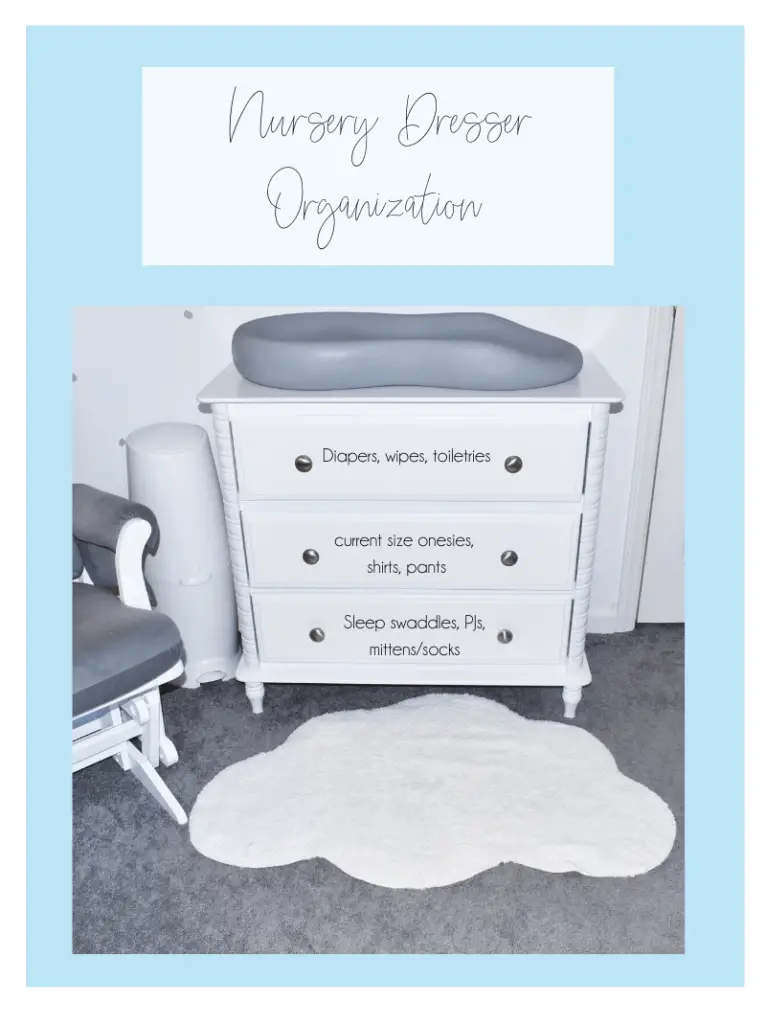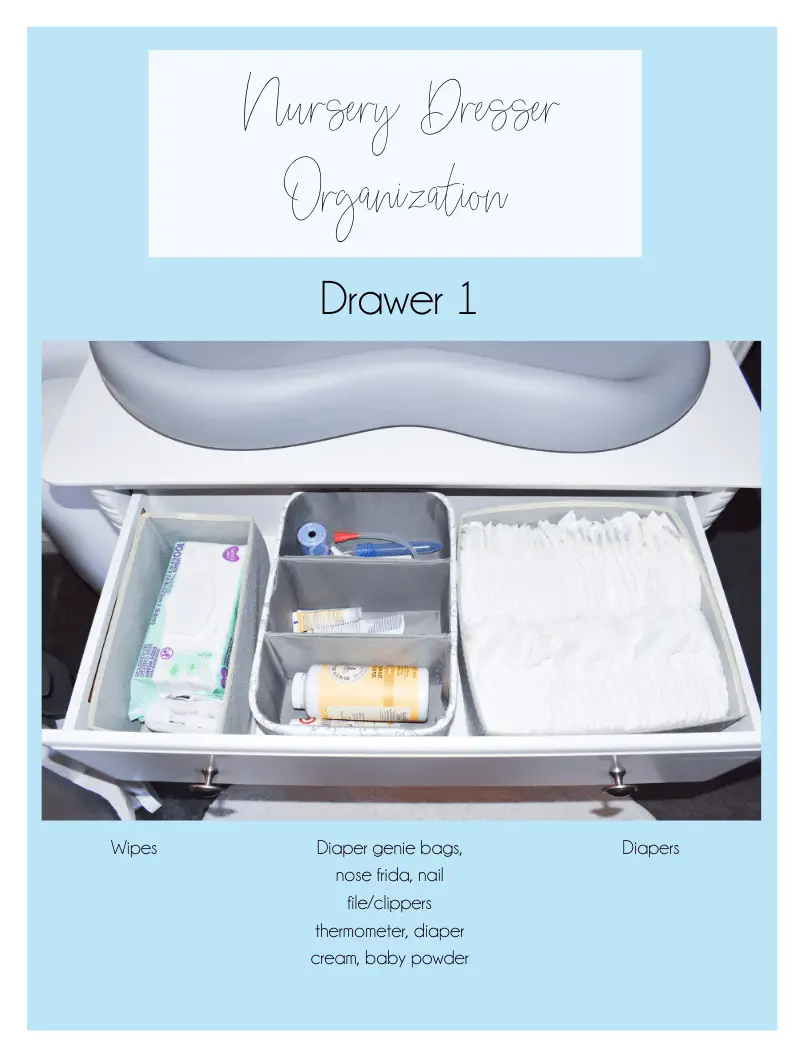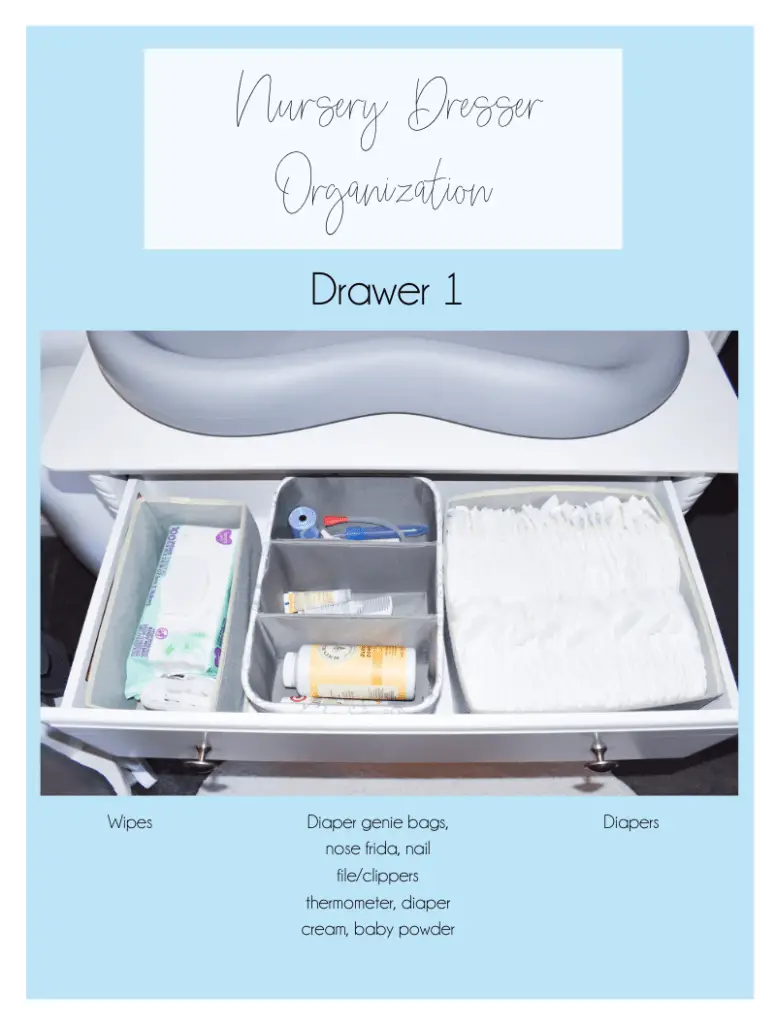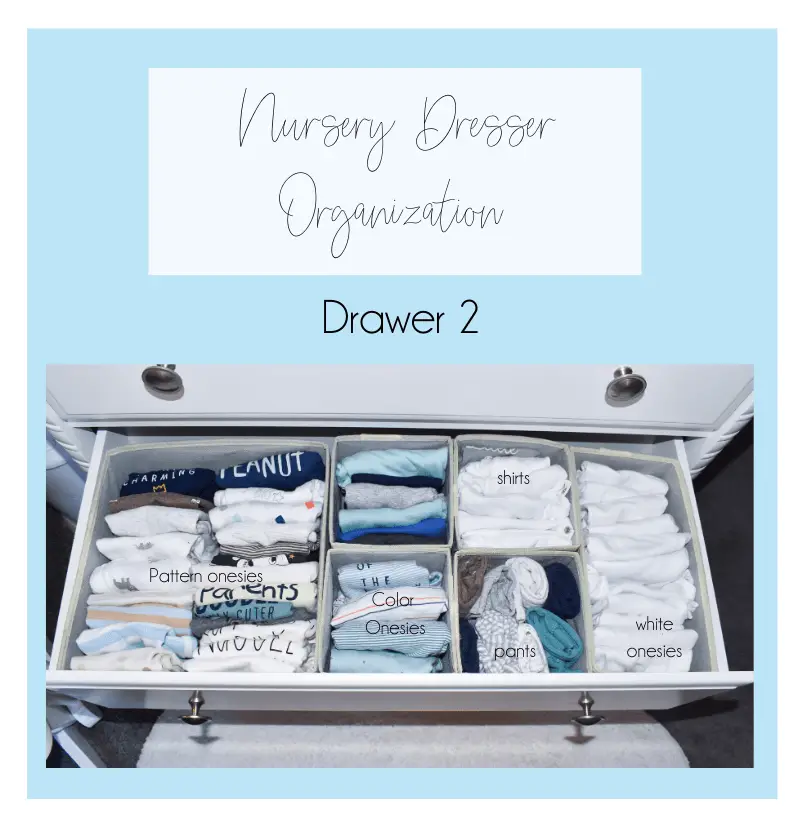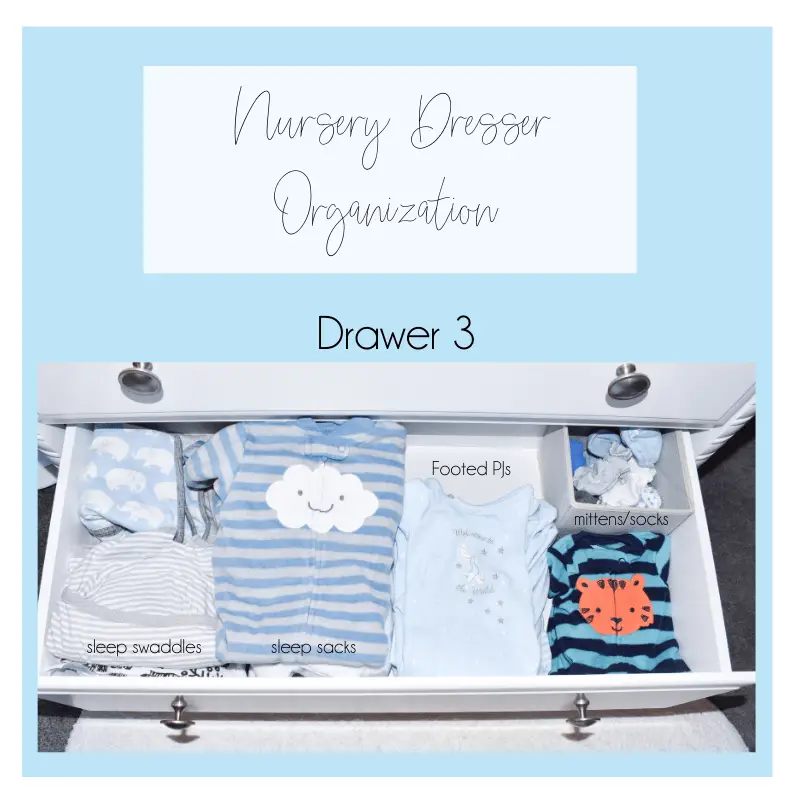 Nursery Closet Organization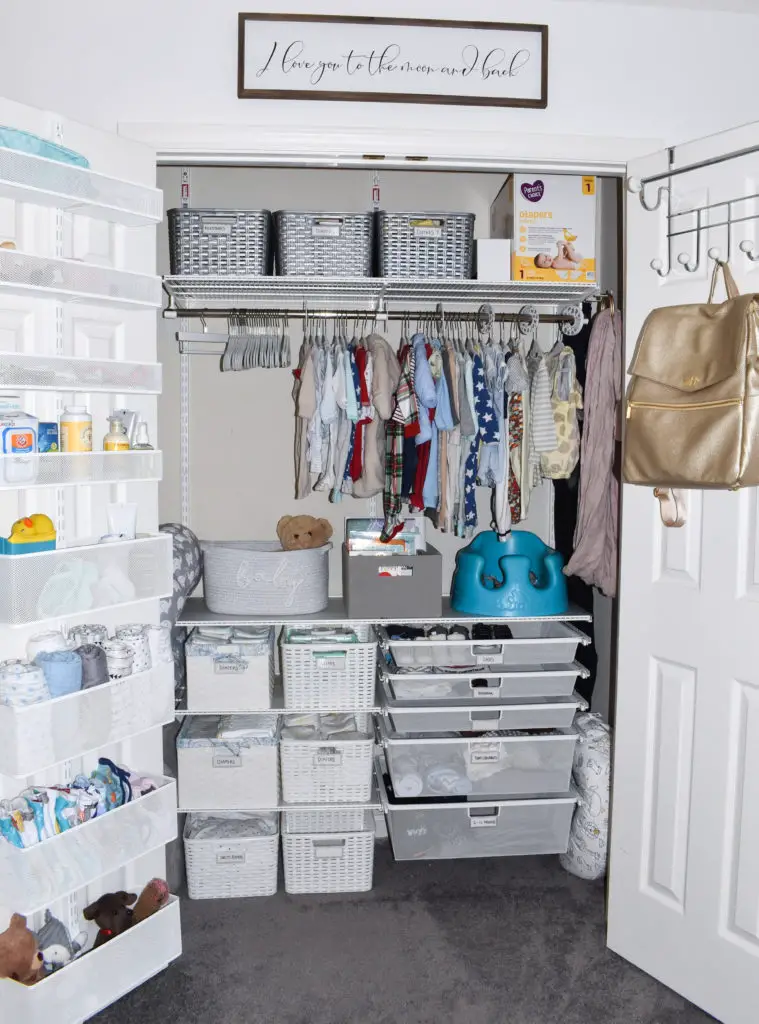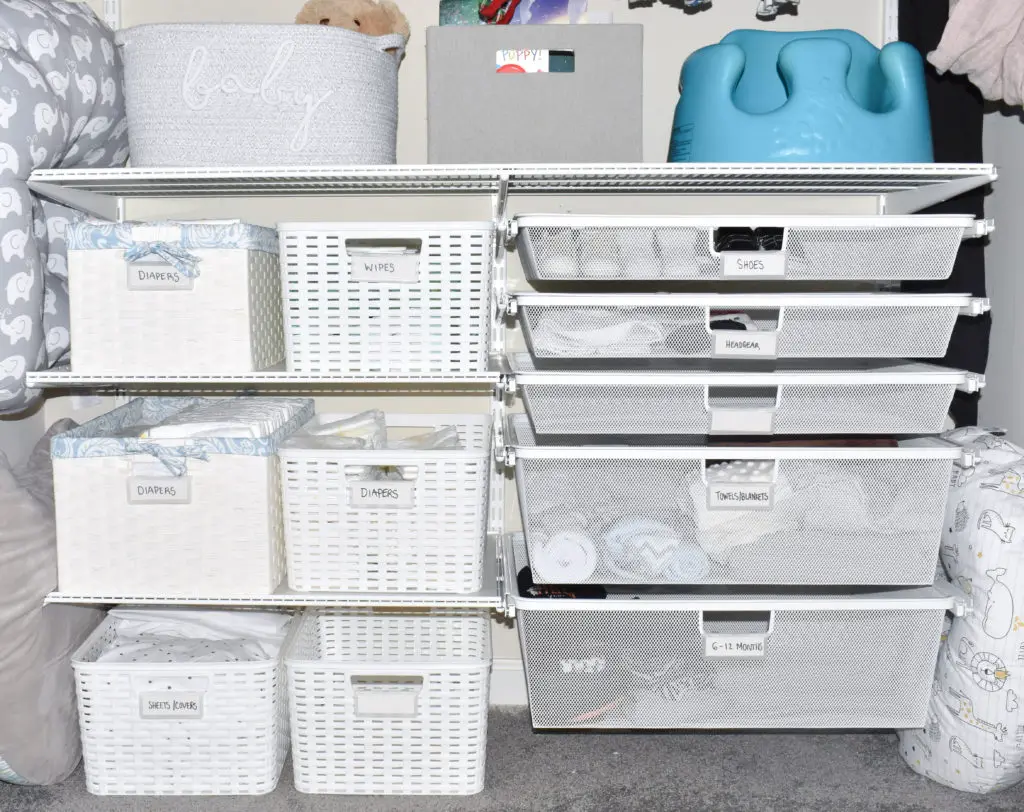 I am OBSESSED with organization and wanted to create a dreamy nursery closet on a budget. We research tons of closet options and decided to go with the ELFA system from The Container Store. Keep an eye out for sales. We made our purchase when all closet systems were 25% OFF.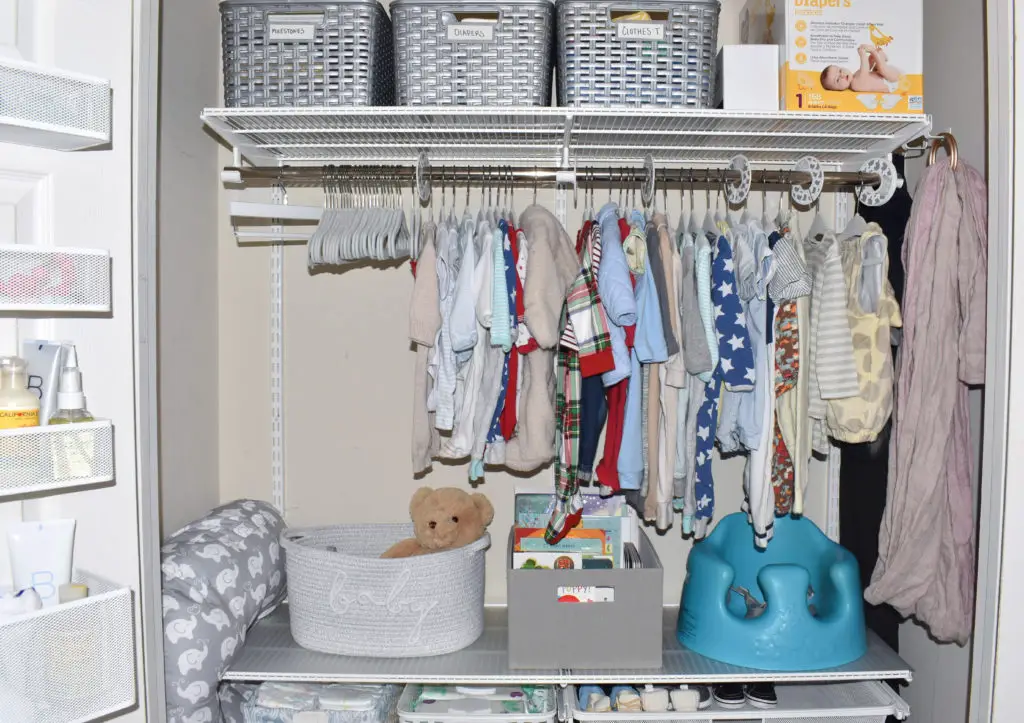 You can buy the 4' Reach in Closet items as a set or you can buy the items individually as we did. I highly suggest you go into the store with measurements and have them help you choose all the right items. Even with Mac's handy skills, I ordered a few wrong size items and it held up the installation. If you're not handy, you can even pay them for installation.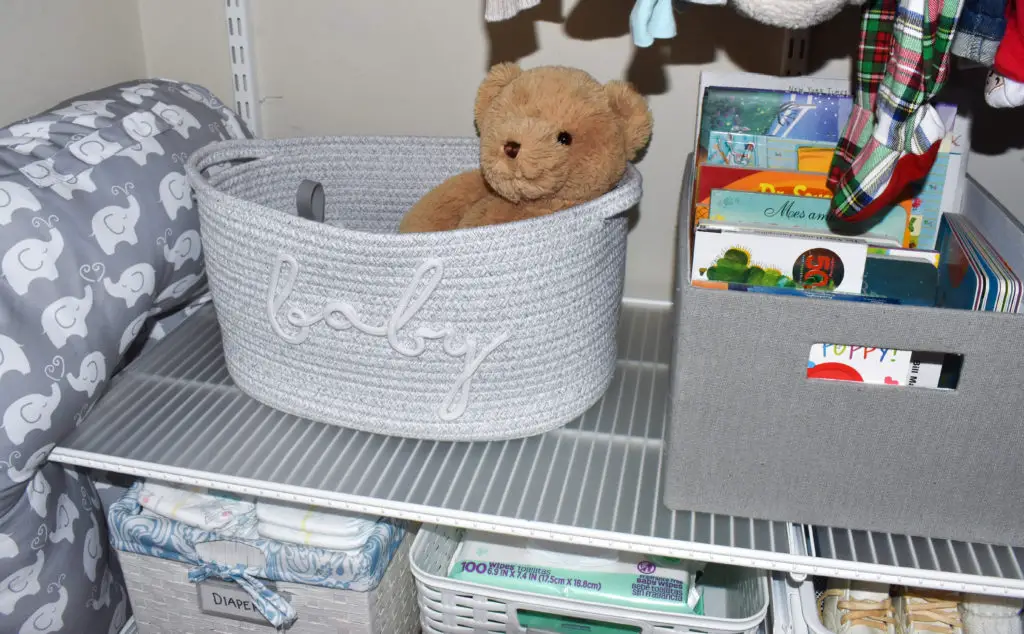 The door system is not included in the 4' closet so we bought that separately and customized the basket sizes. I particularly loved the finer mesh baskets so nothing can fall through.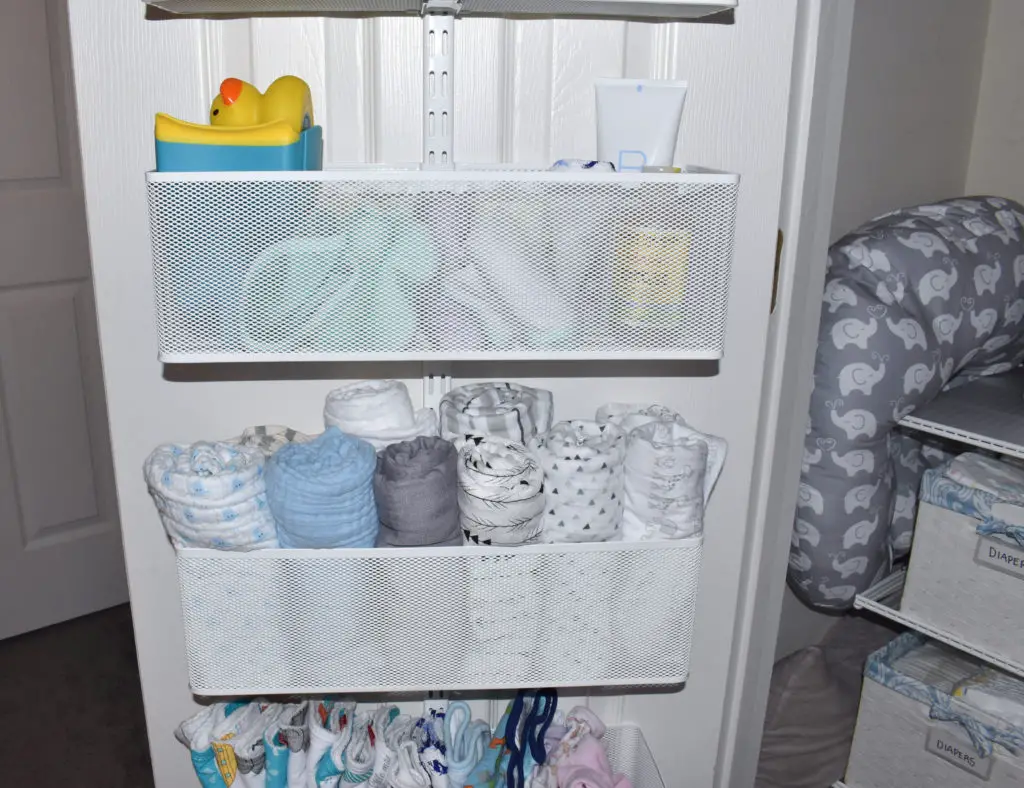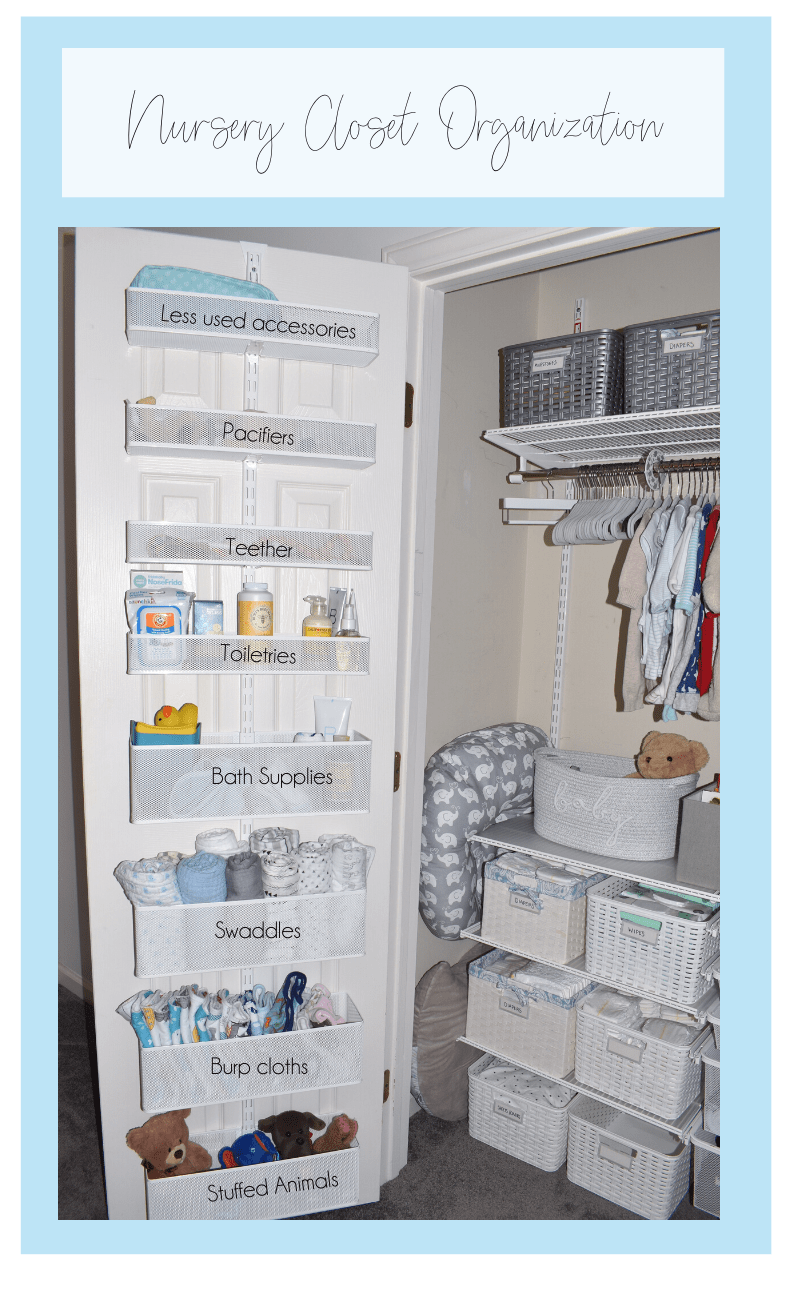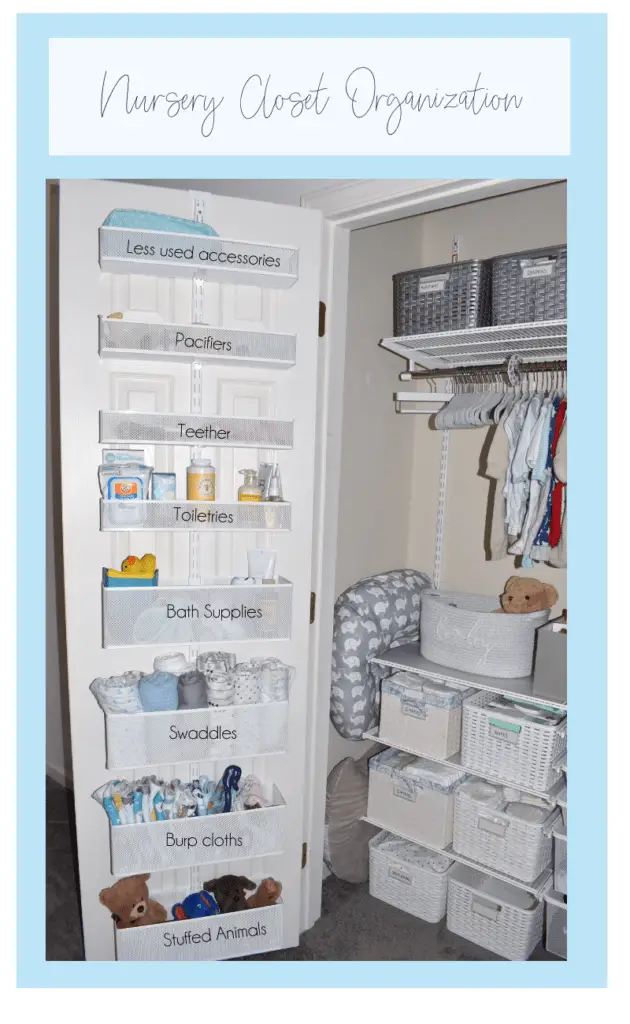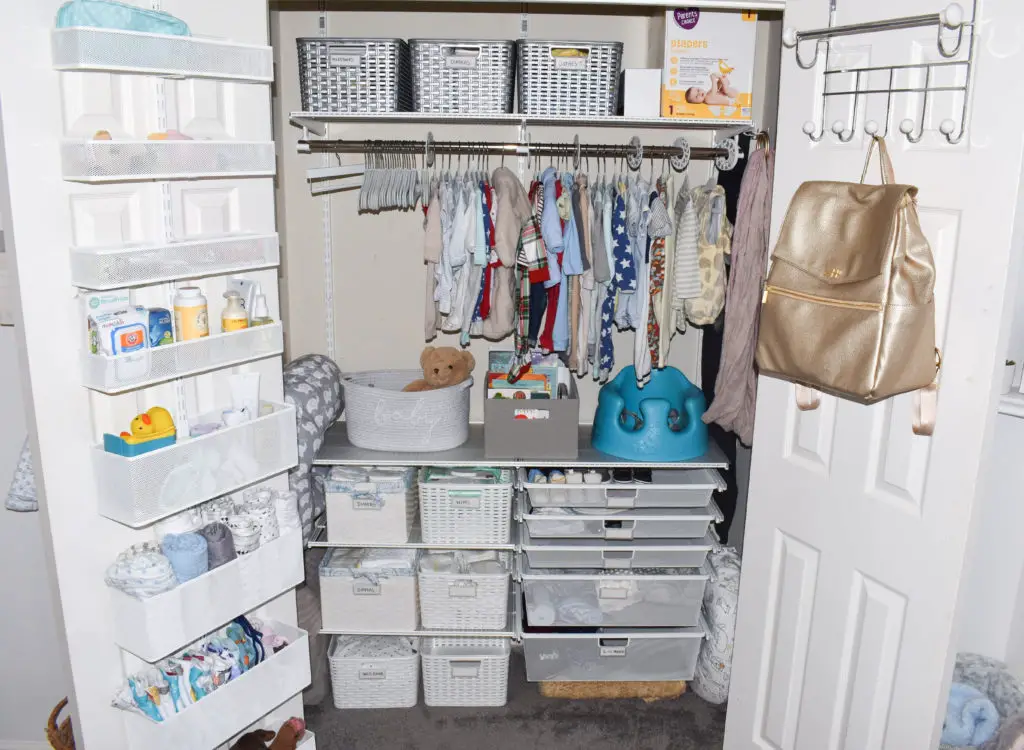 On the right door I added an over the door rack to hold my favorite diaper bag and in the future hooded towels or jackets. We also added on a hook set on the top shelf to hold the longer fabric baby wraps (Moby/WildBird).
Inside the closet I wanted baskets to keep everything organized. Mine are from Home Goods, but these baskets are almost identical from Amazon.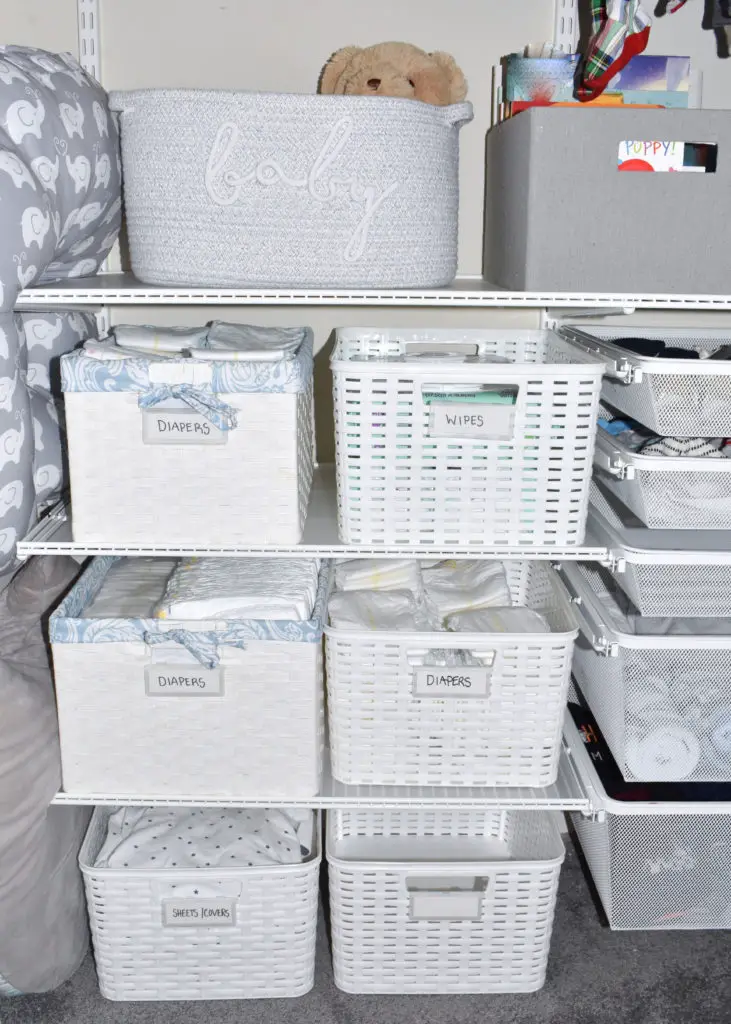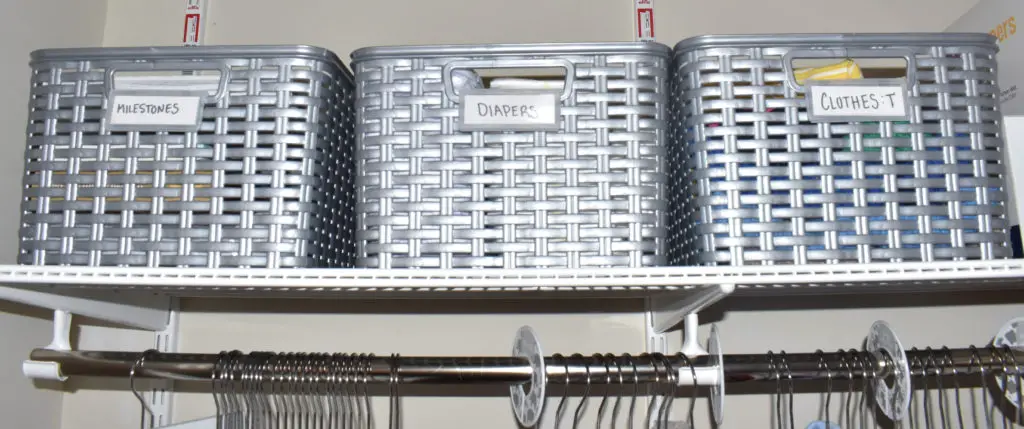 We used the open space on the sides for the infant loungers.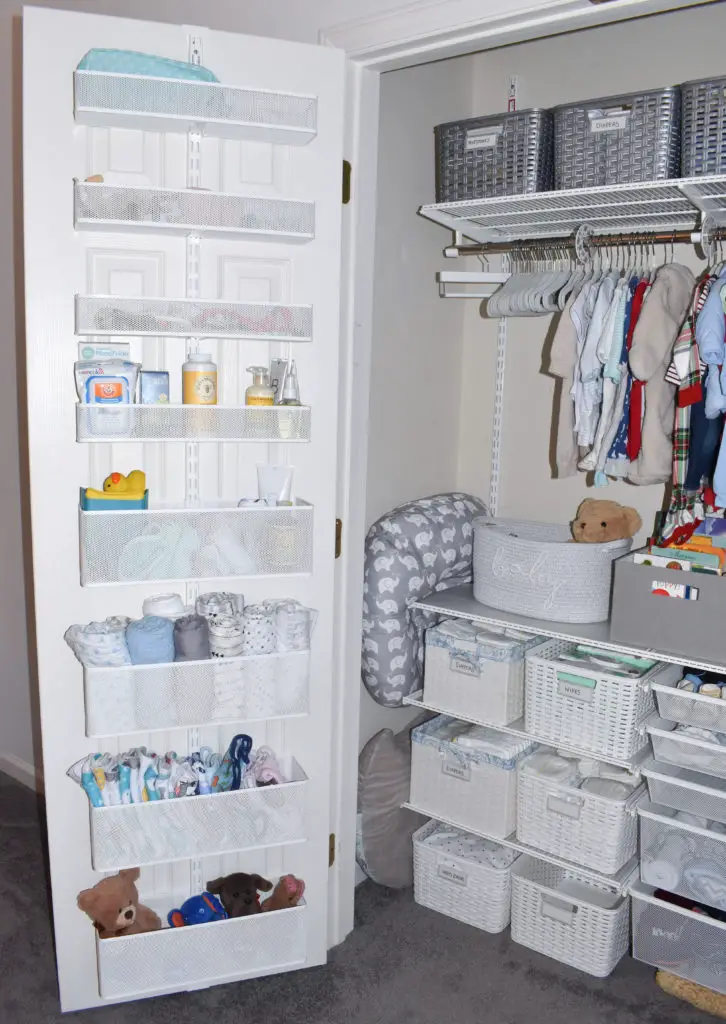 For the drawers I chose to do a mix of large and thin for the smaller baby items.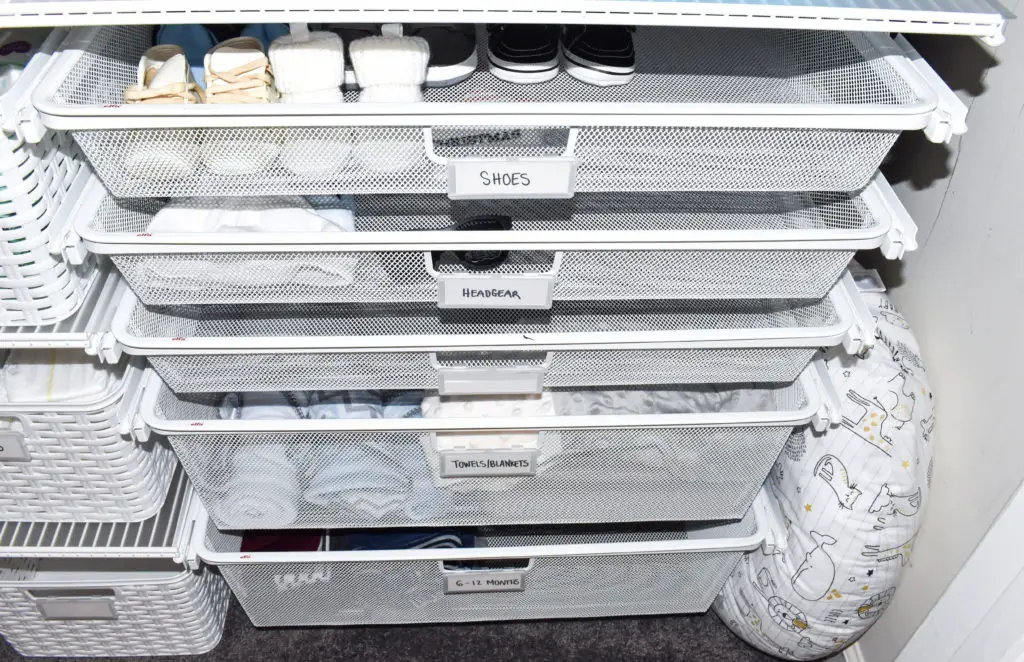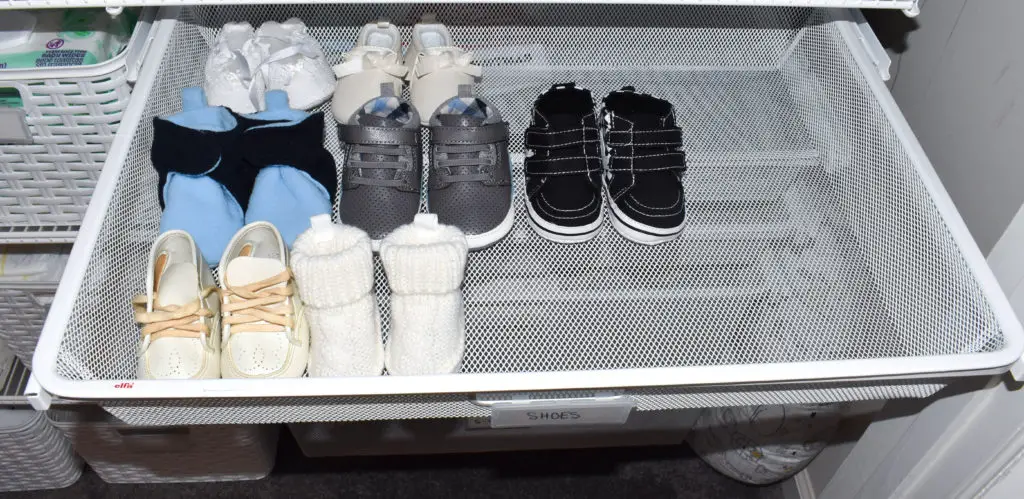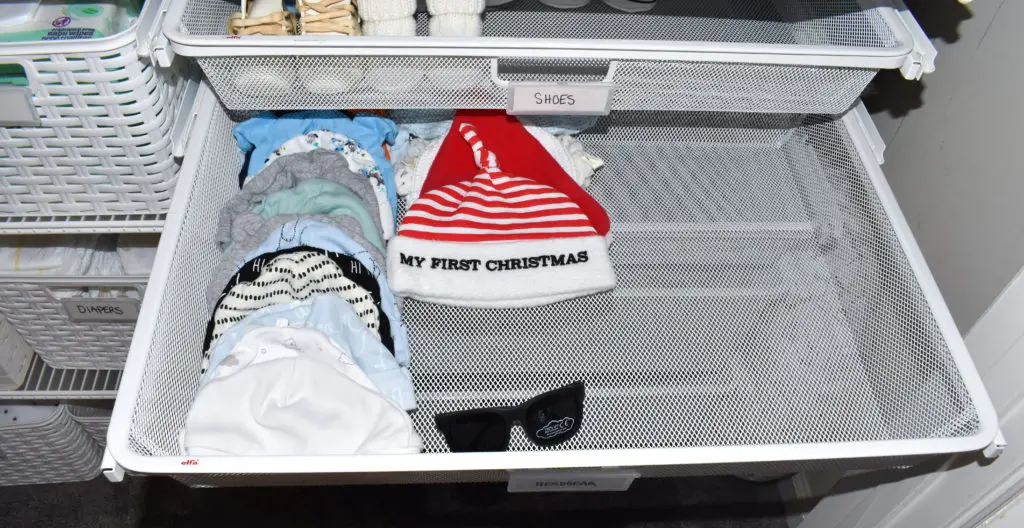 The clothing size labels and the the basket/drawer labels were the icing on the cake to finalize the nursery closet!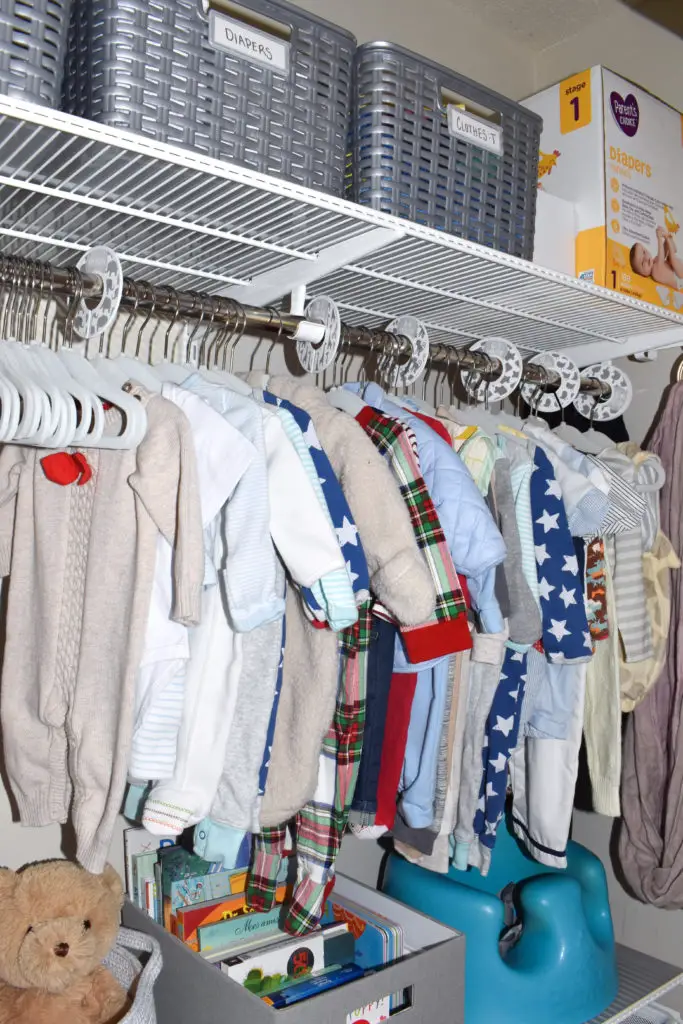 We finished it off with a beautiful handmade sign above the closet by my breast cancer sister Kelly.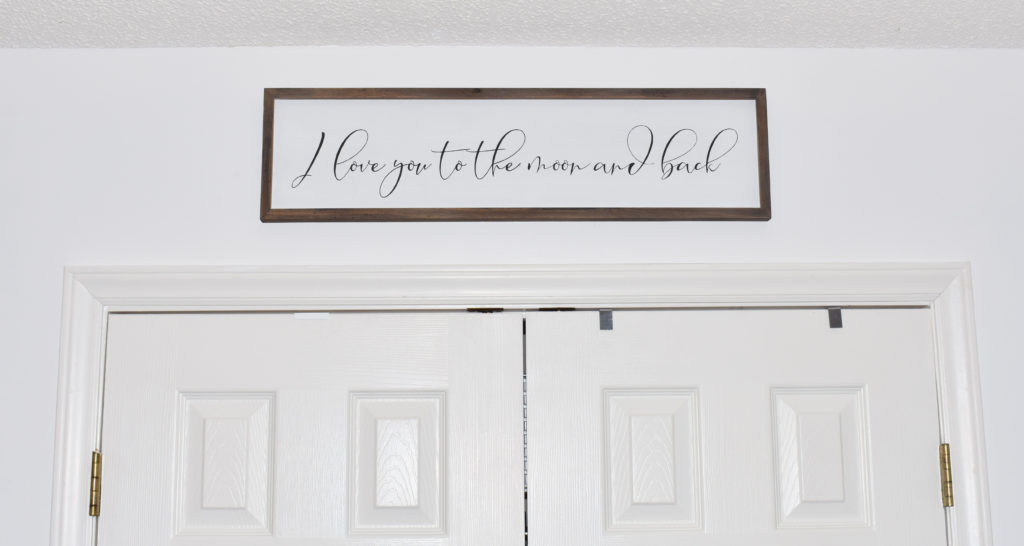 I am SO in love with how the whole room turned out and how easily accessible everything is. I hope you enjoyed this nursery reveal and I can't wait to share the room again as we welcome our sweet peanut in a few weeks.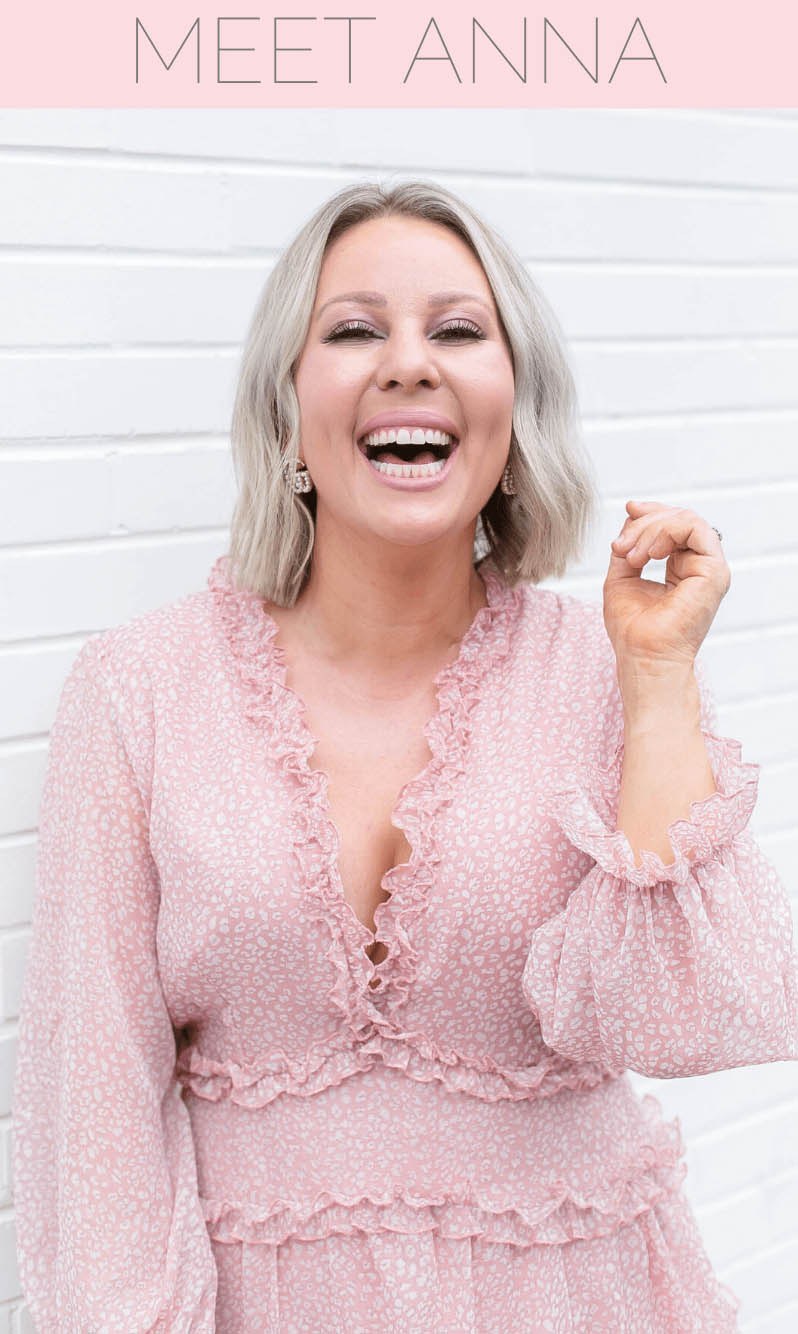 Breast cancer survivor, lover of style, beauty and all things pink! Inspiring you to thrive through adversity.