Do you love Starbucks coffee but are not sure how to order healthier drinks with less sugar? As a coffee addict, I love trying and creating low sugar Starbucks drinks with variations of milk and sugar-free syrup. We'll talk about how to modify the coffee drink to fit your low sugar intake goal without using artificial sweeteners. Keep reading for 23 of my favorite Starbucks drinks along with how to order the best option for your coffee taste buds.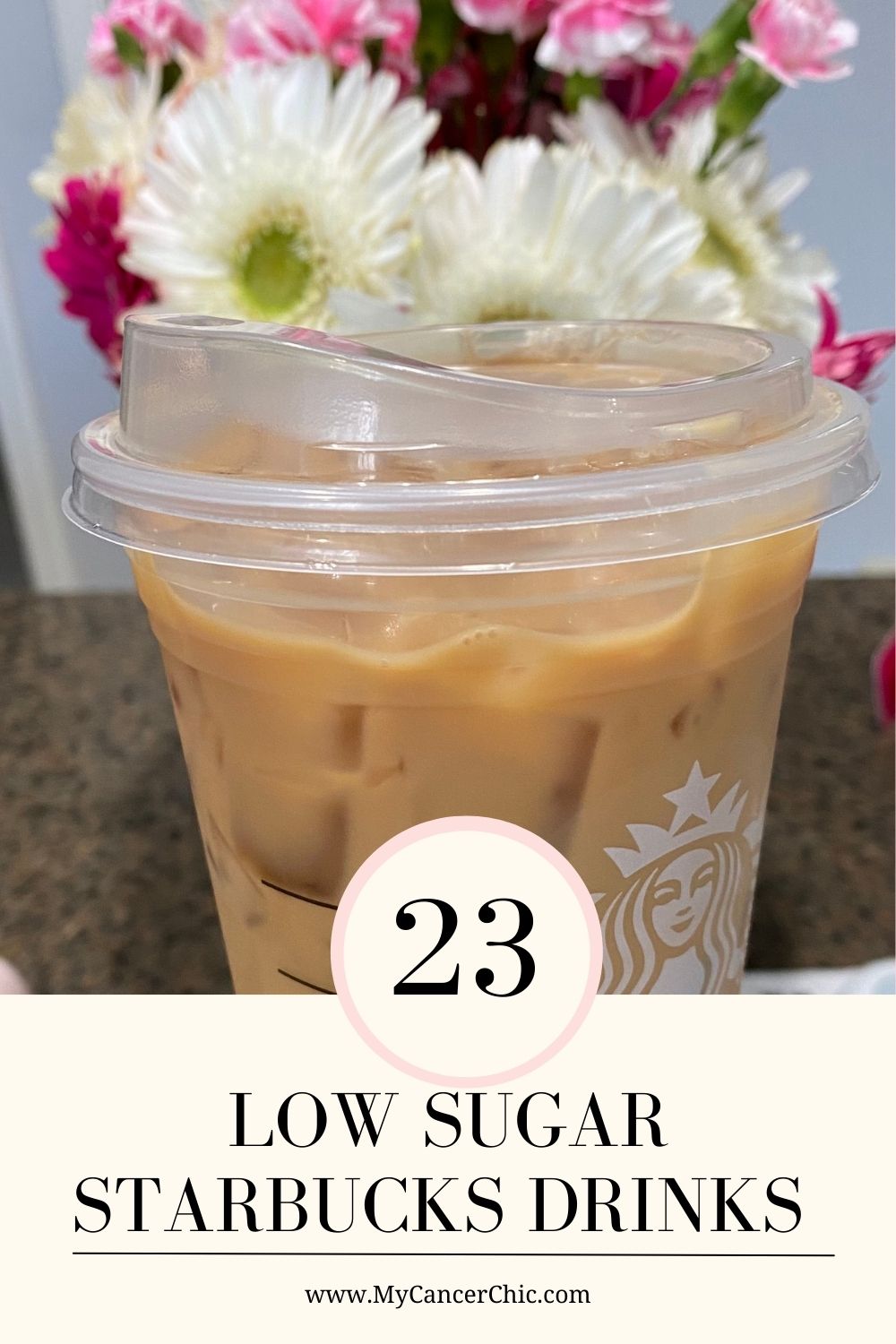 If you love Starbucks but want healthier, lower-sugar drinks, this post will take you through some ways to modify any Starbucks drink.
Moreover, we want to live a healthier lifestyle, and all want to take care of our heart health. A significant factor in that is the food and drinks we consume!
Also, I'll be sharing tips & drinks for how to maintain your Starbucks addiction with some of my favorite Starbucks menu items that are either low sugar, sugar-free or lower calorie.
And I will also share some of my favorite recipes for recreating these Starbucks drinks at home. The best part is all of these recipes still have the much-needed caffeine and taste DELICIOUS!
How to Make Starbucks Drinks Healthier
Substitute sugar-free vanilla syrup.
Decrease the number of pumps of full-sugar syrup
Also, stick with oat milk, skim milk or almond milk or a splash of half and half. (Coconut milk is very high in fat)
Decrease the amount of milk to a splash for less sugar/calories while still getting the flavor
Prioritize coffee and espresso and layer on syrups and toppings to reduce calories
ALWAYS customize! The drinks are very high in calories and high sugar when made as they are on the menu but can easily be modified without jeopardizing the taste.
Also, try combining your Starbucks drink with protein powder - this will increase your protein grams per drink
Now that you have some tips to make Starbucks drinks healthier and lower your sugar intake. So, let's jump into some low-calorie and sugar-free Starbucks drink ideas.
23 Low Sugar Starbucks Drinks You'll Love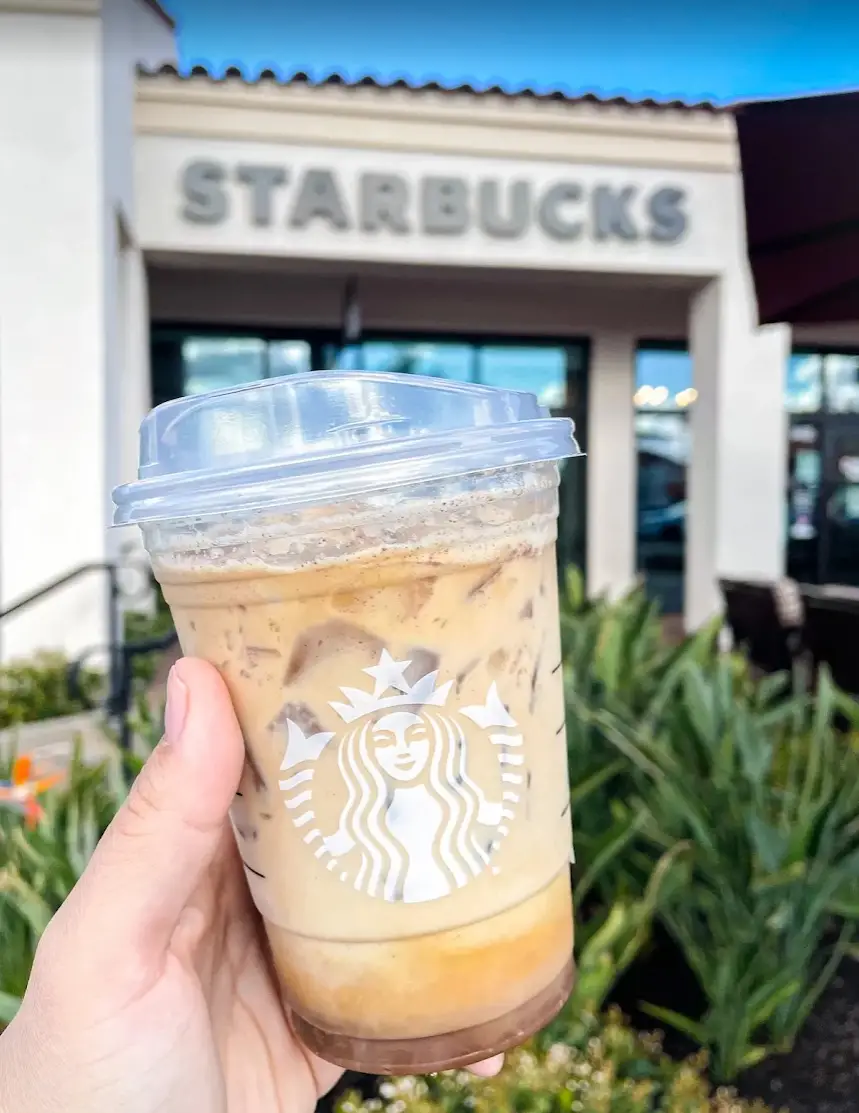 1. Brown Sugar Shaken Blonde Espresso with Non-fat Milk
I had to start with my all-time favorite Starbucks drink. This drink was inspired by the new-ish Brown Sugar Oat Milk Shaken Espresso but not only is this version less sugar but it's also cheaper!
In this video on Pinterest, I show you exactly how to order this drink and save $$$. With the substitute of skim milk, you also add a few grams of protein to your drink. I also highly recommend the blonde espresso over the other espresso options but it has an amazingly smooth taste in all drinks. This drink is SUPER easy to make at home as well and just as delicious for half the price.
2. Skinny Espresso Macchiato
The key to a macchiato is espresso topped with milk and at Starbucks, you also get a big dose of sugary syrup. Also, reduce the sugar in this drink by asking for half the syrup they normally add and substitute skim milk to bring down the calories. Make this drink sugar-free by asking for sugar-free vanilla syrup instead of any sugar they normally add.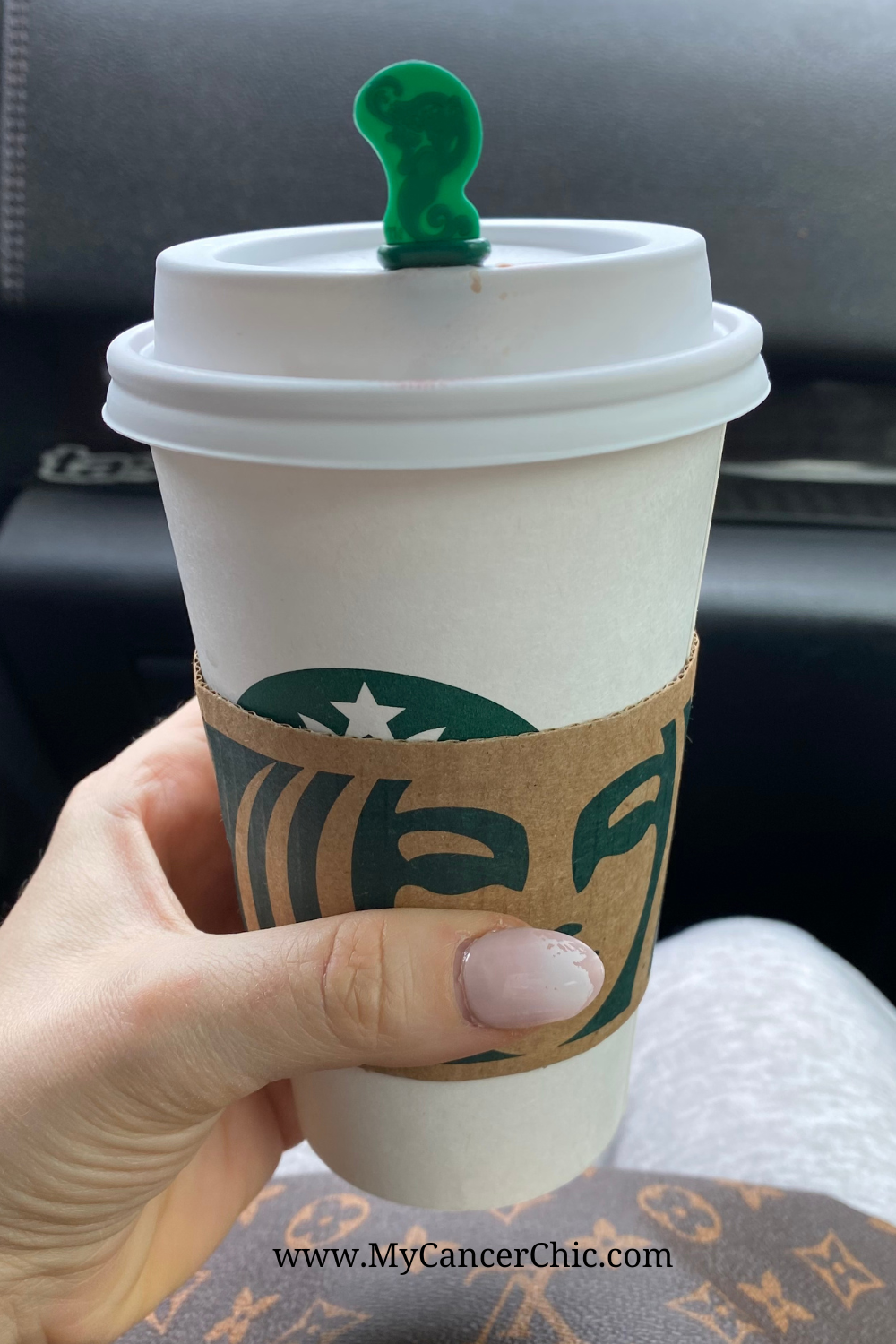 3.  Sugar Free Flat White with Skim Milk
Flat white is perfect for coffee lovers who enjoy milk in their coffee. But don't want a lot of foam. Normally this drink has 220 calories and 17 grams of sugar. Nut by swapping the whole milk for skim milk and adding sugar-free syrup. Also, you can bring a grande flat white down to 100 calories and 12 grams of sugar.
4. Skinny Vanilla Latte
Over the years Starbucks has reduced the number of sugar-free syrup flavors they offer but  I have a trick for you. Also, to cut down on your sugar intake half the amount of syrup pumps for the drink and swap a few of the pumps for sugar-free vanilla.
Moreover, the vanilla flavor goes with about anything and easily reduces the amount of sugar in your drink. This drink runs about 120 calories depending on what size you order
5. Skinny Dirty Chai Tea Latte
If you love a chai tea latte be cautious because the one on the Starbucks menu is filled with sugar and calories. Also, use this modified recipe to order your next chai tea latte at Starbucks for a lower sugar option.
Order a grande iced chai tea latte
Ask for only 1 pump of chai tea syrup instead of 3
Add 2 pumps of sugar-free vanilla syrup
Substitute almond milk or skim milk
Add an blonde espresso shot on top to make it a "dirty" chai tea latte
6. Nonfat Cafe Mocha
The Cafe Mocha is a chocolate lovers paradise - espresso, mocha syrup and milk. Also, In order to reduce the sugar in this drink, ask for half the normal amount of mocha syrup. Then, substitute skim milk or salmon milk to reduce the fat.
7. Caramel Iced Coffee
Want to keep your caffeine simple? Black coffee or iced coffee is sugar-free and 0 calories. Also, if you want to spice up your iced coffee with some flavor, try 1 shot of your favorite syrup (mine is caramel) and a splash of skim milk or cream.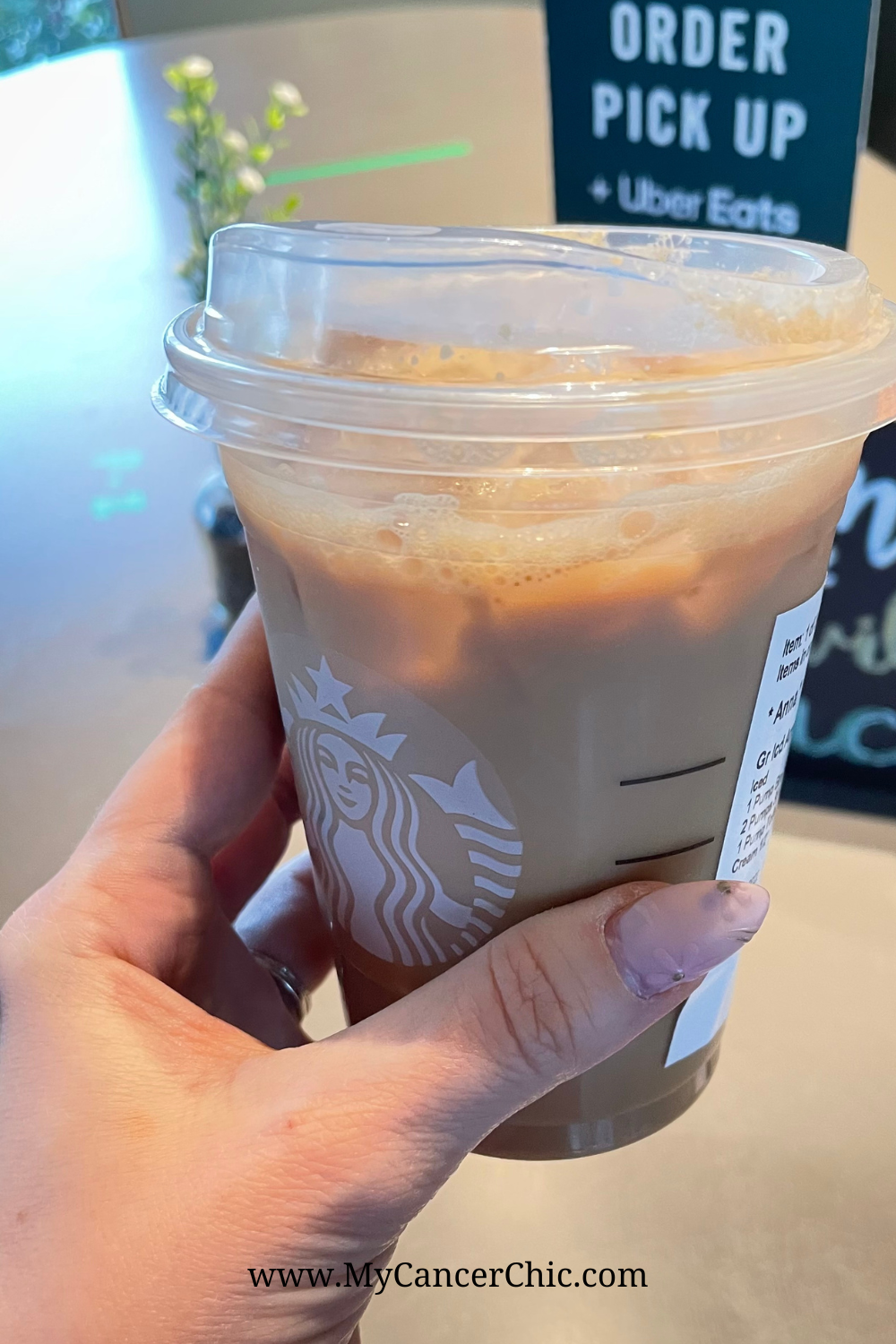 8. Caffe Misto with 3 Pumps of Sugar-Free Vanilla Syrup
A Caffè Misto is a great base when you are making low-sugar Starbucks drinks. Also, it is a combination of hot coffee and steamed milk which easily be modified with skim milk and sugar-free syrup or you can get it plain without sweetener and add some stevia if you want a sweet touch. So, this drink is under 100 calories when ordered with skim milk.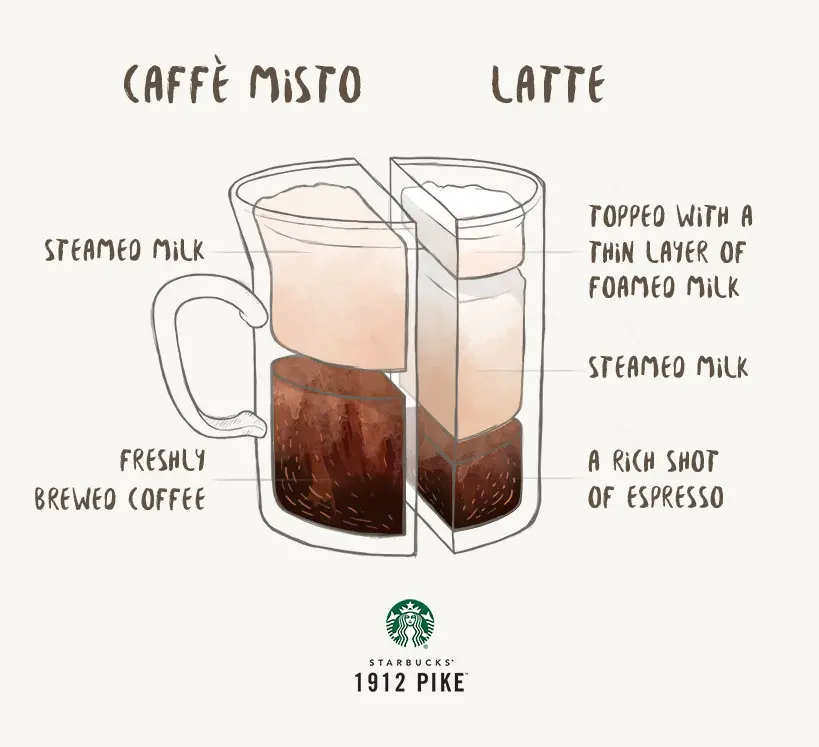 9. Nonfat Low-Sugar Starbucks Cappuccino
Lattes and cappuccinos are very similar but in a cappuccino, the amount of frothed milk to milk foam is slightly different. Also, the nonfat Cappuccino is the lowest calorie milk drink on the Starbucks menu at 60 calories. Moreover, if you want a sweeter taste try adding stevia or a sugar-free vanilla syrup.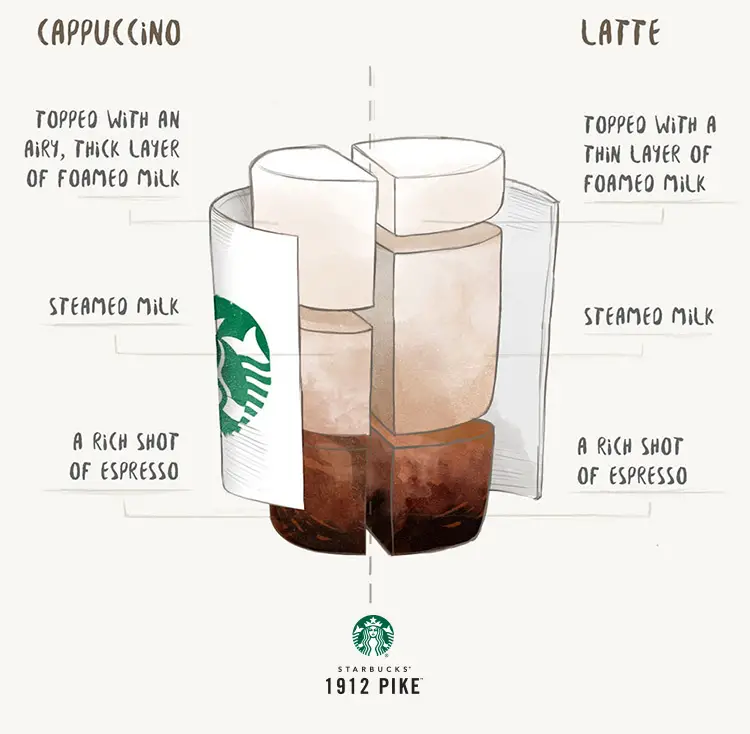 10. Black & White Iced Coffee
I love following @themacrobarista on Instagram and this is a recipe I learned from him! Also, here is how to order the white Chocolate Iced Mocha which is lower in sugar and calories than a normal iced mocha coffee drink at Starbucks
Ask for a grande cold brew

1 pump white mocha
1 pump mocha
2 pumps SF vanilla
splash half + half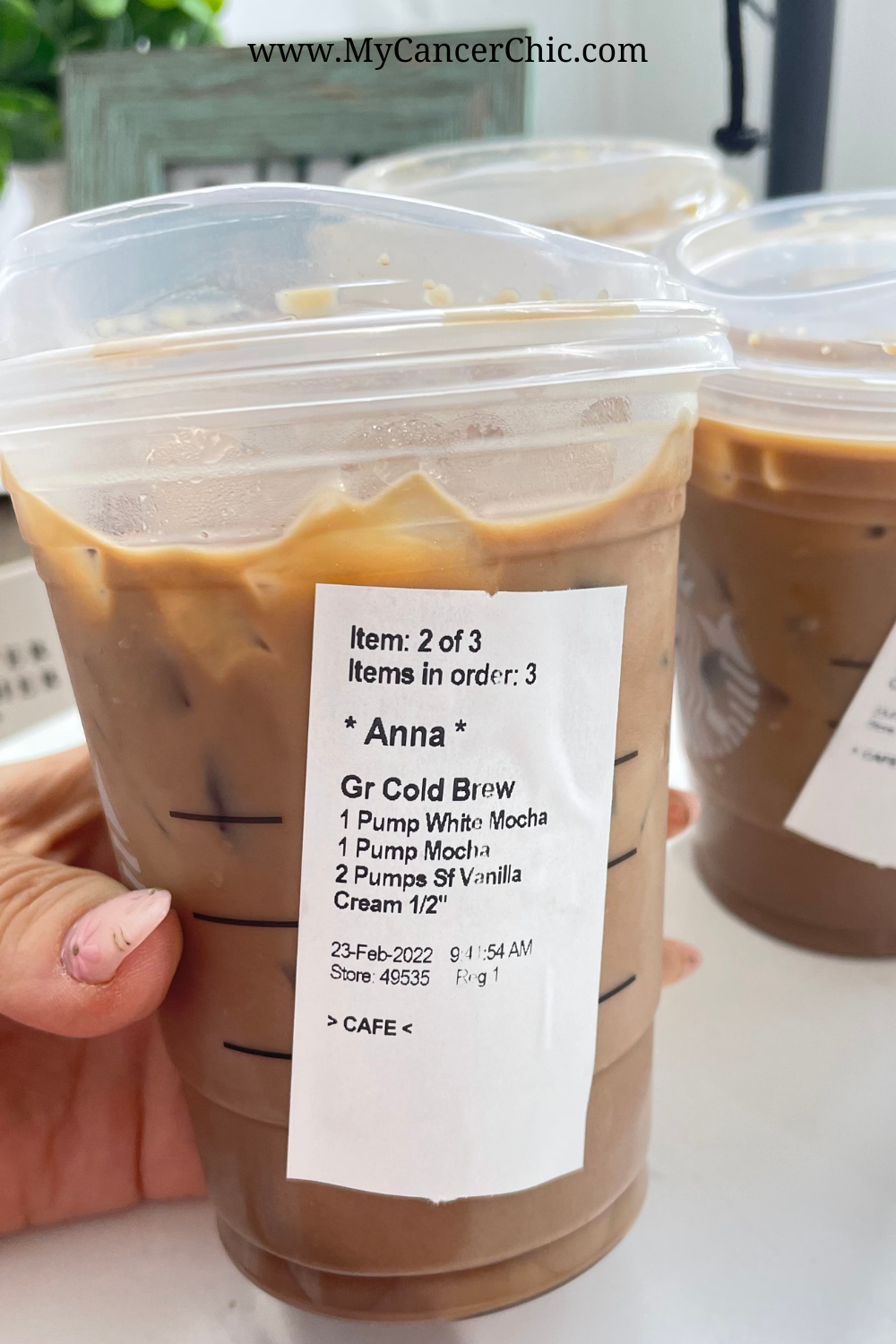 11. Toffee Low Sugar Iced Coffee
I LOVE toffee flavor but the toffee syrup at Starbucks has a lot of sugar. Moreover, in order to make this drink lower in calories and sugar content, I order it this way.
Also, ask for a grande iced americano (diluted espresso for a stronger flavor)

1 pump of toffee syrup
2 pumps of sugar-free vanilla syrup
splash half + half or skim milk
Check out more of my Starbucks Recipe ideas on Pinterest!
12. Soy Chai Tea
If you love the flavors of chai tea but don't want a latte, try ordering the plain chai tea which has 0 grams of sugar and is 0 calories. To make it a little more exciting you can add a splash of soy milk and sweetened with zero-calorie stevia.
13. Honey Almondmilk Cold Brew
OMG ya'll this drink is amazing. It's a new seasonal drink so be sure to try it before it goes away. Essentially this is an iced cold brew sweetened with a tiny bit of honey and mixed with creamy almond milk. The best part is it has only 10 grams of sugar.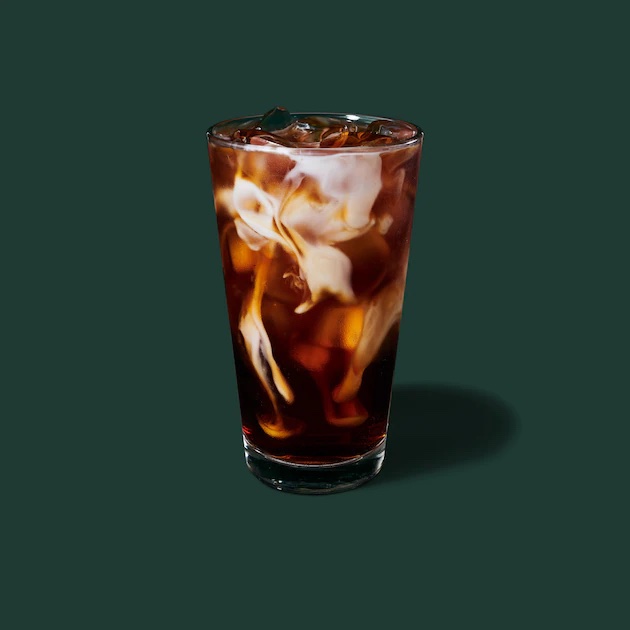 14. Caffe Americano with Dulce Syrup
The Caffee Americano is naturally low in sugar and calories as it's simply a diluted form of espresso to give a stronger coffee taste. Sweeten this drink with 1 pump of the sugar-free Cinnamon Dulce syrup and a flas of skim milk or cream.
15. Iced Jade Citrus Tea
The Jade Citrus Mint tea is refreshing and if you've ever longed for soothing tea when you are sick this is the perfect solution. Normally the "Medicine Ball" drink at Starbucks mixes the tea with lemonade and honey making it very high in sugar, but you can easily reduce the sugar by sticking with plain tea. If you want to sweeten the drink a bit, mix in a dash of honey or a packet of stevia. This tastes great iced or hot.
16. Passion Fruit Tea Refresher
Unfortunately, the Refresher drinks at Starbucks are made with lemonade, and even with smaller sizes like the tall, you can't get below 18 grams of sugar. If you like the fruity refreshing flavors of the iced tea drinks but want less sugar, try ordering a Shaken Iced Passion Fruit Tea. Be sure to order this drink without sweetener and you can add a splash of milk or apple juice and control your sweetener using natural stevia packets or skip the sweetener altogether.
Want to Make Starbucks Inspired Drinks at Home?
17. Starbucks Espresso Doppio
I learned a trick from Starbucks employees that ordering an Espresso Doppio is cheaper than ordering the shaken espresso drinks at Starbucks. I love to order an Espresso Doppio (2 shots of blonde roast espresso) over ice and add in a splash of cream and a pump of sugar-free syrup or mix with my own protein powder. This is a great way to control your sugar intake and create a filling drink!
18. Starbucks Pumpkin Cream Cold Brew Coffee
Love the taste of pumpkin spice but want it in the hotter months? The Pumpkin Cream Cold Brew will be perfect for you. This is a delicious mix of iced coffee, pumpkin flavor, and cold foam to bring you the tastes of fall in the summer.
This drink is made with vanilla syrup, whole milk, and cold brew but you can easily substitute sugar-free vanilla syrup and nonfat milk to bring down the calories as well as the sugar content. I've also made this drink at home and it is phenomenal as well. 
19. Pumpkin Spice Latte with Less Sugar Content
If you are a Pumpkin Spice Latte lover, you are not alone. There is a cult following for this drink at Starbucks. Personally, it is way too sweet for me but if you love this drink and want to know how to make it healthier with less sugar, I have you covered.
Order a tall version to reduce the calories
Reduce the # of pumps of pumpkin spice syrup from 4 to 2 or even 1. This cuts down the sugar significantly
Switch to nonfat milk to reduce the sugar intake even more and the grams of fat
Skip the whipped cream
Want to make your own pumpkin spice latte at home? This Starbucks -Inspired Pumpkin Spice Latte will blow your mind!
20. Starbucks Nitro Cold Brew with Cold Foam
There is something decadent about foam on coffee but sometimes you want that same feel with your iced coffee too. When you combine the nitro cold brew with the cold foam you get the addition of foam without the calories and sugar.
Did you know the cold foam is made at Starbucks by frothing nonfat milk? Sweeten your drink with stevia or Sugar-free syrup to keep it a sugar-free drink. I love to make my own variations with the cold brew such as my flavor combo below.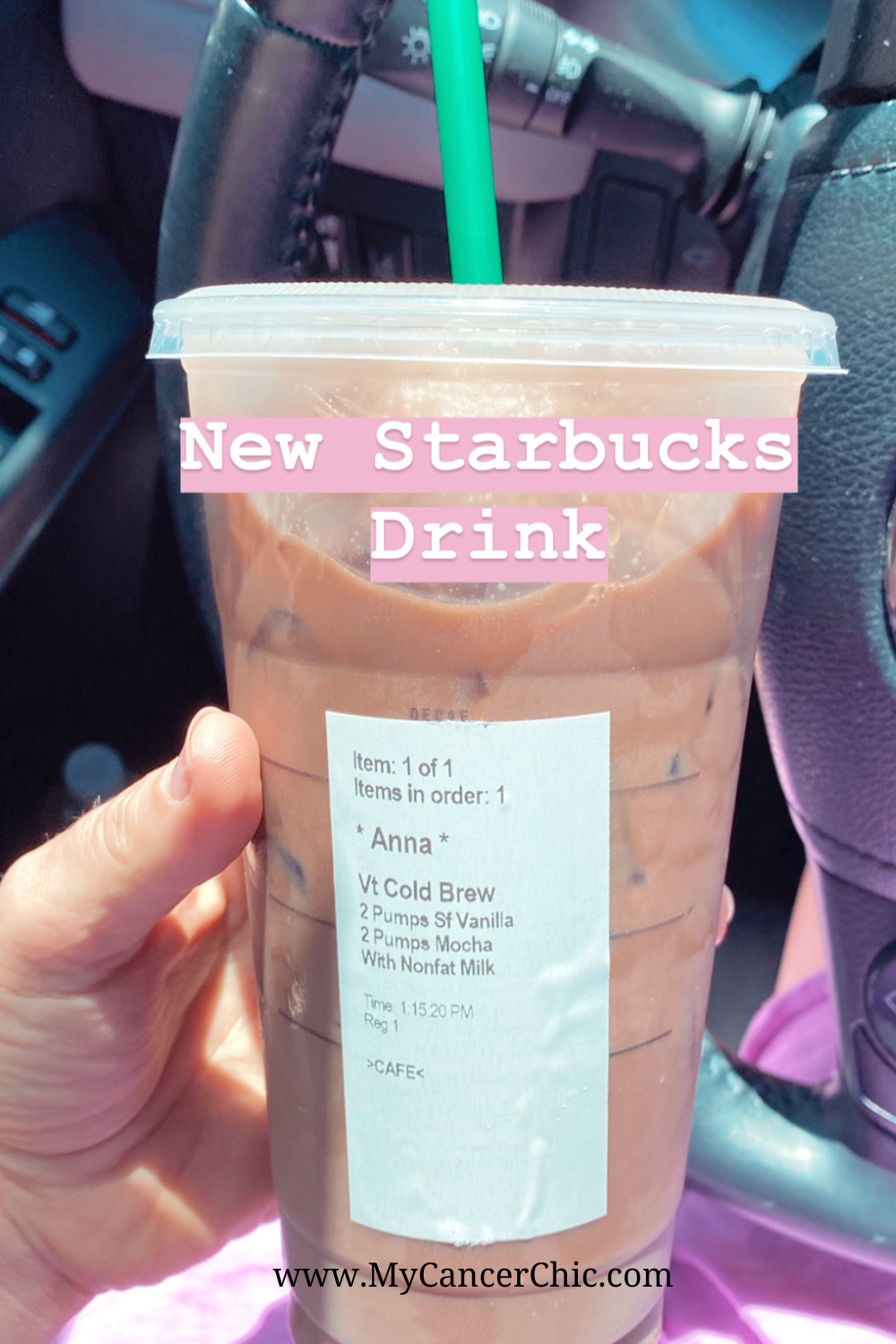 22. Starbucks Iced Green Tea 
If you're a green tea lover, Starbucks has you covered. The shaken iced green tea includes hints of mint, lemongrass and lemon verbena. Since the drink has no sweetener it is 0 calories and if you want a little sweeter flavor, add some stevia or monk fruit.
23. Zero Calorie Iced Tea Drink at Starbucks
Starbucks has a variety of iced tea options all of which are zero calories and sugar-free. Just be sure to verify the sugar content before ordering. If you like your tea sweeter, you can then add stevia or monk fruit after. Pro tip: If you want the stevia or monk fruit to dissolve easier, order the tea hot, mix with the sweetener and then pour over ice.
Shop My At-Home Coffee Essentials
Watch the Video Coffee Tutorial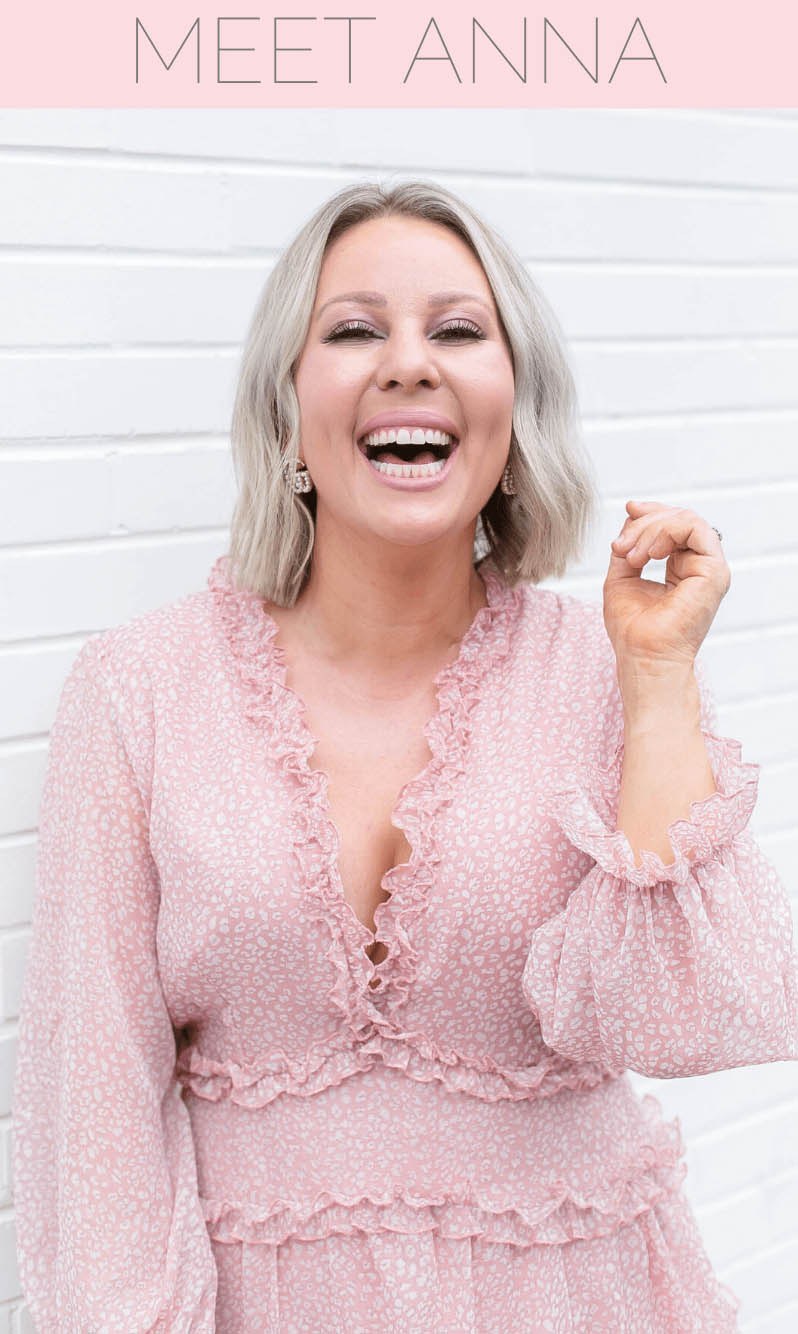 Breast cancer survivor, lover of style, beauty and all things pink! Inspiring you to thrive through adversity.