I have struggled with my weight for as long as I can remember. Maybe that is due to my genetics, my metabolism or just my personality. I have tried so many diets over the years but like most people, I have struggled to commit to them long term. My weight has continued to fluctuate as a result of my changing eating habitats.
Weight Watchers is the only meal planning/monitoring structure that has worked for me long-term. I have used the Weight Watchers app off and on for many years as simple way to track my eating and hold myself accountable. I do not strictly follow the points system but I use the system as a guidebook for portion control. The new PointsPlus system that Weight Watchers came out with this past year does a better job of accounting for healthy fats and encourages users to fill up on fruits, vegetables and protein. I would definitely recommend the Weight Watchers app as a tracking tool. Over the past year or so, I have created my own set of guidelines and values that I follow when making choices about food.

My main goal is to eat for a healthy lifestyle, with the goal of losing the extra weight I gained during chemo. I try to focus on make healthy choices instead of restricting myself. I find that focusing on the aspect of choice allows me to celebrate my successes and indulge occasionally without losing my motivation to continue eating well.
So what do meals look like when following these guidelines? Surprisingly, there are actually a lot of options. Once you get in the habit of eating well, these guidelines will become second nature. I have included a sample meal plan for my week so you can see what I eat and drink on a daily basis. I have also included a downloadable excel template so you can plan out your own meals for the week. I usually do my grocery shopping on Sundays and I spend the afternoon preparing breakfasts, lunches and snacks for the week. Sometimes, I will also pre-cook or prepare the vegetables for our dinners as well. This sets me up for a healthy and successful week.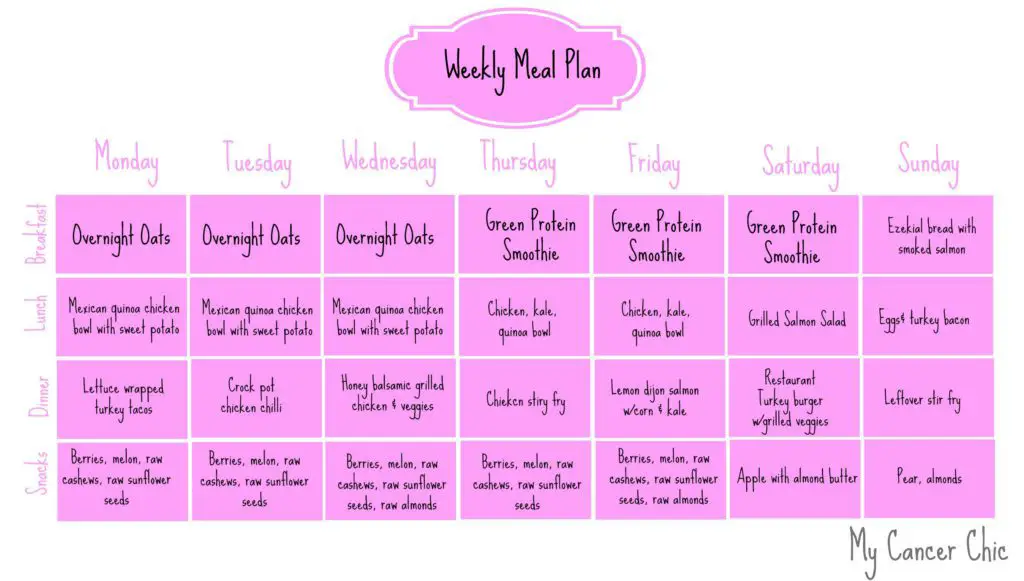 Download the a free excel version of this weekly meal plan template here.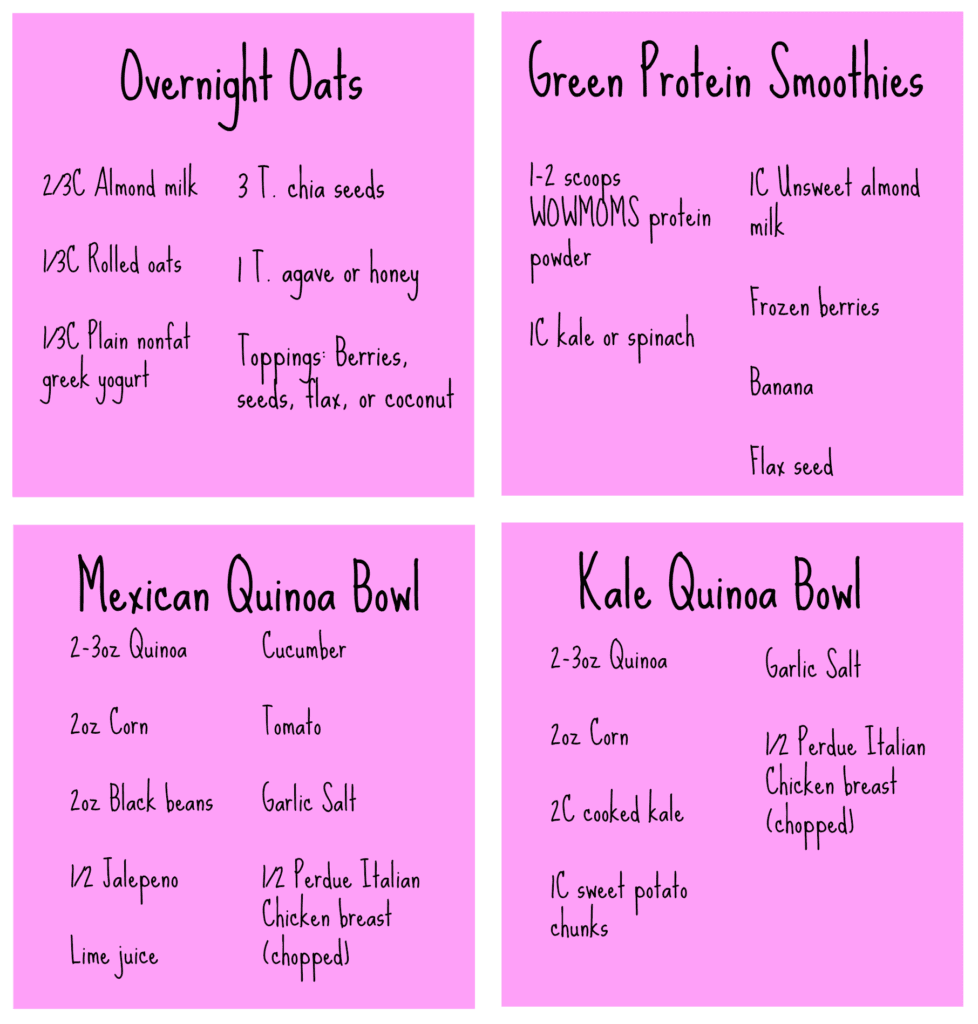 Many of my recipes are adapted from Skinnytaste.com, which is a wonderful resource. I have linked a few of my favorites.  If you want more information on any particular item/meal, please comment below. 
In addition to eating well, I make a very conscious effort to work out or move my body at least 30 minutes 5-6 days a week. My integrated medicine provider gave me the awesome idea of creating an exercise menu with varying levels of activities. This has been awesome for me, because even on days when I am in pain, exhausted or just plain busy, I can choose a quick/low energy activity from the menu and still meet my activity goal for the day. Three days per week I go to a program called Get Reel and Heel that is offered through my hospital. This amazing program for cancer survivors has exercise experts work one on one or in small groups to guide survivors through cardio, weights and stretching exercises specifically tailored to the individual's need (ie. surgery restrictions, medication side effects, or range of motion limitatons) In addition to the GRH workouts, I try to walk 30-60 mins at a brisk pace with my husband or friends 2-3 days a week and fit in yoga or biking, as I am able. I also love to do Zumba on the weekend. It's great to try lots of different kinds of physical activity until you find out what you enjoy, and what works well for your body.
The most important thing to remember is that each person is different and what works for me, may not be what works best for you. Eating well and exercising are proven to be effective for everyone though, so talk to your doctor to determine how you can incorporate healthy eating and exercise into your life!  I am sending you lots of love and encouragement as you set out on your health journey.