Do you love Starbucks coffee but are not sure how to order which menu items are truly non-dairy? As a coffee addict, who also spent many years living a vegan life, I love sharing non-dairy Starbucks drinks. We'll talk about how to modify the coffee drink with dairy-free milk and which menu items come as dairy-free recipes. Keep reading for 17 of my favorite non-dairy Starbucks drinks along with how to order the best options for your taste buds.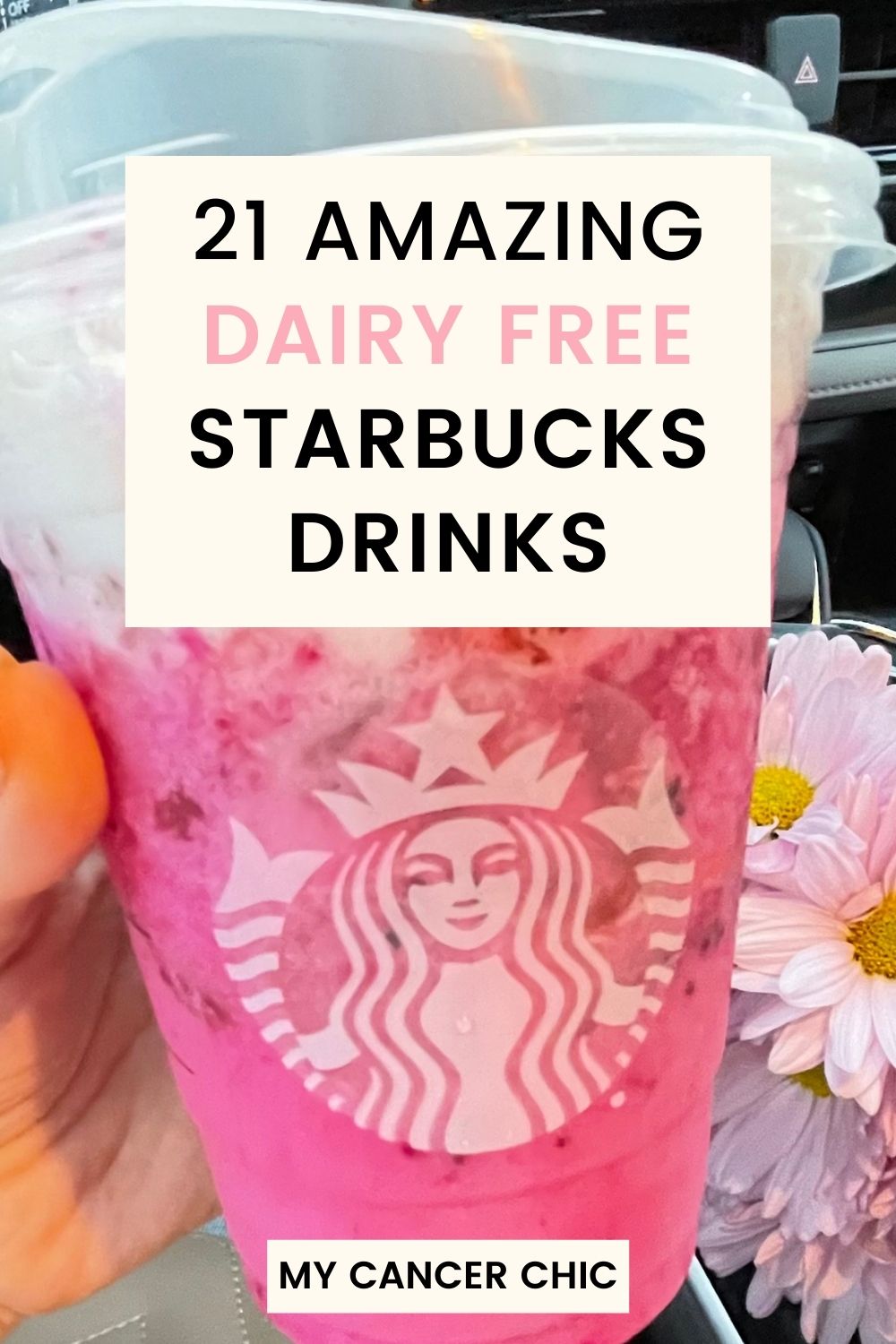 Dairy-Free Starbucks Drinks
If you love coffee but you want healthier, non-dairy Starbucks drinks, this post will take you through some ways to modify any Starbucks drinks and order popular non-dairy Starbucks drinks! Check out my previous round-up of the best low sugar Starbucks drinks as well.
What Dairy-Free Milk Does Starbucks Have?
Back in the day, dairy-free Starbucks drinks were limited due to the dairy-free milk options. But Starbucks has made big strides over the years.
No matter your flavor preference, Starbucks has dairy-free milk for you. My favorites are oat milk and almond milk. Starbucks also carried coconut milk and soy milk if you prefer those.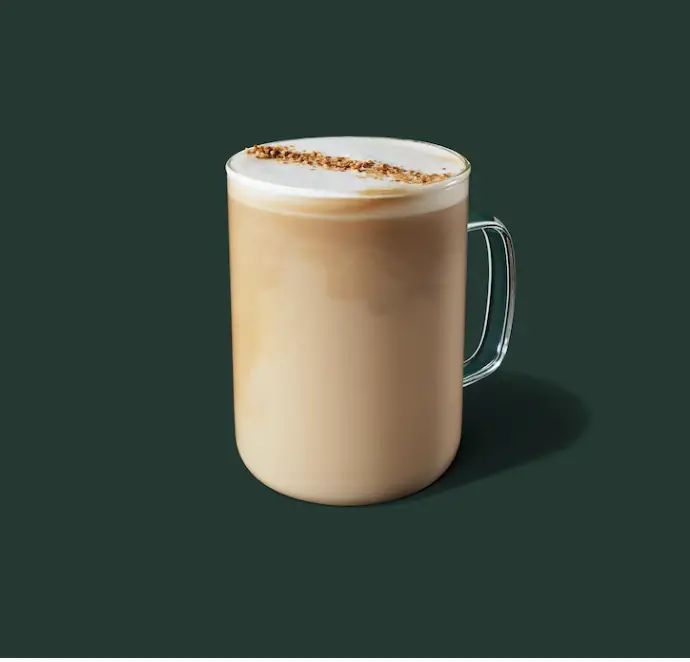 If you want to avoid dairy in your Starbucks drinks, here is a list of toppings, sauces, and mix-ins that contain dairy. When you go to order your drink, make sure you remove these items if they're automatically included in the recipe.
Eggnog
Whipped Cream
Caramel Sauce
Caramel Drizzle
Pistachio Sauce
Dark Caramel Sauce
Caramel Brulee Sauce
Cinnamon Dolce Topping
Frappuccino or Java Chips
White Chocolate Mocha Sauce
Sweet Cream or Vanilla Sweet Cream Cold Foam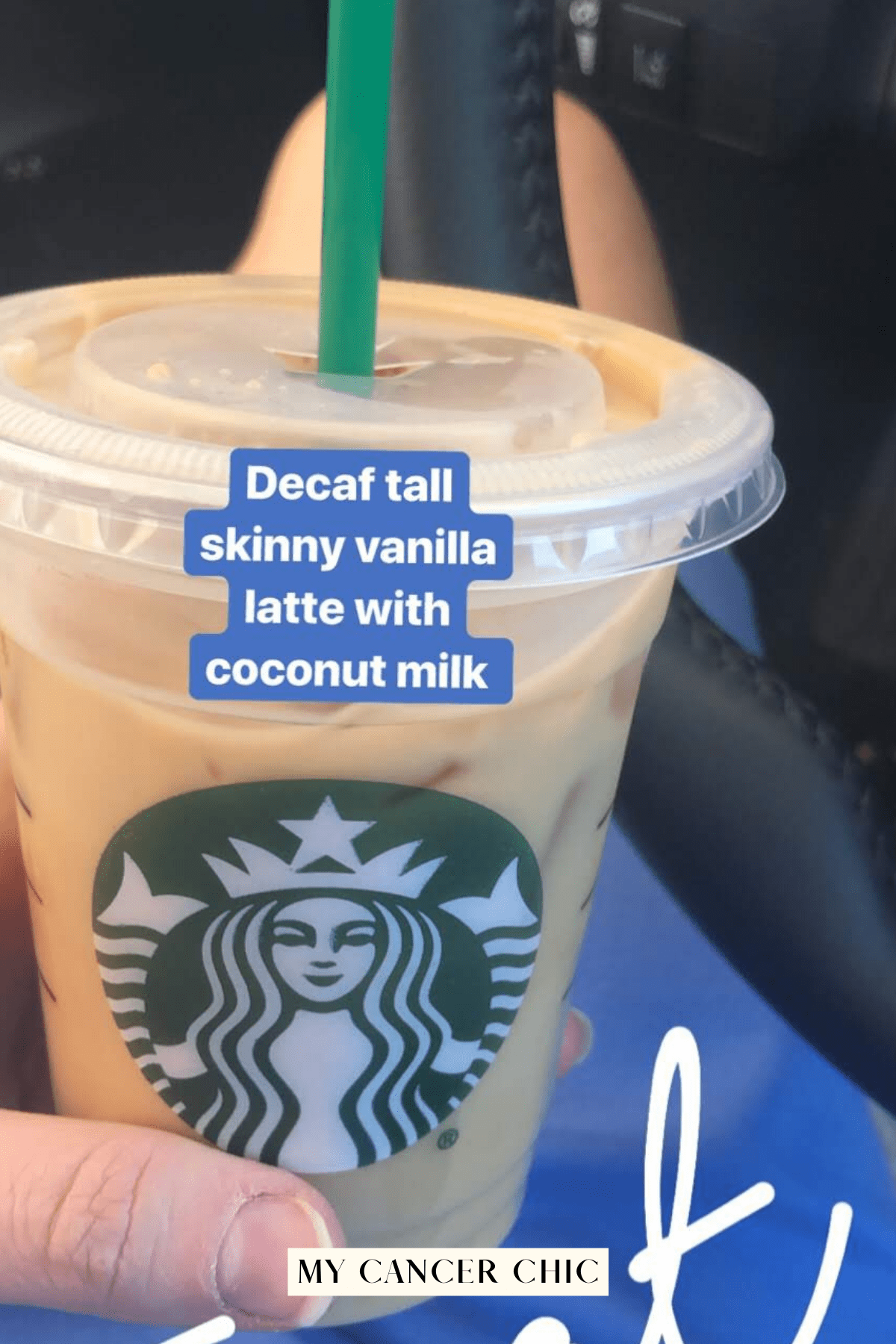 Coconut Milk Latte
If you love the creamy taste of a steamed milk latte try substituting coconut milk. Coconut milk at Starbucks is a very creamy dairy-free milk and the fat gives it a very filling taste to your latte. The coconut milk Cascara Latte is made with steamed coconut milk, espresso, and cascara sugar for a powerful and delicious dairy-free drink.
Blonde Vanilla Bean Coconut Milk Latte
Want more of a vanilla latte taste? Try the blonde vanilla bean coconut milk latte at Starbucks. It's made with hot foamed coconut milk, 2 shots of the blonde espresso, and 1 scoop of vanilla bean powder which is both dairy-free and fully vegan.
London Fog Tea Latte
A London Fog drink combines Earl Grey tea and cream. To make this drink non-dairy replace the steamed milk with oat milk which froths extremely well.
Pistachio Latte
Sweet pistachio flavors combine with the brown buttery topping, espresso, and steamed milk for this unique latte. In order to make this drink dairy-free, ask for steamed dairy-free milk and hold the brown butter topping. You can still enjoy the pistachio syrup and the smooth espresso.
Use this recipe to try making the Starbucks Pistachio latte at home.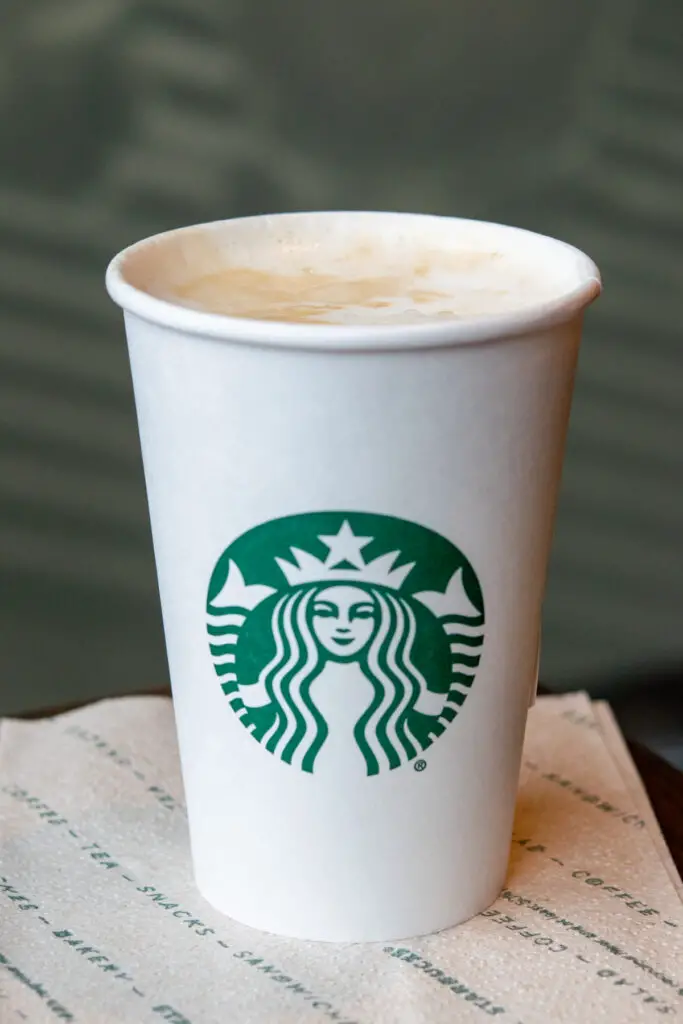 Skinny Dirty Chai Tea Latte
If you love a chai tea latte be cautious because the one on the Starbucks menu is filled with sugar and calories. Also, use this modified recipe to order your next chai tea latte at Starbucks for a lower sugar option.
Order a grande iced chai tea latte
Ask for only 1 pump of chai tea syrup instead of 3
Add 2 pumps of sugar-free vanilla syrup
Substitute almond milk
Add a blonde espresso shot on top to make it a "dirty" chai tea latte
Iced Matcha Tea Latte
I am not a matcha fan but I know it's SO good for you and a fan favorite for many people. In order to make your iced matcha tea latte dairy-free simply ask to substitute non-dairy milk for the whole milk, it normally comes with.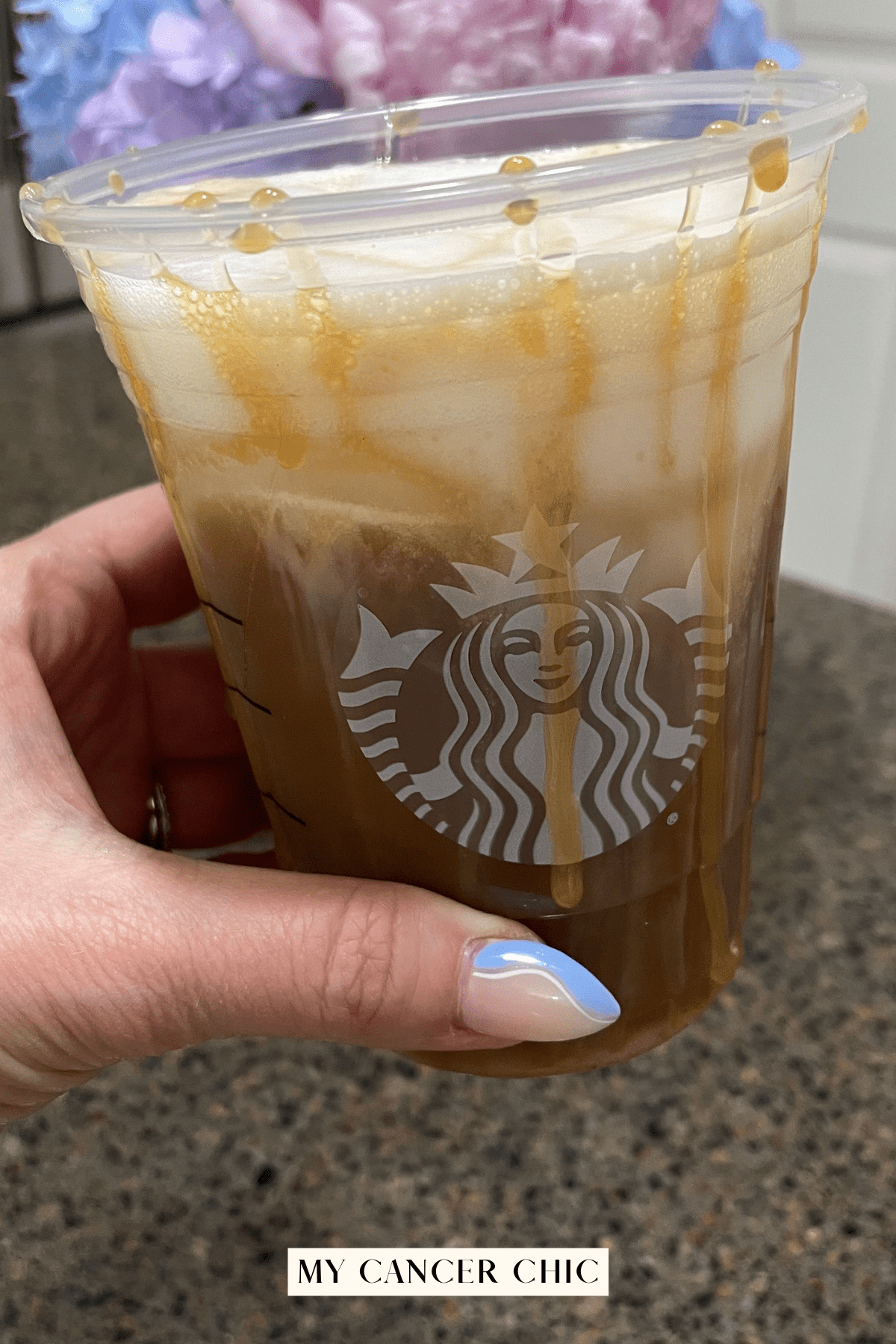 Flat White
A flat white at Starbucks is made with ristretto shots of espresso and steamed milk for a creamy delicious taste. To make this drink dairy-free ask for dairy-free milk instead of the whole milk it normally comes with.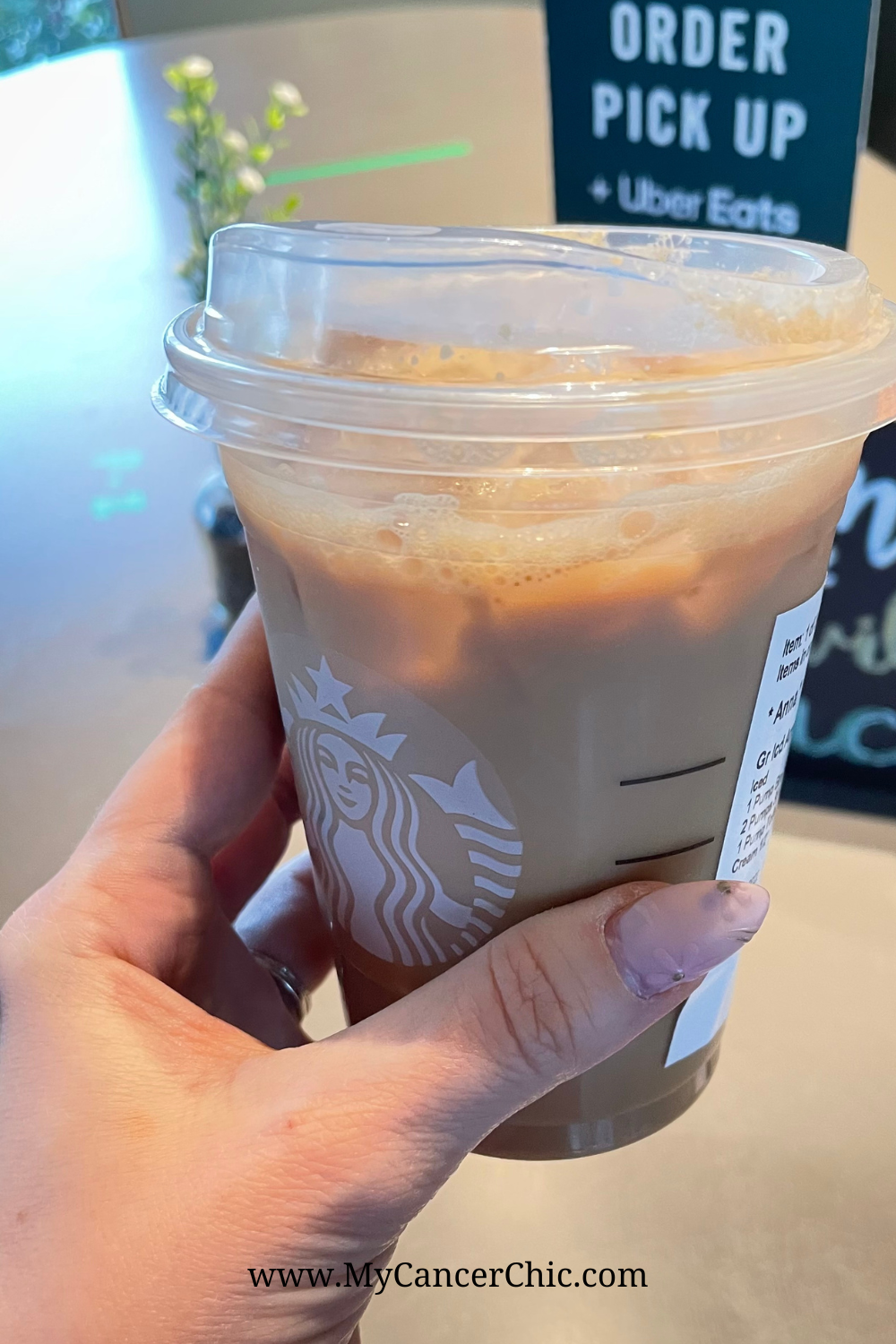 Cold Brew Coffee
The cold brew coffee at Starbucks is the perfect base for dairy-free coffee drinks. Mix the Starbucks cold brew with your favorite dairy-free milk and add a delicious syrup flavor to customize your drink.
Toffee Low Sugar Iced Coffee
I LOVE toffee flavor but the toffee syrup at Starbucks has a lot of sugar. In order to make this drink lower in calories and sugar content, I order it this way. To make this drink dairy-free use almond milk, oat milk, soy milk or coconut milk.
Also, ask for a grande iced americano (diluted espresso for a stronger flavor)

1 pump of toffee syrup
2 pumps of sugar-free vanilla syrup
splash half + half or skim milk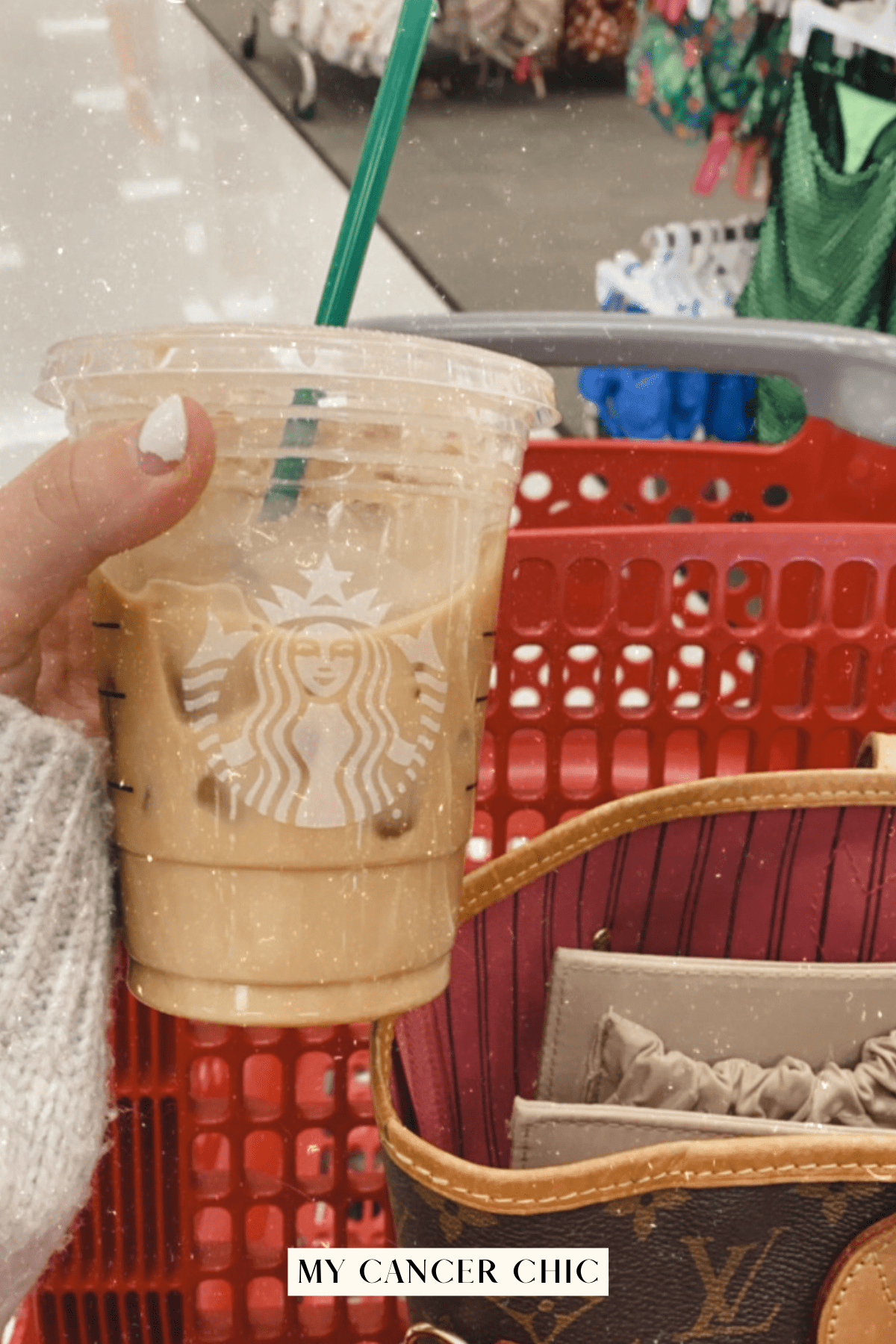 Honey Almondmilk Cold Brew
OMG ya'll this Starbucks dairy-free drink is amazing. It's a new seasonal drink so be sure to try it before it goes away. Essentially this is an iced cold brew sweetened with a tiny bit of honey and mixed with creamy almond milk. The best part is it has only 10 grams of sugar/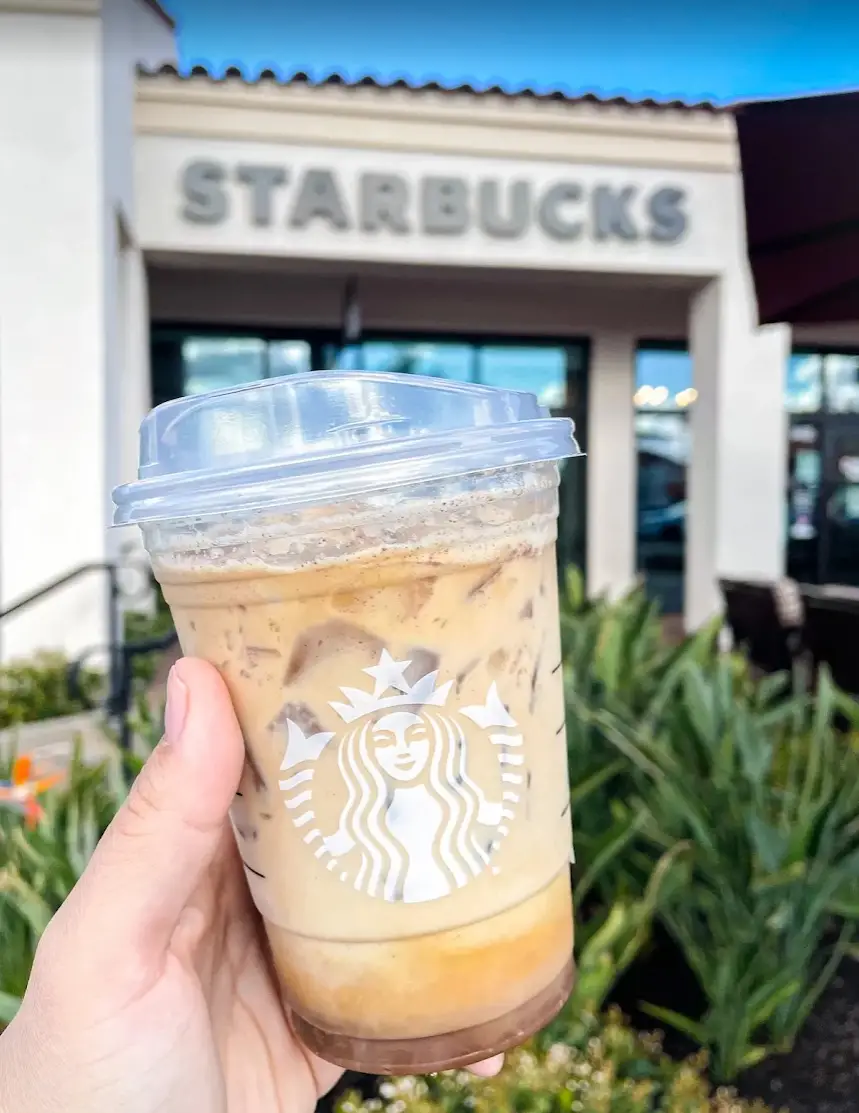 Starbucks Blonde Espresso
The Starbucks blonde espresso is my favorite because it has a softer more buttery taste as compared to the other espressos. Mix this espresso with your favorite non-dairy milk or drink it plain for a boost of caffeine.
Iced Brown Sugar Oatmilk Shaken Espresso
The iced brown sugar oat milk shaken espresso comes dairy-free and is made with ultra-creamy Oatly oat milk at Starbucks. Use this hack to save money on your next Iced Brown Sugar Shaken Espresso. If you want to reduce the sugar content you can reduce the brown sugar syrup pumps from 4 to 2.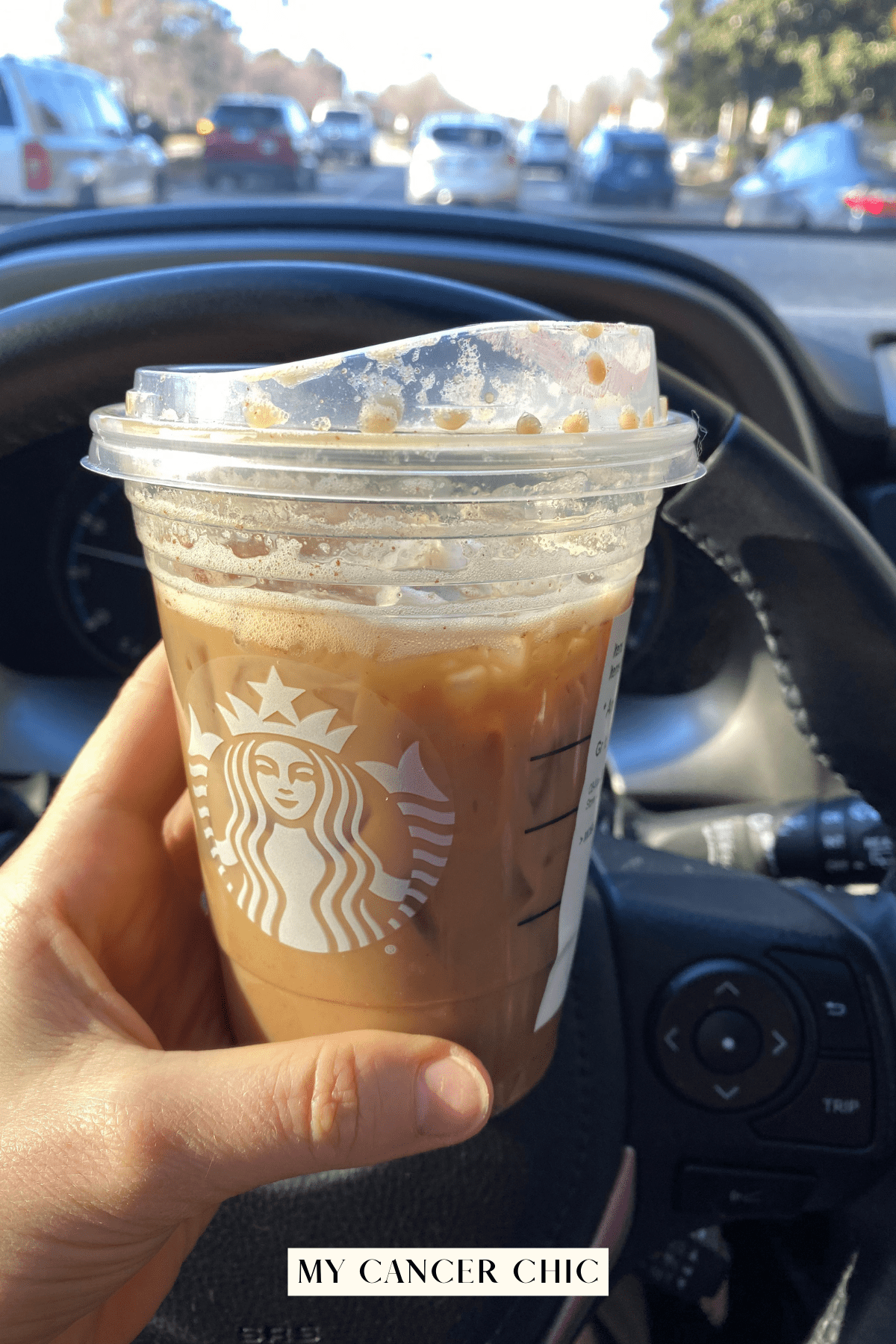 Iced Chocolate Almondmilk Shaken Espresso
Starbucks Blonde espresso meets cocoa and notes of malt. This Starbucks dairy-free drink is shaken together and topped with almond milk and ice for an invigorating treat to keep you energized throughout the day.
Want to Make Starbucks-Inspired Drinks at Home?
Nitro cold brew is another great base for your Starbucks dairy-free drinks. It is slow steeped for 20 hours and infused with nitrogen to create a velvety, smooth, and frothy texture. You can mix this cold brew with your favorite dairy-free milk and syrup.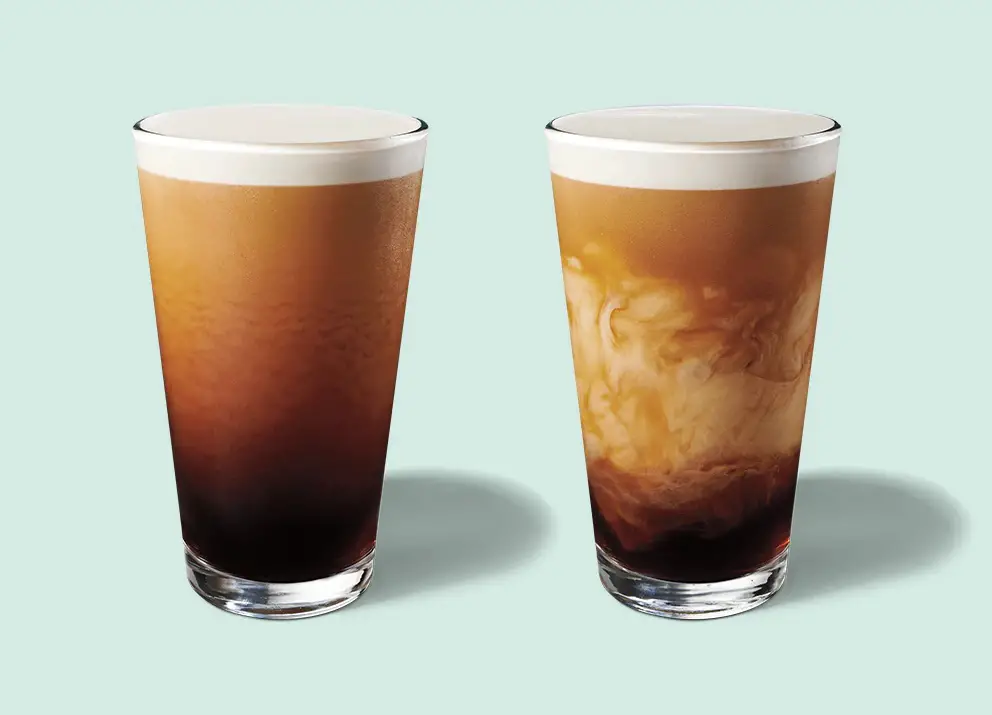 Nitro Cold Brew with Dark Chocolate Almondmilk Foam
There is something decadent about foam on coffee but sometimes you want that same feel with your iced coffee too. When you combine the nitro cold brew with the cold foam you get the addition of foam without the calories and sugar.
Did you know the cold foam is made at Starbucks by frothing nonfat milk? Sweeten your drink with stevia or Sugar-free syrup to keep it a sugar-free drink. I love to make my own variations with the cold brew such as my flavor combo below.
Mocha Frappuccino
I can't remember the last time I had a frappuccino but if this is your drink of choice, you can absolutely make it a dairy-free drink. The blend of mocha sauce, coffee and milk is normally made with dairy milk but can easily be modified with dairy-free milk. Sure to also ask to hold the whipped cream.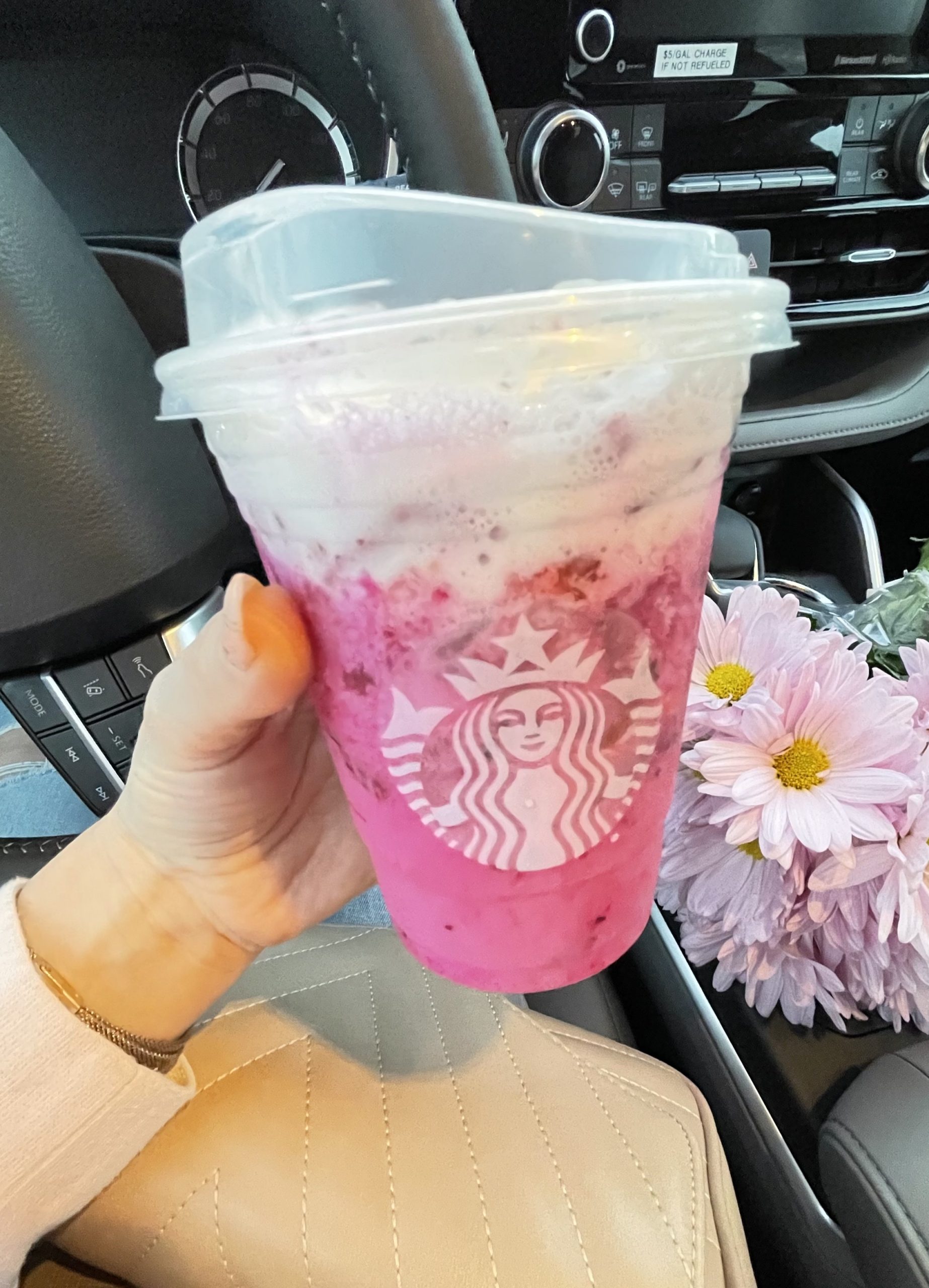 Pink Drink
The Pink Drink is sweet and refreshing with a creamy texture due to the coconut milk.  This Starbucks dairy-free drink is well known for the gorgeous color which comes from a strawberry acai base, sweetened coconut milk, and freeze-dried strawberries
If you love the pink drink I bet you will also love my customized version of the Starbucks Dragon Drink with extra fruit and dairy-free coconut cream!
Violet Drink
The violet drink is made with sweet blackberries and the tart Very Berry Hibiscus Starbucks Refresher. This fruity mix is then combined with ice and creamy coconut milk for a beautiful and refreshing drink.
This drink may be discontinued so you'll have to ask at your local Starbucks store.
Iced Guava Passionfruit Drink
Looking for another dairy-free Starbucks refresher? Try the Iced Guava Passionfruit drink. It is a mix of guava juice combined with passionfruit, pineapple and ginger flavors as well as creamy coconut milk and ice.
Berry Hibiscus Refresher
The berry hibiscus refresher was a cult favorite and came with real fruit juice and whole blackberries, shaken with green coffee extract for a boost of natural energy. This drink was sadly discontinued but you can order a similar Starbucks refresher with other juices, tea, and fruit. Mix with your favorite non-dairy milk for a creamier texture. 
I hope you loved this summary of the best non-dairy drinks that you can order at Starbucks. If this post helped you choose a new drink to try, be sure to save this post and tag me on social media @mycancerchic in your Starbucks drink order.
Shop My At-Home Coffee Essentials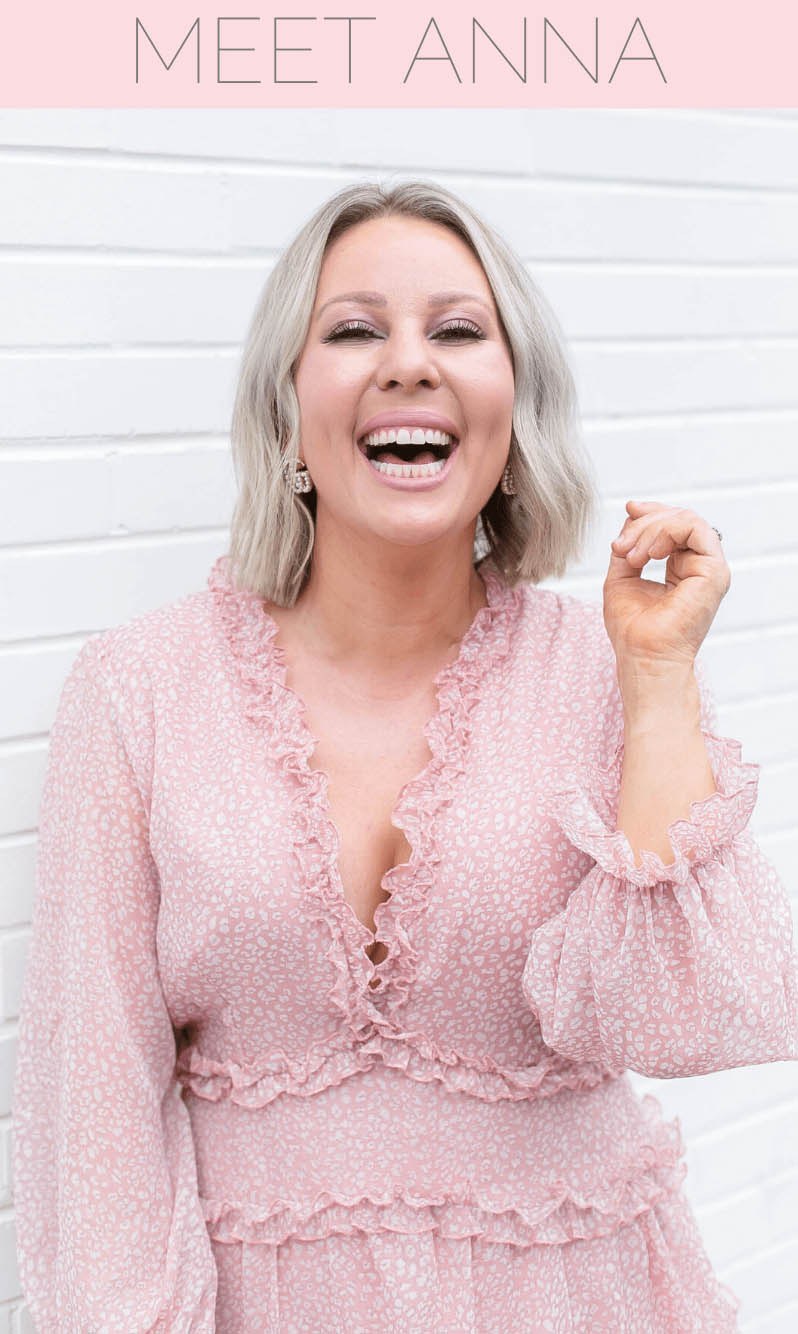 Breast cancer survivor, lover of style, beauty and all things pink! Inspiring you to thrive through adversity.