It's no surprise that my love of pink would come out when it comes to Christmas tree decor. For as long as I can remember decorating the tree has been my favorite part of the holidays and I normally repeat my color scheme for my tree and the house at least 2 years to extend the life of the decorations and save money. If you are looking for Christmas tree decor ideas I think you will love this chic white and pink Christmas tree.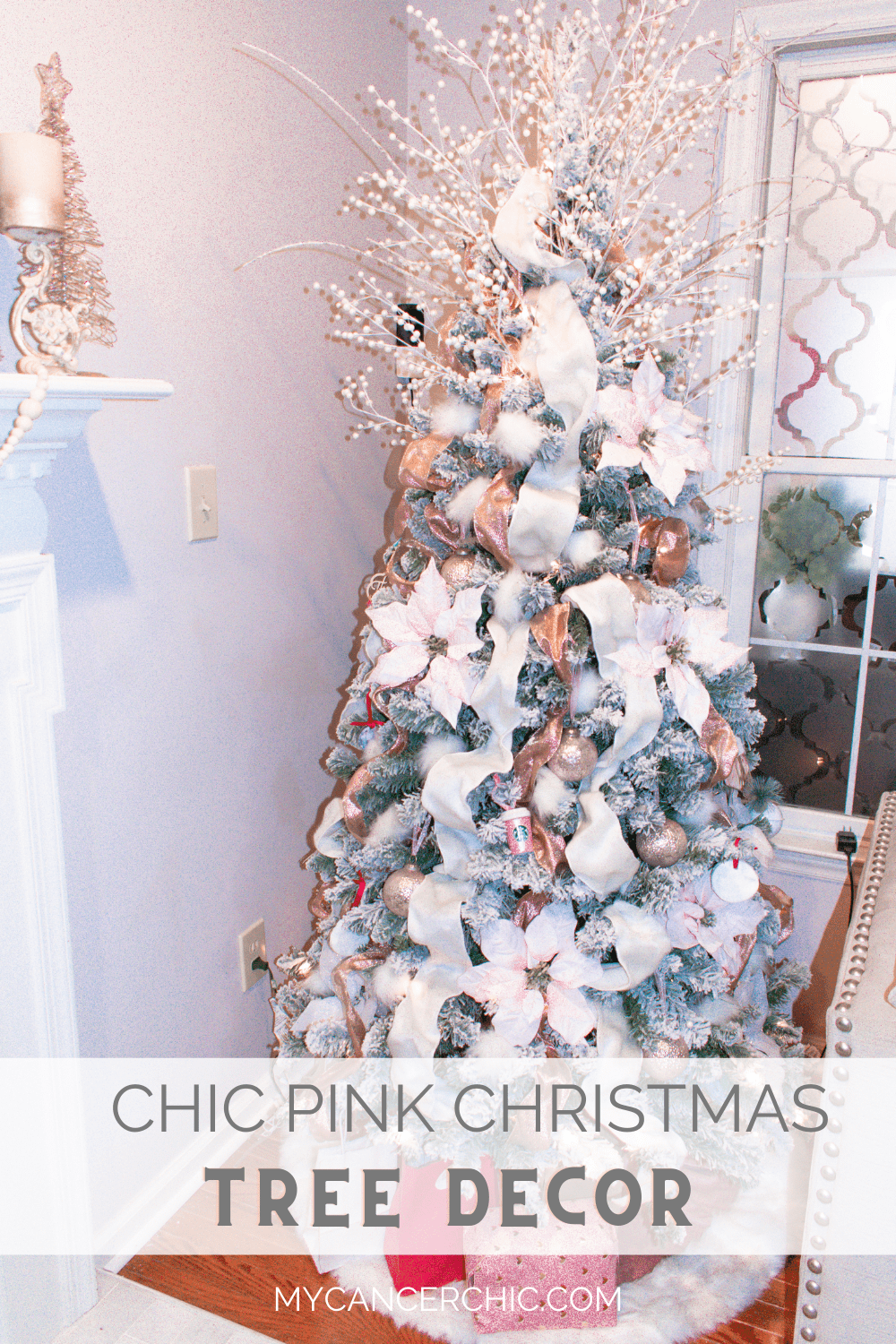 Chic Pink Christmas Tree Decor 
There are so many color schemes out there for Christmas trees. The most common being red and green or silver and gold or a combination. While I love red for the holidays, pink is a color that screams femininity. I love the way pastel pinks look with white and gold and sparkle. And it brightens up my home for the holidays. For the chic pink and white tree I collected a mix of white Christmas decor and pink ribbon and ornaments to build out the perfect girly pink tree. Save my pink tree to inspire your Christmas tree decor this year. All of my supplies are linked at the bottom of this post for easy shopping.
I used to love a real tree but ever since we did a fake tree while I was in chemotherapy I have loved it. It's SO easy to unbox and put together. And I loved the flocked detailing. It makes me think of snow and feel like it's a white Christmas. Our tree is a 6.5 ft flocked tree from Walmart and super reasonable at $69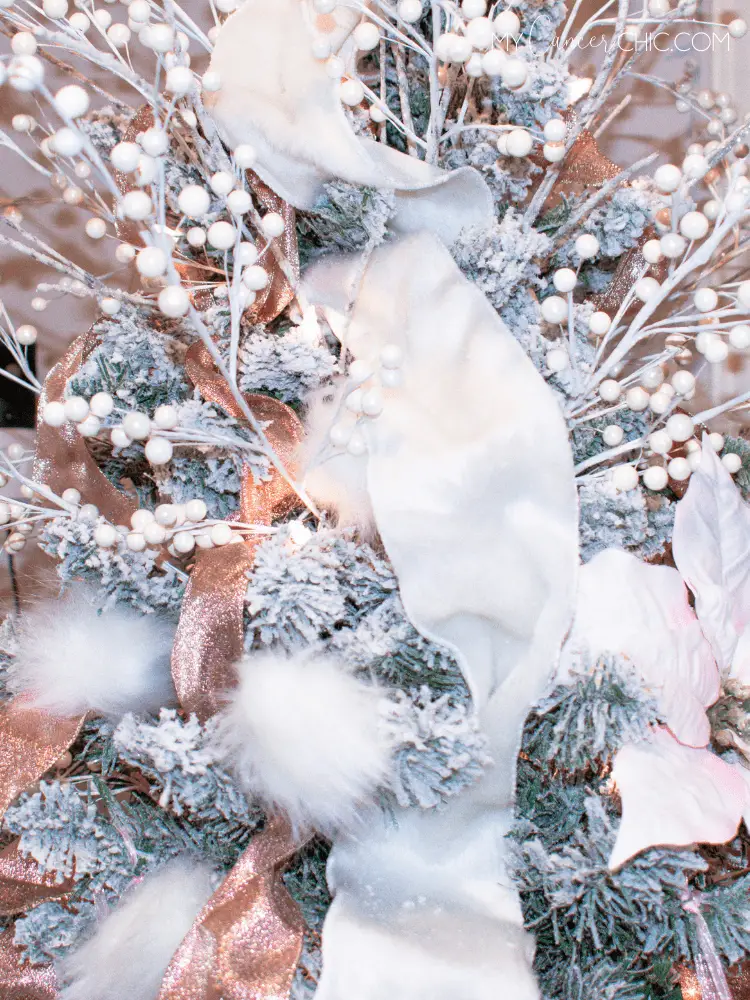 Pink Tree Step 1 : Wired Ribbon
I used to be intimidated by ribbon on Christmas trees but I loved the look of the ribbon every time I would look for Christmas tree decor ideas. I finally found a tutorial that helped me understand the important steps. First cut the ribbon in 6-8" pieces or 18" strips. Be sure you are using wired ribbon. Once you have the ribbon cut it will be easy to weave the ribbon in and out of your tree in whatever decor style you like.  With the shorter pieces, you can tuck one end in and the other end in, or with longer strips you can weave it in and out to create that ribbon-type effect on the tree.  If you have a mini tree, you can cut the ribbon to size.
You can choose a ribbon to match your Christmas color scheme. There are tons of silver and gold ribbon at any retailer around this time of year. I chose a rose gold shimmery pink ribbon and a white fur ribbon for my tree. I love using different textures in my holiday decor to make the tree look more 3 dimensional.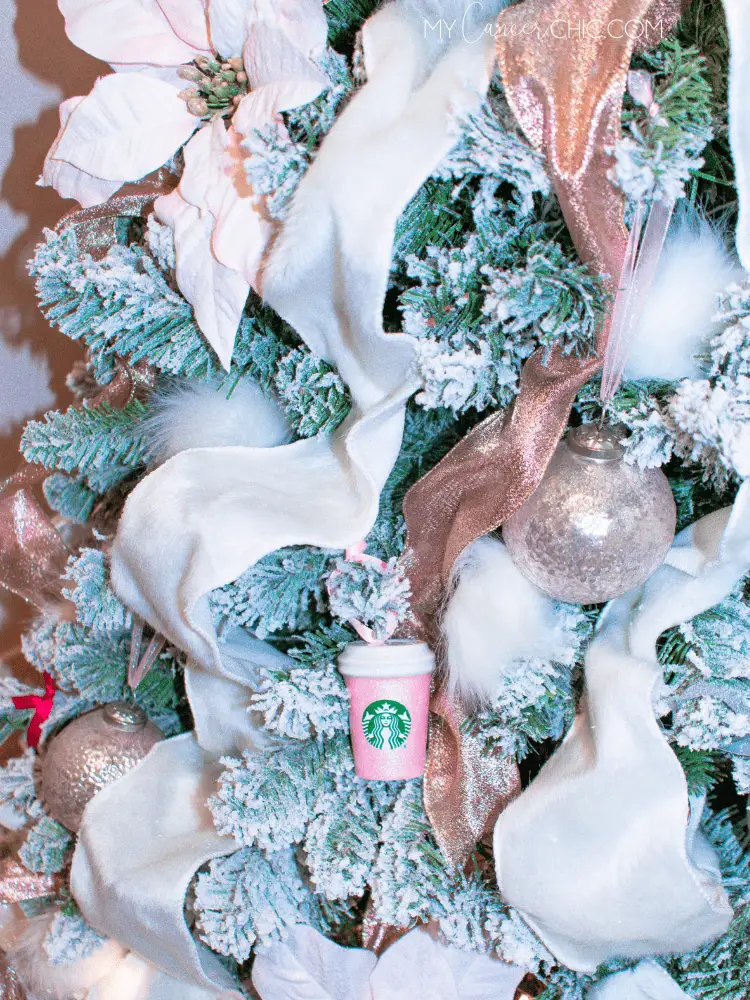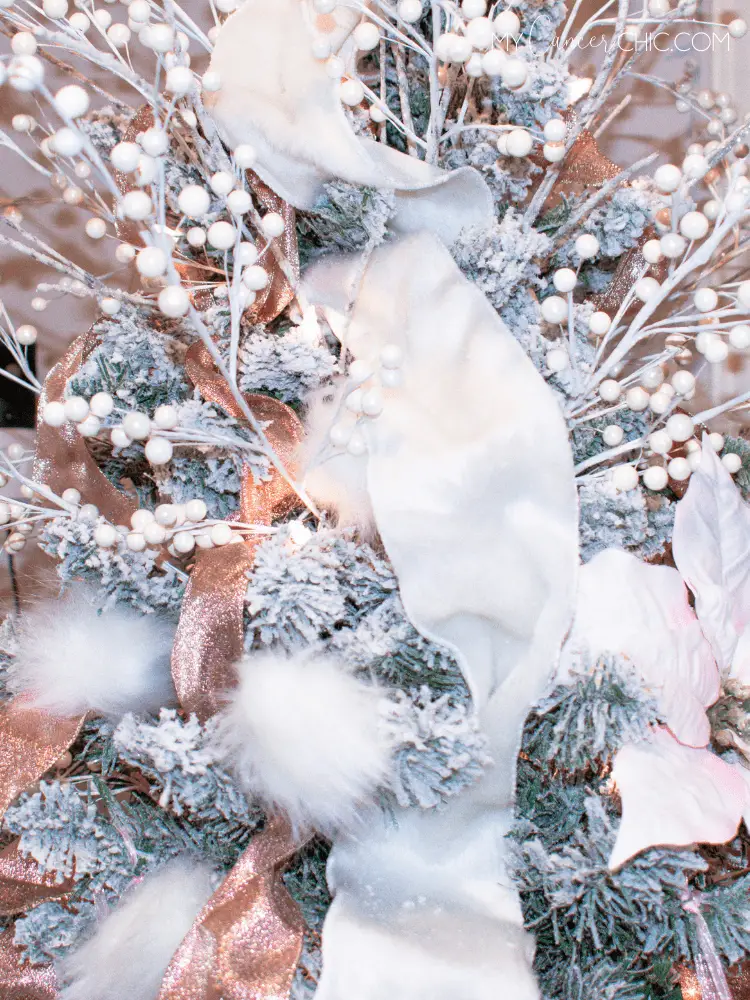 Pink Tree Step 2 : Large Florals
It's common to find red poinsettia flowers or silver and gold flowers but when I found these white flowers I knew they were perfect for my color scheme. Some of the flowers are light pink with a sparkle as well and these are a great accent for my decor. Flowers on your tree are a great way to fill sparse areas and minimize the number of ornaments you need to use. I got my pink and white flowers at Walmart for super cheap. But I know lots of holiday places carry similar fake flowers to match your color scheme for the holidays.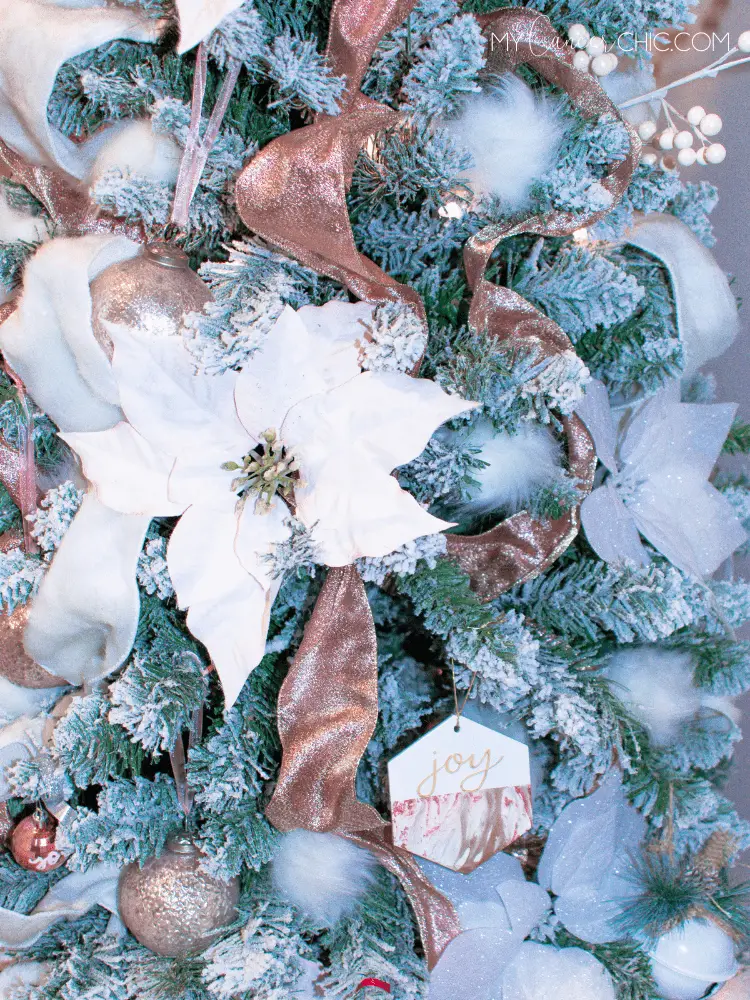 Pink Tree Step 3 : Minimal Pink Ornaments
I like to keep my ornament decor simple. I only add in a few sets of pink ornaments mixing some matte and some sparkly.  My pink pewter ornaments are from Home Goods but I linked some similar ones. I also fell in love with this pink Sparkle Starbucks ornament. You can take the same approach with silver and gold ornaments or use decor to match any other color scheme.
Pink Tree Step 4 : Floral Stem Topper
When it comes to the Christmas tree topper I wanted something that would make a statement. There are tons of white Christmas toppers out there or silver and gold angel or star toppers but those didn't fit my style and I am not religious. Instead, I decided to make my decor for the topper out of floral stems from Michaels. I used silver glitter stems along with these pearl white stems to create a holiday topper I love. Save this for your Christmas tree decor ideas.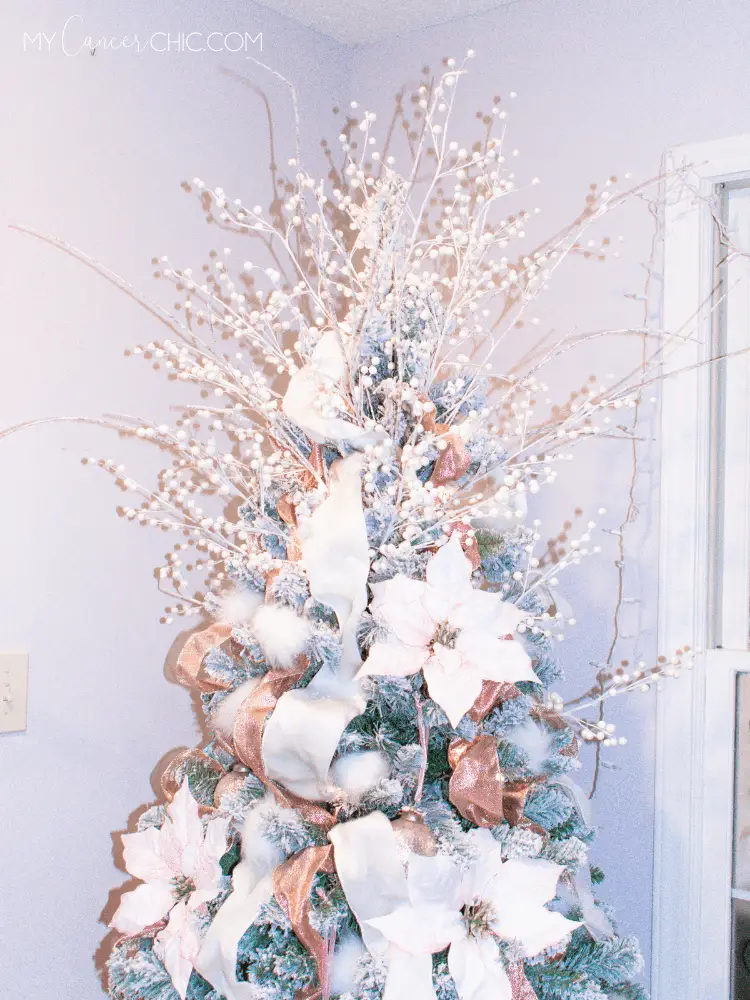 Pink Tree Step 5 : Pink Tree Skirt
There are so many fun ways to decorate the base of your tree for the holidays. Some ppl like to use baskets or galvanized tubs, while others like the basic idea of a tree skirt. I found this pink fur tree skirt a few years ago at Home Goods and I am obsessed. Target also has a pink fur tree skirt this year which I think you all are going to love.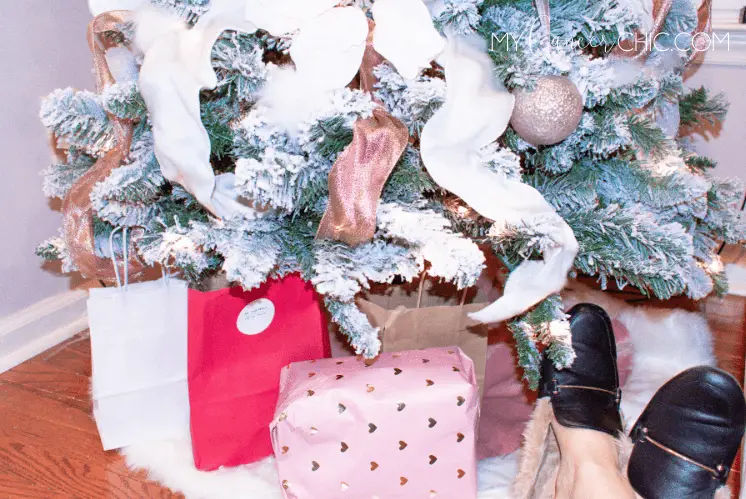 I hope you all enjoyed this breakdown of my Christmas decor. I love decorating my tree with white and pink but you can pick a color scheme that works well for you and your family. Save this post for Christmas tree decor ideas and be sure to tag me if you recreate this look @mycancerchic on social.
Click the items in the widget below to shop the items used in my pink Christmas tree.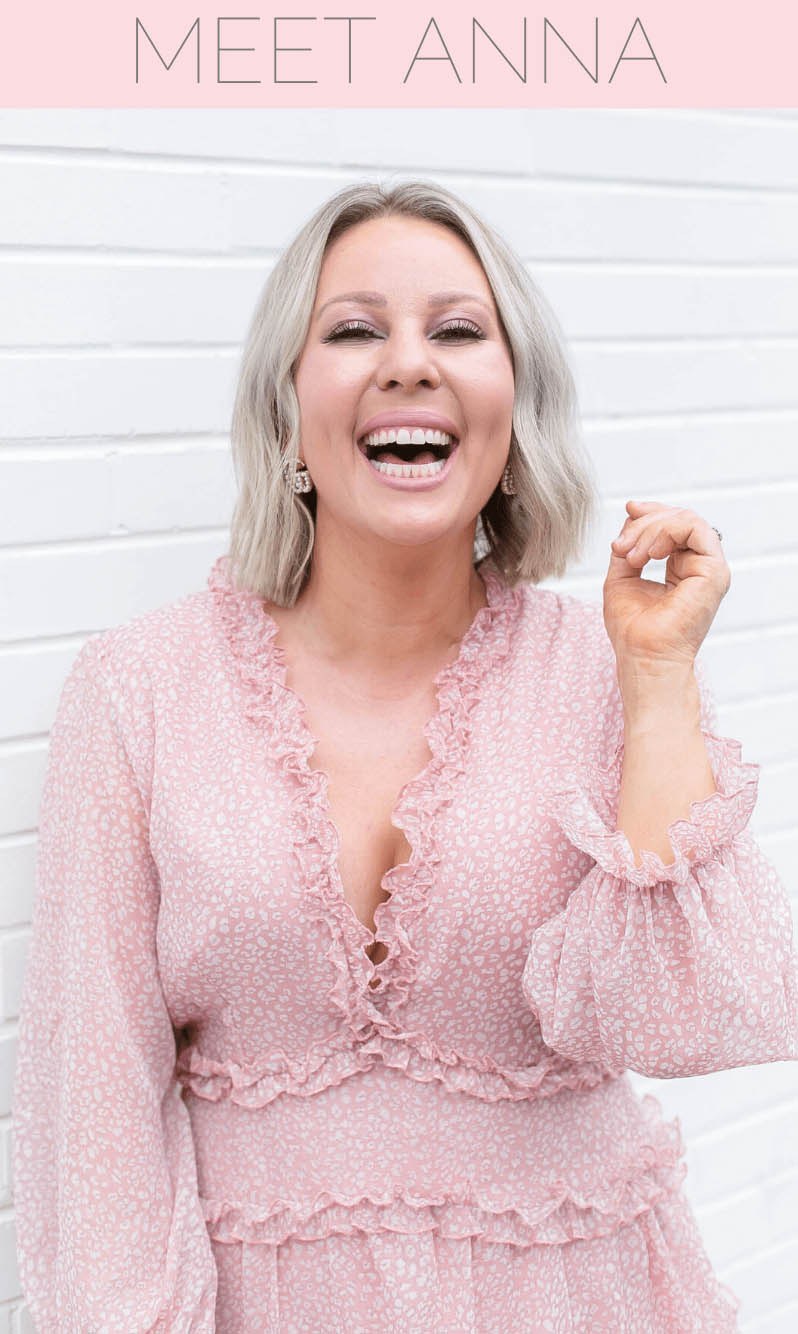 Breast cancer survivor, lover of style, beauty and all things pink! Inspiring you to thrive through adversity.