If you have been following me for a while you know my favorite color is pink (and has been since before my breast cancer diagnosis). I have been on the hunt for pink mommy & me outfits and to my frustration they are really hard to find them for Mason! Then, a follower shared the Janie and Jack Th!nk P!nk Collection with me and I fell in love.
The collection is made up of ADORABLE light pink pieces for kids, mom and dad. But you know what's better than pink matching family clothes? The limited edition by Janie and Jack is inspired by breast cancer survivors and benefits the Pink Agenda. Through June 21st 25% of all sales (min. donation of $250,000) will go to granting wishes to women living with breast cancer & supporting research. Learn more about the collection and my experience with Pink Agenda & Fab-U-Wish below.
I was overjoyed to find matching swimmies for Mason and I.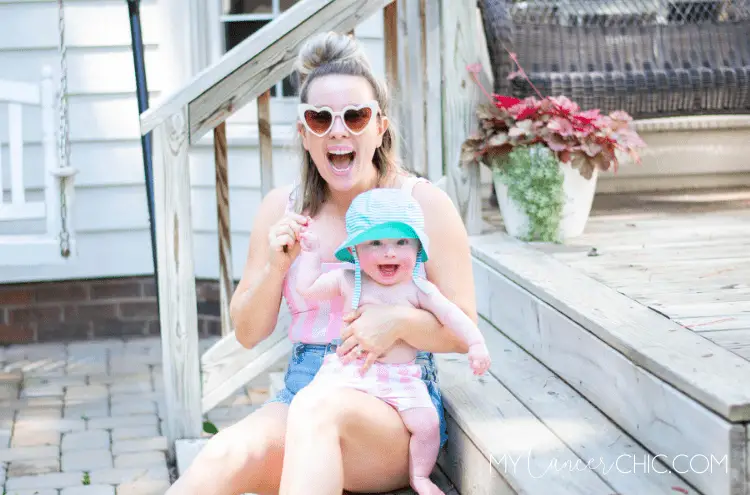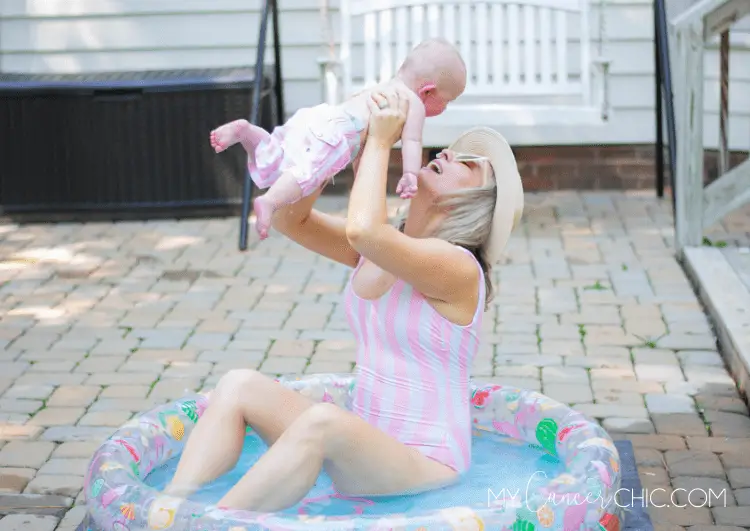 Mason does not look thrilled but at least he looks stylish!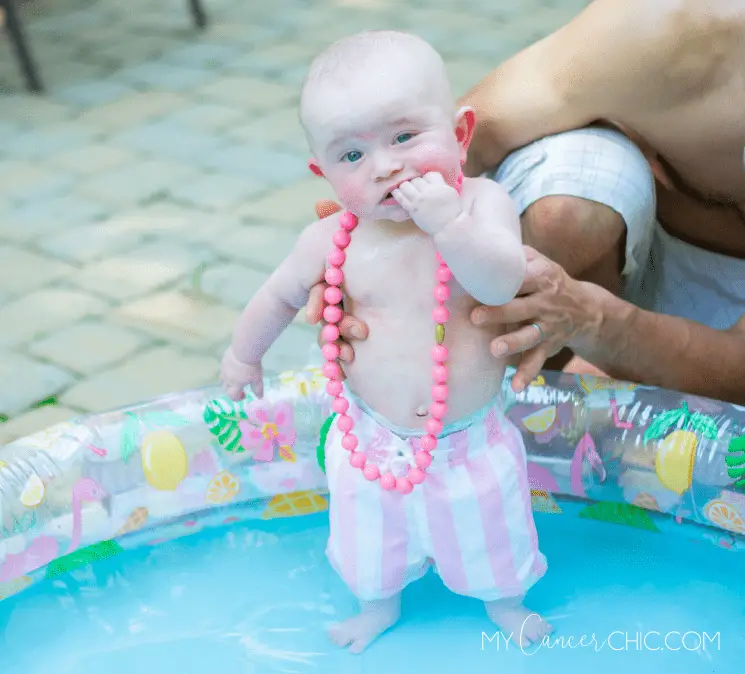 I am wearing a medium in the one-piece & Mason is wearing the 3-6 month trunks
I first learned of Pink Agenda in 2016 when I was an honored recipient of their October Fab U Wish pampering series with Nordstrom and Estee Lauder. Having an escape with close friends after a long year of cancer treatment was much needed.
Two years later, I submitted a request to grant a Fab U Wish opportunity to my local support group of young breast cancer survivors. We pulled off an amazing event pampering 25 young survivors at Ulta with the help of the Pink Agenda Team.
Giuliana Rancic (founder of The Pink Agenda) even shared about the event which was SO cool.
Many times companies use pink to marketing to sell products that in no way support research or help the breast cancer community. This is known as pinkwashing, which I wrote about here. I am here to confirm that Janie & Jack's Think Pink Collection is the real deal and funds a program that directly impacts the lives of women in the breast cancer community and furthers research grants in partnership with BCRF.
[show_shopthepost_widget id="4045121″]
I know the pieces are pricey, but if you're in the market, I highly recommend you check out these adorable Janie and Jack pieces and support Pink Agenda with your purchase.